From the endless blues on the SW palette, which one do you choose?
There are navy blues, charcoal blues, electric blues, and coastal blues – however, there is definitely something given!
They are all beautiful and exotic!
One such enchanting example is the Sherwin Williams Rain which clearly symbolizes strength and nature through its lighter-toned appearance and deeply rooted serene feels.
So, if you are looking for a paint color that introduces an organic vibe into your home while mimicking nature – this could be one of the best blues to choose from.
Symbolic of ocean and rain – this paint is bound to answer all your questions.
As a matter of fact – this color is one of my absolute favorites, and there have been tons of times I have recommended this paint to my clients.
You know why?
Well, not just because of how pretty it looks but even how tranquilizing it feels.
This blue is meant to push off all your Monday blues! Trust me!
So, are you excited to know more about this paint?
Now if you feel SW Rain could be the one – keep reading below to know more about what really the color is and how to incorporate it in your home.
Sherwin Williams Rain SW 6219 Details and Specifications
As I said, there are tremendous blues available in the market! So, how to know what differs one from the another?
Well, the answer is color specifications and details (or in short, this section of the article)!
It is extremely important for you to understand the underlying theories and specifications to truly know what the color has to offer.
And remember, no two colors are the same – even though they appear 'similar'!
So, first and foremost, it is important to look at the back of the color swatch to read through the Light Reflectance Value or LRV of the paint color.
This value helps in determining how light or dark the paint color is! Which therefore will help you decide where to use the paint color!
So, the LRV of Rain is 49.
So, it is neither too dark and nor too light. Actually, it somehow falls on the darker end of the scale.
Now, if you want to try out Rain on your walls ahead of time, you can easily with a peel-and-stick square from Samplize. Give them a try now!
Secondly, to understand how the color is made up of, consider the RGB and HEX Values of the paint color.
(Remember no two colors would have the same values, unlike the LRV that could be the same for various colors)
Red = 171
Green = 190
Blue = 191
HEX Value = #abbebf
Now that we have read through the color details and specifications, let's read ahead to know some of the practical aspects and applications of this calming paint color.
How Does this Color Feel in a Space?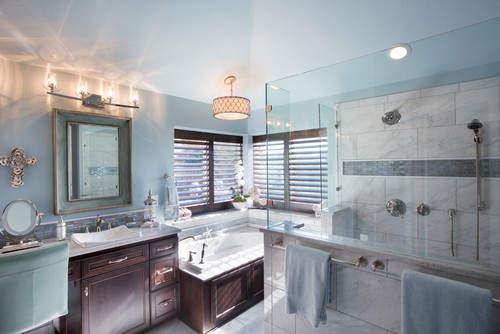 Sherwin Williams Rain is bound to add relaxing vibes into your home with a touch of depth and sophistication.
So, just in case if you are a city dweller living in the apartment and constantly looking for inspiration from nature (especially sea and ocean) – then this color is probably one of the best to choose from.
However, you need to ensure the sizes and scale of your room first – mainly, use it if you have larger to mid-sized rooms.
I recommend the tropical and warm regions to incorporate this cool-toned shade in your home to feel absolutely relaxed as soon as you come back home.
For very small spaces, I recommend considering paint colors with an LRV greater than 60!
How Does Light Affect the Color?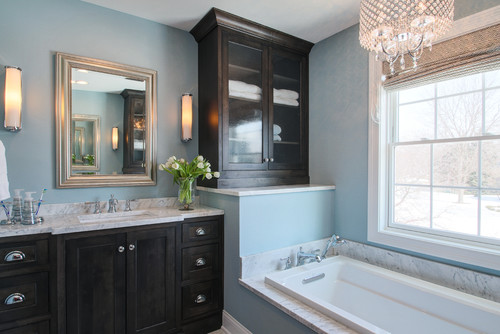 Light has a major role to play in this paint color.
So, firstly, I recommend you look around and observe the amount of incoming light in your space!
Is it too little or too much?
In both cases, you can incorporate this paint – however, keeping in mind the amount you intend to use.
So, if your room receives ample light – then this color is quite likely going to look lighter than it is. Whereas on the other hand, if your room doesn't receive ample light – then it is bound to look darker.
But don't worry – you can always play with the artificial lighting in the form of warm whites and warm yellows to create a dramatic effect.
Want to see what Rain looks like in your own living space? Pick up a wall sample now from Samplize!
What are the Best Coordinating Colors?
Now that we have discussed how the color appears, let's see what best complements its color scheme.
Remember, choosing an eye-catchy and balanced color palette is primary! You can't afford to mess up the complementary colors in your home.
So, as a general note, with a paint color like Rain – I would recommend considering whites, off-whites, beiges, tans, and browns as bases, whereas yellows and blushes as accents.
To recommend a few, here is a list for a contrasting color palette:
SW 6561 Teaberry
SW 7009 Pearly White
SW 6222 Riverway – see my in-depth guide here!
On the other hand, for a monochromatic color palette, consider the following:
SW 6220 Interesting Aqua
SW 9134 Delft
SW 6221 Moody Blue – see my in-depth guide here!
By accommodating lighter and warmer shades, you are throwing off a little warmth to neutralize the saturation of cool vibes created by this paint color.
In the case of ceilings, trims, and moldings – I would recommend using SW Pure White to further exhibit a warm look and SW High Reflectance White for a clean and crisp look.
SW Rain Vs Similar Colors
There are quite a few alternate blues that you could choose from (although none of them are very similar to this paint).
Even though I don't think there should be any need because of the exotic beauty and timelessness of this paint.
However, I am going to list down two closely related colors to SW Rain – SW 6226 Languid Blue and SW 9055 Billowy Breeze.
Rain Vs Languid Blue
With an LRV of 46, SW Languid Blue is comparatively a darker toned paint color.
So, you have to be pretty careful around using this paint in your home.
This color has more depth to it unlike SW Rain – so undertones remain one of the major differences between the two.
Try avoiding this color in very small spaces!
Order a stick-on sample of Rain and Languid Blue to see what works best in your home.
Rain Vs Billowy Breeze
A very cool-toned blue, this hue is extremely bright and reflective. I recommend using it with more subtle and muted tones.
With an LRV of 55, this color is the lightest of them all!
So, long story short – Rain is probably one of the best organic blues that you could choose! It is sophisticated and yet natural at the same time.
Since digital screens can be deceiving, I highly suggest you get some actual samples of these two colors from Samplize. Buy here!
Where to Use Rain in Your Home?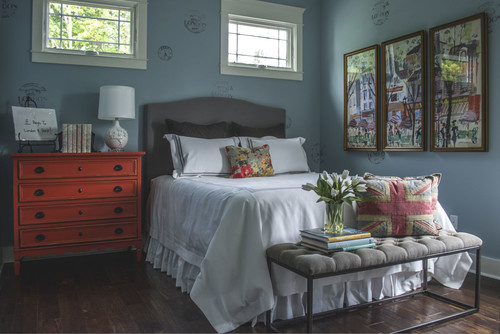 This beautiful blue can be used anywhere and everywhere in your home – as far as there is adequate space and natural light.
So, it is recommended to incorporate them on the east and west-facing walls of the room and mainly ignore the north-facing spaces.
Furthermore, interior design styles such as Coastal and Contemporary can absolutely consider this color in your home.
Let's see where and how to use it.
Rain in Living and Dining Rooms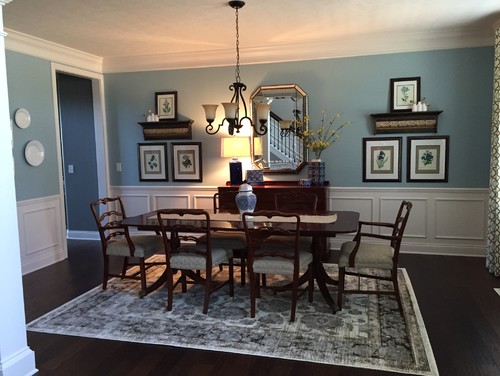 If you are looking for a crisp and clean touch in your living rooms and other common areas – this paint color is definitely recommended.
However, note that this color doesn't exhibit a cozy touch.
So, in order to add warmth, try adding creamy whites and beiges in the form of neutrals and bases!
In the case of cabinetries – I recommend painting them in either lighter grays or whites. Furthermore, you can also use printed linen draperies or white sheer curtains to create a dramatic effect.
Using in Kitchens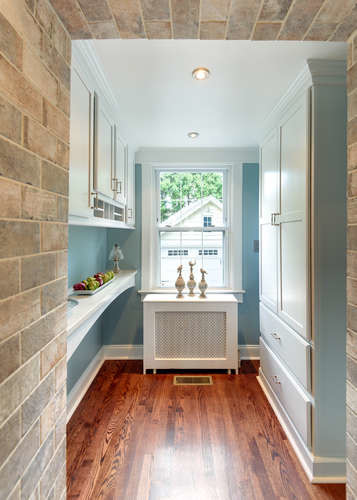 Whether you have a coastal or a cape-cod style blue painted kitchens definitely exhibit a cool and relaxed feeling.
However, I wouldn't recommend you paint the cabinets in this color – rather paint the backdrop wall in blue and let the cabinets in creamy or crisp whites.
You can also add matte black or golden tinted pull handles and drawers to add a sense of accent in your spaces.
Rain in Bedroom and Bathrooms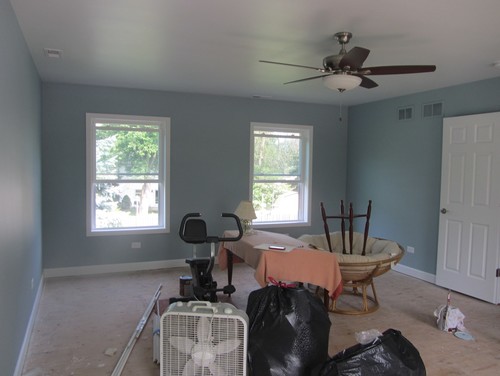 You can paint the accent wall or the headboard wall in this beautiful blue paint while leaving the rest in white.
Avoid painting all the walls in this color if the size is smaller!
Furthermore, try pairing it with beiges, off-whites, and creamy yellows with Sakura pinks and mustards as the accent.
In case you are renovating, ceramic and porcelain tiles or hardwood floors would make a great choice.
Also, try avoiding pine teak in the cabinetry or the flooring.
Using on Exteriors
This paint color is quite common to use on homes that either has a cape cod style or a Caribbean theme.
Most of the southern homes incorporate this paint to reflect unnecessary heat!
You could either paint the color on the walls and let the rest of the façade elements be in grey or off-white or do the opposite.
Grey Spanish tiles or natural stone on the roof are also good to go!
Great Paint Sample Tip!
Here's my favorite tip when it comes to testing out a color like Rain – go and order a peel-and-stick sample from Samplize.
These guys figured out a great way to sample colors much more easily. Simply stick it up instead of having to get a small can of actual wet paint.
For a few bucks you get a nice sized square to throw up temporarily anywhere you want to "try" on a paint color and any possible coordinating hues you like. Too cool!
So, are you confident enough to use this color in your home? Maybe interiors or exteriors?
However, do remember to use them in certain amounts to create the perfect backdrop! Do let me know in the comments below about your experiences as I would love to hear from you!