Navy blue paint colors are making a comeback in the interior design industry.
Just as this color was highly admired in the Victorian and Colonial style designs, the latest contemporary backdrops are too making the most of this color.
And when done up right this paint can feel quite modern and crisp, this particular shade of navy blue is one you won't regret.
So, what is all the fuss about and why are designers obsessing over this shade of navy blue paint color as of late?
Well, Sherwin Williams Anchors Aweigh is a bold and dominant navy blue paint color that feels deeper than Sherwin Williams Naval.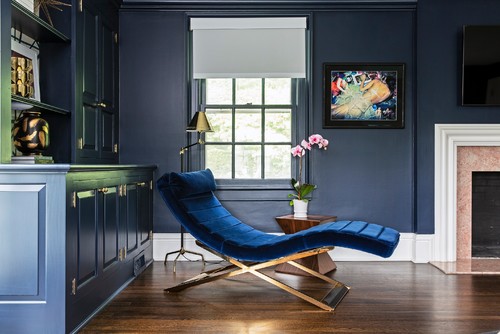 And sometimes, it can be almost a shade of blue-black!
So, are you wondering how this paint color will appear in your home?
Well, this color review will exactly help you understand the how bouts and whereabouts of this paint color along with where, how, and when to use it!
Remember, this color is not very easy to deal with – for obvious reasons. And unknowingly, it can appear overwhelming and over-exciting!
Hence, here is a little SW Anchors Aweigh guideline to help you make informed decisions about this paint color.
Sherwin Williams Anchors Aweigh SW 9179 Details and Specifications
Do you know what makes this specific shade of navy blue different from the other blues? Well apart from appearances – there are tons of other considerations to have an eye on.
And yes, it's the details and specifications.
Yes, you might have to go through various decisions, comparisons, and discussions to make informed decisions.
After all, not every blue is alike. And there are considerable differences in each color that you observe on a swatch.
If you are new here, let me tell you – there are quite some facts and scientific terms that you would want to acquaint yourself with. (Before choosing a paint color for your home)
It's important to analyze these values and then determine where, when, and how to use these paints!
So, first and foremost, one of the most important terms that I usually observe getting ignored is Light Reflectance Values (LRV)!
Every color has an associated Light Reflectance Value!
For Sherwin Williams Anchors Aweigh, the LRV is 3!
Which falls on the darker end of the scale – yes, almost a black.
Remember, the lesser the value, the darker the paint color is! (On a scale of 0-100)
Most often, it's best to sample a paint color in your home to confirm it's going to work how you expect. You can do this easily using Samplize. Grab one now for Anchors Aweigh!
And vice versa!
Moving ahead, let's discuss the RGB and HEX Values of the color.
Red = 43
Green = 52
Blue = 65
HEX Value = #2b3441
Now that I am concluding, I promise not to bore you with these scientific details anymore.
Let's talk about the practical aspects of this popular navy blue paint color.
How Does This Color Feel in a Space?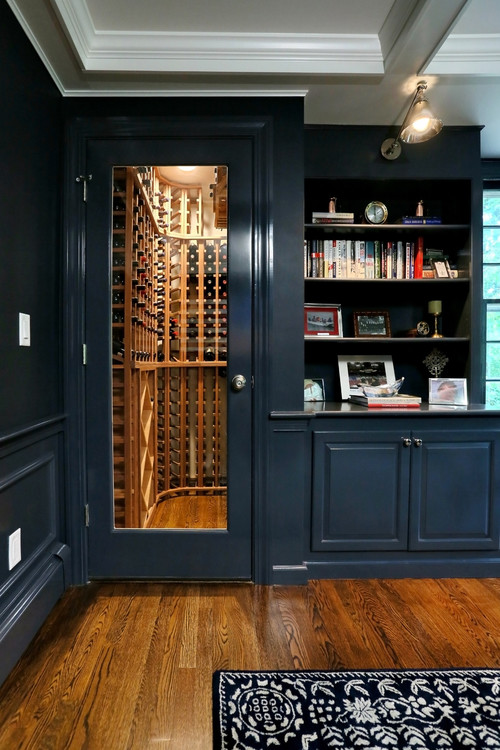 Sherwin Williams Anchors Aweigh feels quite modern, crisp, elegant, unique, and glamorous when used in a space.
However, it depends upon the total amount of color you plan to use in your space.
The more navy blue in your room – the more glam and rich your room will appear.
On the other hand, the lesser navy blue (as an accent) – the more transitional and quirky your room will appear.
You see – there are many tips and tricks to play navy blue with.
Secondly, this color can truly create an illusion in your space – by making it look smaller and confined.
So, you can paint all the walls in SW Anchors Aweigh and make your room feel more glam and warm.
Furthermore, if you want to make a wall come closer to foster a sense of balance in the room – just paint an accent wall in SW Anchors Aweigh.
And yes – you can use this color in any climate!
How Does Light Affect the Color?
Natural light is a must in the room where you plan to use SW Anchors Aweigh.
Yes, only then will this color come out refined and elegant.
And do you know the best part? This color will look almost alike in all the compass directions – whether it is north, south, east, or west!
You must note that without natural light – this color in a room will appear quite dull and dingy.
(And especially a big no-no in smaller-sized spaces)
Furthermore, you can always play with artificial lighting in the form of pendant lights, wall sconces, and recessed or cove lights.
About saturation, prefer choosing warm whites or neutral whites!
Again, I really recommend you try out some wall samples because colors will look different in every location.
What are the Best Coordinating Colors?
Creating color palettes can be quite a fun task to do. (I absolutely love it)
And this is mostly what I am color consulted for!
So, it's crucial for you to choose the best complementary colors in order to define a palette that looks appealing and well-balanced.
SW Anchors Aweigh can be best paired with creamy whites, crisp whites, lighter yellows, mustard, sage greens, lighter blues, and grays.
Regarding metallic accents, I like the feel of brushed brass, chrome, or golden!
However, you have to be careful as to what vibe you need in your space for a perfect color combination.
So, I am going to enlist the two most popular color schemes here – monochromatic and contrasting.
So, here are a few of the colors I would recommend for a monochromatic palette!
SW 6537 Luxe Blue
SW 6536 Searching Blue
SW 6535 Solitude
On the other hand, here are a few of the colors I would recommend for a contrasting color palette!
For your ceilings, trims, and moldings – SW Extra White or SW Pure White will help protrude a true hue of SW Anchors Aweigh.
SW Anchors Aweigh Vs Similar Colors
Although you must know that even though these following colors look similar, they might still differ in the undertones or reflectivity!
So, one of the closely related colors is SW 6244 Naval and BM HC-154 Hale Navy!
Let's see how all of them differ.
Anchors Aweigh Vs Naval
Let's say, SW Anchors Aweigh is a deeper navy blue than SW Naval. Yes, in a way, a true naval!
With an LRV of 3 – this color is equally darker though.
Generally, you can best choose SW Naval with tinges of gold and gray to create a cohesive palette.
Don't worry – you won't regret either!
Order a wall-stick sample of Anchors Aweigh here to help you better compare these colors in your own house.
Anchors Aweigh Vs Hale Navy
Benjamin Moore Hale Navy is another navy blue paint color that feels more inclined towards the neutral blues (comparatively).
With an LRV of 8 – this color is quite lighter as compared to the former navy blue paint colors.
So, if you want a tinge of blue that is not too bold and daring like the former colors, this is something to look forward to!
Also, don't forget about buying real-time samples to determine the tonality of the paint in your home's lighting. Pick samples up from here.
Where to Use Anchors Aweigh?
SW Anchors Aweigh is a paint color that can be used everywhere in your home – from kitchen cabinets to bedroom accent wall, bathroom, home office, furniture frame, and exteriors.
However, you have to be careful how and what you pair it with!
So, let's have a look at these spaces where this color is bound to look flabbergasting in!
Anchors Aweigh in Living and Dining Rooms
Why not?
Well, this color is bound to look bold and astonishing on the walls of your living and dining room.
You can choose to paint all the walls (if the size is large or you have an open concept plan) or simply paint an accent wall.
This color pairs beautifully with crisp white on the adjacent wall and ceiling, beiges on the linen upholstery, and accents like mustard, lemon yellow, or sage green on the accessories.
Don't hold back from a tinge of gold on the lighting fixtures, artwork frames, and furniture frames.
Even a touch of medallion multicolored vintage area rug wouldn't be a bad idea.
Using in Bedrooms
Painting a fresh coat of SW Anchors Aweigh on the accent wall of your bedroom is something that you must look forward to.
You can further add white on the adjacent wall, white sheer curtains, and crisp linen bedding for a clean and refined look.
Don't shy away from flaunting an indoor plant or two in the corner of your room.
Lastly, you have the opportunity to style a golden-tinted bed frame for a luxe look or something wooden for a farmhouse or rustic look.
A faux fur rug would totally complement this backdrop.
Anchors Aweigh in Kitchens
Navy blue kitchens are quite in trend!
And the best way to use SW Anchors Aweigh is on the kitchen cabinets.
You can choose to let the backdrop wall be in crisp white with white backsplash tiles and white marble countertop for a refined look.
For backsplash – you can even choose vintage patterned tiles.
Lastly, don't hold back from brushed brass or gold accents on the pull handles and knob.
Using on Exteriors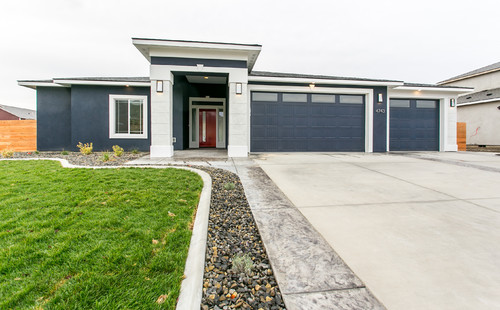 Whether you have a traditional style or Craftsman, Ranch, or transitional – Sherwin Williams Anchors Aweigh makes a wonderful, transitional, and bold statement.
You can paint the shiplap walls in this color and choose to paint the trims and moldings in pure white. Furthermore, you can choose gray for the shutters, door and window frames.
Do you want to make your home look even more interesting? Well, add cherry reds, mustard yellow, or burnt umber on the front door to make it stand out.
My Favorite Way to Sample Colors
I can't say enough about how easy it is to use a peel-and-stick paint sample to give a color like Anchors Aweigh a try. The absolute best way is to order a sample from Samplize.
You can check it out right on your wall and move it around. Also, try it along with a another couple of colors to test pairing possibilities.
This is WAY easier than having to open up little cans of paint and rolling/brushing on. Forget the mess and use these helpful temporary sample squares to test location, lighting options, etc.
So, how do you want to use this color in your homes? Interiors or Exteriors?
Now you see, this color has much more to offer! And you will never have any doubts.
Be sure to check out other Sherwin-Williams blues for more ideas!
Should there be any questions or thoughts, let us know in the comments below!