It's true that greens have a certain magic!
A magic of purity, calmness, tranquility, nature, and absolute beauty.
And one such beautiful paint color is Sherwin Williams Contented that bounds to add a relaxing vibe in your home that'll make you want to spend more and more time in.
It's a medium-toned paint that is neither too dark nor too light – and that's what makes this color so experimental!
So, you might want to think about sage colors (part of SW's green gray colors) and dusty greens as you consider a hue like this in your home.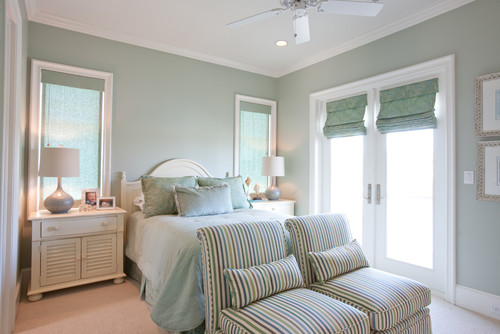 Realistically, I would like to term this color under subtle and sober pastels – whether in the interior design or fashion design industry.
Differing majorly from generic greens, this tone of green is basically formed by adding grays to green.
So, are you excited to use this beautiful shade of green in your home?
Whether kitchens or bedrooms – I promise that you will not have to doubt your decision.
However, you might have to be very careful about picking the best complementary colors.
But I am not going to reveal the secrets that soon.
So, sit back and relax!
Maybe reach out for your favorite cup of coffee as well.
Sherwin Williams Contented SW 6191 Details and Specifications
Before picking a paint color – you must be aware of the color details and specifications.
Since this information is what will accurately help you pick the best tone, tint, or hue!
So, every paint is diverse – even though they tend to look similar!
With tons and tons of SW Greens out there on the swatch – what makes this one so exceptional and distinct?
And that is why you need to first understand how the color is made, its physical properties, and what it truly has to offer.
To make it easier for you, here are a few jargons that you must remember to consider.
Firstly, look at the back of your paint swatches to determine the Light Reflectance Values or the LRV's of the paint color.
This value helps in determining how light or dark the paint color is.
Remember, the greater the value – the lighter the paint and vice versa!
So, the LRV of Sherwin Williams Contented is 52.
And that means it falls on the medium end of the scale!
If you're not quite sure how this color will work in your home, you should definitely try it on for size by ordering a peel-and-stick sample from Samplize.
Secondly, other important associated terminologies are the RGB and HEX Values that further tell us what the color is comprised of.
Red = 189
Green = 192
Blue = 179
HEX Value = #bdc0b3
Since now that we have discussed the technical and scientific information, let's get started with the practical aspects of this calm green Sherwin Williams paint.
How Does this Color Feel in a Space?
Sherwin Williams Contented feels so soothing, calming, and toned-down when used in a space.
You are quite likely to come back home relaxed after a long hard-working day!
I suggest you use this paint in the tropical and warmer states – since it will tend to cool and calm you down in that case.
However, too much of this paint might be monotonous – so, be careful around picking the right amount.
Furthermore, you are free to use this paint in any of the small to medium-sized rooms that receive ample natural daylight!
(Else the paint will feel darker, and you wouldn't like it)
How Does Light Affect the Color?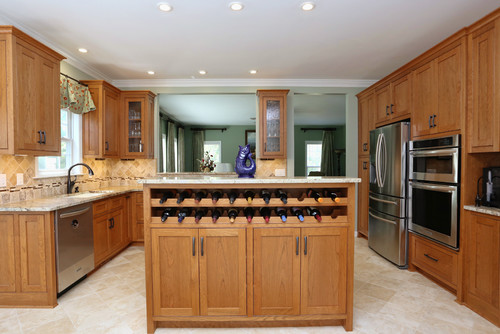 Like I always say – light tends to play a major role in the paints, inclusive!
Here, in this case, I want you to try a little exercise!
Firstly, look around and observe – what is the compass direction of your room and how much time do you intend to spend there?
In case you use the room in the North or South direction, and you mostly spend the evening or morning there – you are quite likely to feel cooler and calmer!
Well, this is good for the tropical states!
On the other hand, in case you use the room in the West or East direction, and you mostly spend the evening or morning there – you are quite likely to feel warmer and lighter!
This is ideal for cooler states.
You see – that's a little game the same paint plays in the same room – throughout the day!
In case of little or no lighting, make use of artificial lighting to play a character in your space.
One way to help find out how this color looks in your home is to buy some temporary wall samples and put them up wherever you want to paint. You can get these easily from Samplize.
What are the Best Coordinating Colors?
Now is the time to discuss something we all have been waiting for – color schemes and color palettes!
So, for a cohesive palette, it is necessary that we choose the complementary hues that create a seamless experience.
Remember, if you mess up with these palettes and schemes – you end up messing with your home.
And you don't want that, right?
Hence, I will recommend a few options that you could consider pairing up with this calm green paint.
First and foremost, you could either choose from a contrasting or a monochromatic color palette – depending upon your interior design style (whether coastal, or any other)!
In the case of contrasts, feel free to pick from crisp and cool whites, deeper blues, mustards, blacks, lighter and darker grays, and even lighter to mid-toned beiges.
So, check out these few colors I would recommend for a monochromatic palette!
SW 6190 Filmy Green
SW 6192 Coastal Plain
SW 9129 Jade Dragon
On the other hand, here are a few of the colors I would recommend for a contrasting color palette!
SW 9109 Natural Linen (see my full paint guide here)
SW 6244 Naval (see my full paint guide here)
SW 7004 Snowbound (see my full paint guide here)
You can use SW High Reflectance White or even SW Extra White on the trims and decorative moldings to further complement your color palette.
SW Contented Vs Similar Colors
There are quite a few colors that easily replace SW Contented – but trust me, none can replace the authentic beauty.
To name a few, the two most similar-looking color options are SW 6184 Austere Gray and SW 6205 Comfort Gray.
Contented Vs Austere Gray
Another green paint with deep gray undertones, SW Austere Gray is a beautiful paint that feels absolutely delightful and calmed down.
However, note that it has slightly more depth and feels much darker!
With an LRV of 51 – this paint feels somewhere in the middle of the scale.
To see how these look in your home, get some large rectangular samples and try on your walls with different lighting sources.
Contented Vs Comfort Gray
Aligning towards the cooler shade of gray-greens, this paint is another one on my favorite list!
Unlike the other alternatives, this paint can feel quite cool especially in the north-facing rooms!
It has an LRV of 54 – hence, the lightest of them all.
Find out more about Comfort gray in my in-depth article here.
To truly experience and compare these colors in real-time be sure to buy some stick-on samples and test them in your home.
Where to Use Contented?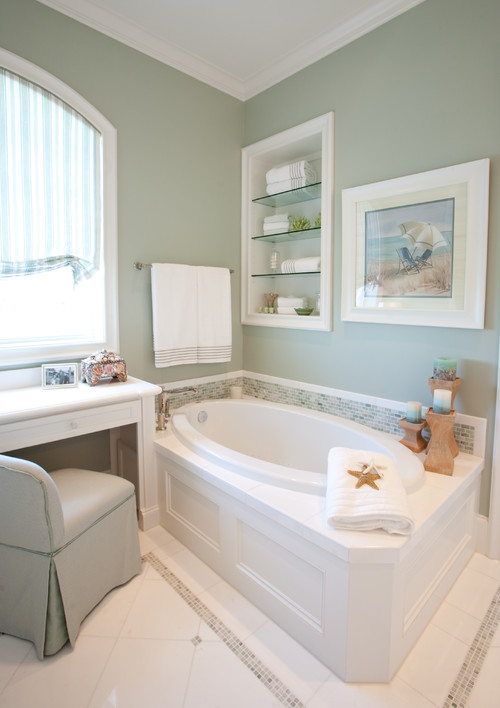 SW Contented can be used anywhere in your home – whether north or east-facing!
Furthermore, you can also use it in the bathrooms, bedrooms, living rooms, meditation rooms, and even home offices and kitchens!
This calm paint color is a great recommendation for interior design styles such as Coastal, Caribbean, and Floridian styles!
Let's see where and how to incorporate this beautiful green paint color in your home.
Contented in Living and Dining Rooms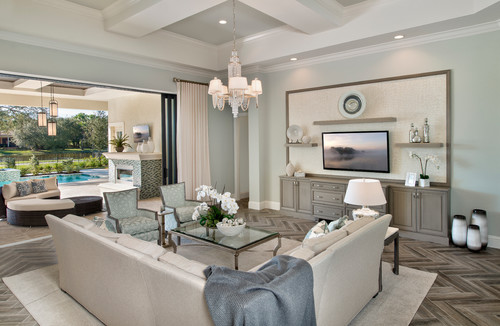 Absolutely yes!
You can paint all the walls in this paint or simply use the upper half of the paneled wall to make the most use of this tranquilizing paint!
(You can also use it on the accent wall)
Use crisp whites on the ceilings, door and windows and bold mustards, grays, and blues as the accents.
I further recommend using dark hardwood floors, white wooden or black metal furniture, and probably airy glass furniture that allows the room to further swank its aura.
Remember to incorporate tons of wooden textures here for a refined palette!
Using in Bedroom and Bathrooms
There have been quite a few times I have recommended this paint in the bathrooms.
You can pair it with white vanity and cabinets along with chrome-finished fixtures to experience a soothing bathroom.
Furthermore, in the bedrooms, in the case of the smaller ones – you can absolutely use this paint on the accent wall.
Else, for larger rooms – why not try painting all the walls in this color.
You can also pair with lighter-toned curtains and upholstery to create a balance (patterned wouldn't be a bad option too)!
Contented in Kitchens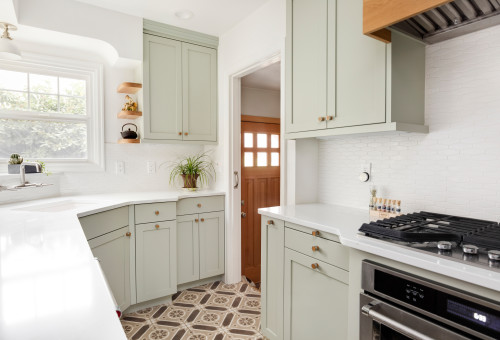 Do you like this soothing kitchen?
Well, who wouldn't, right?
You can pair it with crisp whites on the backdrop wall and chrome-finished accents on the fixtures.
Using on Exteriors
Especially for Cape Cod, Caribbean, and Coastal styles, this color is a great option for your exterior walls.
You can either pair it with white or lighter and darker gray accents through trims, moldings, and door and window frames.
You can also use natural stone wainscotting for the patio columns and surroundings!
So, how do you want to use this color in your homes? Interiors or Exteriors?
Best Way to Try Out This Color?
I have to share one of my favorite tips when testing out colors like Contented – go and order a peel-and-stick sample from Samplize.
This company has an amazing way to sample colors super conveniently with real paint.
Simply stick up a temporary square sample of it and avoid the whole paint and roller mess (at least until you're ready!).
For a small amount of money you get a giant "sticker" you can place up in the space you're painting. You can also try out coordinating colors as well. It's great!
By the way, if you love SW Contented be sure to see my review for SW Evergreen Fog – it's quite similar and was the color of the year 2022!
Should there be any questions or thoughts, let me know in the comments below!