What struck your mind as I call out for Oyster Bay?
I am sure it is the seashells with pearls or seafood, right?
Well, have you actually tried oysters?
That green-brown color you see – Yes! That 'green' is what is called out here in the color.
Sherwin Williams Oyster Bay is a crisp green paint color with slight tinges of grey.
Timeless and Classic, this green has a perfect graceful touch to it!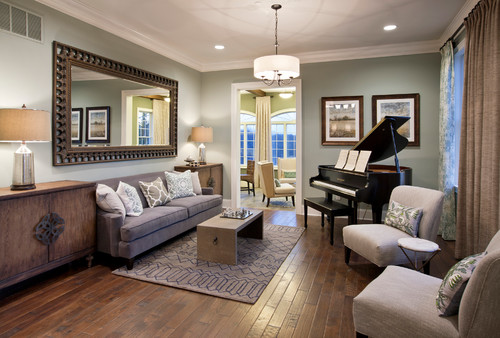 If you are looking for painting the walls of a Farmhouse Style home – I must say, Oyster Bay can absolutely make the cut!
However, I would recommend using it more like a mini-accent! (That is my version of saying – not a bold accent, but slight tints).
Oyster Bay is not really very bold, instead, has a calm and soothing appearance.
More like a neutral and slightly aligning towards the 'cool' end of the scale, this color has a lot to offer to you!
But one thing is given – this color will never ever fade away!
So, if you a person who doesn't believe in renovating homes often, Oyster Bay could be something you are looking for!
But before finalizing that, read below to know more about the timeless Oyster Bay!
Sherwin Williams Oyster Bay SW 6206 Details and Specifications
If you are new to this field of color psychology or relatively experienced, one thing that you must know before choosing a color is the values associated with each color.
Theories such as Light Reflectance Values (LRV), RGB Values, and HEX Values are important to know!
The reason why they are important is that every color has a hidden story – Yes!
Believe me, those hidden theories will help you in deciding whether to choose the color or not, or if you are looking for that particular color, and where to actually use it!
So, are you familiar with that?
Let's discuss the details for Oyster Bay and see if this is what you are looking for!
The LRV of Oyster Bay is 44! (1 is the darkest, whereas 100 is the lightest)
Well, this color definitely is on a darker scale!
And that means it is not going to reflect a lot of light. And rather will absorb it.
If you're not quite sure how this color will work in your home, you should definitely try it on for size by ordering a peel-and-stick sample from Samplize.
Other associated values are: Red = 174, Green = 179, Blue = 169
HEX Value = #aeb3a9
How Does Oyster Bay Feel in a Space?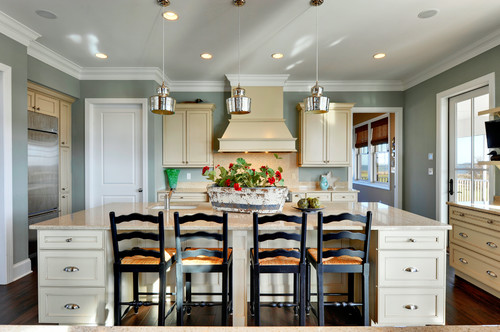 The island painted in SW Oyster Bay brightens the interiors
Undoubtedly, calm, and soothing!
Even though the LRV of the color is a smaller number – the appearances still make your room look spacious and brighter!
There is something so charismatic about this color that the moment you enter homes – you are quite likely to calm down and immediately get into your relaxation mode.
Being inspired by nature, this color has always – and 'will always' – be a trend in interior design!
Just pair them up with warm neutrals and observe the new 'natural haven' you created for yourself!
Now that most of us are either locked in and some are preferring to work from home, using this color would be the best idea to reconnect with nature – once again!
How Does Light Affect the Color?
Rhoda from Southern Hospitality shares her friend Ruby's experience of SW Oyster Bay walls in a cottage
Light does affect the color.
Depending on the artificial warm-yellows, warm-whites, and cool-whites – the color changes its appearances to be even more brighter – maybe like SW Comfort Gray.
Even natural lighting affects this color by making it look light and bright.
Try this color on North-facing rooms or west evening faded sunlight.
Oyster Bay could be your possible solution both ways – now here is a trick!
In small and congested rooms, don't hesitate to use Oyster Bay – but remember, to pair it with whites and off-whites through your furnishings.
That way you can have the best of both worlds!
Meanwhile, if you have a large room – you can definitely choose Oyster Bay – alongside other bold accents.
What are the Coordinating Colors for Sherwin Williams Oyster Bay?
I know you are quite impressed with the hue and want to use it in your homes now.
Not to worry!
I have a few tips and tricks and suggestions to choose the perfect pair for this color.
I am going to have perfect suggestions for you – both monochromatic and contrasting themes.
If you are more like a minimal person with monochromes, Oyster Bay best pairs with-
Sea Salt SW 6204 (see my full paint guide here)
Retreat SW 6207 (see my full paint guide here)
Pewter Green SW 6208 (see my full paint guide here)
However, if you are more drawn towards contrasts and pops of shades and colors, pair it with the following-
Warm neutrals like Pearly White or Pure White
Natural Wooden Textures
Subtle grays like Olympus or the calm and cool SW Reflection
For the trims and moldings, use SW High Reflectance White to enjoy the most of Oyster Bay!
Sherwin Williams SW 6206 Oyster Bay Vs. Similar Colors
There are endless alternatives to Oyster Bay!
Ok, just kidding! It is hard to find the exact same color (As I said before, they all have their own stories).
But it is still possible to find the nearest one.
Some of the similar shades are SW Escape Gray and SW Contented.
Oyster Bay Vs. SW 6185 Escape Gray
Comparatively darker but extremely similar, LRV for Escape Gray is 41.
Escape Gray is a more subtle version of Green-grey with highly cool background.
Since screens can be deceiving, I highly suggest you get some samples of these two colors from Samplize. Buy here!
Oyster Bay Vs. SW 6191 Contented
With an LRV of 52, this is a much brighter alternative to Oyster Bay!
This is more like sage green with a slightly creamy texture – that is bound to enhance your space.
Contented makes your space look lighter and much brighter than Oyster Bay.
Also, light plays a major factor here!
Contented is highly affected by the temperature and color of the light source.
To see how these look in your home, get some large square samples and try on your walls with different lighting sources.
By the way, if you want or more subtler green-gray definitely check out SW Silvermist – a fantastic choice that tends to appear more gray but includes some green/blue undertones.
Where to Use Sherwin Williams Oyster Bay in Your Home?
Many homeowners across the world have used this color to add a farmhouse touch to their homes.
I would recommend using this color absolutely anywhere you feel like!
It has no rules and restrictions!
And since the color is admired by nature and kind-of mimics it too – you should be obliged to use it wherever it requires to be felt good!
And even the Exteriors!
Oyster Bay in Living Rooms
Oyster Bay in living room pairs opposite wooden textures and stark whites.
The living room should be a welcoming space. It should be able to drive the attention of your guests as soon as they pay a visit!
Oyster Bay could be used for sure – just pair it with whites, off-whites, and natural hardwood textures.
If you have wooden plank flooring or any type of gray colored floor – it is a plus!
Use white marble stone around the fireplace or simply white painted exposed brick to add a perfect rustic farmhouse touch!
Using OB in Bedrooms
Sherwin Williams Oyster Bay best complements the whites, which is pulled off well in bedrooms.
Bedrooms are your most private spaces.
They demand to be soothing and relaxing. Well, here is another victory for Oyster Bay as all these characteristics align with what Oyster Bay has to offer.
You could use white distressed headboards with side tables, or even matte-black tinted floor lamps to attain cohesiveness!
Off-white and Browns are highly recommended too! Maybe try, wooden-finish furniture?
Using in Kitchens
Blogger Nancy from Artsy Chicks Rule® remodels her kitchen and paints the cabinets in SW Oyster Bay
Use oyster bay in kitchen areas for both way rounds.
If you paint your walls in Oyster Bay, then leave the cabinets in stark white or off-white and countertops in white marble or granite!
The story another way round is-
If you plan on painting your cabinets in Oyster Bay – paint the walls in white or off-white neutral with glossy backsplash.
Use white marble countertop as well!
Oyster Bay on Exteriors
You must be thinking – why should I paint my home exterior in green, right?
Well, trust me – it actually works quite well.
When natural light dominates, this color will appear to be even lighter and brighter!
You're left with a grayish-green effect that's modern and attractive, and most importantly homey and inviting from both at a distance and up close as you walk to the house from the curb.
How to Best Sample This Color?
I can't say enough about how easy it is to use a peel-and-stick paint sample to give a color like Oyster Bay a try. The absolute best way is to order a sample from Samplize.
You can check it out right on your wall and move it around. Also, try it along with a another couple of colors to test pairing possibilities.
This is WAY easier than having to open up little cans of paint and rolling/brushing on. Forget the mess and use these helpful temporary sample squares to test location, lighting options, etc.
A Versatile and Soothing Accent for Your Home
Farmhouse decor or not, this shade gives you options to play with.
For example, kin a kitchen paint the walls in Oyster Bay and let the door and window frames in white – or – paint the frames in Oyster Bay and let the walls be white.
Both ways, I guarantee a charming appearance!
So, has Oyster Bay been able to win your heart? Are you going to use this color for your home interiors?
Do let us know your experiences in the comments below! We would love to hear from you!