So, you've decided to go with the trendy gray instead of the classic brown hardwood. Now, you're left wondering what's the best wall color for gray floors.
Do you go for a bold color to make the walls pop? Or do you settle for muted tones?
I know the feeling all too well.
After all, the right wall color can make or break your interior design, and sticking to a choice can be overwhelming.
Whether you want a modern or a vintage look, in this post, we go over some of the best color matches to complete your room perfectly!
My Fave Wall Colors for Gray Floors
Although the most common gray floorings are neutral, you can still get gray in different undertones.
You can find warm grays in smokey shades, concrete finishes, and ash-like carpets. Meanwhile, cooler grays are more fog-colored with blue hues.
That's not always a problem since different undertones will still pair with a wide variety of wall colors, from bold pops to subtle blends.
Why bother with grays in the first place?
Aside from it being trendy, they're low-maintenance.
From experience, gray floors don't show dust easily. Even with hardwood, scratches aren't as obvious on light grays.
Let's go ahead and look at five wall paint colors that go with gray tile, carpeting, hardwood, and linoleum:
1. Soften the Room with Dusty Blue Walls
We can't talk about wall paint colors that go with gray tile without mentioning blues. After all, it's a classic combo.
One particular paint that works really well with most gray floors is Sherwin Williams' Dustblu SW 9161, but Benjamin Moore's Dusky Blue 1640 would work fine, too.
The SW 9161 is neutral and has a matte finish. Some people might confuse it with steely gray, but it's a tad bit more muted.
Personally, I find that dusty blue radiates comfort and intimidates without being too tacky or in-your-face kind of bold.
Wonder why that is?
Because blue is associated with calmness and safety in the psychology of colors, it can feel very welcoming.
That's why I'd recommend using it for a guest bathroom or a dining room.
However, for open spaces, like a kitchen, you might need to break off the blue hues with eggshell walls, making the dusty blue the center of the room with lighter walls all around it.
If you're into modern furniture, you can mix up dusty blue walls with gray hardwood, preferably one with a pale warm undertone.
Here's a pro tip:
You can go for aged white and neutral browns in your room decor to top up the look.
They can tie up the walls with the floor without drawing attention from a statement dining table.
View this post on Instagram
2. Navy Walls Are for Everyone!
Navy is one of those shades that work well in most finishes. However, I have a soft spot for Behr's matte Very Navy M500-7.
You can jump to PPU14-20 if you want a darker scheme of gray floors with blue walls, but I like the balance of the M500-7 better.
It's not too dark and adds just the right amount of je ne sais quoi to your space.
If you're looking for the perfect color for your reading corner, navy is your match.
Especially with a luxurious gray carpet, it can look very grown-up and sophisticated.
View this post on Instagram
As a plus, navy walls work nicely in a nursery since it's unisex, easy to decorate, and doesn't show dirt quickly.
View this post on Instagram
Where's the catch?
The only issue with navy walls is that they can darken up the room too much.
To fix this, I'd recommend going for statement wall accents. Think hemp hanging plates, framed collages, and abstract mirrors.
If you want to keep things simple and stripped down, you can try the single wall method and keep the other walls white or a muted gray.
Bonus points if you do it behind a ridged fireplace!
To blend the navy into the room, I like using just a touch of teal in a cushion or a couch throw to brighten things up.
You can stick to earthy neutrals (beige and sandy brown) for the rest of the space to avoid overdoing it.
3. Create a Calming Atmosphere with the Perfect Greige
Sometimes, people shy away from mixing grays simply because playing with undertones can be intimidating.
You don't have to fear mixing your grays anymore!
The fact that Sherwin Williams' Perfect Greige SW 6073 (check out our review here), has a subtle mauve undertone that gives it all the warmth you need to break off dull gray laminate.
You can also swap the SW 6073 for Benjamin Moore's Revere Pewter HC-172 (check out our review), if you want an even warmer shade.
As it turns out, the matte finish on these paints works well for gray carpets with a subtle pattern without clashing.
After playing around with the Perfect Greige for a while, I came to find that natural light is its best friend.
Here's why:
The gray flooring with the simple walls requires neutral furniture in dark brown. Maybe a touch of coral flower pots or copper decorations.
All these can make the room seem way too dull if you don't break it up with enough sunlight.
That's why you can start with this color combo somewhere with large windows and a nice view!
But that's not a hard and fast rule.
You might also want to consider using the Perfect Greige for small spaces, like a laundry room.
The light color with warm undertones can make the pace seem roomier than it actually is.
Plus, this particular shade gives off "clean and organized vibes" for some reason. It just makes the space look very neat.
4. Pop up Your Mood with Saybrook Sage Walls
Some people think darker emerald greens would work best for gray floors. However, I find that paler shades blend in better.
When I was looking for the perfect shade of green to use with gray carpets, I came across Benjamin Moore's Saybrook.
It looks a lot like Behr's Environmental at first glance, but Saybrook Sage has a stronger hint of mint in it.
It also reminded me a lot of vintage kitchens, but I felt like it had the potential for giving a living room a contemporary twist.
And boy, was I right!
For a more mature finish, you can settle for simple tones in your furniture, like browns and earthy tans with black accents.
View this post on Instagram
The beauty of this particular shade of sage green is how well it works with both light and dark grays.
However, if you have smokey gray floors, I'd recommend skipping the black accents. Otherwise, it'll end up looking too dim.
On the other hand, you can go for brighter peachy accents and maybe a hint of orange. It might be just the quirky thing you've been looking for!
Here's another twist:
In a bathroom, sage paint can add freshness to gray tiles or linoleum, especially if you pair it with green towels and a small flowering plant pot.
All in all, sage reflects peace, growth, and wisdom. There's a reason why herbs look so tranquil and calm!
5. Timeless School House White
If you're still wondering about using what color wall paint for gray floors, you might be interested in Farrow & Ball's School House White.
Why bother with a specific brand when any good old bucket of white paint will do?
Here's a little shocker:
White paint still has undertones, and this particular shade by Farrow & Ball has a faded, neutral tone that blends smoothly into light gray floors.
Sure, the muted combo might remind you of bleak bathroom paint jobs, but there's so much more potential here, and you don't even have to go minimalist!
There are two scenarios where this combo works best:
First, in rooms where you want to create a calm or professional look. Maybe a home office where you'll be receiving clients?
The white and gray combo will look modern, sleek, and un-distracting there. You can pair it with dark gray, black, or navy accents.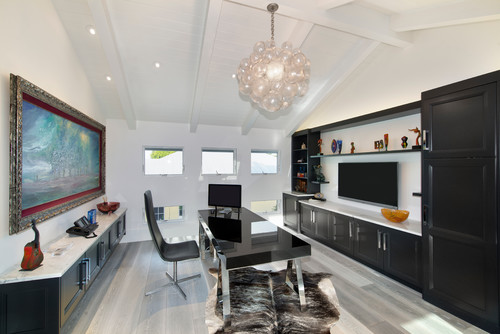 The second scenario takes place in a room where you want the furniture and accents to speak up.
For instance, you might want to cover up the majority of space with frames or bookshelves.
In this case, the subtle wall and flooring will let your personality shine up in your choice of decor. So, go crazy with the colors and textures!
What I love most about pairing white walls with light gray tiles or carpets is how versatile it is. It can go from professional to bohemian or from girly to industrial in a blink.
Final Thoughts
The takeaway here is that gray floors fit different moods, from a calming beach vibe with dusty blue to a quirky sage green.
If muted schemes aren't your cup of tea, jump in with a bold navy atmosphere.
Take a pick with the best wall color for gray floors that suits your taste!