It's not the first time I'm addressing this beautiful beachy paint color. And it's quite likely you'll find tons of input on this one and many inspirational images.
Just like any other soothing blue, gray, or greige – Sherwin Williams Sea Salt is quite a popular color that's in high demand among designers and homeowners.
This color is a blend of green and gray that forms a tranquilizing and soothing appeal to the eyes as well as your soul and surroundings.
Due to these positive effects, the color is no doubt desirable.
It seems like I spot it everywhere now – independent of function and space.
This color takes inspiration from low-depth seawater that exhibits a slightly cooler experience (but not too cool)!
Meanwhile, you really can observe the tints of gray in it as well – offering the perfect touch and look!
Undoubtedly, I have recommended this color to my E-Design clients often!
And why is that so?
Well, because I'm time and time again I've seen this color not disappoint.
And if you're also among that long list of Sea Salt lovers – this article is quite a read.
I am going to dig in and share pretty much everything about how this color: how it's formed, the best complementary color schemes and palettes, and lastly, where and how to use it in your home.
So, let's get started!
Sherwin Williams Sea Salt SW 6204 Details and Specifications
You're quite likely to find a couple of other neutral gray-greens that look alike.
However, the only way to differentiate between those two colors is the details and specifications.
Well, most of the homeowners end up ignoring these values – but, I must tell you that you shouldn't!
So, first and foremost, let me introduce you to the concept of Light Reflectance Values or the LRV's that determine how light or dark the paint color is.
You can easily find that value at the back of the Sherwin Williams paint swatch or even the website!
Here, in this case, the LRV of Sherwin Williams Sea Salt is 63.
And that means it is quite lighter in tone – well, another advantage added to the list.
(Remember, greater the value, lighter the paint)
Oh, if you want to just try Sea Salt so you'll know just how it'll look, you can easily with a peel-and-stick sample from Samplize. Order some samples now!
Secondly, other important associated terms are the RGB and the HEX Values.
Red = 205
Green = 210
Blue = 202
HEX Value = #cdd2ca
Now that is enough with the technical and scientific information, let's get started with the practical aspects of this grayish-green Sherwin Williams paint.
How Does This Color Feel in a Space?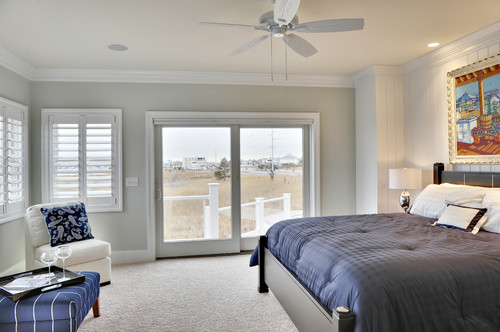 Undoubtedly, phenomenal, inspiring and absolutely refreshing!
The tinge of green in this paint helps exhibit a sense of revival and growth while strictly maintaining a calm and subtle atmosphere!
While duller than a robin's egg blue paint color, it still brings that same clean and serene feel.
Trust me, this color will make you feel amongst nature in every way possible.
Moreover, just in case if you are working from home – this color is an absolute bliss in calming you after working late nights and early mornings.
I recommend using this paint color as neutral or accent!
Long story short, you can paint all the walls in this specific paint color or even use it as an accent and pair it with off-whites and other whites.
Furthermore, keep a note that you can best use this paint in either west or south-facing rooms.
Also, depending upon the functionality of that particular room – since you wouldn't want to feel chilly in the west-facing room when you clearly use the room during mornings!
However, don't hold back from using this paint on the north or east as well since the color doesn't feel too cold!
So, you're good to go both ways!
How Does Light Affect the Color?
Natural light plays a tremendous role in this green paint color!
So, firstly, if you intend to use this paint in a room with ample natural light – the paint might get washed off!
(The 'green' in it will simply disappear)
But if you have sufficient natural light – you might feel the color during the daytime as well!
In the north-facing rooms, you are likely to find the 'gray' popping out more instead of the green!
Whereas the south, east, and west can flaunt off green with sometimes yellow from the sun!
On the other hand, artificial light can also be added to create the desired aura!
Warm white lighting plays quite well.
To truly see what your home's environment and lighting will do here, try out a real paint sample. It takes out the guess work!
Best Sea Salt Coordinating Colors?
Now comes one of the best topics to talk about – color palettes and color schemes!
Since you're now planning to use this paint color in your home – I must tell you, choosing a cohesive color palette is important.
Otherwise, your space might look all messed up.
So, you could either amalgamate colors of the same family to create a monochromatic palette or choose a fun-loving contrasting color palette that creates a sense of depth in your space.
For a beachy paint color like Sherwin Williams Sea Salt, you can best pair it with burnt oranges, creamy and true whites, deeper grays, taupes, greiges, and somewhere pinks!
Talking about materials, you can absolutely use glass, metals, wood, and natural textures like rattan, cane, and wicker!
Sea Salt Color Combinations – Monochromatic
Firstly, I am going to share paint colors to be used for a monochromatic palette.
SW 6205 Comfort Gray (check my full review here)
SW 6206 Oyster Bay (check my full guide here)
SW 6207 Retreat (check my full guide here)
You can definitely mix and blend all of them through paint colors, decorative accents, and upholstery!
Sea Salt Color Combinations – Contrasting
Secondly, I am going to share some Sea Salt coordinating colors to be used for a contrasting palette.
SW 7005 Pure White
SW 6099 Sand Dollar
SW 7067 Cityscape (see my full guide here)
In the case of ceilings, trims, and moldings – I would recommend using SW Pure White and SW Extra White to further protrude this color!
SW Sea Salt Vs Similar Colors
First, let's get this out of the way… this color is not much like the Benjamin Moore Sea Salt I cover here.
The one from BM is much warmer and almost like a khaki gray.
Now back to our SW color…
Even though there shouldn't be a need – I must tell you that SW Sea Salt in itself is a very pretty color!
You shouldn't be looking around for alternatives, right?
However, just in case you're curious about alternative SW Green colors, the two colors closely related are SW 0052 Pearl Gray and SW 6190 Filmy Green.
Let's see how they differ!
Sea Salt Vs Pearl Gray
SW Pearl Gray is a much more bold and deepened version of SW Sea Salt!
Even with a high reflectivity of 61, this color is more inclined towards the greens than the grays!
You can consider the same above-mentioned color scheme for this paint as well.
Order a wall-stick sample of Pearl Gray here to help you compare colors in your own space.
Sea Salt Vs Filmy Green
Another green paint color that shares quite some similarities with SW Sea Salt – I must say that you are quite likely to detect green in this paint!
Even more than grays.
If you don't like the color getting washed off in the south or east-facing rooms – I recommend this particular paint alternative.
Do yourself a favor and grab some stick-on sample squares of these two colors and see what looks best in your home.
Where to Use Sea Salt?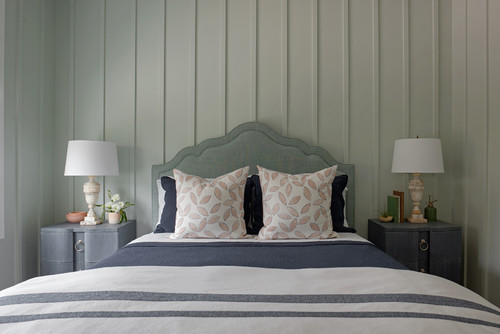 You can use this paint color in your home where the areas are small and are craving to appear larger and spacious.
(Of course, due to the high reflectivity)
So, talking about the interior design styles, you can use this paint color in Coastal, Caribbean, Transitional, Traditional, and Contemporary interior design styles.
Let's discuss how to incorporate this paint color in your home!
Sea Salt in Living and Dining Rooms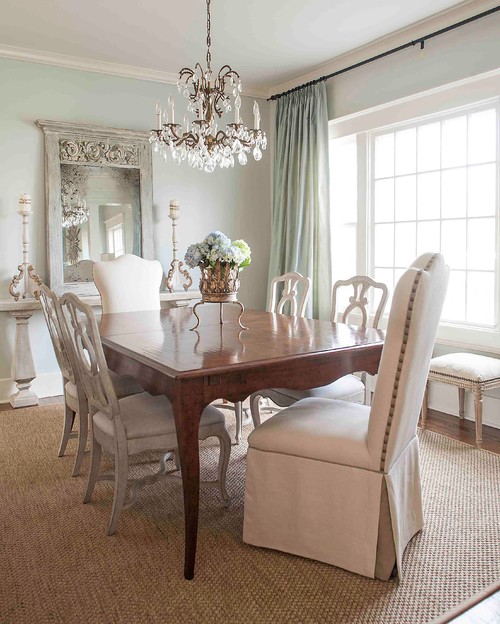 You definitely should if you want a beachy vibe!
Well, this color is quite easy to work with (and after that, I have mentioned a couple of recommendations up there)
So, if you want to incorporate nature and feel like being closer to the beach, you can pair this color with natural materials and lighter woods.
Use macramé wall decoratives and some rattan furniture to further create a seamless experience!
In the end, you can use true white paint on the trims, wall and door frames, and moldings to feel the true grayish-green paint!
Using in Bedrooms and Bathrooms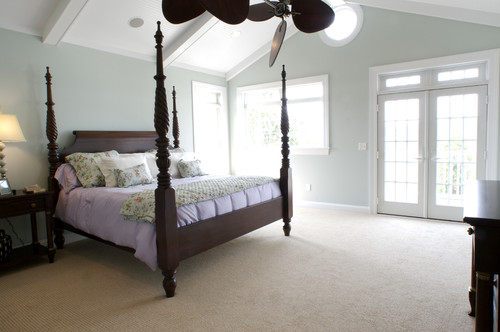 You would absolutely love it – since bedrooms require utmost silence, patience, and a calm backdrop!
So, you can pair it with white sheer curtains, wooden textures, matte black chandelier, and linen upholstery!
On the other hand, the bathroom is a great space to have SW Sea Salt!
You can pair it with a white countertop, gray or white tiles, and even some patterned backsplash!
This color makes a great statement in transitional-style bathrooms!
Sea Salt in Kitchens
There is no better way to incorporate this paint color in kitchens if it is not on the cabinets.
If you have a large and spacious kitchen – using this paint color is definitely good to go!
On the other hand, you can pair it with a beige backdrop, black or brown granite (it's on my list of fave colors for brown granite counters!), or marble countertop, and chrome or nickel finish fixtures, drawers, and pull handles!
You could also go vice versa and paint the cabinets in stark white to let the airier kitchen play magic!
Using on Exteriors
Playing with SW Sea Salt on exteriors could be quite a tricky yet interesting business.
You need to assure pairing it with darker shades to create a cohesive yet attractive exterior color palette.
So, keep in mind to use beiges, off-whites, whites, and darker greys!
But a plus point is that you can use any shade of stone if you are planning to use it!
Great Paint Sample Tip!

Here's my favorite tip when it comes to testing out a color like Sea Salt – go and order a peel-and-stick sample from Samplize.

These guys figured out a great way to sample colors much more easily. Simply stick it up instead of having to get a small can of actual wet paint.

For a few bucks you get a nice sized square to throw up temporarily anywhere you want to "try" on a paint color and any possible coordinating hues you like. Too cool!
So, how do you want to use this color in your homes? Interiors or Exteriors?
Now that you have all the secrets – are you excited about painting your home in Sea Salt?
Should there be any questions or thoughts, let us know in the comments below!