Unlike the blissful and calm Sea Salt from Sherwin-Williams – Benjamin Moore Sea Salt brings you a sandy beach and relaxing spa massage vibe.
It's a light gray paint color with deep brown undertones!
Seems a bit tricky, right?
But this attractive paint feels like a cool greige and khaki and tends to align with both – warmer and cooler sides of the paint.
Also, let me tell you, don't confuse this paint with Sea Salt from SW (you can read all about that one here!).
There are quite a few considerable differences in these two paint colors when it comes down to it!
One is truly grayish-green whereas the other is predominantly brown and greige – the one from BM we're discussing here.
So, primarily when I speak of BM Sea Salt, I want to convey the feel of multi-toned oysters and afternoon reflection of sand.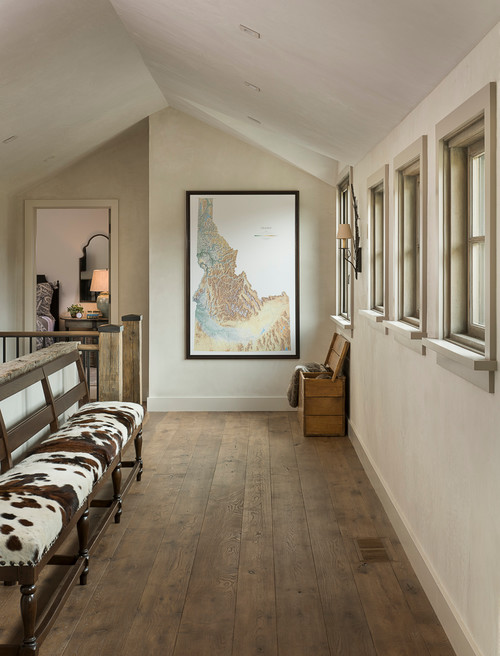 And moreover, you would be glad to know that this paint color is quite versatile.
Offering one solution for all – this greige color intends to protrude the beauty of both, the beige and gray paint altogether.
So, are you wondering how to best make use of this paint in your home?
Well, I have got you covered!
This color review will exactly help you how and where to use the paint color.
And on top of that, if you should really use it or not!
So, let's get started.
Benjamin Moore Sea Salt CSP-95 Details and Specifications
Greiges and khaki have a certain charm. And there are various ways to differentiate them from their other cousins – browns, beiges, and tans.
And do you know how?
Well, let's discuss the details and specifications that are one of the most important aspects when choosing a paint color.
So, when choosing a paint color – you must understand the underlying theories and facts that are related to each one of them.
So, first and foremost, let me introduce you to the concept of Light Reflectance Values or the LRV's that determine how light or dark the paint color is.
You can easily find that value at the end of your Benjamin Moore paint swatch or even the website!
Here, in this case, the LRV of Benjamin Moore Sea Salt is 62.93.
And that means it falls on the medium to the lighter end of the scale – hence, can be used as bases! (You can consider painting all the walls of your room in this color)
(Remember, Greater the value, lighter the paint – on a scale of 1-100)
Secondly, other important associated terms are the RGB and the HEX Values.
Red = 213
Green = 207
Blue = 195
HEX Value = #D6CFC4
Since we have discussed the technical and scientific information, let's get started with the practical aspects of this greige Benjamin Moore paint.
How Does This Color Feel in Space?
Benjamin Moore Sea Salt will truly bring the vibe of sun-bathing on warm and cozy sand!
Yes! This color is very closely related to warmth, coziness, and extreme comfort.
It is creamy and sobre – thus, giving your space an ultimate feeling of being calm and composed.
However, you must know that this color can tend to play tricky in some situations. Majorly, the paint has greater depths to give your walls a sense of character and identity.
Apart from that, this color wouldn't overpower your space – and is quite good to go for medium-sized rooms as well.
How Does Light Affect the Color?
This is a major point of concern when picking paint colors for your room.
So, do you generally tend to overlook the aspect of incoming light or take that into consideration?
Well, in either case, let me tell you that you must analyze the incoming natural light.
Based on the amount of incoming light you should determine the reflectivity of your paint color.
So, this color is a great recommendation for east or north-facing rooms, since it exhibits a warm appeal.
On the other hand, in the south and west-facing rooms, this color is slightly bound to appear golden-ish.
But don't worry! None of them is prominent.
Secondly, you always have the opportunity to use artificial lighting in the form of chandeliers and wall sconces.
What are the Best Coordinating Colors?
It's important that you pair Benjamin Moore Sea Salt cohesively to truly feel the beauty of this color.
And that is why you have to be careful when choosing complementary color schemes!
You can best pair this greige paint with true whites (in the case of trims etc), blues, mauves, black, taupes like BM London Fog, and tints of yellows for a contrasting feel.
You can also incorporate any of the metallic tints as accents here – like nickel, gold, or chrome!
Furthermore, you can either choose from a monochromatic or a contrasting color palette – depending upon the interior design style and your preference.
So, here are a few of the colors I would recommend for a monochromatic palette!
CSP-170 Greenwich Gate
CSP-175 Kid Gloves
1531 Victorian Garden
On the other hand, here are a few of the colors I would recommend for a contrasting color palette!
AC-41 Acadia White
PM-8 Charcoal Slate
CSP-195 Porcini
For your ceilings, trims, and moldings – you can use BM Chantilly Lace as it is a true white paint and will further protrude the original adjacent hue.
BM Sea Salt Vs Similar Colors
Looking for similar colors can be equally challenging!
However, when looking for them, you must know that there might be a slight alteration in the undertones or the reflectivity in similar colors.
And majorly, they could either be differentiated through undertones or reflectivity.
Well, in either of the cases, let me tell you – it's difficult to find something exactly the same.
So, here are the two colors closely related to BM Sea Salt are CSP-35 Penthouse and SW 7632 Modern Gray.
Let's see how they differ.
Sea Salt Vs Penthouse
When closely observed, you are quite likely to notice the differences in the undertones here.
Well, Sea Salt exhibits a slightly pinkish undertone. On the other hand, BM Penthouse appears with slightly beige undertones.
And with an LRV of 63.45 – it falls on the medium to the lighter end of the scale.
Sea Salt Vs Modern Gray
Another very close alternative, SW Modern Gray feels equally soft and creamy.
This paint color has an LRV of 62 – thus, comparatively darker of them all!
You can best pair it with darker blues and creams!
Where to Use Sea Salt?
A versatile paint color like Sea Salt can be used absolutely anywhere in your home.
Whether it is the kitchen cabinets, the living room walls, or the bathrooms – this color is bound to play flawlessly.
However, note that this paint color can't be used in the exteriors.
So, let's see how and where to incorporate it.
Sea Salt in Living and Dining Rooms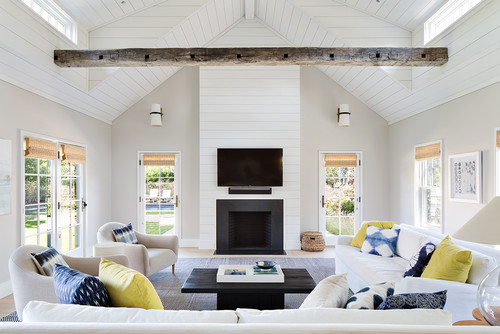 Especially for transitional, traditional, and farmhouse interior design styles, this tone of greige is quite good to go.
In case you have wall paneling and moldings, use crisp or creamy whites to help the color protrude out.
Furthermore, this color best compliments blues, mauves, and mustards.
Lastly, in terms of metallic accents, use matte black, chrome, or brushed brass.
Lastly, wooden textures are a must – especially when it comes to floating shelves, exposed beams, and flooring!
Using in Bedrooms
More than an accent wall, this color plays flawlessly when used on all the walls.
It exhibits a comfortable and warm appeal – and at the same time, makes your space feel confined and welcoming.
You can always add white sheer curtains and warm gray curtains to go with the overall palette.
Lastly, lay out white shag rugs to further uplift your bedroom.
Sea Salt in Kitchens
This tone of greige looks amazing in the kitchens!
But at the same time, I would recommend using it on the backdrop wall rather than the cabinets.
Furthermore, use creamy whites on the cabinets and a chrome finish on the pull handles and drawers.
Secondly, add white or warm gray backsplash tiles and black or white granite countertop to go!
So, how do you want to use this color in your home? Interiors or Exteriors?
Now that you're armed with a bit of knowledge – are you ready to paint your home in Benjamin Moore Sea Salt?
Should there be any questions or thoughts, let us know in the comments below!