Sometimes, you're looking for that perfect dusty green that neither inclines to teal green, nor a mainstream green, mint green, bottle green, or blue-green!
Yes, particularly if you like something in between olive green and sage green, this is a shade to totally have an eye on!
Benjamin Moore Storm Cloud Gray is a dominant gray-green neutral that has just the right amount of depth and drama, and a touch of haze green in it that can equally bring natural and organic vibes.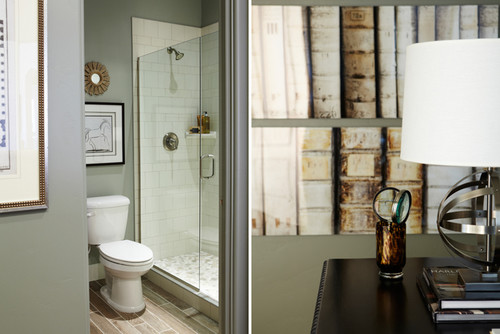 It's bold and daring, and that's why it's a great accent to make a statement anywhere in your home.
However, there are a few aspects and considerations to deal with – when painting your home with this gray-green paint color.
No doubt it's enchanting and moody – but at the same time, it could potentially feel too dark and confined at some points of the day.
So, without a delay, let's get started on the journey to this beautiful and enigmatic paint color that you might soon fall in love with!
In this color review, I'll acquaint you with the where, how, and when to have this color in your home. And lastly, if this is the right paint for your home or not!
Benjamin Moore Storm Cloud Gray 2140-40 Details and Specifications
This section is one of the most important to discuss!
And do you know why?
Well, if you don't want to avoid any mess later – it's ideal to thoroughly read through the details and specifications to know each inch of the color.
After reading this section, you'll quite likely know the background info that will help you decide if this is the paint to have in your home.
So, first and foremost, let me introduce you to the concept of Light Reflectance Values, or the LRVs that determine how light or dark the paint color is.
Here, in this case, the LRV of Benjamin Moore Storm Cloud Gray is 28.88.
And that means it falls on the medium to the darker end of the scale – but not too dark like BM Kendall Charcoal or BM Ashland Slate gray.
(Remember, the lighter the value, the darker the paint – on a scale of 1-100)
One GREAT way to test a paint color to see what it'll do in your own home, is to order a sample from Samplize. You can pick one up for Storm Cloud Gray!
Secondly, other important associated terms are the RGB and the HEX Values.
Red = 145
Green = 146
Blue = 132
HEX Value = #919284
Since we have discussed the technical and scientific information, let's get started with the practical aspects of this gray-green Benjamin Moore paint.
How Does This Color Feel in a Space?
View this post on Instagram
Benjamin Moore Storm Cloud Gray will seamlessly bring nature indoors to your footsteps, but also at the cost of a moody and dramatic environment.
It's not too green, nor too gray – which makes it a perfect balance to simply admire and adore.
So, know that this color will eventually make your space feel dark and dingy if used in smaller spaces – of course, due to low reflectivity.
Hence, you must definitely consider using it in a space that is large with comparatively higher ceilings, and a sense of spaciousness.
Else, if you want to create an illusion of a smaller space, this color can definitely be used to bring the walls closer.
Lastly, I recommend using this color in any climatic conditions. However, the colder you choose the better!
How Does Light Affect the Color?
Light has a tremendous role to play here.
Remember, the more light you give to your space, the better it is for the color to flourish and reflect its true hue.
In such a case, if you're planning to use this paint color in a room with little natural daylight, it's bound to look dull, dark, and dingy.
On the other hand, ample windows and penetrating natural light will hit the walls of BM Storm Cloud Gray and make it further look enhanced, crisp, and characteristic.
Furthermore, another aspect that you must consider is the compass directions. Remember to never choose a paint color before determining this!
Especially with this paint, in the north and east-facing rooms, it can slightly appear cool and crisp with gray rays hitting the walls.
On the other hand, the same color may look slightly warm with dominant yellow undertones on the south or west-facing rooms.
If you want to really see how this color will play in your space and with other colors, get some wall samples from Samplize.
What are the Best Coordinating Colors?
Choosing coordinating colors is one of the best tasks!
So, if you want a single tone in your room or use the concept of accent walls is something to consider now.
And ultimately, the vibe of your room as well.
So, with this green-gray paint, you must be extra cautious when creating that color palette.
Well, you don't want to overpower the beauty of this color and neither underdo – which is why to have a look at what this color best compliments with!
Generally, this gray-green paint color will best pair with beiges, soft creams, tans, browns, off-whites, and even bronze.
In terms of metallic accents, you can choose copper, matte black, or even golden accents.
Furthermore, you can either choose from a monochromatic or a contrasting color palette – depending upon the interior design style and your preference.
So, here are a few of the colors I would recommend for a monochromatic palette!
On the other hand, here are a few of the colors I would recommend for a contrasting color palette!
2148-60 Timid White
2162-40 Peanut Shell
2110-50 Gobi Desert
For your ceilings, trims, and moldings – you can use BM Chantilly Lace as it will further protrude the original adjacent hue.
BM Storm Cloud Gray Vs Similar Colors
This gorgeous gray paint tends to share tons of similarities with other likewise hues.
Whether it's the undertones or reflectivity – BM Storm Cloud Gray can be compared to a couple of other BM and SW hues.
Some of the notable examples are BM CC-696 Taiga and SW 9130 Evergreen Fog.
Let's see how they all differ.
Storm Cloud Gray Vs Taiga
BM Taiga is a dominant taupe paint color with the slightest hint of green undertones.
It feels warm and cozy – and has a perfect earthy texture to admire.
With an LRV of 28.5 – this color is equally dark and deep as compared to the former.
Get a stick-on samples of these two colors to test in your home.
Storm Cloud Gray Vs Evergreen Fog
Sherwin Williams Evergreen Fog is a bold gray-green paint that connects and reconnects your space to nature.
This cool paint color has an LRV of 30 – making it the lightest of them all.
Also note that this latter color lacks the touch of brown which could be found in BM Storm Cloud Gray in certain lighting conditions.
Lastly, you must know that this paint color is also the 2022 Color of the Year!
They might look very similar on the screen, but the biggest secret is to order samples of the color and then assess the brightness and tones in the environment you're painting in. Pick up peel-and-stick samples now from Samplize!
Where to Use Storm Cloud Gray?
BM Storm Cloud Gray can make a beautiful statement in any corner of your home.
It's a natural and organic gray-green that can seamlessly imbibe a refreshing and cool vibe in the home.
Whether it's the kitchen cabinets, focal walls, ceilings, exterior walls, or wood paneling – note that this color can be used to create various creative forms in your home.
So, let's see where and how to incorporate this green-gray paint color in your home.
Storm Cloud Gray in Living and Dining Rooms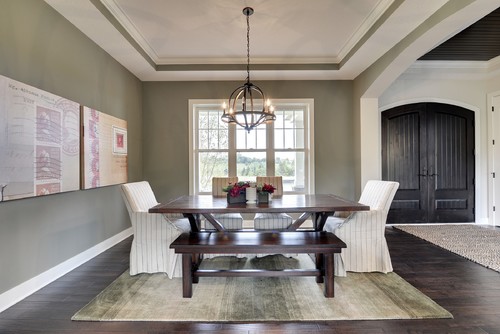 BM Storm Cloud Gray can make a majestic statement in any living and dining room.
You can consider painting all the walls in this color and further pairing it with creamy whites on the adjacent wall, accessories, and trims and ceiling.
Remember, this color works beautifully with tans and browns – which is why you can incorporate a leather couch, several exposed wooden shelves, off-white upholstery on accent chairs, and ample faux fur or cowhide on the rug.
For the window treatments, don't hold back from white or light gray sheer curtains that allow your room to feel lively.
Using in Bedrooms
View this post on Instagram
This soothing color in the bedrooms is definitely something to have an eye on!
You can either paint all the walls in this specific color, or even have wall paneling on the feature wall and paint it with BM Storm Cloud Gray.
The latter option is a great way to make your bedroom stand out and feel natural, warm, and a havenly abode.
Furthermore, don't forget to style with various indoor plants on the floating shelves, a couple of artwork, and a shag rug to go.
Storm Cloud Gray in Kitchens
One of the best ways to infuse a touch of BM Storm Cloud Gray is on the kitchen cabinets.
You can let the backdrop wall be a tone of creamy white with pull handles in brushed brass that feel slightly luxe and vintage.
Don't forget to style with ample wooden floating shelves, a geometric backsplash tile pattern, and a white marble countertop.
If you don't have ample light in the kitchen, think twice before using this paint color on the cabinets.
Using on Exteriors
This color can be used on the exterior walls with white or light wooden textures on the shutters, trims, and moldings.
If not the walls, you can also pick this color for the focal entry door and paint the shiplap walls in pure white or extreme dark gray color. (This is what I highly recommend)
On the other hand, if you choose this paint color on the exterior shiplap, choose light gray, off-white, taupe, or tan color on the focal entryway door and shutters.
You can choose a brown stain for the decking!
How to Best Sample This Color?
When it comes to colors like Storm Cloud Gray, which can show in many different ways, you should definitely order a peel-and-stick sample from Samplize.
These folks came up with a genius way to sample real pain without having to go to the store, pick up a can, then paint it on.
For not much money you get a good sized square to put up anywhere in your house where you want to ""try"" on a paint color along with any possible coordinating hues you like. Love this!
So, did this color review bring you an inch closer to this paint?
Do you want to use it in your home? Exteriors or interiors? Walls or cabinets?
Well, I would love to know your thoughts! Do let me know in the comments below!