Could a blue paint color be any more gorgeous?
Yes, something that you truly can't flip and get bored of.
Well, this is one dark blue paint color that I can't get enough of. It has a perfect touch of sophistication and elegance to it – but with a major hint of drama and eccentricity.
So, if you want to instantly transform the appearance of your room – this is one paint color that you must try.
I see a couple of inspirations online and I simply drool over this color again and again.
So, what's all the fuss about and why is this blue coming up as a rising star?
Well, Sherwin Williams Tempe Star is a gorgeous blue paint color with a tinge of green in it. It's neither navy nor cobalt – but a true shade of bold and dramatic blue that mimics the deep blue-green waters of the ocean.
This paint color has a cool base with an utmost eye-catchy and bold look.
Yes, if you splash a tinge of this color anywhere in your home – it's bound to come out as a focal point or an accent.
Hence, this color plays a great role in an accent.
So, are you excited to know more about what SW Tempe Star has to offer?
Well, this color review will exactly help you figure out if this is the perfect blue you're looking for.
So, let's get started!
Sherwin Williams Tempe Star SW 6229 Details and Specifications
Blues are truly endless. There are some like SW Naval, SW North Star, SW Spa and SW Atmospheric. And it all boils down to the kind of blue you need for your space.
So, to determine that, it's ideal to go through the color details and specifications.
Yes, you might have to go through various decisions, comparisons, and discussions to make informed decisions.
After all, not every blue is alike. And there are considerable differences in each color that you observe on a swatch.
If you are new here, let me tell you – there are quite some facts and scientific terms that you would want to acquaint yourself with. (Before choosing a paint color for your home)
It's important to analyze these values and then determine where, when, and how to use these paints!
So, first and foremost, one of the most important terms that I usually observe getting ignored is Light Reflectance Values (LRV)!
Every color has an associated Light Reflectance Value!
For Sherwin Williams Tempe Star, the LRV is 11!
Which falls on the darker end of the scale – but not too dark like SW Salty Dog!
Remember, the lesser the value, the darker the paint color is!
And vice versa!
Another tip: If you want to easily try out Tempe Star to see how it will show, you can with a peel-and-stick sample from Samplize. Pick up your samples here!
Moving ahead, let's discuss the RGB and HEX Values of the color.
Red = 71
Green = 98
Blue = 106
HEX Value = #47626a
Now that I am concluding, I promise not to bore you with these scientific details anymore.
Let's talk about the practical aspects of this blue neutral paint color.
How Does This Color Feel in a Space?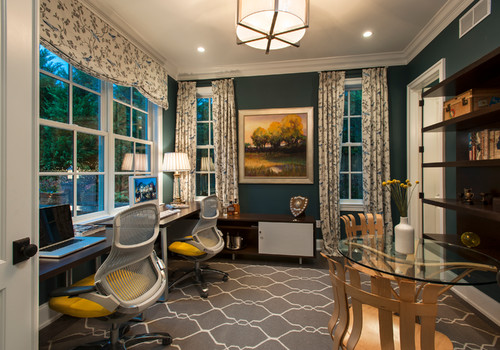 SW Tempe Star will make your space feel bold, refined, crisp, dramatic, dashing, and daring.
It's a strong dark blue color that can look majestic and glamorous when used in a space.
Yes, it was also used in the Victorian time – hence, making this color a great option for luxury and rich backdrops.
And since this color has a low reflectivity value, it tends to bring the walls closer to create an illusion of a smaller space.
Nowadays, homeowners are thinking outside the box and painting the ceilings in this specific color.
This can pull the ceiling downwards creating an illusion of a smaller space. (Hence, a great way to deal with extra higher ceilings that feel cold and unwelcoming)
In smaller spaces, I recommend avoiding the paint on all the walls and rather use it only as an accent.
How Does Light Affect the Color?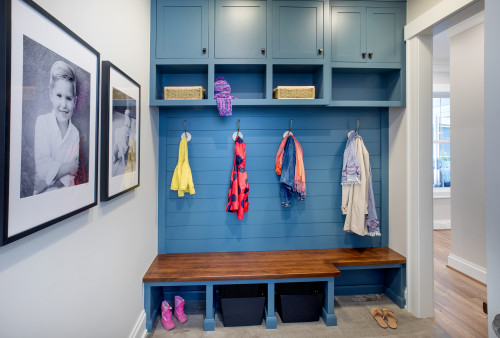 Natural light and SW Tempe Star go hand in hand.
The more light you give to this color, the brighter and enhanced the room will appear.
So, always remember to use this color in a room that receives ample natural light. That way, you can feel the true depth and beauty of this color.
You can even use it in a room with little incoming light – but the overall result will be quite dull and dingy.
Furthermore, you can always play with artificial lighting in the form of chandeliers, pendant lights, wall sconces, and recessed or cove lights.
About saturation, prefer choosing neutral whites or warm whites!
I'll have to say again, the absolutely coolest way to check a color like this out in your home is with a wall sample from Samplize. Buy yours here.
What are the Best Coordinating Colors?
This color is quite easy to deal with! Just like other darker-toned colors.
All you have to do is pair it with a lighter-toned neutral, off-white, and a contrasting hue from the color wheel.
So, it's crucial for you to choose the best complementary colors in order to define a palette that looks appealing and in place.
SW Tempe Star can be best paired with true whites, gray-whites, mustard, coral pinks, light blues, and grays.
Regarding metallic accents, I like the feel of brushed brass, chrome, or golden!
However, you have to be careful as to what vibe you need in your space for a perfect color combination.
So, I am going to enlist the two most popular color schemes here – monochromatic and contrasting.
So, here are a few of the colors I would recommend for a monochromatic palette!
SW 6227 Meditative
SW 9135 Whirlpool
SW 6228 Refuge
On the other hand, here are a few of the colors I would recommend for a contrasting color palette!
SW 7064 Passive
SW 6689 Overjoy
For your ceilings, trims, and moldings – I recommend sticking to SW High Reflective White for a clean and crisp appearance.
SW Tempe Star Vs Similar Colors
Although you must know that even though these following colors look similar, they might still differ in the undertones or reflectivity!
So, one of the closely related colors is SW 6223 Still Water and BM HC-158 Newburg Green!
Let's see how all of them differ.
Tempe Star Vs Still Water
These two colors share a wide array of similarities as well as differences. Although, the major difference is the undertones – since SW Still Water has dominant green undertones.
Furthermore, the former paint color is comparatively stark, eye-catchy, and bright as compared to the latter which is subtle and calm.
With an LRV of 10, this color is almost equally darker and deeper.
Order a wall-stick sample of Tempe Star here to try this color on for size.
Tempe Star Vs Newburg Green
The "Green" in the name of this color is quite confusing since it absolutely contradicts it!
Yes, BM Newburg Green is a blue paint color that's slightly more inclined to the blues as compared to the former paint colors.
With an LRV of 10.58 – it's equally deeper and darker!
Grab sample stick-on sheets for these colors here to see how the color will look in your living spaces.
Where to Use Tempe Star?
SW Tempe Star is a gorgeous blue paint color that can be splashed anywhere in your home. With a little tinge of hidden green, this color comes out quite refined and elegant.
Don't believe it? Well, have a look at these inspirations and how beautifully this color plays in various sections of your home.
Tempe Star in Living and Dining Rooms
In the living and dining room, you can absolutely use this color on the accent wall. (Especially on wall paneling)
If you want to introduce a "wow" factor and have the space and size – well, do try painting all the walls in this color.
Furthermore, add a touch of crisp white on the trims, moldings, and ceiling with a shade of either gray or beige on the linen and other upholstery.
With SW Tempe Star, you simply can't hold back from shades of mustard or coral pink on the accessories like throw pillows, rugs, and artwork.
Using in Bedrooms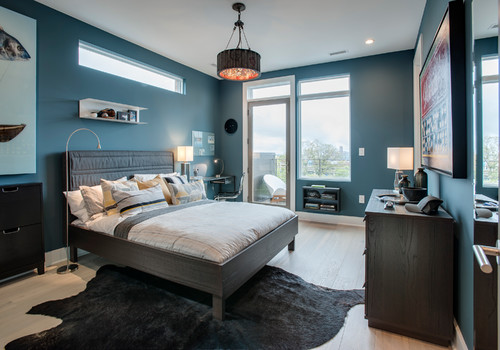 I highly recommend painting the accent wall of your bedroom in this color.
It will give a sense of depth and balance to your feature wall and make it beautifully protrude out.
You can further add a creamy tone of white on the adjacent walls and upholstery.
Don't hold back from mustard or burnt umber throw pillows here.
If you want a bold and masculine look, try to introduce a touch of tan leather on the headboard and accent chair.
Tempe Star in Kitchens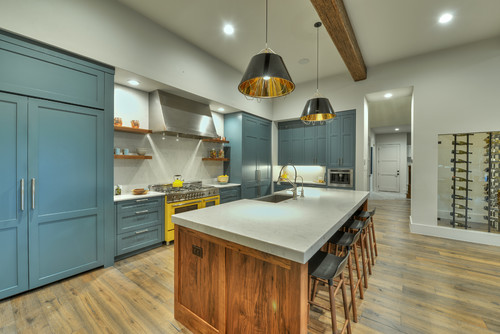 This color is bound to look flawless on the kitchen cabinets! Don't believe it? Well, have a look at this inspiration.
You can further add shades of off-white on the backdrop wall, white marble countertop, and white glossy backsplash tiles.
For the knobs and pull handles, I highly recommend a touch of brushed brass or gold for a luxe and rich look.
Using on Exteriors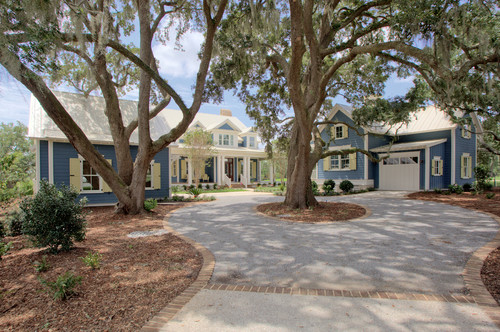 Whether you have a Craftsman, Coastal, Ranch, or transitional style – Sherwin Williams Tempe Star makes a wonderful, calming, and bold statement unlike many other blue colors from SW.
You can paint the shiplap walls in this color and choose to paint the trims and moldings in SW pure white.
Furthermore, you can choose gray for the shutters, door and window frames.
If you have a deck – you can use brown stain to complement the exteriors.
Do you want to make your home look even more interesting? Well, add mustard or burnt umber on the front door to make it stand out.
What's the Best Way to Sample This Color?
So now my favorite tip when it comes to testing out a versatile color like Tempe Star – go and order a peel-and-stick sample from Samplize.
They've created an awesome way to sample colors with real paint, but no mess. Simply stick on your paint sample instead of having to get a test can of actual wet paint.
For only a few dollars you get a good sized square to throw up temporarily anywhere you want to ""try"" on your color, other similar colors, and any possible coordinating hues you like. It's great!
So, how do you want to use this color in your homes? Interiors or Exteriors?
Now you see, SW Tempe Star has much more to offer! And you will never even regret it.
Should there be any questions or thoughts, let us know in the comments below!