Over the last few years, blue paint colors have emerged to be one of the most popular paint colors in the architecture, construction, and interior design industry.
We've seen the major paint manufacturers promoting blue in their recent Color of the Year designations.
There is something absolutely mystical about blues that we simply can't get enough of.
And I'm not just talking about general wall paint colors but also the colors we're using on cabinets, built-in shelves, trims, accent furniture pieces, and backsplashes.
Just like I shared with Benjamin Moore Blues and Sherwin Williams Blues, I'm excited to share my top picks for Behr blues that have totally blown my mind.
And I'll tell you that Behr has one of the largest numbers of blues in their color library.
Some are blue grays, some blue greens, and some are true blues. And some are neutrals, some have more color to them, and some are simply navy!
(Yes, I am going to mix and merge them all in here because no blue truly is the same)
In this color review, I'll list what the Behr blues have to offer, popular shades of this color category, and my absolute most beloved picks.
Let's go!
Blue – The Color of Calm and Meditation
Blues have the potential to offer a wide array of moods in your space.
From softer blues making the space feel calm to dramatic and dark blues making the space feel bold and daring – yes, blue paint colors have got it all.
The characteristics of these colors can also vary from design to design and function to function.
But all in all, this color category is versatile and will never disappoint you!
Generally, blues are responsible for exhibiting a cooler vibe in the space.
And you'll also find some blues that are slightly on the warmer end of the scale (but not too warm).
Also, when painting walls, think of neutral blues over stark and bright blues.
The brighter ones can simply make your room feel too energetic and overwhelming. But that doesn't mean you avoid the color completely!
Make use of those striking hues as an accent only on the furniture frames and smaller cabinets.
Don't worry – I am going to elaborate on that later – but first, let's discuss the various other important color terminologies.
Tints, Tones, and Shades of Blue
Ever heard of these terminologies before? If not – let me acquaint you with what they are!
And believe me, these terms have a major role to play in color psychology.
'Tones' are basically the results formed by adding gray to a blue paint color!
In this case, if you add more grays to blues, the result will be a subtle tone of neutral blue that somehow acts as a chameleon and plays both blue or gray depending upon the lighting conditions.
On the other hand, 'Tints' are the amalgamation of white with a blue paint color. This will simply make that blue paint color lighter. It could be a tone of soft blue!
And lastly, 'Shades' are the results formed by adding black to blue paint color. This will make the color more bold and dark – almost nearing the blacks.
Light Reflectance Values – The Specifications to Know
Light Reflectance Value is an important term to know in the world of color psychology.
Light Reflectance Values or the LRVs are primarily the values that determine how light or dark the paint color is.
(And you can easily find this value at the end of the Behr's paint palette)
Let me tell you a secret here – it's always important to analyze this value before you pick the best blue paint color.
With this versatile color category that could either be soft or bold, you can always expect the LRVs to range somewhere between 4 to 72!
You must always examine these swatches under various lighting conditions to know how they will truly feel like – whether light or dark.
Because believe me, the same paint color may look lighter in one room and darker in one.
Even compass directions have a major call here. Generally, in the north-facing rooms, the blue paint color may feel more grayish and cool. (Playing with blue grays here can be challenging)
Whereas in the south-facing rooms, the blue color may feel true to the undertones and slightly creamy and soft.
The east and west-facing rooms can be challenging since they have an unequal share of natural light distributed throughout the day. Never forget to try samples in such spaces.
So, you see…
Lighting Matters
Now that we have discussed the aspects of blue paint color in different natural lighting conditions, it's time to have an eye on artificial color saturation!
Whether in the form of pendant lights, chandeliers, or wall sconces – the saturation and type of bulb has a major role to play in defining the vibe of a room.
In general, the warm white or yellow lighting will best complement the blue paint color. (It further soothes the space)
It contradicts the crispness of the color and makes the room extra warm and welcoming.
On the other hand, white light is something I wouldn't recommend since that will make the room feel even more formal and 'commercial-like'!
You can even work with white light depending upon the task areas of your home. Such as in the kitchens, you can use white lighting over the island table for chopping, dicing, and cutting.
Secondly, you must always ensure to allow ample natural light to enter a room with a blue color onboard.
That way, you're simply not just making the room feel bright and airy but also throwing light to this color and making it further appear fresh and meaningful.
Blue in Interior and Exterior Design Styles
Behr blue paint colors play phenomenal on the interiors as well as the exteriors.
Yes, you will find a wide range of inspirational images online to take inspiration from.
Since the blues are further sub-categorized based on the undertones and light reflectivity values, you can either use them as an accent or base in your homes.
I recommend you avoid blue paint colors on all the common walls of your home but can definitely use it as a touch of interest on focal walls.
Especially for interior design styles like mid-century modern, contemporary, modern, modern farmhouse, and traditional – consider the darker shades of blue.
Meanwhile, for softer and lighter blues, you can consider Coastal, Caribbean, Scandinavian, modern farmhouse, and transitional design styles.
With this color category, always use true white or white with slightly blue undertones on the trims, ceiling, and moldings.
Best Places to Use Behr Blue Paint Colors
Well, this section depends a lot upon your personal choice, interior design style, and preference.
So, if you have an admiration for blue paint colors, you can definitely use them on the entryway door, shutters, all dining room walls, living room focal walls, bedroom walls, kitchen cabinets, mudroom and foyer cabinets.
Don't hold back from styling with this color in the kids' rooms as well!
Best Behr Blue Paint Colors
Here comes the most awaited topics to talk about!
After all – isn't this something you're waiting for?
So, here I will be discussing a couple of popular as well as my personal favorite Behr blue paint colors.
Let's get started!
5 Most Popular
Behr Dragonfly
Behr Dragonfly is a pretty and calm, soothing and Eclectic, blue-green paint color that's almost a teal color.
This blue has the perfect blend of blue and green undertones to make it a neutral that plays quirky and timeless.
It isn't too blue or too green – so, if you like the blend of both, consider this paint color for the next renovation project.
For the trims and moldings – choose Behr Ultra Pure White.
You can consider this paint color as an accent for the cabinets and walls – which let me tell you, works wonderfully.
Plus, this color has an LRV of 26, which falls on the medium to the medium dark end of the scale.
Here are some other color specifications you must get acquainted with!
Red = 114
Green = 144
Blue = 141
HEX Value = #73908F
Behr Blueprint
Behr Blueprint is a mid-toned blue paint color that's neither a teal color nor navy.
It relates and falls into the true blue color category.
However, it's fun and playful and can beautifully make an accent on the cabinets, accent wall, and even the built-in shelves.
This color must be paired with Behr Ultra Pure White on the ceiling and trims for a cleaner look.
This Behr blue color has an LRV of only 20 – thus, falling on the darker end of the scale.
Now here's a secret – use this color on all the walls, trims, and ceiling for a glam and Victorian, sleek and modern look.
As usual, it is important to understand the associated RGB and HEX Values that are as follows:
Red = 96
Green = 129
Blue = 142
HEX Value = #60818e
Behr Reflecting Pool
Behr Reflecting Pool is a different kind of blue color that plays chameleon and has a variety of undertones.
Yes, something to be very careful of!
This paint color has a touch of blue, green, and gray that plays absolutely blissful, calm, and serene.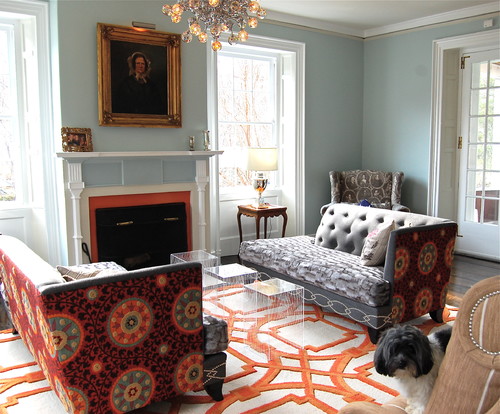 Also, it's quite light with an LRV of 73 – so it can be used as a BASE on all the walls of a bedroom or bathroom.
It's crisp and cool – thus, can exhibit colder vibes in a space.
You must pair this color with Behr Ultra Pure White on the ceiling and trims.
It is now time to look through the color details and specifications to know more about it!
Red = 220
Green = 223
Blue = 220
HEX Value = #dcdfdc
Behr In The Moment
Behr In the Moment is another popular blue-green paint color that holds immense depth and character to the undertones.
This color has an LRV of 30 which falls on the medium end of the scale and is also never very overwhelming or bold.
I recommend that you pair Behr Ultra Pure White for the trims and moldings as it will protrude the true hue of the adjacent color.
This peaceful, calm, and serene color appears like it's from the Behr green collection (vs blue), in a room facing the front lawn and blue in the north-facing compass directions.
You must pair this color with clean whites and beiges to create a cohesive appeal.
Check out my full review on Behr In the Moment to learn more!
Here are the important associated RGB and HEX Values that you must know!
Red = 133
Green = 152
Blue = 147
HEX Value = #859893
Behr Norwegian Blue
This particular blue tends to stand out from the above-mentioned on the basis of undertones and depth.
Behr Norwegian Blue is a deep and bold true blue paint color that adds a sense of luxe and sophistication to any space.
Meanwhile, it's also soothing and calm and plays wonderfully as the best of both worlds.
You can use this rich color on the focal cabinets and also the accent walls of your bedrooms and living rooms.
This blue color falls into the medium to dark category with an LRV of 24.
I recommend understanding the associated RGB and HEX Values to know more about the color specification!
Red = 120
Green = 136
Blue = 142
HEX Code = #78888e
5 Next Popular
Behr Blue Willow
Behr Blue Willow is a blue paint color that has a deep purple undertone. It's cool, calm, and soothing – and will undeniably make a notable statement.
With an LRV of 40, this color is comparatively lighter and airier.
I recommend using this paint color in smaller amounts as an accent on the cabinetry or focal furniture.
Behr Blue Metal
Behr Blue metal is a dark and bold gray-blue paint color that has a perfect blend of both undertones.
This color may look daring and dingy in a small space or rooms with little incoming light – so, ensure to use it carefully. (only as an accent)
With an LRV of 12, you'll see this color plays beautifully with vintage tiles, clean and crisp white adjacent paints, and brass pull handles.
Behr Peaceful Blue
Behr Peaceful Blue is exactly like it sounds. This blue-gray paint color is medium to lighter-toned with just an optimum amount of crispness to it.
It has an LRV of 44, and you're quite likely to observe the color more than gray in this paint.
So, the undertones will never get washed off in such a paint color. I suggest using it on the cabinets of laundry or mud rooms where it works the best!
Behr Watery
Unlike Sherwin Williams Watery, Behr Watery is a serene and calm blue with an equal blend of green, blue, and gray undertones.
It's just like the shallow waters of the Bahamas – that would wonderfully work on the kitchen as well as mudroom cabinets.
Even though it has an LRV of 49, this color would still look lighter, airier, and spacious.
Behr Dayflower
Behr Dayflower is a cool blue color with a deep gray undertone. This neutral is soothing and serene and will ultimately make your space look larger.
It has an LRV of 58 that works perfectly well as a base for all the walls of your room.
Pair it with Behr Ultra Pure White on the ceiling and trims.
5 Hand Picked Favorites
Behr Teton Blue
Behr Teton Blue is a stormy and muddy blue-gray color that plays a great accent on the cabinets or built-in shelves.
This color has an LRV of 31, which definitely falls on the medium to the darker end of the scale.
I recommend that you paint the walls, ceiling, and trims all in Behr Teton Blue for a majestic look.
Behr Light Drizzle
Behr Light Drizzle is as light as fresh air! It's one of the lightest blue paint colors that almost nears the 'white' category and can be used as a wonderful base.
With an LRV of 64, note the color has a deep icy blue undertone. You'll want to avoid this paint in the north-facing rooms.
Pair with Behr Ultra Pure White for a clean look.
Behr Meteor Shower
Wondering if this is a gray paint color or blue?
Well, it's actually a gray paint color with quite some notable deep blue undertones.
This color has an LRV of 47, which gives immense depth to the walls while pairing beautifully with white on the trims and cabinets.
Behr Prelude
Behr Prelude is a pretty soft blue color that has a tinge of blue, green, as well as gray.
However, the green undertone is not very dominant though!
With an LRV of 47, this color has a medium-toned depth which can make a great accent as well as a base in larger spaces.
Behr Smokey Blue
This color is quite different from the above-mentioned Behr blue paint colors.
It's dark and bold and shares tons of similarities with teal color.
This color has an LRV of 19, which can potentially absorb most incoming natural light.
Always allow ample light to enter the space!
Inspiration and Examples
Behr Nocturne Blue is a bold and stark blue paint color that works wonderfully as an accent on the wainscotting.
Behr Dayflower is a calm and soothing, soft blue color with deep gray undertones.
View this post on Instagram
Behr Blueprint plays phenomenal, especially on the entryway door.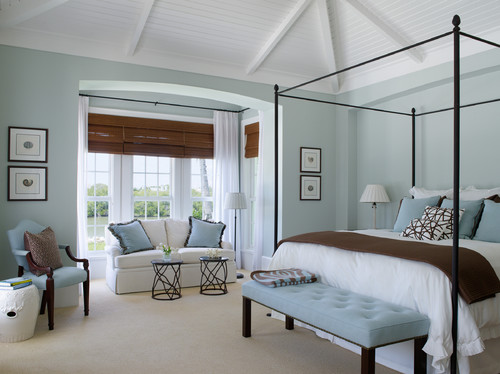 Behr Pewter Tray is a must-try paint color for the coastal style rooms.
View this post on Instagram
Would you also love the feel of Behr Blue Metal in your entryway?
Summing It Up
Behr is known to have one of the largest collections of blue paint colors for us to choose the best one from.
Now that you see – some blue colors have dominant gray, green, and some gray undertones!
Thus, it's important that you analyze the color features, palettes, and their overall appearance to know how they will truly appear in a space.
So, did any of the above-mentioned Behr blue paint colors intrigue you? Well, do let me know your thoughts in the comments below!