Off-whites and neutrals truly are limitless.
And after all, why shouldn't they be?
Since they are mostly used in our homes – they are the ones we often look forward to!
One such beautiful example is Sherwin Williams Drift of Mist that is purely warm-toned and widely considered in off-white and pastel categories.
And let me tell you – I recommend this paint color quite often to my clients.
This color definitely has some magic to it – it has the ability to act timeless and complementary to most of the other cool-toned and warm-toned hues on the swatch.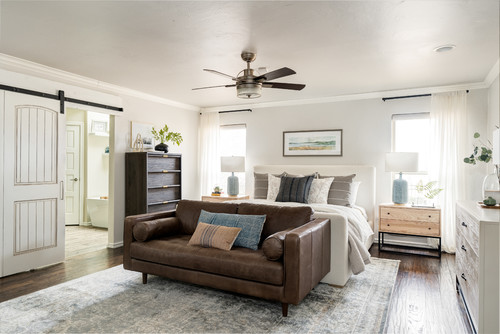 Unlike other off-whites like SW Greek Villa and SW Snowbound – this color plays slightly differently based on the undertones and actual appearances.
So, are you looking at what this color has to offer?
Well, I am going to be revealing all the goods on this one here – do's, don'ts, similar hues, complementary color palette, and what the paint color truly feels like.
Don't worry! In no time – you will feel confident if you want to use this particular color in your home or not.
Ok, let's go!
Sherwin Williams Drift of Mist SW 9166 Details and Specifications
Before you finalize a paint swatch for your home – it is crucial that you study the underlying theories and facts.
A color may appear different on walls than perceived on the screens – and that is why you must experiment with the real-time swatches.
Because even though the color feels lighter on the screen – it may be actually quite dark on your walls.
However, if you want to avoid that mess – just simply go through the basics of a paint color that will help you determine if the color is a must-use or not!
So, first and foremost, let me introduce you to the concept of Light Reflectance Values or the LRV's that determine how light or dark the paint color is.
You can easily find that value at the back of the Sherwin Williams paint swatch!
Here, in this case, the LRV of Sherwin Williams Drift of Mist is 69.
And that means it is pretty light-toned – well, almost an off-white!
(Greater the value, lighter the paint)
Most often, it's best to sample a paint color in your home to confirm it's going to work how you expect. You can do this easily using Samplize. Grab one now for Drift of Mist!
Secondly, other important associated terms are the RGB and the HEX Values.
Red = 220
Green = 216
Blue = 208
HEX Value = #dcd8d0
Now that is enough with the technical and scientific information, let's get started with the practical aspects of this off-white and pastel Sherwin Williams paint.
How Does this Color Feel in a Space?
SW Drift of Mist is bound to feel cozier, warmer, airier, lighter, and absolutely delightful when used in the home.
And let me tell you – it also plays the best of both worlds.
It is purely a warmer-toned paint but definitely doesn't feel too creamy like SW Greek Villa or SW Alabaster!
I would say it is rather a very calmer off-white paint – that also feels balance.
Furthermore, due to its lighter tone and slightly creamier appearance, it further tends to make your space seem larger and expanded but at the same time, cozy.
So, for all the northern states and colder regions – this color is a great option for your home as it tends to add a warmer vibe to make your home feel cozy at all times.
When using in the interiors, I recommend painting the north-facing and south-facing walls in this particular color – the reason being obvious balance!
You can also use this paint in the east and west-facing rooms since the paint is not too warm to get all uncomfortable!
How Does Light Affect the Color?
Light has tons and tons of roles to play here!
Obviously, due to the lighter tone, this color is bound to feel further light!
Plus, in the case of smaller-sized rooms – this color is good to go – since it will further enhance and enlarge.
Nevertheless, you can always play with artificial light in the form of pendant lights and wall sconces to further create a desired aura.
You can use warm whites and cooler saturated yellow here!
Again, I really recommend you try out some wall samples because colors will look different in every location.
What are the Best Coordinating Colors?
Sherwin Williams Drift of Mist is one of the BIGGEST chameleon paint colors that I know!
It tends to appear warmer (which it truly is), however, in certain lighting conditions, it may come out as a cool gray paint color.
So, you see – it requires tons of attention and experimentation at all times.
When paired with other complementary hues, the task becomes even more challenging!
But don't worry because I have got your back here.
Sherwin Williams Drift of Mist can be best paired with true white, medium to darker beige, greige, gray, midnight blues, navy blues, and taupes.
In terms of metallic accents, choose matte black, antique copper, or oil-rubbed bronze to go!
Here are the following two color palette suggestions – monochromatic and coordinating!
Monochromatic Color Palette
The complementary colors for the monochromatic palette are as follows –
SW 9167 Polished Concrete
SW 9168 Elephant Ear
SW 9169 Chatura Gray
This monochromatic palette is calm, serene, and extremely warm – so, you must ensure to use it in cold weather spaces.
Try styling with pampas grass to further bring a sense of nature and beauty to the room.
Contrasting Color Palette (Cool)
The complementary colors for the contrasting palette are as follows –
SW 9171 Felted Wool
SW 7605 Gale Force
SW 9173 Shiitake
This cool-toned palette isn't too cool to give you chills! Yes, you can merge the shades of beige to create a sense of balance and harmony in the room.
The bold blue color must be used as an accent to add that touch of depth and character to the room.
Add metallic tints of matte black or rattan to further complete the look of your room.
Contrasting Color Palette (Warm)
The complementary colors for the contrasting palette are as follows (warm) –
SW 7543 Avenue Tan
SW 9147 Favorite Jeans
SW 9132 Acacia Haze
This warm-toned palette allows various contrasts to play an accent in the room.
Styling with matte black, oil-rubbed bronze, or satin brass is ideal! You must also introduce various fresh elements to make your room feel rejuvenated.
On the other hand, here are a few of the colors I would recommend for a contrasting color palette!
SW 9167 Polished Concrete
SW 7663 Monorail Silver
SW 6990 Caviar (see my full guide here)
For your ceilings, trims, and moldings – SW Extra White or SW Pure White in itself makes a great option!
SW Drift of Mist Vs Similar Colors
Not exactly the same – SW Drift of Mist has quite a few similar-looking options.
However, now that you know the secret – they might either differ in undertones or reflectivity.
So, regardless of that – the two colors closely related are SW 7646 First Star and SW 7628 Windfresh White.
Let's see how they differ.
Drift of Mist Vs First Star
Primarily differing in the undertones, the latter has deep cool undertones which makes it a crisper tone. Find out more on this one here!
With an LRV of 69, this color feels absolutely light and airy!
Additionally, you can always blend in black, white, and tones of other blues and pinks with this paint.
Find out what works best in your home's environment and lighting by putting up some temporary samples and observe – Get samples from Samplize.
Drift of Mist Vs Windfresh White
SW Windfresh White is a warmer-toned pastel that feels absolutely cozy!
With a similar LRV of 69, this color feels quite airy and cozy at the same time.
Although note that it pairs the best with browns, organic greens, and even darker grays.
Order a wall-stick sample of Drift of Mist here to help you compare these colors in your own space.
Oh, and for you Behr Paint fans, check out
Behr Silver Drop
– it's practically the same color as Drift!
Coordinating Decor
Sherwin Williams Drift of Mist is versatile and can easily complement various metallic tints, materials, fabrics, and textures.
Now that we have discussed the complementary paint colors, it's time to discuss the materials and fabrics that well coordinate.
To name few, this color can be used in various design styles. For Japandi and modern farmhouse styles, try to introduce rattan, wicker, cane, ample woods and matte black.
On the other hand, for design styles like coastal, modern, and contemporary, you can also play with glass, fine metals, and mirrored surfaces.
Here are the links to the furniture that work well with SW Drift of Mist –
Here are the links to the flooring that work well with SW Drift Of Mist –
Here are the links to the decorative accents that work well with SW Drift of Mist –
Where to Use Drift of Mist?
SW Drift of Mist is a paint color that must be used in each and every corner!
And freely, with any color.
Whether it is the hallways, bathrooms, kids rooms, nursery, living room, dining room, family room, kitchen, exteriors, or even the bedrooms – you can use it everywhere!
Especially for the interior design styles such as Modern Farmhouse, Scandinavian, Modern, Contemporary, Traditional, Transitional, Bohemian, and Shabby Chic, this color would be good to go!
I will say I'm particular fond of using a paint color like this in farmhouse styled homes.
Let's see where and how to incorporate it in your home.
Drift of Mist in Dining Rooms
View this post on Instagram
Sherwin Williams Drift of Mist is a great recommendation for the dining room if you're looking for a calm, soothing, and versatile look.
It pairs beautifully with wooden paneling or plastered wainscotting – when used in the dining rooms of any and every style.
You must use matte black for the lighting fixtures, artwork frames, and furniture frames.
Lastly, don't forget to style with fresh indoor plants to go!
Drift of Mist in Living Rooms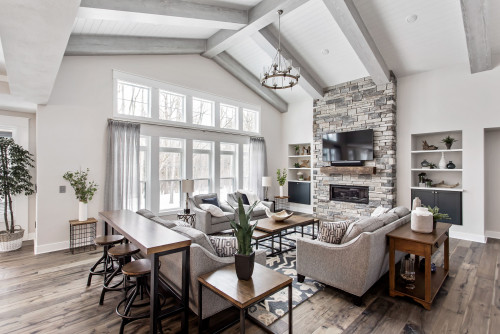 You can either paint all the walls in this color or choose a bold and dark shade like brown and warm gray to create an accent!
You can also pair it with lighter upholstery and wooden (oak and walnut) toned textures to further complement the desired palette.
You can also choose to go sleek by picking tons of glass and metals to create an amazing backdrop!
Also, if you have staircases and railing – try to prefer wooden molding ones here.
Last but not the least, add ample mirror pieces and plants to invite positivity and a wholesome vibe!
Using in Bedrooms
If you like the feel of quieter and warmer bedrooms – you should definitely have this color incorporated!
Trust me – there is nothing better than calm and cozy bedrooms, and especially if you reside in colder climates.
Furthermore, add matte black lighting fixtures in the form of table lamps and pendant lights to add an eye-catchy accent.
When it comes to duvets and fabrics, try to choose more subtle hues with cotton and linens to further brighten up your room.
Drift of Mist in Kitchens
Lighter kitchens are quite a trend.
And especially if they have a taste of monochromes.
You can pair it with beiges and browns to the utmost.
Furthermore, you can also pair it with chrome or nickel-finished fixtures, oak or stark white cabinets, and lush hardwood floors.
Furthermore, you can also use white-veined marble or black glossy granite to create a stark contrast!
Using in Bathrooms
Sherwin Williams Drift of Mist is a beautiful recommendation for bathroom walls as well as the cabinets.
You must pair it with matte black pull handles and fixtures to achieve a cohesive look.
Also, you must use true warm white paint on the back wall to further make this color look appealing and welcoming!
Also, note that it can be used for smaller spaces!
Using on Exteriors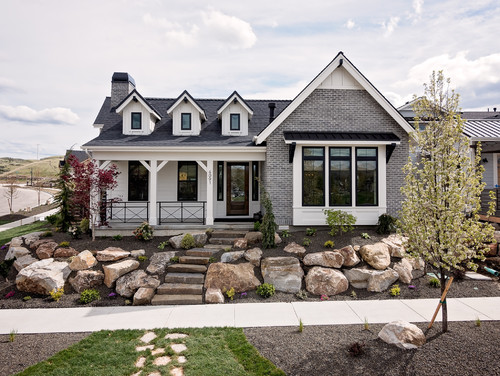 Whether you have a Mid-century modern, Spanish style, Modern, or Contemporary, this paint on the exteriors is bound to add an inviting, welcoming, and warm character to the facades.
You can either add organic browns as an accent or go vice versa for the trims, moldings, and door and window frames.
And, don't hold back from using brown or Spanish roof tiles and natural stone wainscotting.
My Favorite Way to Sample Colors
I can't say enough about how easy it is to use a peel-and-stick paint sample to give a color like Drfit of Mist a try. The absolute best way is to order a sample from Samplize.
You can check it out right on your wall and move it around. Also, try it along with a another couple of colors to test pairing possibilities.
This is WAY easier than having to open up little cans of paint and rolling/brushing on. Forget the mess and use these helpful temporary sample squares to test location, lighting options, etc.
Now that you have all this "education" – are you ready to being painting your home in Drift of Mist?
Should there be any questions or thoughts, let us know in the comments below!