Are you craving a paint color that is tranquilizing and at the same time beautiful?
Well, if pastels are your thing – I would like to introduce you to a perfect soothing paint color for your home – Benjamin Moore Quiet Moments 1563.
Quiet Moments from BM is a light-toned paint color with deep blue-gray undertones to give a perfect sense of tranquility and serenity in your home.
I would absolutely recommend this paint color to those of you who are seeking a quiet environment as the backdrop to your daily life.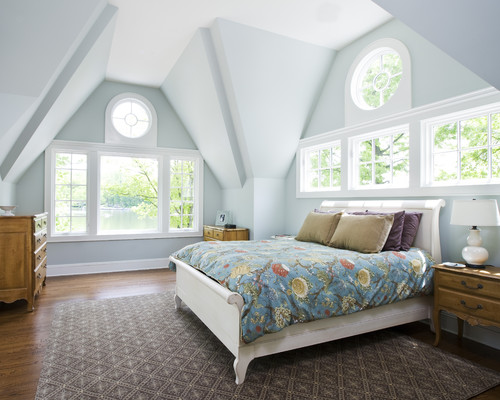 This paint color also makes a good solution to small-sized spaces since it makes them look even bigger and brighter.
However, if you are planning to use this paint color in your living spaces, you could either use it as a base or a neutral.
In some cases, if you are looking for more intimacy in the home, this paint color could even play as an accent!
Well, it all depends on your personal design preference and style.
Before diverting from the topic, let me tell you – there are a few how's, where's, and when's about this paint color which I want to acquaint you with.
So, let's get it started!
Benjamin Moore Quiet Moments 1563 Details and Specifications
Before you choose a paint color, I would highly recommend considering the backlogs and theories associated. Well, every color has a story to tell!
And remember, no two colors are similar!
Hence, to not regret later about the mess created – you would want to understand what really the color speaks and indicates.
So, first and foremost, you must know about the Light Reflectance Values or LRV's.
This value helps in determining how light or dark the paint color is.
And, in this case, the LRV of Benjamin Moore Quiet Moments is 61.87!
Which means the color is pretty light-toned.
(Remember, the higher the value – the lighter the paint color)
This means that color will tend to reflect away most of the incoming light making your room feel fresh and bright at all times- really.
What I like to do is sample Quiet Moments under different lights where I'm going to use it. I use Samplize stick-on samples.
Other terms that you might want to acquaint yourself with are RGB and HEX Values.
Red = 199
Green = 207
Blue = 200
HEX Value = #c7cfc8
Now that we have discussed enough the technical data – let's jump on to some of the practical aspects and applications of this paint color.
How Does Quiet Moments Feel in a Space?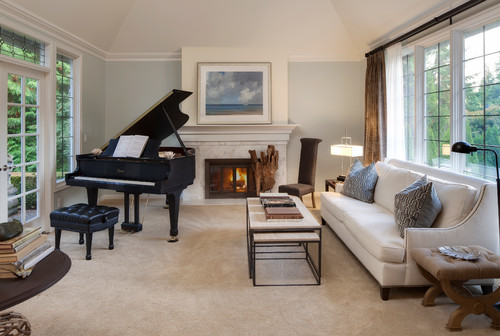 (Quiet Moment brightens the appearance of the bedroom)
Benjamin Moore quiet moments is bound to make your space feel more spacious, enlightened, and most importantly cooler and airier.
Due to its cool-toned texture, this paint color further helps in pushing back the walls while making your room feel bigger.
So, if you live in the southern states of Arizona, Florida, or Texas – this paint color is a great way to introduce some cool vibes in your home while you're sweating off on your way from work.
This color also has quite a tranquilizing effect – so just in case if you like to do yoga, meditation, or some exercise at home – painting walls in Quiet Moments is definitely recommended.
How Does Light Affect the Color?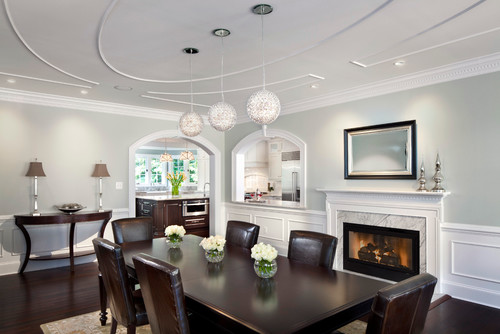 Light plays a major role in paints.
Don't believe it? Well, try to examine paint samples in different light conditions and different times of the day – and you will see the change for yourself.
Well, in this case, due to Quiet Moments high reflectivity, most of the natural light is reflected away meanwhile, only a little is absorbed.
You could use this paint color in spaces that face west or east directions to create a perfect balance of warmth with cool.
Furthermore, you can also play with artificial warm-yellow or warm-white lighting to create an aura you desire.
As I mentioned before, you can try out this color with real paint, (but without the mess) using stick-on samples from Samplize.
What are the Coordinating Colors for Benjamin Moore Quiet Moments?
So, are you finally thinking about using this paint color?
But what should you pair it with?
Don't worry. I can help you with the coordinating options here!
Since this color is so light and bright, you can best pair it with a grey or black as an accent and warmer beige as a base!
Here I enlist a few from Benjamin Moore palettes,
Abyss 2128-20
White Marigold 2149-60
Gray Cloud 2126-60
Mix and blend of the above will create a perfect contrasting scheme. Let's have a look at the monochromatic shades if you are more of a minimalist preacher!
This is going to give a perfect classy appearance.
Meanwhile, about the trims and moldings – I would highly recommend using Benjamin Moore Decorator's White to further protrude out the paint color.
Benjamin Moore Quiet Moments Vs Similar Colors
If you are looking for similar color alternatives for Quiet moments – I can recommend you some.
You can also check out my list of BM grays here!
Even though I don't think it should be required considering the beauty and timelessness of this paint color, but to name a few – you could consider BM Arctic Gray and BM Gray Cashmere.
However, they are not exactly the same – remember, I told you – no two colors are exactly the same!
Let's see if you like some color in particular.
Quiet Moments Vs Arctic Gray
Benjamin Moore Arctic Gray is a beautiful and timeless gray with deep green undertones if observed closely.
With an LRV of 61.79 – this paint color shares almost the same textures and hue similarities with the other.
This could absolutely make a great alternative, so it is definitely a YES-YES on my end.
If you want to test the subtle differences in your house, get some wall samples of each here.
Finally, if you like this hue but want something a touch brighter and more saturated, I recommend Woodlawn Blue by Benjamin Moore.
Quiet Moments Vs Gray Cashmere
Benjamin Moore Gray Cashmere is another great alternative to Quiet Moments. This beautiful gray has deep green undertones but mainly, in ample sunlight – it appears true green.
In the absence of light, this color appears lighter gray. With an LRV of 65.57 – this is a comparatively lighter-toned paint color so makes a great solution for small-sized rooms.
Test these colors side-by-side in your home with some wall-stick samples. Order here!
Where to Use Benjamin Moore Quiet Moments in Your Home?
Rachel from her blog Rachel Parcell reveals BM Quiet Moments on her home's pantry door
You can absolutely use it ANYWHERE indoors except the home gyms of course!
(Home gyms deserve a more energetic and bright paint color)
So, you can use this paint color for homes that preach coastal interior design, Scandinavian, Modern and minimalist, mid-century modern as well as bohemian!
I highly recommend this paint color to all my clients who have a similar serene personality as the colors should really speak who the person himself is.
Let's see where specifically should you use this paint color.
Quiet Moments in Living Rooms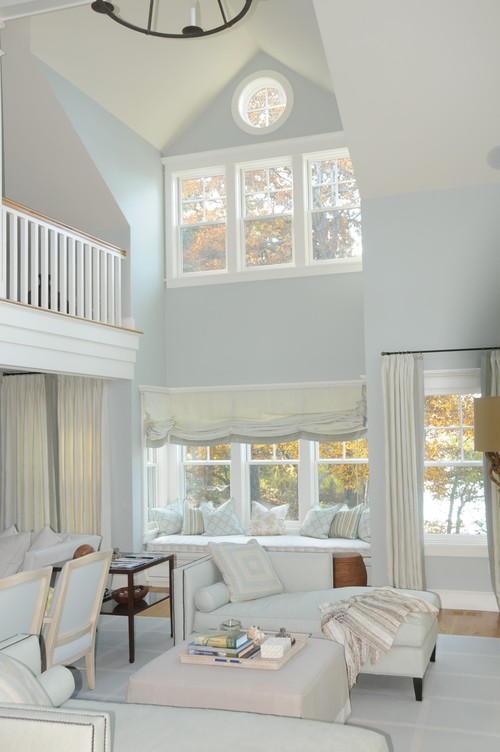 Piousness is exhibited through BM Quiet Moments.
If you want your living room to feel cool and crisp – you can paint it in Quiet Moments. However, since it is not a warm paint color – it will not give cozy vibes.
You can pair it with the coordinating colors I recommended and add a few patterns and mixes.
Overall, buy neutral-toned furniture pieces and some wooden textured accents through side tables and coffee tables for a perfectly cohesive look.
For the fireplace wall, natural stone is absolutely going to look great, or else – you can also use white-painted exposed bricks.
Using in Kitchens
Well, it is true that you spend most of the time in kitchens (especially if you like to cook)
So, if you are looking for a big, bright, and happy-go-lucky kitchen, don't negate the power of quiet moments.
Pair it with stark white cabinets and black pull handles as an accent or vice versa.
Make sure that you use white glossy hexagonal backsplash tiles and white marble countertop to further make your kitchen stand out!
Quiet Moments in Meditation Rooms
Not generally a meditation room, but perhaps if you have a corner in your home where you like to work out or do meditation or yoga – this beautiful color is definitely a recommendation.
Here, you can paint the ceilings in pure white shades!
I especially like this paint color in basement updates where the space required some interest without being too over the top.
Using in Bedrooms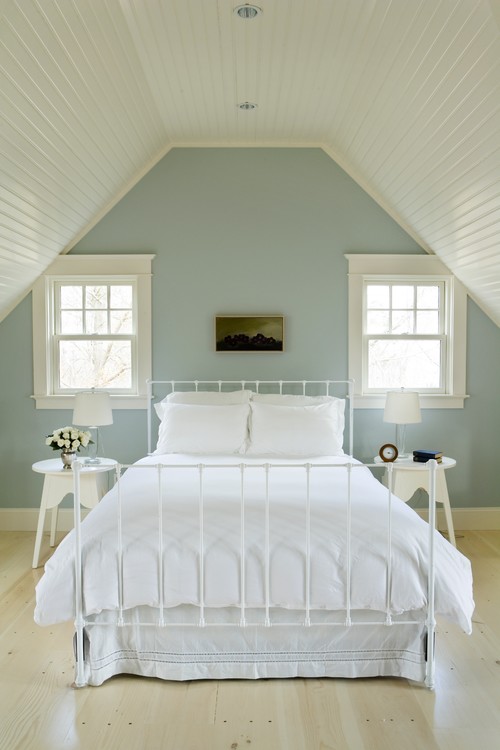 BM Quiet Moments tranquilizes the aura in a bedroom.
Like I say, bedrooms are the most personal spaces that should specifically define you.
If you have 'quiet moments' like philosophy – I would definitely say you go for it!
Pair this paint color with a nice white sheer curtain piece, some metallic headboards, and contrasting decorative accents through upholstery and rugs.
Quiet Moments on Exteriors
Quiet Moments is further going to look brighter and lighter when used on the exterior walls due to ample natural light.
I would personally like a white haven – like painting the trims and door and window frames in further bright white to create a perfect monochromatic palette even outdoors.
Meanwhile, you can also do the opposite and choose darker accents.
What's the Best Way to Sample This Color?
So now my favorite tip when it comes to testing out a versatile color like QM – go and order a peel-and-stick sample from Samplize.
They've created an awesome way to sample colors with real paint, but no mess. Simply stick on your paint sample instead of having to get a test can of actual wet paint.
For only a few dollars you get a good sized square to throw up temporarily anywhere you want to "try" on your color, other similar colors, and any possible coordinating hues you like. It's great!
So, are you excited to use this paint color in your home? Do let me know your views in the comments below as I am excited to know more.