Have you ever been confused between choosing a true black or almost a black paint with a blue base?
Well, you're not alone! Trust me, I've been there too.
Undeniably, black paint color is sophisticated, rich, and timeless but it also comes with a few cautions.
When you crave a dark and bold paint color in your home but don't want to overwhelm the space with the use of black – that's when darker navy blues, darker greens, and darker plums come into the picture.
And today, I'll be discussing one such dramatic paint color!
Benjamin Moore Blue Note is a popular dark-toned paint color that is almost black but with deep navy blue undertones.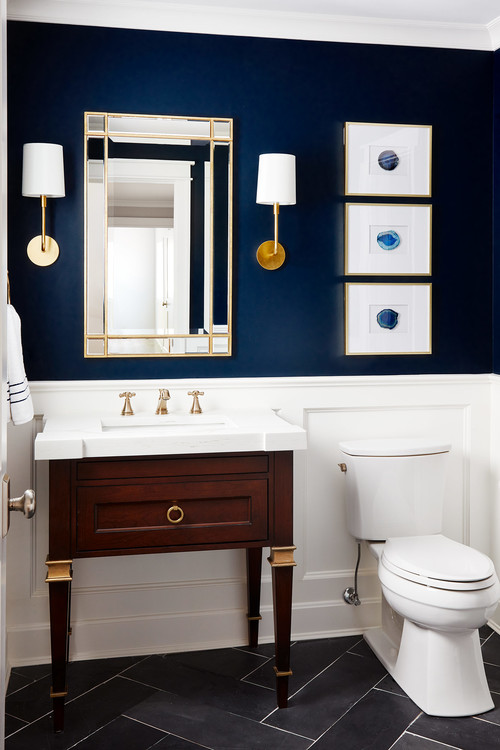 You're not going to regret this paint color because it simply doesn't disappoint – as long as you choose the perfect complementary colors and schemes.
(Don't worry, I've got you covered for that below)
Otherwise, this dark blue-black paint color is bound to make you go 'wow', especially when used on the accent or focal walls of your home.
So, are you excited to incorporate a tinge of BM Blue Note in the space?
Well, let's have a look at what this color has to offer.
Benjamin Moore Blue Note 2129-30 Details and Specifications
When you place a swatch of BM Blue Note against SW Tricorn Black or BM Kendall Charcoal, you would see that there's a considerable difference between the two.
And how do you know that?
Well, it's time to get acquainted with the hue's details and specifications.
So, when choosing a paint color – you must understand the underlying theories and facts that are related to each one of them.
So, first and foremost, let me introduce you to the concept of Light Reflectance Values or the LRVs that determine how light or dark the paint color is.
You can easily find that value at the end of your Benjamin Moore paint swatch or even the website!
Here, in this case, the LRV of Benjamin Moore Blue Note is 9.02.
And that means it falls on the very darker end of the scale.
(Remember, the lesser the value, the darker the paint – on a scale of 0-100)
Want to try this color out without having to paint your wall? Use some nifty peel-and-stick samples: Pick one up now from Samplize!
Secondly, other important associated terms are the RGB and the HEX Values.
Red = 76
Green = 85
Blue = 94
HEX Value = #505962
Since we have discussed the technical and scientific information, let's get started with the practical aspects of this blue-black Benjamin Moore paint.
How Does This Color Feel in a Space?
Benjamin Moore Blue Note will create a sense of depth, drama, and boldness in your space.
By grabbing all the attention, this color intends to make your space feel more characteristic, eye-catchy, and dynamic.
Yes, it's not subtle at all – rather, this paint tends to bring the walls closer to create an illusion of a smaller space.
You see – not a very simple color to work with!
Secondly, this color can arouse feelings of security, nature, and luxe – which is why if you have higher ceilings and larger square footage, this color could be your go-to!
It's not a dark and bold black to play bland in your space, rather, a perfect blue-black that also adds identity and a sense of color to your room.
So, try incorporating this paint in rooms with larger sizes.
On the other hand, in the smaller rooms, it can feel congested unless you add ample whites with it. Using this paint on the accent wall wouldn't be a bad idea.
Mainly, this color will add a sophisticated and elegant touch to foster a sense of visual interest in your space.
How Does Light Affect the Color?
View this post on Instagram
Natural or artificial light will have a tremendous role to play here.
So, BM Blue Note and natural light go hand in hand.
The more light you give to this dark paint color, the brighter and enhanced it will be.
On the other hand, little or no light will result in this paint color looking almost black.
So, remember to use this paint color in a room that receives ample natural light. That way, your room wouldn't look dull and dingy and will always exhibit an airy vibe
Furthermore, consider using this paint color in either of the directions since it doesn't alter much of the undertones or appearances.
To truly see what your home's environment and lighting will do here, try out a peel and stick sample with real paint. It takes out the guess work!
What are the Best Coordinating Colors?
Benjamin Moore Blue Note is absolutely stunning!
And when you pair it with the best complementary tones – it becomes even more flawless and phenomenal.
With the versatility of this deep and dark navy blue paint, you can almost pair any tone with it.
So, you can best pair this dark paint color with off-whites, grays, lighter blues, mustards, beige, blush, rich golds, and even mauves.
You can also incorporate any of the metallic tints as accents here – like nickel, gold, rose-gold, or chrome!
Furthermore, you can either choose from a monochromatic or a contrasting color palette – depending upon the interior design style and your preference.
So, here are a few of the colors I would recommend for a monochromatic palette!
On the other hand, here are a few of the colors I would recommend for a contrasting color palette!
2121-70 Chantilly Lace
2163-40 Metallic Gold
2092-50 Titanic Rose
For your ceilings, trims, and moldings – you can use BM Chantilly Lace as it is a true white paint and will further protrude the original adjacent hue.
BM Blue Note Vs Similar Colors
This beautiful blue-black has various similar alternatives.
Some may incline towards a blue base, gray base, green base, or some purple – but the major idea is for the hue to have a daring and authentic look.
So, to name a few, let's have a look at the two closely related colors – BM HC-154 Hale Navy and SW 7625 Mount Etna.
Blue Note Vs Hale Navy
Benjamin Moore Hale Navy is a darker and deeper version of BM Blue Note.
This classic navy color has an LRV of 8.36 – thus, comparatively darker than the former paint color.
You can best pair this color with rich golds and creamy whites.
Order a stick-on sample of Blue Note and Hale Navy to see what works best in your home.
Blue Note Vs Mount Etna
SW Mount Etna is a blue paint color with deep green undertones. Yes, it lacks the 'navy' feature!
It has the potential to equally look 'black' in various lighting conditions.
With an LRV of 6, this color is the darkest of them all!
Since digital screens can be deceiving, I highly suggest you get some actual samples of these two colors from Samplize. Buy here!
Where to Use Blue Note?
BM Blue Note can be used on any corner of your home – whether it's the living room walls, bedroom focal wall, furniture frames, kitchen cabinets, or the exteriors.
Especially for interior design styles like modern, mid-century modern, contemporary, and transitional – this is a great color recommendation.
Let's see where and how to incorporate this deep navy paint color in your home.
Blue Note in Living and Dining Rooms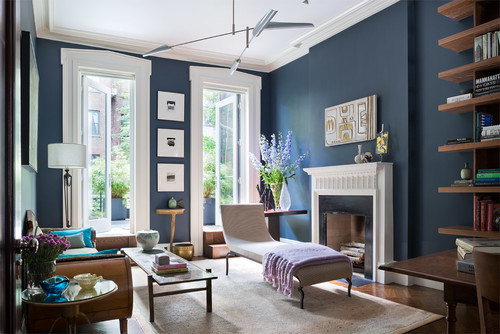 I would love the feel of this paint color on the accent wall of your living and dining space. If you have a majestic room, consider painting all the walls!
You must further pair this color with crisp whites, lighter grays, and rich golds on the furniture upholstery, linens, accessories, and accents.
In the case of a fireplace, you must choose either white plaster or natural stone.
On the other hand, to create a sense of visual contrast, you can play with terracotta or shades of mustard.
Using in Bedrooms
View this post on Instagram
In the bedrooms, consider using the paint color on the accent wall and pair it with clean whites.
You can consider playing with beiges on the throw pillows, rugs, and even curtains for a warmer look.
In the case of metallic accents, choose either satin brass or polished brass.
Lastly, in the case of renovation, hardwood floors in herringbone or chevron pattern are quite good to go!
Using in Kitchens
View this post on Instagram
In the kitchens, one of the best places to use this color is on the cabinets.
So, it's time that you throw personality into your kitchen and enjoy the moody and classic blue in it.
Furthermore, consider adding clean whites on the backdrop wall, backsplash tile, and marble countertop.
For knobs and pull handles, choose satin brass or polished brass.
Blue Note on Exteriors
View this post on Instagram
This tone makes a beautiful accent in the Mid-Century Modern, modern, contemporary, craftsman, and Victorian homes.
You can very beautifully pair it with creamy whites, crisp whites, or beiges on the trims, door, and window frames.
Further, I highly recommend incorporating tints of beige, taupe, or warm gray as the bases.
Lastly, don't hold back from using natural stone wainscotting (in a warmer or cooler base)!
By the way, for more blue paint colors, check out my favorites list of BM blues.
For a sense of interest, choose mustard for the entryway door and shutters.
You Should Order Samples of Blue Note
Let's face it, good paint isn't cheap. While painting is a relatively inexpensive, good bang-for-your-buck project, picking colors can be hard. You don't want to buy a whole can of something until you know for sure.
So together with the info here, you can literally ""see"" what this color will look like in your home before you commit.
Getting a peel-and-stick sample from Samplize is the best thing since paint rollers!
If you don't know yet, you can order a 12″" x 12″" square sample with the real paint color on it. Stick it on your wall multiple times and in multiple places to find out exactly if the color is for you.
So, did this color review bring you an inch closer to the bold and daring paint color?
Do you want to use it in your home? Exteriors or interiors? Walls or cabinets?
Well, I would love to know your thoughts! Do let me know in the comments below!