Flaunting off a rich and luxurious presence, black-toned paint colors are one of the most universally admired and loved.
They're bold and timeless – and at the same time, can add immense depth, drama, and character to your space.
Today I'm going to acquaint you with yet another black that plays fabulously!
Benjamin Moore Soot is a rich black paint color that's slightly closer to the true end of the scale with a little blue undertone. (And that's not very dominant though)
Yes, it feels extremely clean and crisp if you compare it against a true white paint!
Well, let me tell you, blacks play absolute magic in any space. The only point to consider is the boldness of the paint that you must work with carefully.
Since they're dark and daring – you have to be extra cautious with the paint colors you pair them with, along with the amount of paint that you can use in that space.
So, are you excited to add a tinge of BM Soot in your home?
Let's have a look at this color in a full review so you can understand all the ins and outs.
Benjamin Moore Soot 2129-20 Details and Specifications
Color theory and specifications are quite unique from color to color.
After all, there is something that differs from all of them, right?
So, when choosing a paint color – you must understand the underlying theories and facts that are related to each one of them.
And that will truly help you understand what that specific color is composed of.
So, first and foremost, let me introduce you to the concept of Light Reflectance Values or the LRVs that determine how light or dark the paint color is.
You can easily find that value at the end of your Benjamin Moore paint swatch or even the website!
Here, in this case, the LRV of Benjamin Moore Soot is 4.11.
And that means it falls on the extreme dark end of the scale – hence, clearly a recommendation for accents and in some cases, bases!
(Remember, lesser the value, darker the paint – on a scale of 1-100)
If you're not quite sure how this color will work in your home, you should definitely try it on for size by ordering a peel-and-stick sample from Samplize.
Secondly, other important associated terms are the RGB and the HEX Values.
Red = 55
Green = 60
Blue = 65
HEX Value = #373c41
Since we have discussed the technical and scientific information, let's get started with the practical aspects of this black Benjamin Moore paint.
How Does This Color Feel in a Space?
Benjamin Moore Soot is a beautiful black paint color that feels crisp, sleek, cool, refined, and utmost elegant and sophisticated.
Since this paint color feels bold and daring – it can equally make your space feel overwhelming and irresistible.
So, it's important to restrict the use of this black paint color and only use it as an accent to achieve the best of both worlds.
Moreover, if your bedroom is small or has fewer windows – try avoiding painting all the walls in this color – since it can make the space look dull and dingy.
For larger rooms with ample flourishing natural light – this color is quite good to go.
Furthermore, you can use this particular paint color in any climatic condition!
How Does Light Affect the Color?
Light plays an immense role in this paint color.
So, whenever you throw some light to this paint – it will undeniably feel more energetic, lively, and enthusiastic.
Remember, you need to give light to your space in order to feel the true beauty of this paint color.
And regardless of the compass directions, this paint color is bound to look fabulous and neutral in all the rooms.
Other than that, you always have the opportunity to play with artificial lighting! (I recommend a warm white saturation tone here)
Use white light for task focal activities!
One way to help find out how this color looks in your home is to buy some temporary wall samples and put them up wherever you want to paint. You can get these easily from Samplize.
What are the Best Coordinating Colors?
It's important that you pair Benjamin Moore Soot with commendable opposites that further enhance the appearance of this color.
And that is why you have to be careful when choosing complementary color schemes!
After all, who doesn't like the feel of a well complementary palette, right?
So, analyze this color scheme and the whole idea of pairing colors!
You can best pair this black hue with true whites (in the case of trims etc), navy or electric blues, mauves, mustards, lighter grays, sky blue, and blush pink!
You can also incorporate any of the metallic tints as accents here! (Brushed brass, gold, rose gold, or copper)
Furthermore, you can either choose from a monochromatic or a contrasting color palette – depending upon the interior design style and your preference.
So, here are a few of the colors I would recommend for a monochromatic palette!
On the other hand, here are a few of the colors I would recommend for a contrasting color palette!
2096-70 Light Mocha
2121-70 Chantilly Lace
2153-50 Desert Tan
For your ceilings, trims, and moldings – you can use BM Chantilly Lace as it is a true white paint and will further protrude the original adjacent hue.
BM Soot Vs Similar Colors
Looking for similar colors can be equally challenging!
So, what is it that makes you want to replace BM Soot? Is it the undertones or the reflectivity?
Well, in either of the cases, let me tell you – it's difficult to find something exactly the same.
There might be a slight alteration in the undertones or the reflectivity.
Here, two colors closely related to BM Soot are BM 2119-20 Black Berry and CC-70 Dune White.
Let's see how they differ.
Soot Vs Black Berry
BM Black Berry is not as crisp and saturated as BM Soot. Yes, and that's one of the major differences.
The latter paint color devoids the deep blue undertone which makes the former paint color quite rich in hue, characteristic, and dark.
With an LRV of 4.12 – this paint color is equally darker and deeper!
To see how these look in your home, get some large square samples and try on your walls with different lighting sources.
Soot Vs Black of Night
This is an equally dark and deep paint color with saturated undertones.
This paint feels rich and elegant – and can be best used as an accent on the door and window frames, trims, and accent wall.
With an LRV of 4 – this paint color is slightly darker and deeper. (It also reminds me of BM Wrought Iron, which you should check out!)
To truly experience and compare these colors in real-time be sure to buy some stick-on samples and test them in your home.
Where to Use Soot?
Benjamin Moore Soot is a black paint color that makes a wonderful accent in any space you want!
Whether it's the exterior trims, window frames, living room or bedroom accent wall, bathrooms, home office, or kitchen cabinets – the paint is bound to play astoundingly!
Let's see where and how to incorporate it in your home.
Soot in Living and Dining Rooms
Definitely a yes! You need not give a second thought when it comes to painting the living and dining room in this black paint color.
Especially as an accent – you can use a combination of this paint with beige, white, and a contrasting pop of hue on the throw pillows and upholstery.
In the case of a fireplace, you can choose natural stone cladding or white marble for a perfectly luxe look.
You must not even hold back from rustic wooden textures!
Using in Bedrooms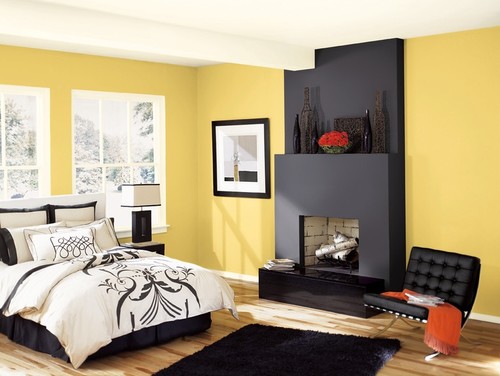 You can paint the accent wall of your bedroom in BM Soot to achieve the utmost modern and contemporary look.
Furthermore, ensure the bedding and upholstery in beige or white to neutralize the look and further add pops of contrasts for a sense of depth and character.
To make your bedroom extra luxe and appealing, add golden tints on the chandelier and other lighting fixtures for a flabbergasting appeal.
You can even paint all the walls in this color as long as you have ample windows facing west or south!
Soot in Kitchens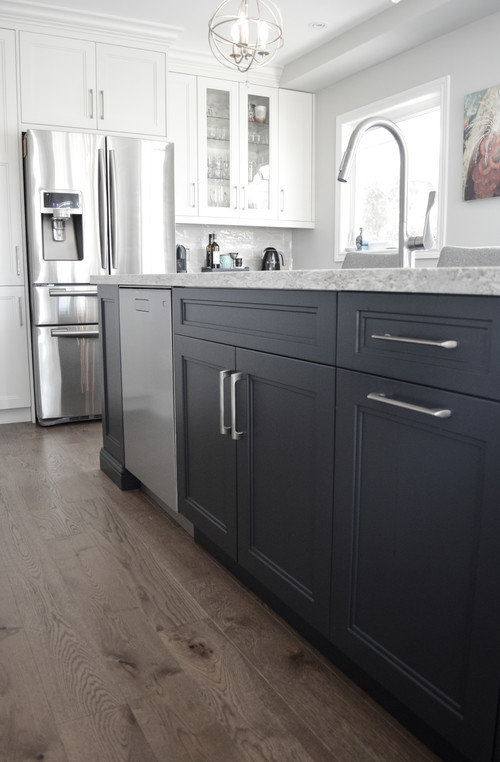 Black kitchens are trending and will never fade away!
Especially if you paint the kitchen cabinets in BM Soot, you're bound to love your kitchen a little extra.
They will feel clean, crisp, and sophisticated! Moreover, if you add golden tints on the knobs and pull handles, the overall look will be even more eye-catchy and luxurious.
At the same time, choose clean whites for a marble countertop, backsplash tiles, and backdrop wall!
Using on Exteriors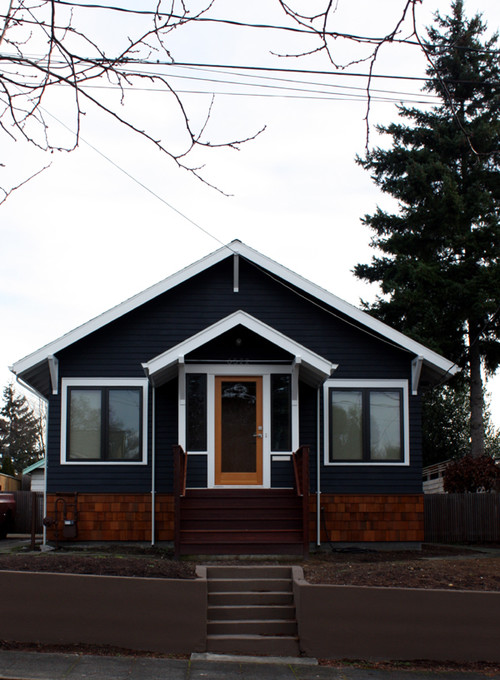 Whether you have a Ranch-style, Mid-Century Modern, Victorian, Contemporary, or Modern style, this black paint will never disappoint you!
You can either paint all the exterior walls in this color and further infuse shades of white on the trims and moldings.
Or, choose vice versa and pop a black on the special architectural features.
In the case of columns on the patio and porch – you can use natural stone wainscotting to add a detailed character to this facade!
Further, if you want to make your home appear characteristic – choose sky blue, cherry red, or mustard yellow for the shutters and entryway door.
Best Way to Try Out This Color?
I have to share one of my favorite tips when testing out colors like Soot – go and order a peel-and-stick sample from Samplize.
This company has an amazing way to sample colors super conveniently with real paint.
Simply stick up a temporary square sample of it and avoid the whole paint and roller mess (at least until you're ready!).
For a small amount of money you get a giant ""sticker"" you can place up in the space you're painting. You can also try out coordinating colors as well. It's great!
So, how do you want to use this color in your homes? Interiors or Exteriors?
Now that you have all the secrets – are you excited about painting your home in BM Soot?
Should there be any questions or thoughts, let us know in the comments below!