A perfect definition of intimacy – Benjamin Moore Wrought Iron is a great dark-toned paint color with deep grey and blue undertones.
This color has quite some crisp texture that makes it utmost bold and daring.
So, if you're planning to paint your homes with a similar daring paint color – I would highly recommend this bold BM color to use in your homes.
Although, it is dark – you still have to be cautious around when, where, and how about it. Also, if this color would really look great in your living spaces?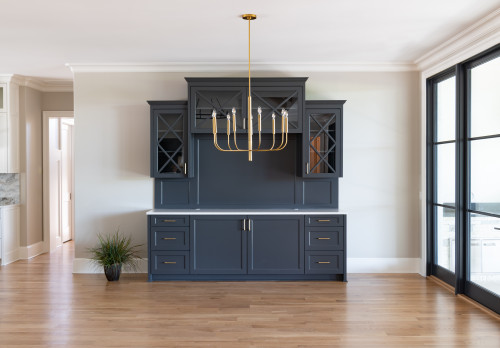 The cabinet above looks absolutely stunning in BM Wrought Iron.
Yes! Don't worry – I got your back, and I will help you figure out answers to all those questions.
So, is Wrought Iron really amazing?
Well, yes. It looks like a perfect backdrop in many situations and very beautifully fulfills the missing charm in your homes.
It is sleek and modern – so if you're aiming to create that particular mood in your homes, go ahead with it!
But let me tell you one thing before – there might be a few rules and restrictions associated with this paint color due to its texture and appearance.
So, you might not want to use it just anywhere you feel like!
Benjamin Moore Wrought Iron Details and Specifications
Before you choose a paint color, you have to be aware of a few technical and scientific terms that will help you understand the basic theories about the color.
So, what are they?
First and foremost, the most important value you need to get acquainted with is Light Reflectance Value or LRV's.
This value helps in determining how light or dark the paint color – and that later will help you understand where in your homes you should use this paint color.
So, the LRV of Wrought Iron is 6.16!
(Which is too less and that means that color is too dark)
Most of the incoming light on this paint color is absorbed.
If you want to see how Wrought Iron will look in your unique environment, I highly suggest ordering a peel-and-stick paint sample from Samplize here!
Other few terms that you must know are RGB and HEX Values that are as follows.
Red = 73
Green = 74
Blue = 75
HEX Value = #494a4b
Okay enough with the technical aspects – let's talk more about the practical aspects of the color.
How Does Wrought Iron Feel in a Space?
Kristi from Chatfield Court shows a refreshing approach to an accent wall with this color.
Wrought Iron looks extremely elegant and sophisticated on your walls if used in the right amounts.
Well, that is the beauty of this paint color.
Wrought Iron if not used in limited amounts may lead to utter suffocation and dinginess – which of course, you will not appreciate.
Since the color is dark-toned, it brings all your walls closer and makes your room feel small and congested.
So, just in case if you have overly sized rooms that are uncomfortable, painting them in Wrought Iron would make a great solution.
So, if properly used, you are likely to feel energetic, bold, and daring with Wrought Iron surrounded.
How Does Light Affect the Color?
Above, you can see how BM Wrought Iron on the hallway pulls the walls closer.
Due to its low reflectivity, most of the light received by the paint color is very well absorbed.
Little light is reflected which highlights the true hue of the paint color. Thus, natural light has a major role to play here.
However, if you plan to use this paint color, pair it with a nice warm-white or warm-yellow artificial light.
I would also recommend examining the paint swatches in different light conditions to see how the paint color looks in different light temperatures.
Because LIGHT does affect the appearance of the color.
Like I said, the best way to see this color in action before you paint is to buy some paint samples you can easily stick on your wall. It'll definitely give you some clarity if you're unsure!
What are the Coordinating Colors for Benjamin Moore Wrought Iron?
Wrought Iron makes a great option in homes if you pair it with the best opposites.
You could either choose from one of the following – monochromatic or a contrasting scheme.
Depending on your design preference, I would highly recommend the following color schemes (in case of a monochromatic scheme)
Thundercloud Gray 2124-40
Deep Silver 2124-30
Trout Gray 2124-20
I am sure this monochromatic scheme is going to look timeless and even priceless.
On the other hand, just in case if you prefer a contrasting scheme, I will highly recommend choosing cool-toned whites and off-whites, and a few warmer and cooler shades such as beiges or sage greens and blues.
However, to make it simpler, I would recommend the following hues from Benjamin Moore palette.
Ivory Tusk 2153-70
Light Pistachio 2034-60
Whitestone 2134-60
However, in all these case, I would recommend choosing BM Decorator's White for the trims, moldings, and ceilings.
Benjamin Moore Wrought Iron Vs. Similar Colors
Choosing an exact similar alternative could be challenging and daunting as no two colors are exactly the same. To help you, check out my list of best Benjamin Moore black colors!
Although if you're looking for some alternatives here, I would recommend choosing either BM Midnight Oil 1631 or BM Cheating Heart 1617.
These colors look exactly the same – so you can choose from either.
Wrought Iron Vs. Midnight Oil
Comparatively darker than Wrought Iron, this paint color has an LRV of 5.65 making it a much darker option.
This paint color also has deep gray undertones – so, being an extremely dark paint color it's almost like black. (BM Soot is similar this way as well).
Make sure to balance the darkness by using some bright and light paint shades to neutralize the appearances.
For more accurate results, I would recommend buying real-time paint and swatches to determine the differences between the two colors.
Get a stick-on sample square of Midnight Oil to test in your home.
Wrought Iron Vs. Cheating Heart
With an LRV of 6.89, this color shares almost the same dark similarities. However, this paint color has deep blue undertones that can be observed in bright sunlight.
So, if you are looking for options that are more blue than black, CH would make a great option here. Read my full review on Cheating Heart here!
This classic and sophisticated shade is one of my favorites – so, you can absolutely use this paint color in your homes.
They might look very similar on the screen, but the biggest secret is to order samples of the color and then assess the brightness and tones in the environment you're painting in. Pick up peel-and-stick samples now from Samplize!
Where to Use Wrought Iron in Homes?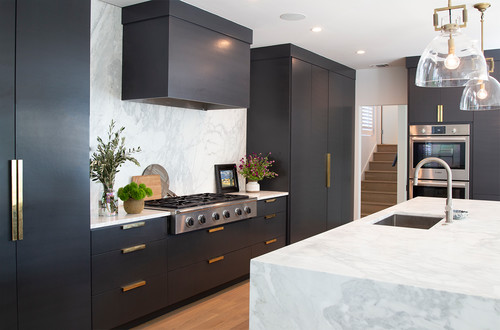 This timeless kitchen displays BM Wrought Iron on the cabinets.
Since it is such a bold and daring paint color, you can absolutely use it anywhere in your homes as far as the room is spacious enough to not make your space look dull.
Especially for the Coastal, Contemporary, Modern, Mid-Century, and Eclectic interior design styles, you can use this paint color – very beautifully.
Let's discuss a few specific rooms where you could incorporate BM Wrought Iron!
Wrought Iron in Living Rooms
This is one of my super suggestions to clients who want to achieve a timeless and sophisticated look in their homes.
Living room is one of the common spaces where you and your family all together spend tons of time.
Here, I wouldn't recommend painting all the walls in Wrought Iron, instead you can focus on painting an accent wall in it.
You can also paint all the walls in a light-toned paint color and let the furnishings and furniture speak Wrought Iron.
To add a touch of comfort, add some contrasting warmer shades through pillows, blankets, and ottomans.
Wrought Iron in Kitchens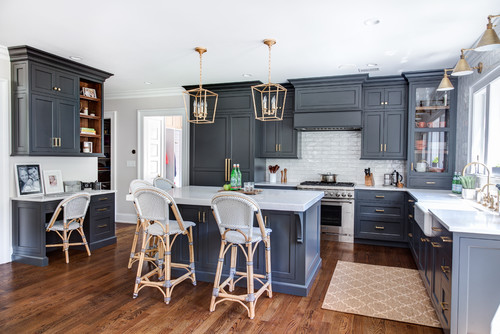 Kitchens are the heart of our homes. So, just in case if you're planning to use it in kitchens – you could choose either to paint your cabinets in wrought iron or else, the walls.
To further add perfection, you could either choose gold or silver-tinted hardware and pull handles along with hardwood floors.
Moreover, use white marble as your countertop stone and glossy hexagonal backsplash tiles.
Wrought Iron in Bath and Bedrooms
If you plan to use Wrought Iron in your bedrooms, I recommend painting only the accent wall in it.
On top of that, use gold tints on your headboards and light-shaded upholstery and nightstands to create a sense of balance.
I wouldn't say a no-no here!
Wrought Iron on Exteriors
It is quite likely for you to locate this paint color on the exteriors of home somewhere in the suburbs.
Just remember to pair this paint color with white trims and moldings, door and window frames, and natural grey stone wainscotting.
Or else you can do the opposite by just painting the trims in wrought iron.
An Easy Way to Sample This Color!
Instead of picking up a small can, or worse, an entire gallon can, to "test" out Wrought Iron, you can order a peel-and-stick sample of it from Samplize.
The company is genius – they provide a 12″ x 12″ stick-on square you can put up anywhere in your home to try out a paint color.
For a few bucks, it's definitely worth the small investment so you can see what the color will do in YOUR unique space, with your own lights and shadows.
So, are you excited to incorporate touches of Wrought Iron in your homes?
I am sure it will contribute to a perfect glam look here! Let me know your experiences in the comments below as I would love to know more about your experiences.