Let's take a shift from beiges, greiges, and grays to something bold, authentic, dark, and striking – Benjamin Moore Cheating Heart.
This navy blue-inspired hue is quite dark and daring. Well, we can almost say that it very closely relates to a dark gray or even black.
This is the type of color that might remind you dark and deep oceans.
So, want to see how you could introduce a touch of BM Cheating Heart to your home's palette?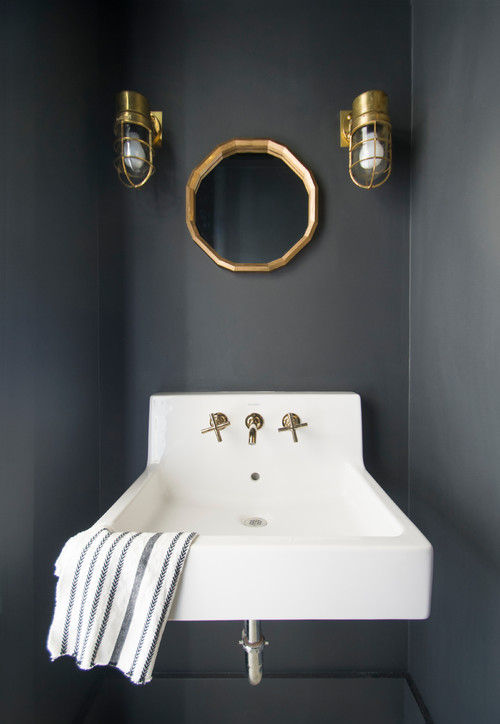 Well, I have some very intriguing insights to share with you.
Apart from how strong and majestic this color appears, it also comes with a baggage of rules, restrictions, and repercussions.
And that's obvious considering the depth of this dark paint color.
Don't worry! I'll acquaint you with all of them.
In this color review, I will help you identify the where and how bouts of this paint color, where and how to incorporate it in your home, and most importantly, if you should or shouldn't use it!
Although this beautiful and versatile color proves to be a must-have! (Regardless of the interior design style)
So, let's get started on this journey to bold and daring, BM Cheating Heart!
Benjamin Moore Cheating Heart 1617 Details and Specifications
When you place a swatch of BM Cheating Heart against SW Tricorn Black, you would see that there's a considerable difference between the two.
And how do you know that?
Well, it's time to get acquainted with the hue's details and specifications.
So, when choosing a paint color – you must understand the underlying theories and facts that are related to each one of them.
So, first and foremost, let me introduce you to the concept of Light Reflectance Values or the LRV's that determine how light or dark the paint color is.
You can easily find that value at the end of your Benjamin Moore paint swatch or even the website!
Here, in this case, the LRV of Benjamin Moore Cheating Heart is 6.89.
And that means it falls on the very darker end of the scale.
(Remember, lesser the value, darker the paint – on a scale of 1-100)
What I like to do is sample Cheating Heart under different lights where I'm going to use it. I use Samplize stick-on samples. Get some samples now!
Secondly, other important associated terms are the RGB and the HEX Values.
Red = 82
Green = 84
Blue = 85
HEX Value = #535556
Since we have discussed the technical and scientific information, let's get started with the practical aspects of this bold blue Benjamin Moore paint.
How Does This Color Feel in a Space?
Undoubtedly, Benjamin Moore Cheating Heart makes your space feel crisp, muted, bold, and quite dark.
But it will never make your space feel overwhelmed – unless you wisely pick the adjacent hues.
And that is one reason why you have to be very careful around this color.
Secondly, you have to be cautious when using this color in a space. You must first analyze how large the space is!
In larger spaces, it will feel well-balanced and seamless – exhibiting a modern and minimalistic appearance.
In smaller rooms, it can feel congested unless you add ample whites with it.
Mainly, this color will add a sophisticated and elegant touch to foster a sense of visual interest in your space.
How Does Light Affect the Color?
Natural light and BM Cheating Heart go hand in hand!
The more natural light in your room, the more appealing and lighter your room will appear.
And with such a bold and dark color like BM Cheating Heart, it's important that your room has ample natural light penetrating in.
So, regardless of the compass directions or existing structural elements in the room, this color is bound to look alike.
Secondly, you can always add artificial lighting in the form of wall sconces and pendant lighting to further create a desired mood in your space.
As I mentioned before, you can try out this color with real paint, (but without the mess) using stick-on samples from Samplize.
What are the Best Coordinating Colors?
Benjamin Moore Cheating Heart is absolutely stunning!
And when you pair it with the best complementary tones – it becomes even more flawless and phenomenal.
With the versatility of this deep and dark navy blue paint, you can almost pair any tone with it.
So, you can best pair this dark paint color with off-whites, lighter blues, mustards, beige, mauves, and even pinks.
You can also incorporate any of the metallic tints as accents here – like nickel, gold, rose-gold, or chrome!
Furthermore, you can either choose from a monochromatic or a contrasting color palette – depending upon the interior design style and your preference.
So, here are a few of the colors I would recommend for a monochromatic palette!
1615 Rock Gray
1614 Delray Gray
1613 Silent Night
On the other hand, here are a few of the colors I would recommend for a contrasting color palette
AC-8 Butte Rock
939 Royal Silk
1611 Graytint
For your ceilings, trims, and moldings – you can use BM Chantilly Lace as it is a true white paint and will further protrude the original adjacent hue.
BM Cheating Heart Vs Similar Colors
This beautiful gray-blue-black has various similar alternatives.
Some may incline towards a blue base and some purple – but the major idea is for the hue to have a daring and authentic look.
So, to name a few, let's have a look at the two closely related colors – BM 2124-10 Wrought Iron and
Cheating Heart Vs Wrought Iron
Even though the two colors share quite a few similarities, the major difference is the undertones.
BM Wrought iron feels a little more navy blue than the former.
With an LRV of 6.16 – this hue feels equally dark and daring!
Consider the same color schemes that I mentioned earlier in the color review.
If you want to test the subtle differences in your house, get some wall samples of each here.
Cheating Heart Vs Darkroom
A product of deep purple and plum, this dark color can make a playful alternative.
The major difference is the undertones here!
With an LRV of only 5 – this paint is the darkest of them all! (Hence, a great recommendation for the accent wall)
It's best to pair this color with whites and lighter mauves.
Test these colors side-by-side to see the differences in "real life" INSIDE your home, with some wall-stick samples. Order here!
Where to Use Cheating Heart?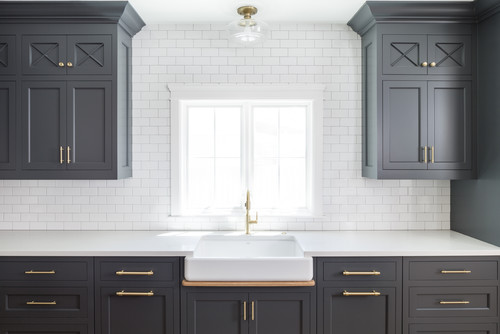 Can I say that everywhere?
Well, yes! Whether you have the laundry room cabinets, kitchen cabinets, console room, bedroom accent wall, or exterior shiplap – this color is bound to make a profound statement.
So, whether you have a Scandinavian style, modern, farmhouse, contemporary, or transitional interior design style – this color is a must to look forward to!
Let's see where and how to incorporate this deep navy paint color in your home.
Cheating Heart in Living and Dining Rooms
I would love the appearance of this color in your common spaces such as the living room and dining room.
You can choose to use it on the accent wall or even the cabinetry systems or floating shelves.
Further, you must pair it with lighter tones on the adjacent walls to feel the true hue of this paint.
Add linen upholstery, large floor lamps, cotton tasseled throw pillows, and ample indoor plants to make your space feel refreshed and relaxed.
Lastly, don't hold back from wooden textures on the exposed beams, window or door frames, and your focal furniture pieces.
Using in Bedrooms
Your bedroom accent walls deserve a pretty paint like this!
However, ensure not to paint all the walls in this color – unless you receive ample natural light, have lighter-toned upholstery, and spread-out furniture!
Use a white base for the decorative accents such as your table lamps, artwork, rugs, and bedding.
Lastly, in the case of renovation, hardwood floors in herringbone or chevron pattern are quite good to go!
Cheating Heart in Bathrooms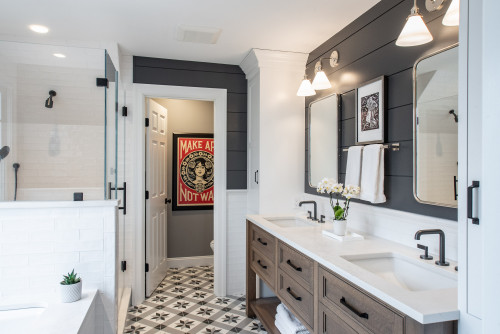 Another great way to infuse sophistication and elegance in your bathroom is by incorporating this color on the walls.
Use it on the focal wall and pair it with crisp whites on the adjacent walls, trims, and moldings.
Moreover, you can even use Moroccan-inspired ceramic tiles specifically in the shower area.
Using in Kitchens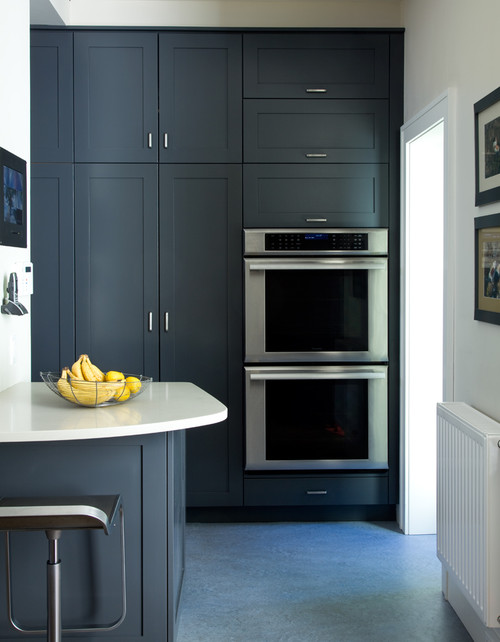 BM Cheating Heart on the kitchens is totally flawless.
I highly recommend painting your cabinets in this color and further pairing it with brass pull handles and drawers.
Use the same tone on the pendant lights and other displayed fancy china as well.
Lastly, you must choose white backsplash tiles and gray or white marble countertop to complete your palette.
Cheating Heart on Exteriors
This tone makes a beautiful accent in the Mid-Century Modern, modern, contemporary, craftsman, and Victorian homes.
You can very beautifully pair it with creamy whites, crisp whites, or beiges on the trims, door, and window frames.
Further, I highly recommend incorporating tints of beige, taupe, or warm gray as the bases.
Lastly, don't hold back from using natural stone wainscotting (in a warmer or cooler base)!
How to Best Sample This Color?
I need to share my favorite tip for testing out a color like Cheating Heart – go over and order a peel-and-stick sample from Samplize.
These folks are nifty because they figured out a convenient way for us to sample colors way more easily. Just stick up a temporary square sample and forget the small jar of actual wet paint.
For only a few dollars you'll receive a perfect sized square you can stick up temporarily anywhere you want to "try" on a paint color and any possible coordinating hues you like. It's the best!
So, did this color review bring you an inch closer to the bold and daring paint color?
Do you want to use it in your home? Exteriors or interiors? Walls or cabinets?
Well, I would love to know your thoughts! Do let me know in the comments below!