Off-whites and whites are some notable color categories that can never bore you!
They're versatile and will promise to always go a long way!
However, finding that perfect off-white paint color can be quite challenging and intimidating.
Well, some whites are more inclined to pinks, yellows, greiges, greens, or blues! On the other hand, there's an off-white category that readily doesn't have any definite undertones.
And this color category is called the 'true off-whites'.
One such noteworthy example is Sherwin Williams Westhighland White. There's a definite touch of creaminess to it – but absolutely not a dominant undertone!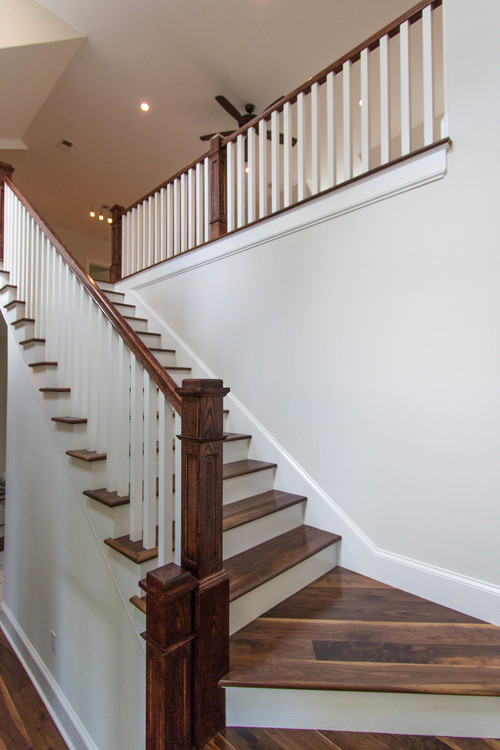 It tends to bring warmth and at the same time, offer versatility and capability to pair with any color palette (whether warm or cool).
Also, don't forget – this creamy and soft color is delightfully warm and can make your space feel utmost clean and pure!
So, excited for a fresh coat of SW Westhighland White in your space?
Well, this color review will help you determine the whereabouts and how bouts of this paint color – along with how, where, and when to use it!
So, sit back, relax, and enjoy the journey to this majestic off-white paint.
Sherwin Williams Navajo White SW 6126 Details and Specifications
How do you get to know about the undertones or typical behavior of a paint color?
Well, apart from the aesthetics – there are various other aspects to consider! Yes, they're mainly the details and specifications.
If you are new here, let me tell you – there are quite some facts and scientific terms that you would want to acquaint yourself with.
(Before choosing a paint color for your home)
It's important to analyze these values and then determine where, when, and how to use these paints!
So, first and foremost, one of the most important terms that I usually observe getting ignored is Light Reflectance Values or (LRV)!
Every color has an associated Light Reflectance Value!
For Sherwin Williams Westhighland White, the LRV is 86!
Which falls on the lighter end of the scale – well, almost a neutral for the walls!
Remember, the greater the value, the lighter the paint color is!
And vice versa!
Because paint colors can change in different environments, I recommend you also just try Westhighland White out at home with a peel-and-stick sample from Samplize. Order some samples now!
Moving ahead, let's discuss the RGB and HEX Values of the color.
Red = 243
Green = 238
Blue = 227
HEX Value = #f3eee3
Now that I am concluding, I promise not to bore you with these scientific details anymore.
Let's talk about the practical aspects of this off-white Sherwin Williams paint color with deep neutral undertones.
How Does This Color Feel in a Space?
SW Westhighland White has the tendency to make your room appear warmer, airier, larger, spacious, and fresh.
So, you're always bound to feel cozier in a room with this paint color on board!
Furthermore, it can also create an illusion of a larger space – hence, just in case you're stuck in a small apartment or bedroom, I highly recommend painting all the walls and the ceiling in this paint color.
If you admire the feel of darker and bolder colors in your room, you can consider pairing that accent wall with this color.
For instance, SW Peppercorn or SW Naval work excellent when paired with this paint!
How Does Light Affect the Color?
Light doesn't play a very major role here – but yet enough to protrude the undertones of this paint color.
Well, there could be a couple of issues you're dealing with in your space.
First and foremost, this paint color can work differently in different lighting conditions. In the north and east-facing rooms, it can slightly align to a neutral vibe or its true undertones.
Secondly, in the west or south-facing rooms, this already creamy color can appear more yellow and warm – hence, time to beware!
And since this paint color has high light reflectivity value – you can use it in a room that has very little light. That way, it will still feel lively and airy!
Lastly, you always have the opportunity to let the artificial lighting in the form of cool whites and warm whites to embrace equilibrium.
I'll say this again – get some wall samples to try on this color in your own home and confirm if it'll work or if you need to try something else.
What are the Best Coordinating Colors?
Creating color palettes can be quite a fun task to do.
So, it's crucial for you to choose the best complementary colors in order to define a palette that looks cohesive and lovely!
In general, this color can look flabbergasting with darker beiges, shades of blues, sage greens, and lighter grays.
However, you have to be careful as to what vibe you need in your space for a perfect color combination.
So, I am going to enlist the two most popular color schemes here – monochromatic and contrasting.
Monochromes are generally great for modern, minimalist, and contemporary setbacks.
In terms of metallic accents, matte black and chrome is something to look forward to.
So, here are a few of the colors I would recommend for a monochromatic palette!
SW 7567 Natural Tan
SW 7547 Sandbar
SW 6129 Restrained Gold
On the other hand, here are a few of the colors I would recommend for a contrasting color palette!
For your ceilings, trims, and moldings – SW Extra White or SW Pure White will help protrude a true hue of SW Westhighland White.
SW Westhighland White Vs Similar Colors
When picking similar colors, you must keep in mind the various variations regarding the undertones and reflectance values.
Yes, there can never be two colors exactly the same. (Even if they appear similar)
So, one of the closely related colors is SW 7103 Whitetail and BM 2152-70 Mayonnaise!
Let's see how all of them differ.
Westhighland White Vs Whitetail
These two dominant creamy whites share a ton of similarities.
The latter has notable yellow undertones whereas the former paint color has hidden yellow undertones.
With an LRV of 86 – this off-white is equally warm and creamy!
A Pro Tip: Try to avoid using this paint in the west-facing rooms.
Order wall-stick samples of Westhighland and Whitetail here to help you better compare these colors in your own house.
Westhighland White Vs Mayonnaise
Another creamy color from the BM palette, Mayonnaise is a beautiful, creamy paint color that can make a perfect alternative.
With an LRV of 90.49 – this paint color is extremely light, airy, and warm.
And talking about how this color feels in a space – well, it's bound to flaunt a dominant shade of yellow undertone that you might not like in the long run.
Also, don't forget about buying real-time samples to determine the tonality of the paint in your home's lighting. Pick samples up from here.
Where to Use Westhighland White?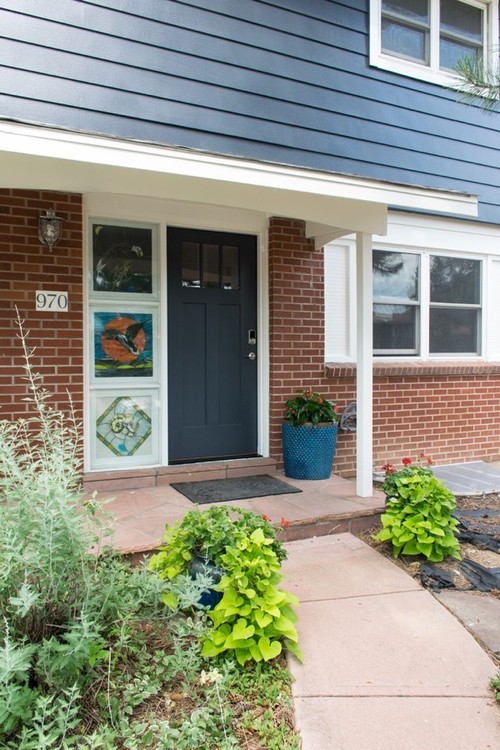 This subtle off-white paint color can be used anywhere you want!
Whether it's the kitchen cabinets, bedroom or living room walls, exteriors, trims, moldings, and even home offices.
And since it's a true creamy paint – you can use this paint color for traditional, transitional, farmhouse, French Country, and modern interior design styles.
Yes, and it's generally best to use this paint on all the walls of your room (and not as an accent).
So, let's see what this color has for you!
Westhighland White in Living and Dining Rooms
Why not?
You can absolutely use this paint color in the common spaces – especially on all the walls.
Other than that, you can consider adding wooden textures on the built-in cabinetry, floating shelves, and furniture frames.
If you want to make your living room quirky and visually appealing, try adding shades of rust, blue, or green on the accessories like throw pillows and artwork.
Generally, a monochromatic palette for this color is timeless and can be used for Japandi, Contemporary, and Modern interior design styles.
Using in Bedrooms
In the bedrooms, you can pick this paint color for all the walls as well as the trims, ceiling, and moldings.
Or in the other way, you can choose a bold gray or blue for the accent wall.
Secondly, you must add wooden accents, glass, and faux or fur for the rug and throw pillows.
Don't forget – the bedding can equally make your bedroom fun-loving. So, adding a couple of prints like floral and geometries wouldn't be a bad idea.
Westhighland White in Kitchens
White kitchens are simply one of the best! And they will also never go out of style and trend.
So, you can choose this creamy paint color for the cabinets and pick the similar color for the backdrop wall as well.
Furthermore, add a couple of wooden accents on the floating shelves and either brass or copper on the knobs and pull handles.
Lastly, if you want to infuse a sense of character, try choosing a bold shade for the lower cabinets.
Using on Exteriors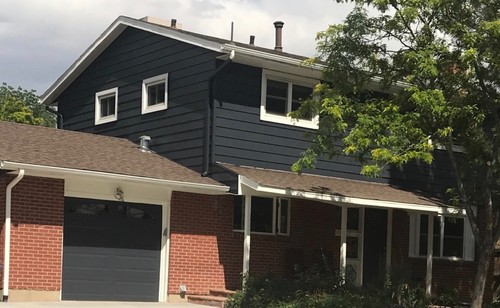 Especially for the Craftsman, Mid-Century Modern, transitional, Coastal, and ranch-style homes, this paint on the exteriors is bound to add a welcoming and timeless vibe.
This color plays amazingly well with the red brick and brown or black accents.
You can also choose vice versa and paint the trims, moldings, and special architectural features in this paint color.
For a contrast, you can even add cherry red, golden yellow, dark gray, or bold purple on the entry door for a focal touch!
Furthermore, if you have porches and columns – either choose gray or black paint or natural stone wainscotting.
I highly recommend this paint on the trims as well.
I Recommend Sampling Westhighland White!
If you're on the fence and need a bit of convincing, try this color on for size by ordering a peel-and-stick sample from Samplize.
These are my favorite way to test colors in a space and to see how they work with other coordinating colors.
It doesn't cost all that much, and you can temporarily place these handy 12″ x 12″ squares that are true to color around your house. I love them!
So, does this color review bring an inch closer to making the final decision?
If you want to incorporate this warm white tone – go ahead and coat a fresh one!
And enjoy the elegance it introduces to your home!