Not every green is calm and composed. Some are saturated, bold, bright, stark, and striking.
Unlike the sage greens, this other side of the coin plays the juxtaposition of calmness and tranquility.
And for this trade-off you get the opportunity to add eye-catching character to your environment.
One such paint is Benjamin Moore Hunter Green; a dark and saturated green that brings a bit of strength and drama in any space.
It feels cool and crisp – with a major tint of hidden turquoise blue in it.
This is the classic tone of green that most homeowners and designers address as 'dark green'.
Well, there's something absolutely beautiful about this paint color.
I'll add that this paint color is a great recommendation for Eclectic, Bohemian, French Country, Transitional, and Modern-style homes.
So, are you excited to see what this paint color has for you?
Trust me on this, you're going to love this color from BM's green collection – in any corner you plan to use it!
And since it's quite bold – you have to be extra cautious when pairing it with contrasting hues, metallic accents, and complementary materials and textures.
Now it's time to sit back, relax, and let this color review inspire you!
Benjamin Moore Wickham Gray HC-171 Details and Specifications
There are a ton of greens on the BM swatch – some are sage greens, some are olive greens, some are pine greens, and some are bottle greens.
So, how do you differentiate them all?
Well, the one and only secret to knowing the true value of the color is color details and specifications.
So, before choosing a paint color for your home – you must understand the underlying theories and facts.
Now, just in case, let me introduce you to the concept of Light Reflectance Values or the LRVs that determine how light or dark the paint color is.
You can easily find that value at the end of your Benjamin Moore paint swatch or even the website!
Here, in this case, the LRV of Benjamin Moore Hunter Green is 4.31.
And that means it falls on the darker end of the scale – almost as dark as a black.
(Remember, lesser the value, darker the paint – on a scale of 1-100)
Most often, it's best to sample a paint color in your home to confirm it's going to work how you expect. You can do this easily using Samplize. Grab one now for Hunter Green!
Secondly, other important associated terms are the RGB and the HEX Values.
Red = 64
Green = 85
Blue = 79
HEX Value = #40554F
Since we have discussed the technical and scientific information, let's get started with the practical aspects of this dark green Benjamin Moore paint.
How Does This Color Feel in a Space?
Benjamin Moore Hunter Green is bound to make your space feel clean, energetic, enthusiastic, gleaming, dazzling, and vivid.
The dark color does an extra mile in creating an illusion. Well, an illusion of making your space appear smaller and confined.
Yes, that's how you let the colors play beyond aesthetics in your space.
Secondly, this color has a sense of depth and character – and that's why you can use it to bring life and energy into your room.
Lastly, know that this color is slightly on the cooler end. So, you can always add an adjacent creamy off-white paint to balance the look.
How Does Light Affect the Color?
Light – whether natural or artificial has a major role to play in the paint color.
And especially with a dark and deep paint color like this, you're bound to have ample natural light in your room.
Due to low reflectivity, a very little light will bounce off – thus, making your room appear dark, daring, and dingy.
So, you must always ensure to have ample windows that can penetrate natural light to help feel the true hue and undertone of this paint.
And, this paint color will always feel slightly inclined to green or blue in various lighting conditions.
In north-facing rooms, it will appear slightly cool and crisp with the gray light entering. Secondly, in the south or west-facing rooms, it's bound to feel warmer.
You see – color psychology is not as easy as it seems.
You might have to experiment with the swatches in various lighting conditions before finalizing it!
Again, I really recommend you try out some wall samples because colors will look different in every location.
What are the Best Coordinating Colors?
It's important that you pair Benjamin Moore Hunter Green cohesively since it's a dark paint color and can totally overwhelm your space, if not used correctly.
And that's why you have to be careful when choosing complementary color schemes!
You can best pair this dark green color with shades of golden yellow, light gray, clean white, and light green.
You can also incorporate any of the metallic tints as accents here – like gold and brass.
Furthermore, you can either choose from a monochromatic or a contrasting color palette – depending upon the interior design style and your preference.
So, here are a few of the colors I would recommend for a monochromatic palette!
2041-40 Juneau Spring
2041-30 Green Gables
2041-20 Fiddlehead Green
On the other hand, here are a few of the colors I would recommend for a contrasting color palette!
2153-30 Tapestry Gold
2139-50 Silver Marlin
2123-60 Sea Foam
For your ceilings, trims, and moldings – you can use BM Chantilly Lace as it is a true white paint and will further protrude the original adjacent hue.
BM Hunter Green Vs Similar Colors
This saturated dark green paint tends to share tons of similarities with many other bluish-greens and dark greens.
Whether it's the undertones or reflectivity – BM Hunter Green can be compared to a couple of other BM and SW hues.
So, let's discuss the major ones – BM PM 11 Essex Green and SW 7623 Cascades.
And see how they all differ.
Hunter Green Vs Essex Green
Even though these two colors exhibit a similar vibe – at the same time, they're very different from one another.
The latter paint color is a deep and dark green that feels like forests and is almost very close to black.
With an LRV of 3.53 – it's even darker than the former dark green paint color.
Find out what works best in your home's environment and lighting by putting up some temporary samples and observe – Get some peel-and-stick samples from Samplize.
Hunter Green Vs Cascades
SW Cascades is a notable blue-green paint color that is very closely related to teal. Dominantly, it's a clear blue with deep green undertones.
It has an LRV of 4 – which makes it equally darker and dramatic.
Yes, you can best pair this paint color with clean whites, burnt oranges, and shades of cherry red.
Order a wall-stick sample of Hunter Green here to help you compare these colors in your own space.
Where to Use Hunter Green?
BM Hunter Green is a dark and bold paint color that can be used in any corner of your home.
Of course as an accent – this paint is bound to make a marvelous statement.
Yes, it feels rich and elegant, sophisticated and splendor – and that's why you must have a look at how creatively it can be used!
Hunter Green in Living and Dining Rooms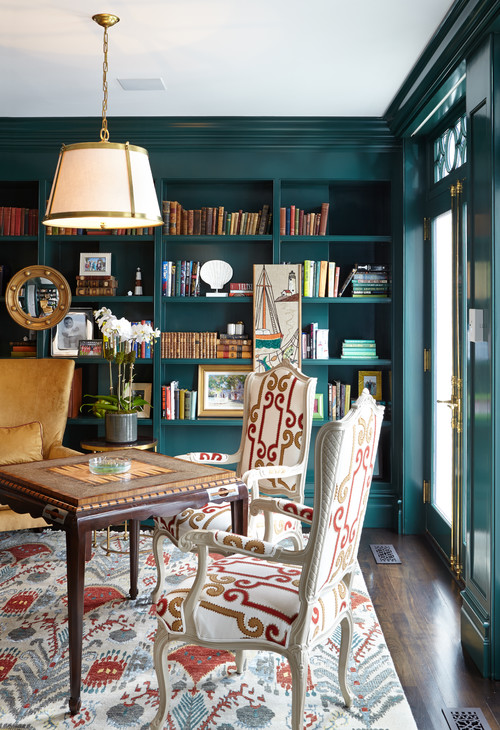 Especially on the accent wall, this paint color can do wonders!
So, if you're craving a characteristic and bold color palette in your space (Eclectic, Glam, and Bohemian backdrops) – this color will play flawless.
You can choose to paint all the walls in this paint color (especially if the size is humongous and there's ample natural light).
Furthermore, you can add shades of mustard, light gray, black, and white on the throw pillows and other accessories.
Secondly, you can even add glass, brushed brass metals, and a couple of animal-printed rugs or cowhides.
Using in Bedrooms
You can definitely paint the accent wall in this paint color.
Let the adjacent walls shine bright in a color like SW Alabaster or SW Crushed Ice to further enhance the palette.
Furthermore, to make your bedroom extra visually appealing, try adding contrasting shades of mustard and tinges of rattan, wicker, or cane.
Lastly, you can even add a tinge of coral pink for a feminine touch in the bedroom.
A pro tip: Use it only if you have ample natural light. Else, it will feel dark and dingy!
Hunter Green in Kitchens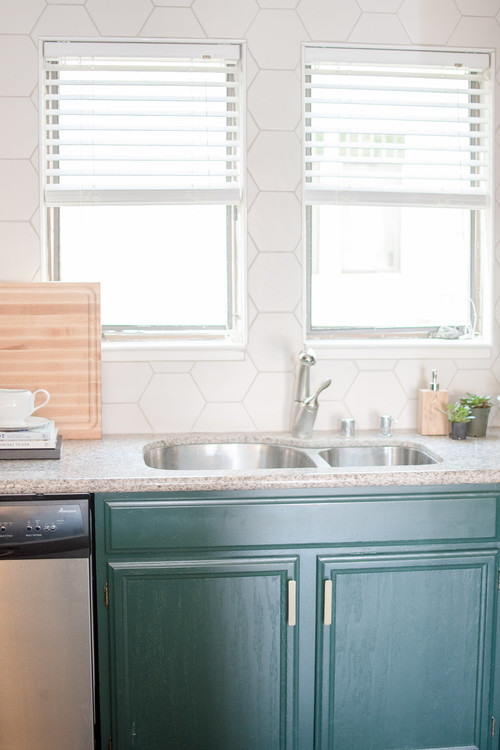 What a wonderful space to have this stark and delightful paint color!
Don't believe it? Well, if this color is your style – you must use it on the cabinets!
It can add depth and drama to your kitchen – while at the same time, making it characteristic and visually appealing.
Furthermore, you can choose to add brushed brass or golden-tinted knobs and pull handles.
Lastly, don't hold back from white hexagonal tiles on the backsplash and rich and dark hardwood floors to play elegant.
Using on Exteriors
This color can be used on the exterior walls with whites on the trims, moldings, and special architectural features.
To create a contrast, you can choose the vice versa and pick this color for the entryway door, shutters, and trims etc.
Your roof tiles could be gray, black, or even a tinge of dark blue!
In case you have a deck, picking darker tones like Mahogany and Walnut would be ideal.
My Favorite Way to Sample Colors
I can't say enough about how easy it is to use a peel-and-stick paint sample to give a color like Hunter Green a try. The absolute best way is to order a sample from Samplize.
You can check it out right on your wall and move it around. Also, try it along with a another couple of colors to test pairing possibilities.
This is WAY easier than having to open up little cans of paint and rolling/brushing on. Forget the mess and use these helpful temporary sample squares to test location, lighting options, etc.
So, Benjamin Moore Hunter Green review bring you an inch closer to this paint?
Do you want to use it in your home? Exteriors or interiors? Walls or cabinets?
Well, I would love to know your thoughts! Do let me know in the comments below!