Are you looking for that perfect greige to use in your home?
Well, I'm going to acquaint you with a beautiful color that simply can't be ignored. It's subtle, balanced, and neutral – which makes this color quite a popular one.
It truly is one of the most admired colors in the interior design industry.
And do you know why?
Well, that's because of the ultimate versatility and timelessness of this paint.
What's more is this color has the magic to pair with almost any and every color!
So, Benjamin Moore Pale Oak is a beautiful soft and warm gray with a perfect balance of cool and warm undertones – the beige and gray, to make it a unique shade of greige.
And since it's quite smooth and creamy – it works as a great backdrop for low-key appearances and muted color palettes.
Don't forget – this color brings utmost warmth to the room, and that's why most designers and homeowners are obsessing over this color again and again.
So, how excited are you to have a tinge of BM Pale Oak in your home?
In this color review, I am going to acquaint you with various ways to incorporate the color, do's and don'ts, tips and tricks, and best coordinating colors.
Let's have a look!
Benjamin Moore Pale Oak OC-20 Details and Specifications
The list of greiges and warm grays is truly endless.
And how do you differentiate them all?
Well, the one and only secret to knowing the true value of the color is color details and specifications.
Hence, before choosing a paint color for your home – you must understand the underlying theories and facts.
So, first and foremost, let me introduce you to the concept of Light Reflectance Values or the LRVs that determine how light or dark the paint color is.
You can easily find that value at the end of your Benjamin Moore paint swatch or even on the website!
Here, in this case, the LRV of Benjamin Moore Pale Oak is 68.64.
And that means it falls on the lighter end of the scale – however, not very light to almost go unnoticed.
(Remember, the greater the value, the lighter the paint – on a scale of 0-100)
Because paint colors can change in different environments, I recommend you also just try Pale Oak out at home with a peel-and-stick sample from Samplize. Order some samples now!
Secondly, other important associated terms are the RGB and the HEX Values.
Red = 219
Green = 215
Blue = 205
HEX Value = #dbd7cd
Since we have discussed the technical and scientific information, let's get started with the practical aspects of this balanced greige Benjamin Moore paint.
How Does This Color Feel in a Space?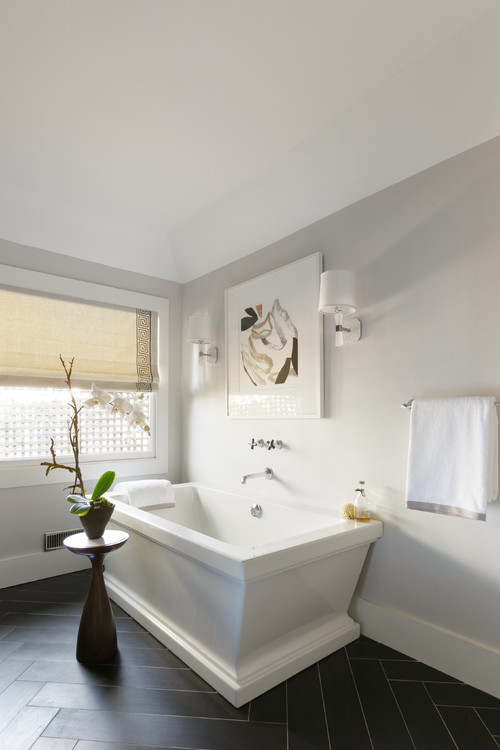 Benjamin Moore Pale Oak is bound to add a warm and refreshing statement indoors.
Yes, this color is a balanced form of greige that hints upon the tones of beige and gray equally – thus, delightfully making a warm statement.
And not only the appearances but you can also definitely make use of this paint color to further enhance your room and make it look larger.
Of course due to high light reflectivity!
Furthermore, you have to be careful in some compass directions since this color can flaunt a little pink or purple undertone. (And that's why I highly recommend trying out the swatch in various directions and rooms to know how it will feel like)
You can consider using this paint color in any climate – whether warm or cold to always feel comfortable and calm.
Other than that, this paint color will never disappoint you and will always make your space feel warm, cozy, and welcoming!
How Does Light Affect the Color?
Light and BM Pale Oak go hand-in-hand.
Well, the more light you give to this paint, the brighter and more refined it will appear.
So, here's something you must know – paint colors tend to alter their appearances in various lighting conditions and compass directions.
They're also majorly influenced by the view of your windows. So, let's say, if you have a window facing the front lawn – the off-white paint color might showcase a little green base.
However, with this color, it can slightly appear grayish in the north-facing rooms whereas beige-ish in the west or south-facing rooms.
You can also make use of artificial lighting in the form of wall sconces, chandeliers, and pendant lights to infuse a touch of warm white, neutral white, or cool white.
I'll say this again – get some wall samples to try on this color in your own home and confirm if it'll work or if you need to try something else.
What are the Best Coordinating Colors?
It's important that you pair Benjamin Moore Pale Oak with colors that further enhance its beauty and make it feel unique.
However, you have an advantage here! Well, this color can beautifully pair with a ton of colors out there!
You name it and can have it.
So, you can best pair this gorgeous light greige with crisp whites (on trims and moldings), dark sage green, cobalt blues, darker grays, tomato reds, and darker greige.
You can also incorporate any of the metallic tints as accents here – like matte black, gold, and brass.
Furthermore, you can either choose from a monochromatic or a contrasting color palette – depending upon the interior design style and your preference.
So, here are a few of the colors I would recommend for a monochromatic palette!
CC-458 Mocha Cream
CC-456 Dufferin Terrace
CC-454 Cobblestone
On the other hand, here are a few of the colors I would recommend for a contrasting color palette!
CC-62 Sundried Tomato
CC-546 Metropolis
For your ceilings, trims, and moldings – you can use BM Chantilly Lace as it is a true white paint and will further protrude the original adjacent hue.
BM Pale Oak Vs Similar Colors
This popular light greige paint tends to share tons of similarities with many other neutral-toned warm grays and beiges. Note, it's on the same paint deck strip as BM Dove Wing, which I've reviewed in the past.
Whether it's the undertones or reflectivity – BM Pale Oak can be compared to a couple of other BM and SW hues.
So, let's discuss the major ones – 1549 Balboa Mist and SW 7631 City Loft.
And see how they all differ.
Pale Oak Vs Balboa Mist
Another very popular warm gray on the palette – Benjamin Moore Balboa Mist is a calm and soothing color with hidden taupe undertones. (The major difference)
Yes, it feels quite warm and can beautifully pair with wooden textures to reflect a refined character.
With an LRV of 67, this paint color is equally light and airy!
If you want to test the subtle differences in your house, get some wall samples of each here.
Pale Oak Vs City Loft
These two paint colors have a tone of difference – majorly the undertones.
SW City Loft is a warm paint color that appears like a true beige. It also tends to showcase a slightly green and gray undertone under certain lighting conditions. (Note the differences with the help of a swatch)
With an LRV of 70, this color is the lightest of them all!
Test these colors side-by-side to see the differences in "real life" INSIDE your home, with some wall-stick samples. Order here!
Where to Use Pale Oak?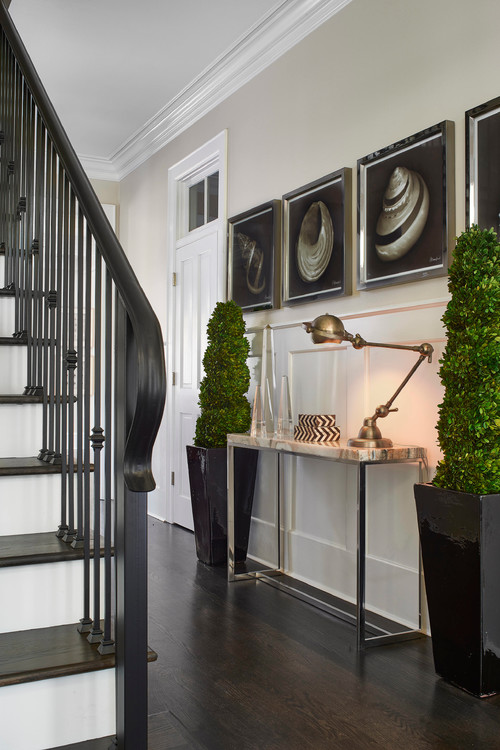 Whether it's the home office or the living room, bedroom or the kitchen – this paint color can be considered in all the spaces of your home.
And why not?
This paint color is quite versatile and can always feel timeless and blissful.
So, let's see where and how to incorporate this warm gray or greige paint color in your home.
Pale Oak in Living and Dining Rooms
BM Pale Oak can look beautiful in the common spaces such as the living and dining rooms along with the hallways.
It will feel warm and cozy and you can best add tinges of wood on the furniture frame, built-in cabinetry, and floating shelves to create a welcoming appeal.
Also, just in case you have brick molds – you can best add wood to add a modern, traditional, or farmhouse touch.
Furthermore, pair this gorgeous duo with off-white or beige upholstery, faux fur on the rugs, sheer curtains, and ample indoor plants.
Using in Bedrooms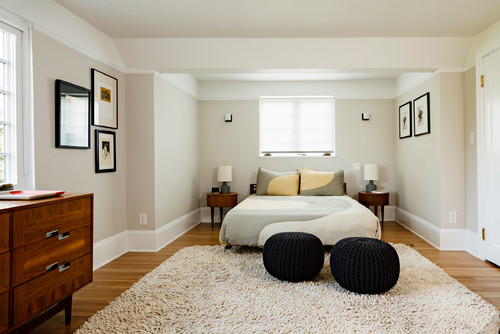 You can absolutely use this color on the walls of your bedroom.
It will feel cozy and calm – and at the same time, will reflect the true character and depth of the color.
For the furniture frame and artwork frames, add woods to carve out that perfect detail to the room.
Lastly, don't hold back from adding a couple or two of patterned throw pillows to complete the palette.
You can also choose either a natural theme with jute, seagrass, and rattan – else, off-whites for curtains, rugs, and throw pillows.
Pale Oak in Kitchens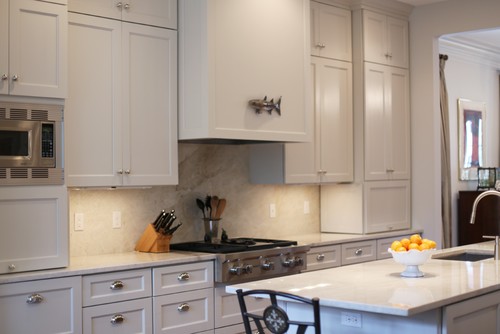 Undeniably – this color will look priceless when painted on the cabinets.
For the backdrop wall, I forbid the use of clean and crisp white – and rather add a tone of lighter greiges to create a monochromatic appeal.
If you want to create a contrast, you can pick wooden accents for the lower cabinets. Else, choose a bold color like dark blue or dark sage green.
Lastly, ensure to add off-white glossy tiles for backsplash, white marble, and chrome-finish or brushed brass pull handles and drawers.
Got pendant lights and wall sconces – well, pick brass or gold!
Using on Exteriors
View this post on Instagram
This color can be used on the exterior walls with whites on the trims, moldings, and special architectural features.
To create a contrast, you can pick a bold blue color for the doors and shutters. Well, something like BM Philipsburg Blue!
Your roof tiles could be gray, black, or even blue!
I Recommend Sampling Pale Oak!
If you're on the fence and need a bit of convincing, try this color on for size by ordering a peel-and-stick sample from Samplize.
These are my favorite way to test colors in a space and to see how they work with other coordinating colors.
It doesn't cost all that much, and you can temporarily place these handy 12″" x 12″" squares that are true to color around your house. I love them!
So, did this color review bring you an inch closer to this paint?
Do you want to use it in your home? Exteriors or interiors? Walls or cabinets?
And if you like this color be sure to check out my list of best Benjamin Moore greige paints.
As always, I would love to know your thoughts! Do let me know in the comments below!