Bedrooms are our place of comfort where we can happily rest after long stressful days.
No matter its size or layout, it's a deeply personal space where we can be our most authentic selves.
You might have seen houses with white and gold kitchens or bathrooms where the gold accents have a beautiful visual impact.
If this is your preferred aesthetic, you're in the right place.
We're going to take a look at gorgeous bedroom pieces that you could use to bring your dream white and gold bedroom to life!
As you will see, there are so many unique ways you can drape your room in gold.
You can use it as the central bedroom theme or opt for subtle golden pieces for that extra sparkle.
Either way, you will surely elevate your most treasured space.
If you need some boost of inspiration, give your bedroom a new, stylish, and elegant look by trying out these 21 white and gold bedroom decor ideas.
1. Sleek and Minimalist Turkay Style Bed
Golden Turkay Bed with a white canopy from Wayfair
Introduce your bedroom to the 21st century while retaining timeless, classic elements.
A gold and white bedroom featuring a Turkay bed with an elegant canopy offers the perfect aesthetic of royalty and privacy.
This will look great regardless of the bed size you have, big or small.
The canopy is functional as well as decorative—it offers an extra layer of warmth during the frigid season and protection from the sunlight in the summers!
2. Bring Warmth to a Cosmopolitan Themed Bedroom
The Wilpert 1 Light Golden Armed Sconce is the perfect touch for a sophisticated and modern bedroom. See More at Wayfair!
A remarkable deviation from the traditional, the Wilpert 1 Light Golden Armed Sconce provides a touch of warmth in a contemporary bedroom.
To give the illumination one needs for a late-night read before going to sleep, or just give the bedroom a bit of life to contrast its white interiors, you can never go wrong with a sophisticated lamp design!
3. Boho-Indie Tapestry for Your Spiritual Awakening
A bedroom with a mix of influences, from the symmetrical patterns of the white and gold tapestry, to the natural, Earthly vibe provided by the plants.
Inspired by colorful Bohemian-style decor, this white and gold tapestry features an eclectic design with neutral tones of beige and brown to bring a sense of peace to this bedroom.
Your favorite scented candles can complete the atmosphere of spiritual awakening!
4. DIY Glamorous Black and Gold Decor
Denise from Dazzling Designs made her bedroom pop with black gold and white bedroom ideas.
She repurposed a glass vase and spruced it up with decorative golden ribbons painted asymmetric patterns to old tables!
Who said glamorous and beautiful needed to be expensive?
5. DIY Custom Made Golden Bed Frame for the Pizazz!
HGTV's take on a modern black and white bedroom with a white and gold bed that simply elevates the room.
When I saw this beautiful golden bed frame piece, I just knew I needed to have one.
With a bit of elbow grease, a few steel rods, and some metallic gold paint, I was able to recreate this stunning piece for myself at home.
Accented with royal blue lounge chairs and dark wooden doors, this golden bed frame gives my bedroom the finesse and class it deserves.
6. Luxury Lifestyles: Mirrored Glass Jewelry Box
An elegant and stylish mirrored jewelry box from Rosdorf Park. View on Wayfair!
An elegant and luxurious way to give some sparkle to your space is with a rose gold jewelry box—look how well it contrasts with the light teal colors of these walls!
With a golden table to match and pink flowers to brighten the space, it's an elegant way to add personality to your room.
7. Golden Fairy Lights and a White Bed for Teens
Amplify the space with some golden fairy lights!
If you have a limited budget, you will be happily surprised by what a few dollars can do to improve your space.
Illuminate your teen's bedroom with some golden fairy lights and see the stars come out to play each evening!
8. White, Gold, and Blue Bedroom for a Royal Aesthetic
Crafted By The Hunts' take on combining strong colors.
If you're looking for blue white and gold bedroom ideas, this unique combination of natural wood tones, a gold lamp, and a blue painted wall beautifully contrasts these strong colors!
9. Golden Blue Hues Bedroom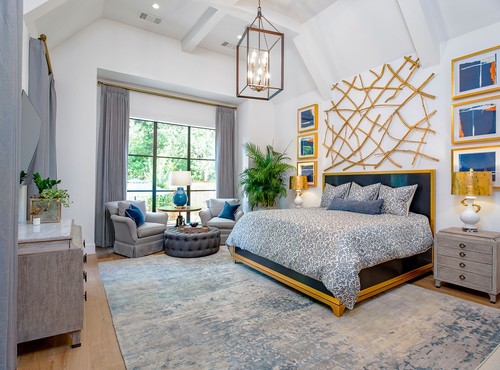 A wonderful combination of wood and modern pieces in a bedroom in Houston – via Houzz.
Let's continue with the gorgeous theme of combining strong blue, gold, and white shades.
This modern bedroom will take your breath away with its wonderful, vivid blue pillows and golden wall pieces.
10. A Unique DIY Glitz and Glamour Bedroom Makeover
With over 39,000 subscribers, Sherita and her DIY ways are taking designing to a whole new level.
She's seen here refurbishing her bedroom with some gold spray paint, new golden duvets and pillowcases, and golden wall decorations for some of that glitz!
11. Making Neutral Colors Pop with Accents Of Gold!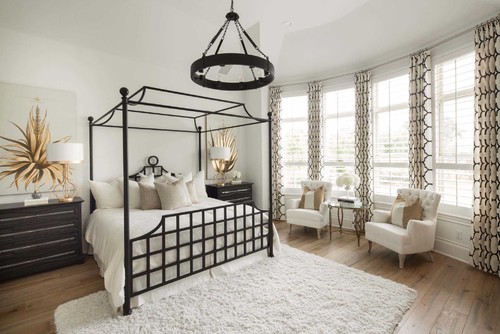 Mixing gorgeous neutrals in the Whitley Place Bedroom in Prosper, Texas.
Whoever said grey white and gold bedroom ideas would never work?
This bedroom is a personal favorite of mine because it's not too flashy, but it doesn't need to be, anyway.
With its clever use of neutral colors on the bed and the rug, the golden accents make it an underrated luxury design!
Here's another bedroom fit for a queen and king.
It stays a bit more true to the duo-color palette, and is absolutely stunning.
12. Rose Gold Marble for a Touch of Sophistication
Trendy Rose Gold Marble decorative wall art for the art buffs – from Wayfair.
Rose gold and white bedroom ideas are super trendy at the moment, and of course, we weren't going to complete this list without a dash of it!
With its natural geometric patterns, this decorative wall art can be placed anywhere in your bedroom just to give it that extra sparkle and sophistication.
It is the perfect piece for those who have a taste for fine art.
13. Opulent Handmade Matashi Crystal Rose Gold Sculpture
Handmade Matashi Crystal Rose Gold Sculpture of Roses – See More at Wayfair
Who said we were done with rose gold?
This handmade Matashi Crystal Rose Gold Sculpture of Roses adds the grandeur your bedroom needs.
Accented with teal decorative stones, it's the perfect teal white and gold bedroom idea for those that enjoy the high life.
14. Teens' Luxury White, Gold, and Black Themed Bedroom!
Luxury white, gold, and black teen's room is beautifully personalized with her name.
If there are luxury rooms for adults, why can't teens have them, too?
Here's a fantastic black white and gold bedroom idea for teens!
Personalize their rooms with a golden name sign that breaks apart those strong black and white tones.
15. Golden Bookshelf for a Grand Read
Golden Bookcase from Wayfair.
Need something to inspire you to read a magnificent book? How about a magnificent, golden bookshelf!
In the land of milk and honey (by Rupi Kaur—I suggest you read it!), there's nothing like a stylish bookshelf to highlight the very best of your collection.
16. Minimalist Golden Line Art for an Avant-garde Bedroom
Golden line art wall decor to spruce up your bedroom. See these on Etsy!
A popular trend in the art world today is minimalist line art that you can find mostly in illustrated books.
Well, you can now put one up on your bedroom wall as part of your own set of avant-garde white and gold room decorations!
17. Geometric Embroidered Leather Pillow Case
Golden Geometric Handmade Leather Pillow Case for those with extravagant tastes. Buy it on Amazon!
Surprising geometric patterns on bedsheets and pillowcases are all the rage these days.
I personally love the different contours found on this piece, much more the texture of genuine leather cradling your head at night!
18. Rattan Hanging Swing with Golden Fixtures
Teen Bedroom with a natural tropical motif
A rattan hanging swing exudes a down-to-earth aesthetic like nothing else.
Drawing from a more Southeast Asian motif, it combines the contemporary combination of gold and white to create a gorgeous atmosphere.
19. Welcome Mother Nature in Your Bedroom
Golden hanging pots for your shrubbery and flowers make a bedroom more comfortable, homey, and quite serene.
It's the perfect addition to a bedroom with a balcony and a sunrise window!
20. Welcome Your Newborn Into a Stylish Room
Teal-colored room with floral accents. Get the 3D gold wall writing at Etsy!
Nothing says welcome to the world better than a well-appointed, neat, and elegant nursery.
With its use of golden lettering, exquisite flower ornaments, and a classic white crib, this is the perfect contrast to the teal wallpaper to welcome a new baby home.
21. Glowing Vanity Mirror for the Ladies
Golden glowing vanity mirror for an alluring bedroom atmosphere – See at Etsy.
Complete your bedroom with a golden glowing vanity mirror to bask in your natural beauty.
This piece of fabulous decor is just what you need to get ready for a big night out!
Plus, it's a great conversational piece when you have friends over.
Conclusion
Everybody has their own taste when it comes to home improvement.
But one thing is for sure, gold and white are symbols of glamour and purity that no other combination can bring to the table.
I hope this list helps you redesign your bedroom to truly personalize your sacred space!