Are you looking for a paint color that brings your room in closer to you and feels more intimate?
Maybe you have a taste in dark and moody colors – if so yes, Benjamin Moore Iron Mountain would make a great option for your homes.
Benjamin Moore Iron Mountain is a perfect moody hue that tends to add an intimate aura to your room. It is a dark-toned paint color with very little reflectivity.
Moreover, it has deep blue undertones that can be observed if your room receives ample natural light.
So, if you are planning to use this paint color in your homes – make sure to pair it against the best opposites.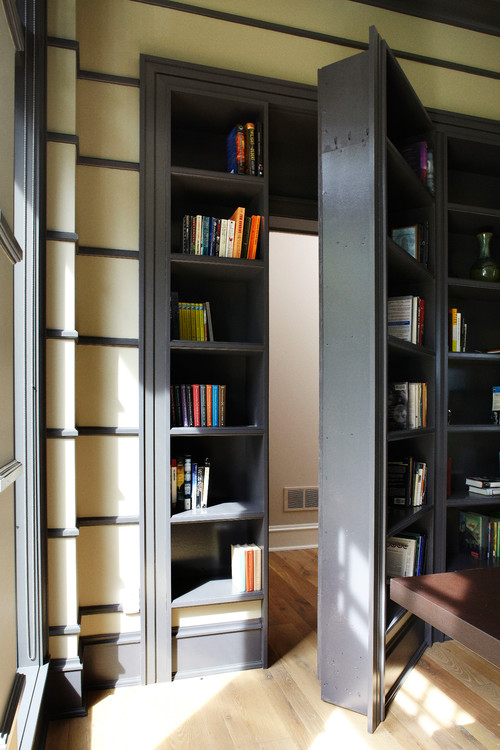 The bookcase painted in BM Iron Mountain pairs well against off-whites.
Keeping in mind the saturation, light intensity, compass direction, and the interior design style, make sure to choose the best color options.
You wouldn't want to mess up your room aura by simply painting it with any color, right?
But don't worry!
I will help you figure out the how, where, and when about this paint color.
So, keep reading ahead to find out if this paint color is a good fit for your home.
I promise, in no time – you will be an expert!
Benjamin Moore Iron Mountain 2134-30 Details and Specifications
Remember this for your life – whenever you choose a paint color – make sure to first consider the background technical information.
Based on these nitty-gritty can you later determine how and where to use the paint color.
Don't worry! I will help you figure out the best way to it.
First and foremost, always remember to check the Light Reflectance Value or LRV's of a paint color.
You can either find it at the back of the paint swatch or somewhere along with the palette. Else, simply contact the paint manufacturer company and ask them about this value.
So, basically, Light Reflectance Values help in determining how light or dark the paint color is. And this information will later help you where to use the paint color.
And the LRV for Iron Mountain is 9.13! (The lesser the value – the darker the paint color)
Most often, it's best to sample a paint color in your home to confirm it's going to work how you expect. You can do this easily using Samplize. Grab one now for Iron Mountain!
Secondly, consider the RGB and HEX Values of this paint color.
Red = 87
Green = 85
Blue = 83
HEX Value = #575553
Now that we have discussed in detail about the background information, let's get hands-on the practical aspects and applications of this paint color.
How Does This Color Feel in a Space?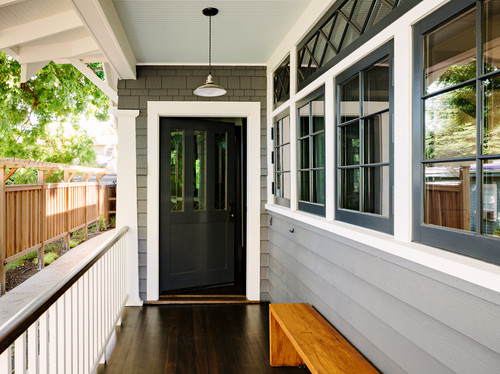 Benjamin Moore Iron Mountain looks amazing on the front door above. It absolutely feels dark and intimate in a space. It has a crisp texture that makes any space feel confined and cool (since it has deep blue undertones).
You are quite likely to feel more restricted with this paint color.
I would highly recommend using this paint color in homes that are either too huge and spacious, maybe like mansions, and secondly homes that are situated in warmer areas.
This is a very dynamic paint color – so you can make use of it to make your oversized rooms more cozy and comfortable.
For smaller spaces – you can avoid this paint color as it will further bring the walls together but just in case, if you do really love the color, I would recommend painting just an accent wall in this paint, meanwhile, leaving the rest for stark whites and off-whites!
How Does Light Affect the Color?
Nyla from Nyla free designs reveals another example of classy front door in this color.
Most of the natural light received by this paint color is absorbed by the paint (because of its low reflectivity).
And only a little is reflected away, making the color quite bold and intimate.
Hence, color does have a major role to play here – for example, in the case of north-facing rooms – it appears colder and black, meanwhile, if you use it in the west or south-facing rooms, this paint color will tend to appear warm and a little lighter shade!
You can also take into consideration the factors and saturation of artificial lighting such as warm yellows, yellows, and cool whites to create a specific aura in the room.
Again, I really recommend you try out some wall samples because colors will look different in every location.
What are the Best Coordinating Colors?
Color coordination is a must!
Remember, you don't want to mess up your space by absolutely painting ANYTHING!
Instead, you have to be careful around light reflectance values and undertones when choosing the best color coordinates.
In this case, I would recommend using this paint color as an accent meanwhile adding cool-toned whites and pastels as bases and neutrals.
To add a pop of interest, I recommend adding tinges of rusts, yellows, oranges if you are craving for a warmer look, or mainly purples, blues and green if you want a cooler experience.
Some of the paint colors for a contrasting theme would be:
Powder Sand 2151-70
Sea Haze 2137-50 – see my full guide here!
Whitestone 2134-60
On the other hand, in the case of a monochromatic scheme, I would recommend the following paint colors:
Gull Wing Gray 2134-50
Whale Gray 2134-40
Midsummer Night 2134-20
A given here is the color of the ceilings and the trims – Benjamin Moore Decorator's White is a perfect true white paint color that protrudes the true hue of the adjacent paint color.
Benjamin Moore Iron Mountain Vs Similar Colors
Even though I mentioned that no two colors are exactly the same – there is still a slight possibility that you can find the most similar-looking hue.
But remember they may still differ in the lightness and darkness or the texture and undertones.
So, if you are looking for a paint color alternative here, I would recommend choosing BM Gray 2121-10 and BM Silhouette AF-655.
Iron Mountain Vs Gray
Gray is a softer charcoal paint color that definitely adds an elegant touch to your space. It comparatively looks lighter than Iron Mountain even though they have similar light reflectance values.
With an LRV of 9.71, this paint color tends to exhibit a feeling of sophistication to a space when used in the correct amounts!
Find out what works best in your home's environment and lighting by putting up some temporary samples and observe – Get sample sheets from Samplize.
Iron Mountain Vs Silhouette
Comparatively darker, Silhouette has an LRV of 8.37 with slightly red undertones that add a feeling of warmth to any room.
For even more accurate results, I would recommend buying real-time paint swatches and samples to determine the exact difference.
Or you could also place it against a pure white sheet of paper and determine the change in the undertones.
Order a wall-stick sample of Iron Mountain here to help you compare these colors in your own space.
Where to Use Iron Mountain in Homes?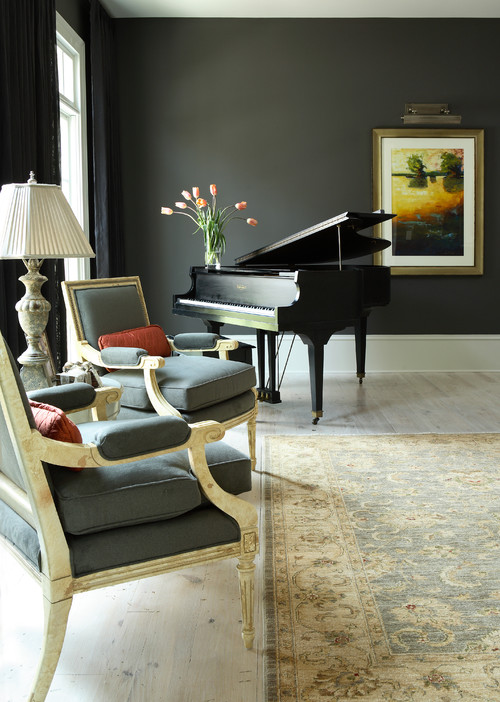 Elegant and Sophisticated, this transitional style living room showcases BM Iron Mountain.
With the amount of elegance and sophistication that this paint color exhibits – you can absolutely use it anywhere in homes!
From the living room to your bedroom – make some room for iron mountain (and it would really need one)!
Also depending on the interior design style, you get to choose the best place to use this paint color. For example, if you have a modern-minimalist space, or a contemporary, glam, and Scandinavian – this color is definitely good to go!
It will perfectly add a touch of luxe in your Hollywood-glam style spaces too!
Let's see how we can use it in different areas of your home –
Iron Mountain in Living Rooms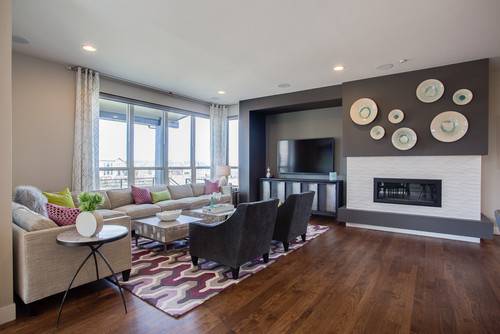 This family room highlights BM Iron Mountain on the focal wall.
YES!
You can absolutely use this paint color as the accent wall in your living room. Whether it is the focal wall or the wall with the fireplace – this paint color will define the utmost beauty in your homes.
In the case of shelving and storage cabinets, I would recommend choosing a white paint color. Or else, you can also choose dark walnut textured wood.
To balance the brightness, choose light-colored fabrics on the furniture or use white sheer curtains to let in ample natural light.
Using in Kitchens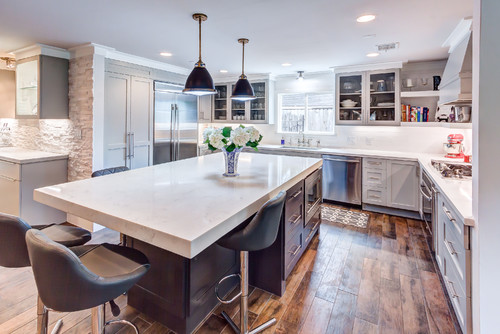 The island countertops of this ranch-style kitchen is painted in BM Iron Mountain.
If dark and moody kitchens are your thing – definitely go for it.
However, remember to pair it with stark white cabinets, gold-tinted fixtures and pull handles, and white marble countertops (you could also use the grey ones)!
To create a unique style, you could also paint the cabinets in iron mountain paint and leave the backdrop in subtle white.
Iron Mountain in Bedrooms
Bedrooms are one of the most personal spaces. So, if you are planning to choose this paint color in your bedroom – make sure not to overdo it.
Just paint the headboard wall in this Iron Mountain and leave the rest in soft warm whites or cool whites.
You can choose tons of metals to create an intriguing accent and some lighter throw pillows to add a touch of comfort.
Using on Exteriors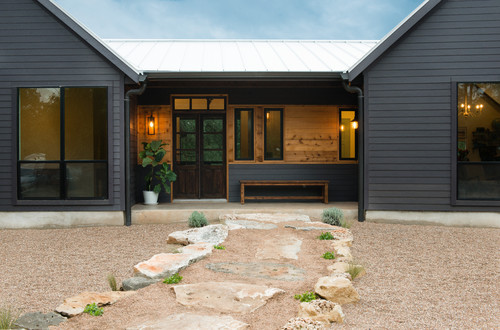 This one-story gable home in Austin exhibits BM Iron Mountain on the exterior shiplap.
BM Iron Mountain will look lighter on the exterior walls due to ample natural light.
It gives a sophisticated look to the exteriors so if you have a Victorian or ranch-style home – you could keep this paint color as an option. Secondly, for modern homes with clean lines – this color is a great option.
My Favorite Way to Sample Colors
I can't say enough about how easy it is to use a peel-and-stick paint sample to give a color like Iron Mountain a try. The absolute best way is to order a sample from Samplize.
You can check it out right on your wall and move it around. Also, try it along with a another couple of colors to test pairing possibilities.
This is WAY easier than having to open up little cans of paint and rolling/brushing on. Forget the mess and use these helpful temporary sample squares to test location, lighting options, etc.
So, are you excited to paint your homes in BM Iron Mountain? Do let me know your thoughts in the comments below!