Looking for a paint color that brings calming beauty with a tinge of serenity and airiness?
And also one that opens your mind for creativity and calms down anxieties?
Well, today – I'm going to acquaint you with one such paint color that's simply embodies the above mentioned qualities!
Yes – Benjamin Moore Glass Slipper it is. This powder blue paint is an exception when it comes to picking the best light blue pastel paint colors for your space.
And this is also one paint color suggestion for work spaces, eating areas, bathrooms, and definitely bedrooms (including your kids' bedrooms!).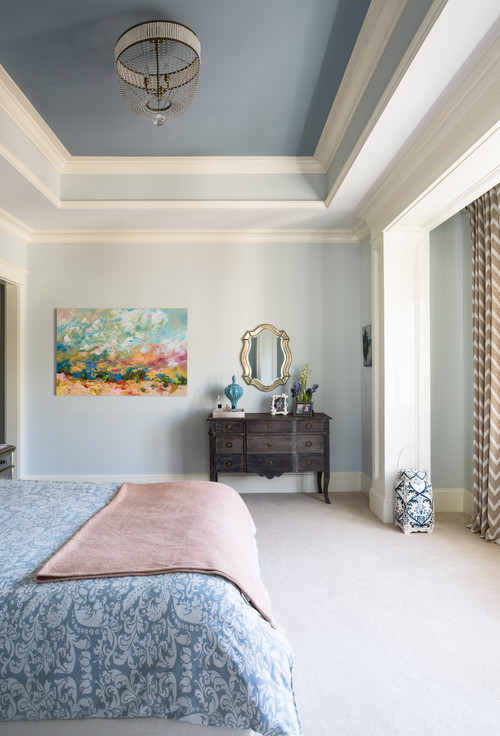 It's calming, tranquilizing, and quite soothing – one you'll definitely not regret if you're looking for a soft color from Benjamin Moore's blue collection.
There's some beauty to this powder blue paint that brings it one of the most admired paint colors in the interior design industry.
And since it is cool and crisp – you can definitely use it in your home to create wonders.
Yes – wonders of creating an illusion of a larger and airier space.
Personally, this is one of my favorites. It's neither very neutral (with gray undertones) nor a stark breezy blue.
So, are you looking to consider this paint for your next project?
Let's see if it's a match for you!
Benjamin Moore Glass Slipper 1632 Details and Specifications
This section is one of the most important to discuss!
And do you know why? Well, if you don't want to avoid any mess later – it's ideal to thoroughly read through the details and specifications to know each inch of the color.
So, first and foremost, let me introduce you to the concept of Light Reflectance Values or the LRVs that determine how light or dark the paint color is.
You can easily find that value at the end of your Benjamin Moore paint swatch or even on the website!
Here, in this case, the LRV of Benjamin Moore Glass Slipper is 70.2.
And that means it falls on the lighter end of the scale. It's lighter than the light reflectance value may be!
(Remember, the greater the value, the lighter the paint – on a scale of 0-100)
Oh, if you want to just try Glass Slipper so you'll know just how it'll look, you can easily with a peel-and-stick sample from Samplize. Order some samples now!
Secondly, other important associated terms are the RGB and the HEX Values.
Red = 212
Green = 222
Blue = 221
HEX Value = #d4dedd
Since we have discussed the technical and scientific information, let's get started with the practical aspects of this powder blue Benjamin Moore paint.
How Does This Color Feel in a Space?
Benjamin Moore Glass Slipper feels quite light, airy, breezy, tranquilizing, and calm when used in a space.
This color is bound to make your mind open up to new ideas, thoughts, and creativity!
And this is why it's a great color choice for kids' bedrooms and nursery.
Furthermore, this color is bound to make your space look larger than it actually is. (Of course, due to high light reflectivity value)
Especially if you reside in a warmer region – this color will help you cool and calm down after a long day at work. (Especially if it's a hundred degrees outside)
You see – this color has much more to offer than you may think.
A pro tip: Avoid using this paint color in the colder regions since that might be quite uncomfortable.
How Does Light Affect the Color?
Natural light and BM Glass Slipper go hand in hand.
The more light you give to this paint – the brighter and happier it will appear.
However, it doesn't make a lot of difference in the undertones.
This paint will look similar in all the lighting conditions – whether north, south, east, or west.
Moreover, you can consider using this paint in smaller rooms with little incoming natural light as well.
But you must examine the swatch in different rooms to picturize what your space will appear like.
Lastly, there are other aspects that equally hold a major role in the way this paint appears.
For instance, if you have a living room facing the front lawn, this paint will appear slightly greenish.
To truly see what your home's environment and lighting will do here, try out a real paint stick-on sample. It takes out the guess work!
What are the Best Coordinating Colors?
Choosing coordinating colors is one of the best tasks!
And especially if it's a beachy powder blue paint color like BM Glass Slipper – you must be extra careful.
So, long story short – this paint works best with crisp whites, lighter beiges, lemon yellows, blush pinks, and tinges of dark blue too.
In terms of metallic accents, you can choose chrome or even golden accents.
Furthermore, you can either choose from a monochromatic or a contrasting color palette – depending upon the interior design style and your preference.
So, here are a few of the colors I would recommend for a monochromatic palette!
1633 Brittany Blue
1634 Santorini Blue
1635 Water's Edge
On the other hand, here are a few of the colors I would recommend for a contrasting color palette!
876 Alabaster
1018 Shabby Chic
1193 Palazzo Pink
For your ceilings, trims, and moldings – you can use BM Chantilly Lace as it will further protrude the original adjacent hue.
BM Glass Slipper Vs Similar Colors
This gorgeous powder blue paint tends to share tons of similarities with other likewise hues.
Whether it's the undertones or reflectivity – BM Glass Slipper can be compared to a couple of other BM and SW hues.
Some of the notable examples are BM AF-540 Constellation and SW 9136 Lullaby.
Let's see how they all differ.
Glass Slipper Vs Constellation
These two colors share a ton of similarities. The latter is a feathery blue that can bring charm to any space!
With an LRV of 72.73 – this is comparatively lighter and airier to feel.
So, when you compare the two swatches – you wouldn't see a lot of difference. Except, the latter feels lighter!
You can best pair this powder blue with crisp white, lemon yellows, and shades of beiges.
Order a stick-on sample of Glass Slipper and Constellation to see what works best in your home.
Glass Slipper Vs Lullaby
Sherwin Williams Lullaby feels more of a pastel with a tinge of gray in it.
This blue paint color feels equally cool and crisp and you can absolutely pair it with lighter beiges, white, and dark blues.
With an LRV of 65 – this color feels comparatively darker when used on the walls. (But not very dark like the similar BM Smoke – yes, can be played as a neutral or base)
Since digital screens can be deceiving, I highly suggest you get some actual samples of these two colors from Samplize. Buy here!
Where to Use Glass Slipper?
Benjamin Moore Glass Slipper can make a soothing statement anywhere you want in your home!
Whether it's the cabinets, bedroom ceilings, bathroom walls, living room focal walls, or the exteriors – this feathery soft powder blue will never disappoint you.
And especially for interior design styles like Coastal, Caribbean, contemporary and modern farmhouse – this color will truly play flawlessly.
So, let's see where and how to incorporate this light powder blue paint color in your home.
Glass Slipper in Living and Dining Rooms
View this post on Instagram
In the living and dining rooms, you can consider painting all the walls in this specific powder blue color.
If the space allows – you can choose an all-blue theme as well.
Try adding tinges of creamy whites on the adjacent walls and even fabrics. Let's say, don't hold back from macrame and woven details in your space.
Cane and rattan would work the best but if you have an admiration for wooden furniture – then it can work too.
In the case of a fireplace, choose a natural stone with a dominant white or gray to play subtle.
Using in Bedrooms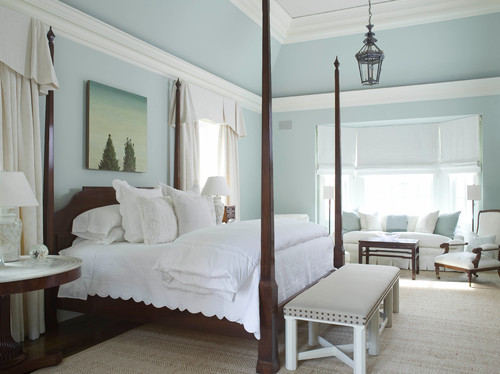 I would personally love a color like BM Glass Slipper in the bedrooms.
Especially for the kids' bedrooms – you can paint the walls in this color and choose white for the furniture frame.
For the bedding, I recommend choosing either white or light gray linens to add a subtle base.
Do you feel the urge to add a contrasting pop of hue – well, don't hold back from lemon yellows or even blush pinks on the throw pillows and blankets.
If you crave a natural and refreshing look – add indoor plants in amalgamation with macrame and woven textures like rattan and wicker.
Glass Slipper in Kitchens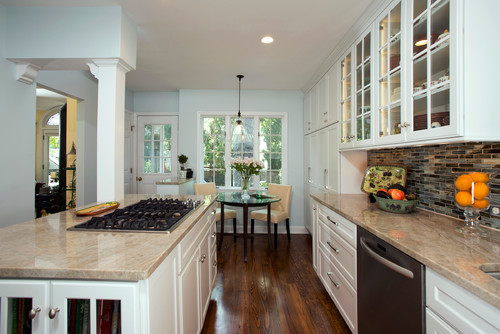 Powder blue kitchens are quite in trend!
With the growing urge for pastels, this color is emerging to be one of the best options for the kitchen cabinets.
First and foremost, it tends to add a breezy statement to the space and secondly, makes your kitchen appear lighter and airier.
Yes, if you have a passion for cooking – this color will further improvise it! (Color psychology is deep)
Furthermore, with this palette, you must add gold, chrome, or brushed brass for the knobs, pull handles, and lighting fixtures.
For the backsplash – choose a clean and crisp white color for the tiles.
Using on Exteriors
This color can be used on the exterior walls in amalgamation with crisp white on the trims, window and door frames, and other architectural features – especially in the Coastal-style homes.
If not the walls, you can also pick this color for the focal entry door and paint the shiplap walls in pure white or extreme dark gray color. (This is what I highly recommend)
On the other hand, if you choose this paint color on the exterior shiplap, choose steely blue, pastel pink, or dark gray on the entryway door.
Great Paint Sample Tip!
Here's my favorite tip when it comes to testing out a color like Glass Slipper – go and order a peel-and-stick sample from Samplize.
These guys figured out a great way to sample colors much more easily. Simply stick it up instead of having to get a small can of actual wet paint.
For a few bucks you get a nice sized square to throw up temporarily anywhere you want to "try" on a paint color and any possible coordinating hues you like. Too cool!
So, did this color review bring you an inch closer to this paint?
Do you want to use it in your home? Exteriors or interiors? Walls or cabinets?
Well, I would love to know your thoughts! Do let me know in the comments below!