Whether you have hardwood or tile floors (or even carpeting), adding a rug can make any room look a lot richer.
Rugs warm up the space and help to anchor furniture pieces. And if your room is located on the upper floor, it can significantly reduce the noise.
In my own experience, I've seen people work extensively on a room plan, only to pick the wrong living room rug size and ruin all their efforts.
Does this sound familiar?
In this guide, I'll explain how to choose the right living room rug size based on the space and furniture pieces you have.
In addition, I'll explain how different patterns and styles can change your perception of the rug size, so let's dive in.
How to Choose a Rug Size for Your Living Room
If you're in the market for a new living room rug because you're buying a new house or remodeling your room, you might be confused about picking the right rug size.
Should you go with a big one that goes from wall to wall?
Or a small one that you can place under the central coffee table?
No one wants to return a rug or end up with something that doesn't really make them feel comfortable.
This is why I've summed up some factors that I personally found will have a massive impact on your choice.
So, first, check out this rug sizes for living rooms table just to get sense for the array of dimensions available:
| | | | | |
| --- | --- | --- | --- | --- |
| | Small | Standard | Large | Extra-Large |
| Average rug size | 4 X 6 or 5 X 8 ft | 6 X 9 or 7 X 8 ft | 8 X 10 ft | 10 X 12 ft |
| Best layout | Under centerpiece or front legs under rug | Front legs on rug | All legs on rug | All legs on rug or front legs on rug |
| Color and pattern | Modern single-colored rugs | Two-colored simple patterned rugs | Modern or oriental rugs | Modern or oriental rugs |
| Shape | Square or round | Square or rectangular | Rectangular or square with or without a runner | Rectangular, square, or runner |
| Fringes or not | No | Both work | Both work | Both work |
| Pile length | High or low | Low | Low | Low |
Consider the Room Size
Just like with bathroom rugs and sizes, factoring in the overall room size is the most crucial factor you should consider before picking a rug.
Many people fear that a big rug will make the room look too crowded, and this is true.
But a smaller rug isn't always a good thing.
You don't want to end up with a rug that feels like it's floating in the middle of the room.
What to do in this case?
I recommend choosing the bigger one if you're stuck between two sizes.
I'll explain in detail the relationship between room size and the right rug size in the next section.
A living room can be small, standard, large, or extra-large.
Based on the layout, you can choose several rug sizes to fit into your space.
In a small living room that measures about 7 X 10 feet, a 5 X 8 feet rectangular rug will work if you want to cover most of the floor.
However, you can go for a smaller 4 X 6 feet rug if you want to show off some of the flooring material or you want to use the rug as an anchor.
In a standard living room that measures 10 X 12 feet, you can explore with differently shaped rugs.
A 7 X 8 round rug can be the right piece to anchor your furniture, or you can explore with a 6 X 9 feet rectangular rug.
You can also consider a runner if you're placing different pieces of furniture opposite each other.
For larger and extra-large living rooms, you can choose a rug that covers most of the room or sits under 1/3 of your furniture.
Large rugs for living rooms help connect the different pieces together.
Explore Different Layouts
What is the best rug size for living room would work based on my layout?
Yes. That's the question to ask.
There are three main layouts that you can consider while arranging the pieces of furniture you have in your living room with respect to the living room rug.
All Legs On Rug
This is self-explanatory, as you need to pick a rug that fits all the legs of your sofas, chairs, and tables, with nothing left outside.
Check out this mega-popular rug over at Wayfair
I'd consider this layout if I want to anchor several furniture pieces in case of a large living room or an open floor plan.
This layout will also work if you have multiple furniture groups in a large space, as it will help bring all the pieces together.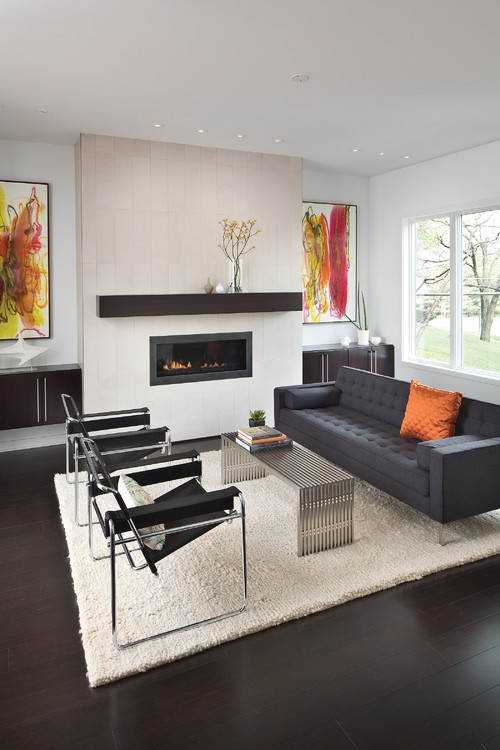 In this case, you'll be picking the largest rug that can fit into your area, leaving about 6 or 8 inches between the legs of your furniture and the end of the rug.
Remember that in this layout, no furniture piece will be pressed against the wall in most cases.
Front Legs On Rug
How to size a rug for a living room that measures smaller than usual?
You don't have to buy a rug where every edge goes under your furniture because no one will see it.
So, if you only allow the front legs of your sofas and chairs to sit on the rug, you'll make great use of your space.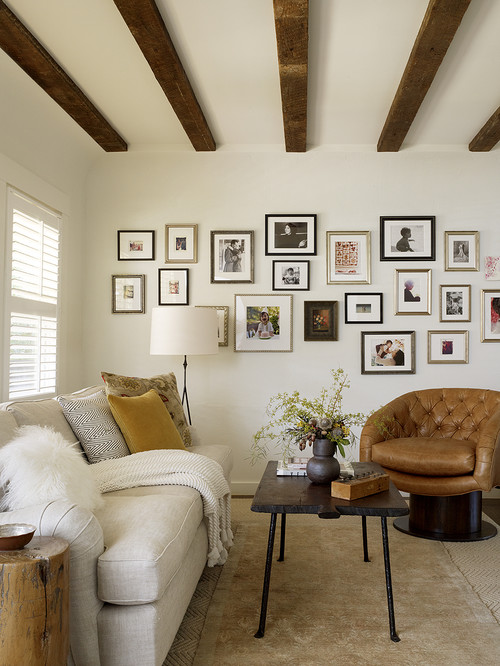 The rule is to make the rug go under about 1/3 of the furniture pieces.
Because the rug sits in the middle of the room, it'll actually make your living room look bigger than it actually is.
Now that's a great approach for a quick living room makeover!
I prefer this layout in apartments where living rooms are typically smaller.
By placing the furniture pieces smartly, you'll create the illusion of a bigger room.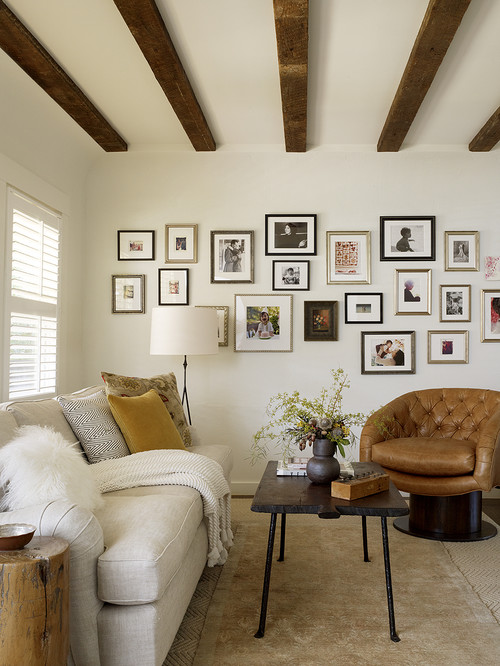 I'd also consider using this layout if you want to show off your expensive flooring.
Coffee Table On Rug
If your living room is tiny or you have an open floor plan, this layout will work out for you.
This smaller rug size will help anchor the furniture pieces in a smaller living room.
Even if there's no coffee table, the rug can be the centerpiece in your room, as it contrasts the negative space left out by the furniture pieces.
Make this rug the centerpiece of your living room – See at Wayfair
Study Your Furniture
You'd get a rug to complement the look of your furniture pieces, and not the other way around.
This means that you need to consider the right furniture pieces to fit into your room and then choose the right rug to complement the space.
Several questions arise once you reach this point.
For example:
What's the right rug size if you have two sofas?
What rug size works for a living room with sectional?
What rug size works for an apartment living room?
What size rug should you consider for a room with a 2-seat sofa and a chair?
For two sofas, whether they're two-seat or three-seat sofas, you can either go for the all legs on the rug or front legs on the rug layout.
For a sectional, the front-legs only layout will work best.
In most cases, a sectional is used in a slightly smaller room, so you don't have to overly occupy the space with a too-large rug.
If you have a sofa and a chair in a small room, a small-sized rug that goes under the coffee table will work best.
If you don't have a coffee table, a rug that goes only under the front legs will work better.
The same applies to a rug for an apartment living room because the area will typically be smaller.

Think of the Colors and Patterns
Based on the room theme, your rug can look a lot bigger or smaller than it really is.
A neutral-themed room with earth-toned furniture pieces and a rug will make your overall space look larger. This includes the rug.
This is why solid and simple-patterned rugs work best for smaller living rooms.
Modern-style rugs are more suitable for smaller spaces because they tend to light up the area.
On the other hand, if you're lucky enough to have a more spacious room, you can use bolder patterns.
For example, consider a two or three-toned design if you're looking for a standard living room rug size.
See the rug above and explore more like it at Wayfair
An oriental-style rug that combines several shapes and patterns will be the right choice for a large or extra-large living room
But only as long as you're following the guides of choosing the right large living room rug size, so you don't overcrowd your space.
One way I like to "see" how an actual rug I'm considering buying will look in my own home is to use a visualizer tool that uses what's called Augmented Reality (AR).
This literally takes any image of any rug and plops it in your living room to view on your phone or tablet. The best part is you can then move around to see how the rug looks from different angles!
In just a few minutes you'll be looking at your potential new rug in your own living room. Call it "try before you buy" virtual style!
It really does help your decision making process as you use the principals outlined throughout this article.
Not All Shapes Are Equal
When you're looking for an average living room rug size, the shape of the rug matters.
Rugs come in several shapes, so you can pick a rectangular, square-shaped, round, or runner rug to fit in your living room, based on the furniture pieces you want to include.
A rectangular-shaped area is the most common shape to consider when you're looking for a standard living room rug.
It will work whether you want to put all the legs or the front ones on the rug.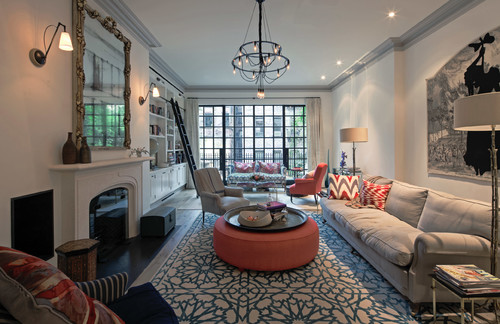 A square or round-shaped rug works if you want to use it to anchor the furniture pieces.
I'd recommend one of these two shapes when you're looking for rug size for a small living room.
Based on the shape of the centerpiece or coffee table, in this case, you can choose the right rug shape.
A round-shaped rug or accent will work if the table is round and the other way around.
I love this round, oriental rug and how it totally changes the feel with a whimsical meets traditional vibe – Check it out at Wayfair
A runner can work if you have a sectional sofa or two sofa seats, especially if one of them is a two-seat one while the other is a three or four-seat sofa.
You can also buy a matching set of a rug and a runner if you have a larger living room.
To Fringe or Not to Fringe
It's quite common to ask yourself various questions when you're considering the area rug size for living room, and one of them is whether to get a rug with or without fringes.
Do fringes offer any benefits?
In my opinion, yes, they do. Fringes add an exotic and traditional look to the room.
This is why I recommend using rugs with fringes for larger living rooms.
Check out this interesting styled fringed rug at Wayfair
But it's all rainbows and butterflies. Unfortunately, fringes can be a hard to maintain.
For starters, they need special cleaning. Even the most gentle cleaning methods can ruin the fringes if they're already damaged.
If the fringes start to separate, there's no turning back from this deterioration.
This is why I would consider trimming the fringes if they're too long or if you have curious kids who like to knot them together.
Unfortunately, unknotting the fringes can permanently damage them.
For a smaller living room, a rug without fringes will work better.
An attractive rug for small, but stylish living room – See this one at Wayfair
Pile Length and Bottom Layer
Lastly, the rug's construction itself will affect how the rug looks in the room. This includes the pile length and bottom layer.
High pile rugs are perfect for areas with low traffic. For example, if you're considering a high pile rug, it will work if you're placing the rug under a coffee table.
As long as you're considering a rug that covers most of the area in your living room, I'd recommend going for a mid or low pile rug like berber because it can handle foot traffic.
Moreover, it won't show a lot of markings when you place the different furniture pieces.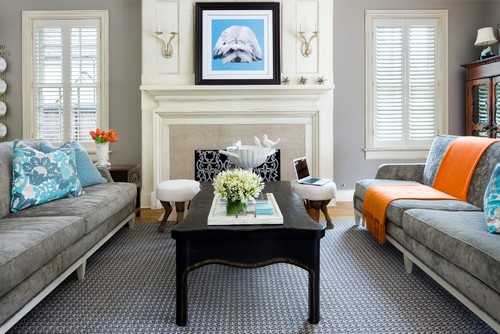 Standard backing that's made of jute fibers works for living room rugs.
However, latex backing is more tolerant and provides better performance in a busy room like the living room.
Wrap Up
In addition to the living room size, you need to think about the furniture pieces, their layout, rug pattern, and rug style to pick the right one for your space.
For every living room, there's more than one perfect living room rug size that will transform the way it looks.
So, consider how each size will make your living room look before buying your next rug.