Fireplaces are noticed not just for the warm and inviting fire within but also for their attractive mantels.
Many people spend more money on the mantelpiece than the entire fireplace. There are a large variety of mantels for us to consider if we're installing or redoing one.
Metal, wood, stone or granite, you have several materials available depending the look you want.
What's it's real purpose? Some us us use our mantel as a platform to hold showy décor items while others go on and treat it as a common stand to hold books.
When you get ready to welcome Christmas with all the glam and glitter, it is practically impossible to leave the mantel bare without any seasonal decorations.
And let's not forget the old way of hanging stockings from the mantel base with despite the changing design trends.
It's completely your choice how you use colors and decorations to make your fireplace mantel sing with coziness and Christmas!
1. Gold 'n Silver
Visit Source: designimprovised.com
Contrary to the normal Christmas colors, we can arrange the mantel with gold and silver ornaments. This can increase the style of a room which is adorned in the bright colors or snowy white all alike.
This can also go well with a black mantel or a creamy granite one at the same time. We can include glass jars filled with small gold and silver balls or shells.
We can border the mantel with green pine branches covered in faux snow.
Place a mirror bordered by a frame in either of the colors. Attach small fairy lights to add to the festivities on the mantel top.
2. Red 'n Green
Visit source: creationsbykara.com
These two colors keep coming back to our Christmas decorations every year for the cheer and joy they carry. Let's see how they can increase the grand look of our mantel.
Starting by simply placing red, green and white ornamental bulbs at different spots on the mantel.
Filling glass jars or candle stands with the glitter of the same colors, keeping candles that are dressed up with bows and ribbons.
Placing small pine cone trees in burlap sacks and hanging an advent calendar from the mantel. Small frames with words that complement the season are placed among the other elements.
3. Blue's Always Cool
Visit source: tatertotsandjello.com
Why don't we make the mantel decorations all chilled up with some blue shade added to it? Along with all the red and white, the slight tinge of blue can seem glorious.
In this idea, we use white foam balls and smaller sized red and white balls arranged on thin twigs. White lanterns are added to lighten up the arrangement, a step further. Then to the most important part, the tissue paper fans.
These can be available in a lot of different colors but we particularly choose blue and red. White snowflake tissue paper fans are also introduced on to the mantel top.
A frame with phrases like ' Feliz Navidad', ' Christ is born', etc are kept there among the rest of the ornaments.
4. Country Christmas
Visit source: attagirlsays.com
This will go with a real rustic stone mantel and add to the total rural feel in your room. The mantelpiece is lined with faux pine and cone garland.
At the two ends, we can two long candle stands with bright red candles. A Christmas bunting with a look that matches the decorations is hung from the mantel to add to the richness.
5. Rose Glows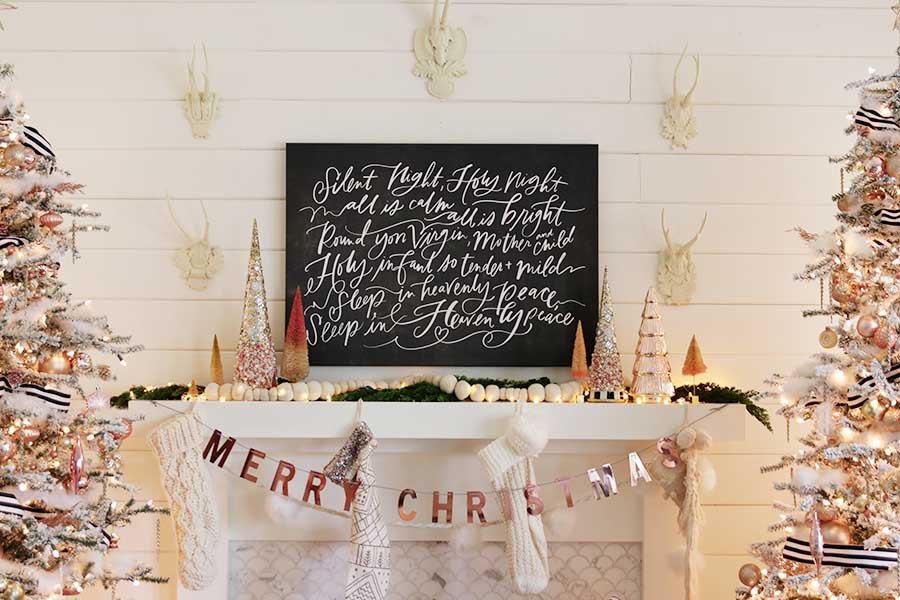 Visit source: modern-glam.com
This article by Modern-glam is a perfect guide to create a truly magical mantel with copper string lights, bejewelled trees and a canvas with the lyrics of 'Silent Night, Holy Night' calligraphy in white on a black background.
Adding a metallic glow with the traditional 'Merry Christmas' banner and attached to the traditions with the stockings hung from the mantel, she has given us a great idea to go royal with our decorations this year.
6. Color Tower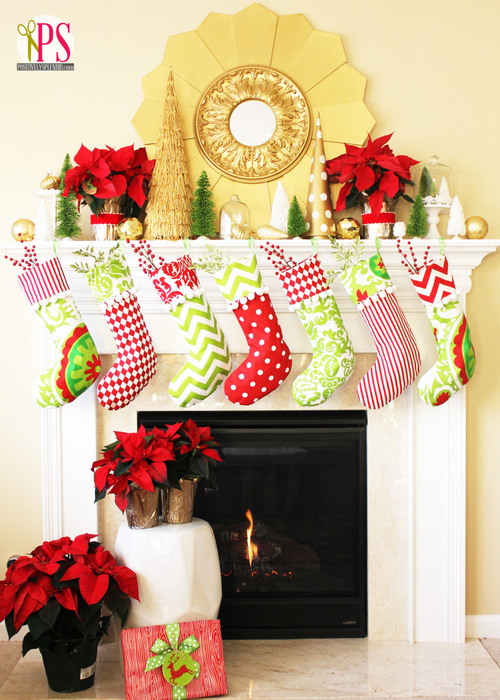 Visit source: positivelysplendid.com
Adding more color only make the mantel stand out at the celebrations. Including a line of colorful stockings that can be handmade in your own choice of color combinations.
You can take a look at https://knockoffdecor.com/plaid-christmas-stockings/ for personalized stockings.
Make the richness rise with a gold framed mirror which can be made from simple DIYing. Get hold of some bottle brush trees to be part of the whole arrangement and give the final touches to your mantel decoration.
7. Old Is Always Gold
Visit source: homestoriesatoz.com
Homestoriesatoz has a really amazing idea to create a purely personalized mantel decoration for this Christmas. She has used black and white photos of each family member and hung a stocking beneath each one.
The tutorial for stockings is also included in the post. The highlight of this theme is definitely a vintage-inspired Christmas invitation a wooden frame.
The paperwhite plants which have been transferred into small buckets and placed among the green branches. Above the mantel is the foam chalkboard with the words "Peace on Earth" and evergreen wreaths hung above each word.
8. Farmhouse Fun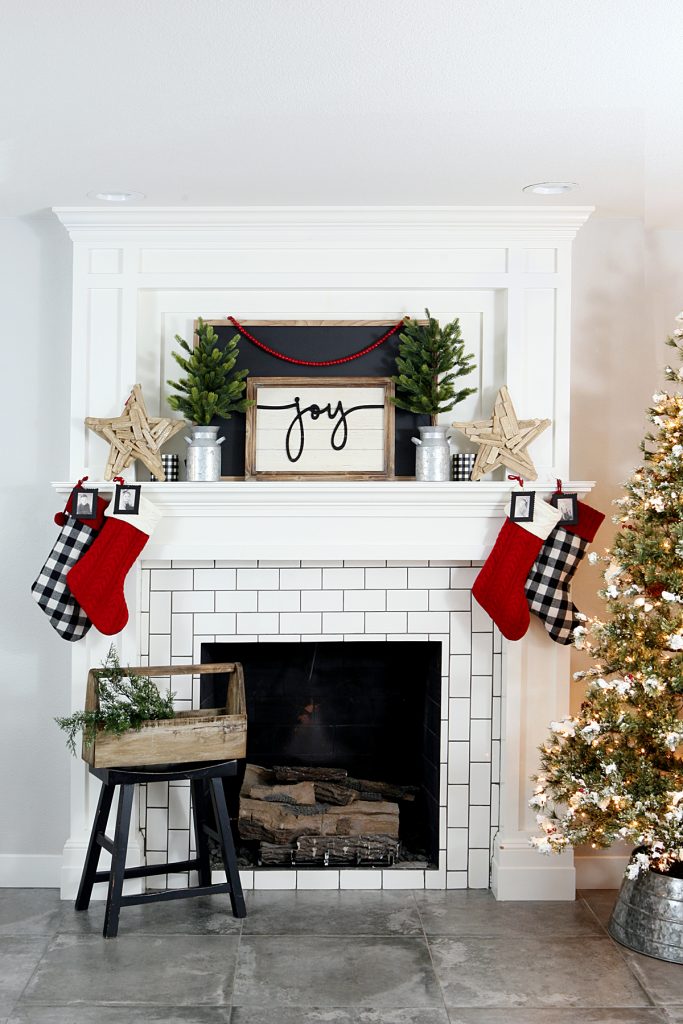 Visit source: eighteen25.com
Farmhouses always steal our hearts with their simplicity and earthy beauty. This farmhouse model mantel design for Christmas is also one such show-stealer.
With the funny joy sign, the driftwood stars, buffalo check candles, evergreen sprays and red berry garland, it is the perfect decking up your mantel can get this season.
The stockings are all marked with each of the kids' photos placed inside an easy-to-make frame. Noticeably, the stockings are larger in size than normal. It's a simple yet soothing mantel look you can easily try.
9. White 'n Light
Visit source: centsationalstyle.com
White represents winter and peace, both two important aspects to consider during Christmas.
A white mantel fancying up can be made absolutely time-consuming with too many elements added to it, but here is a completely minimalist arrangement that can stand out during this Christmas season.
We can add white ceramic pieces like reindeer and snowfall trees, white candle stands with thick white candles. These can be arranged at the two ends of the mantel, leaving the middle portion bare.
On the mirror, place a mirror that can fit in with the other things. It's simple but simply awesome.