Throughout history, hanging a wreath on a door was meant as a symbol of victory for the Romans. And in Christianity, a wreath on a door invites Christ into each home during the Christmas season.
The original design had fresh green fir branches, pine leaves and red berries all arranged into a ring hoop pattern. Now we see all varieties of materials, from plastic and paper wreaths hung on the doors around the neighborhood.
This is also one Christmas decoration with which we can try ample amounts of craft ideas. Many of the unused discarded stuff lying around the house and attic can be recycled or upcycled to form adorable wreaths for the season.
Here, we present to you some of the best DIY ideas to make this year's Christmas wreath look unique and adorable at the same time. From the traditional fir, pine and holly clippings to used tin can and newspaper wreaths.
1. For Old Time's Sake
Visit Source: fynesdesigns.com
Let's start off with the good ol' green fir-red berry wreath. Collect some balsam fir, pine, cedar and holly clippings and necessary instruments for arranging them into a perfect ring.
The green symbolizes life and growth hence make sure you get the freshest branches available. Secure the fir branch brushes to the ring with wire and cover the ring with several such brushes.
Attach a loop on the top for hanging. Once the wreath is complete start decorating as you wish; with bows, pine cones and red berries. Hang it out on the front door to welcome good tidings of the season.
2. Extra Elegance
Visit Source: lilluna.com
A drop of extra elegance in your Christmas decorations will not hurt. So here's a very classy wreath to try out. Check out Lilluna for a detailed tutorial with wreath foam, decorative elements and poinsettia.
Make your wreath chic this year.
Lid is Lit
Mason jars are always part of DIYs but here's a craft to make the most adorable wreath in town, making use of your discarded jar lids.
3. Tape-Scape
Visit Source: kristendukephotography.com
All you need is a set of washi tape and the magic is half done. Wrap the lids with the washi tape and tie them together with a twine. Make sure that you make a loop when you tie the twine.
Add an extra-large red bow in the top. Voila! You got it done.
4. Bulby
Visit Source: momdot.com
This is also an idea to make use of the ornament bulbs you have at home. The bulbs can be of your choice in bright colors.
Place the jar bands on a flat surface and arrange them in the shape of a tree. Tie them together with a yarn string, do a double knot and cut off the excess.
Flip the tree over, place the bulbs into them adding little hot glue on the yarn and press the bulb in. You can add to the tree as you desire.
5. Santa's in Town
Visit Source: babyrabies.com
Are you interested in making a tulle? Then try this tulle wreath for Christmas cheer. Get hold of some white tulle, wreath form, a Santa hat and you're good to go.
Make marks on the two ends on the form where the hat reaches. Tie the tulle from one point to another and a layer tied to them making the Santa's beard.
Secure them, add the hat and you got your own little Santa. Follow the link below for detailed steps.
6. Tin-Tin-Ti-Din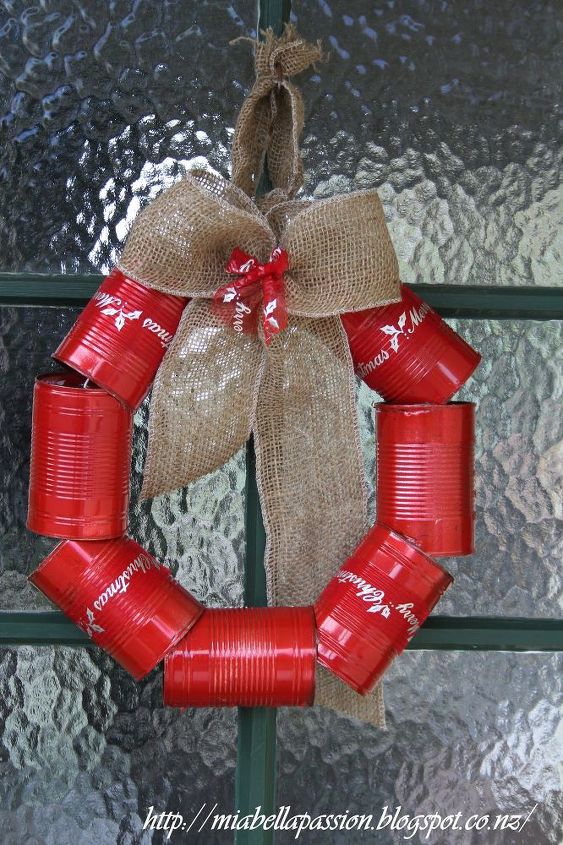 Visit Source: hometalk.com
Tin cans are practically useless once they are empty. Here's a way to craftily upcycle them.
Collect about 8 cans, spray them red, dry, attach some Christmassy ribbon on half of the lot, punch holes at the bottom, slide a string through them and knot it.
Accessorize with a burlap ribbon and a Christmas words ribbon. Hang up and show it off.
7. Paper Shaper
Visit Source: apieceofrainbow.com
This tutorial from Apieceofrainbow is a really fun DIY idea for your Christmas wreath. Get some of your old textbooks, jute twine, glue and additional ornaments.
Make several paper vines and glue them together securely. Paper flowers are made and added to increase the charm. Include more embellishments as you like and you're done with the year's special Christmas wreath.
8. Knit Wit
Visit Source: littleyellowwheelbarrow.com
Let your hands do some easy knitting and you own this truly amazing wreath. Grab some chunky yarn, braid them and wrap it around the form.
Thus go on covering the form and finally add a burlap ribbon to give the final touch.
9. Red Green N White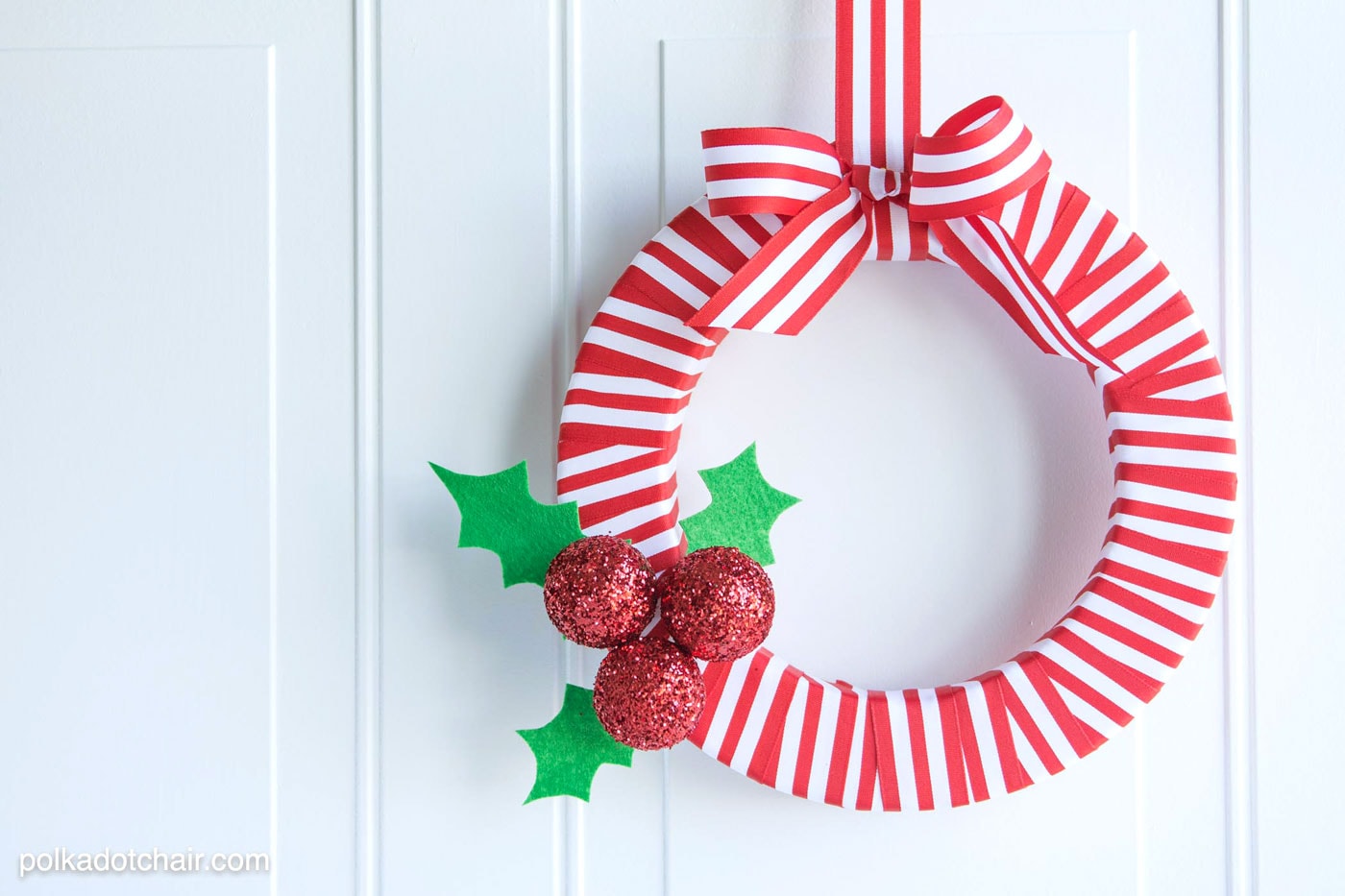 Visit Source: polkadotchair.com
Getting your wreath dressed up in the Christmas colors can be more delightful than ever. On to a foam wreath form, wrap the red and white striped ribbon.
Cut green felt into a holly berry shape, color foam balls with red and cover with glitter; these are then attached to toothpicks. Take the holly berries and glue them to the wreath along with the red balls.
The striped ribbon is made into a bow and added to the top of the wreath. There! You are done!
10. Snow Show
Visit Source: thehappyhousie.porch.com
Winter and Christmas go hand in hand. Making a wreath that holds the nature of the season within can be absolute fun. Thehappyhousie offers us a wonderful idea to bring to life a snowy wreath for this year.
With some plaid ribbon, baby braid fringe yarn and bottle brush trees you can create a beautiful winter wreath. Adding the round wood slices with words like 'Let it Snow' can be an extra embellishment to the charm.
11. Fun for the Kids
Visit Source: studiodiy.com
Let's wind up with some fun for the kids too. Balloons are an all-time favourite for the little ones. Heres a balloon wreath for Christmas.
Get the champs to blow up some green and red balloons. Zip tie them to a wire wreath and fill it. Add additional ornaments as you wish. Keep an eye from the kids messing with the balloons though.
Let's stay safe and have a very merry Christmas.
Also, try out: Knockoffdecor for some other knock-off wreath ideas.