Are you a fan of earthy tones? Maybe you like more taupes, beiges, and browns?
If so, don't hold back from considering Sherwin Williams Universal Khaki for your next dream home project.
It is a perfect mid-toned warm paint color that is neither too dark nor too light.
With a slightly creamier texture – this warm paint color defines the true beige amalgamated in the form of a taupe.
This color has a subtle look to it and doesn't really prove to be very energetic or bright! Hence, if you have a similar taste – why not try this?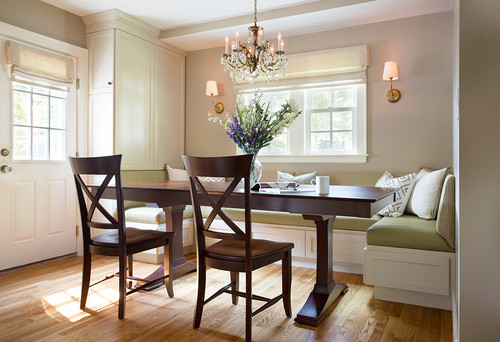 The traditional dining space above reflects the utmost beauty of SW Universal Khaki.
Symbolic of khaki fabric – this paint color reflects a similar hue, which is quite sophisticated and yet calm.
Even though it has deep brown undertones, but if you observe it in natural daylight – you are quite likely to detect shades of warm reds underneath.
Yes, this color is a chameleon – it reflects its different sides in different rooms and different natural conditions.
But don't worry – I will help you unveil them all!
Just sit back and relax! I promise, in no time – you'll be able to use this color like an expert interior decorator.
Sherwin Williams Universal Khaki SW 6150 Details and Specifications
If you are planning to choose this paint color, you first need to understand the how, where, and when about it!
And all of this can be easily determined if you are aware of the underlying basics and color theories.
Yes, color psychology is important as well which helps you know the mood the color will create in your room.
Let's begin with one of the most important terminologies that you must acquaint yourself with – light reflectance values or LRVs!
This value helps in determining how light or dark the paint color is – and depending on that information, we can analyze the rooms in which the color needs to be used.
So, the LRV of Universal Khaki is 40 – and that means it is a mid-toned paint color that can be either used in a small as well as a large room.
(The lesser the value – the darker the paint color)!
Oh, if you want to just try Universal Khaki so you'll know just how it'll look, you can easily with a peel-and-stick sample from Samplize. Order some samples now!
Similarly, other associated terms are RGB and HEX Values.
Red = 184
Green = 169
Blue = 146
HEX Value = #b8a992
Now that we have discussed the scientific facts – let's jump on to some of the practical aspects and applications of this beautiful and timeless paint color.
How Does this Color Feel in a Space?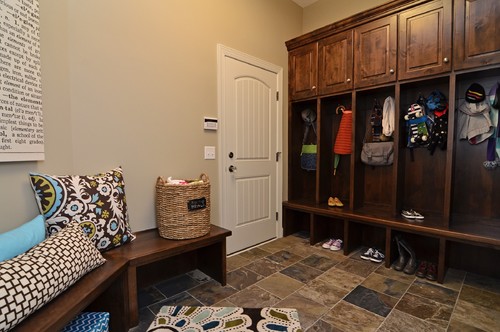 SW Universal Khaki acts as a perfect base paint in this home entryway
Sherwin Williams Universal Khaki feels subtle and settled down in a space.
It is not very bright and energetic – instead, it is bound to exhibit a warm look through a bold character.
You are bound to feel homey and cozy if you plan to use this paint color in your homes.
So, I would highly recommend using this paint color in homes that are situated in colder and northern regions since it is warm and would always impart a feeling of warmth.
If you plan to use it in warmer areas, you are bound to feel uncomfortable unless you balance out the looks with cooler paint colors.
Since this paint color is soft and subtle, you should expect to feel calm and tranquilized as soon as you come back home.
How Does Light Affect the Color?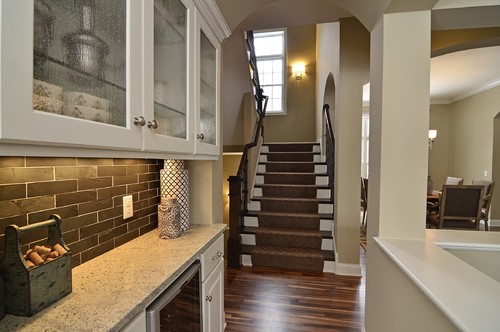 Have a look at how artificial and natural light plays with this paint color
Light has a major effect on Universal Khaki. In the case of excessive light – this color tends to look lighter like SW Wool Skein.
In the absence of natural light, this paint color appears to be darker like deep brown and taupe.
I would highly recommend using this paint color in north-facing bedrooms to give a slight warm texture to the space.
Moreover, you can also consider using warm whites and cool whites artificial lighting to balance the saturation of the room.
To truly see what your home's environment and lighting will do here, try out a real paint sample. It takes out the guess work!
What are the Best Coordinating Color?
Creating an eye-catchy and balanced color palette is primary. You can best make use of this paint color if you choose the best opposites to pair it with.
There are two main color schemes that you could use – contrasting or monochromatic.
Depending on the interior design style and the overall running theme of your space – you could choose from either.
Nevertheless, the best opposites for this paint color are browns, warm grays, and off-whites.
Here I am going to enlist a few paints that you can pair it with (in the case of a contrasting scheme)!
SW 7036 Accessible Beige (See my guide here!)
SW 6144 Dapper Tan
SW 7051 Analytical Gray
For a monochromatic theme, you could consider the following paint colors:
SW 6148 Wool Skein
SW 6149 Relaxed Khaki
SW 9117 Urban Jungle
In the case of trims, moldings, and door and window frames – consider SW Pure White as it will truly protrude the paint color.
Sherwin Williams Universal Khaki Vs Similar Colors
It is very easy to find alternatives for SW Universal Khaki unless you are looking for a specific similar beige tone with similar undertones.
However, the two most similar paint colors are SW 7548 Portico and SW 7533 Khaki Shade.
You could also place these on a white sheet of paper to determine the true hue of all the paint colors.
Universal Khaki Vs Portico
With an LRV of 42, this paint color is comparatively lighter than Universal Khaki. It is quite likely for you to detect deep red undertones in this paint color in the afternoon sunlight.
SW Portico is a more bold paint color that makes your space feel settled down and warm.
Order a wall-stick sample of Portico here to help you compare colors in your own space.
Universal Khaki Vs Khaki Shade
With an LRV of 44, this paint color is the lightest of them all. Similar to the above two, you are quite likely to find pink/red undertones beneath this paint color.
Khaki Shade makes a great alternative to Universal khaki since it is a timeless and sophisticated shade that will never fade away – even years later.
Do yourself a favor and grab some stick-on sample sheets of these two colors and see what looks best in your home.
Where to Use Universal Khaki?
Sherwin Williams Universal Khaki can be used absolutely anywhere in your home and especially the common areas. It pairs especially well with wooden elements and textures.
For interior design styles like traditional, transitional, French country, bohemian, and contemporary – it is definitely a good to go solution.
The timelessness of this color is a great reason behind the flexibility of it. Whether it is your living or family room or for the matter of fact a bedroom, kitchen, or hallways – universal khaki makes a great solution in these homes!
Let's discuss the individualistic uses of the paint color in your home.
Universal Khaki in Living Rooms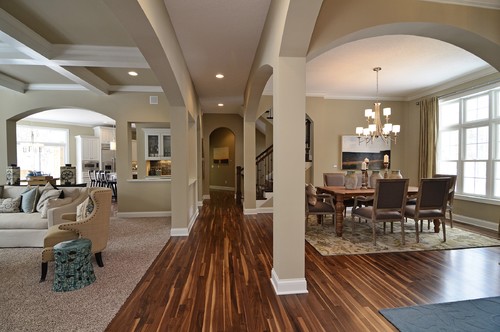 This traditional home in Minneapolis perfectly reflects the seamless use of this beige paint color.
There are many traditional and transitional styled homes that incorporate this paint color. So, if you are one of them – make sure to pair it against walnut browns and deep wooden textures.
Moreover, you can incorporate hardwood floors and wrought iron railings on the staircases as well.
For the furniture – make sure to keep it light in a beige fabric!
Using in Kitchens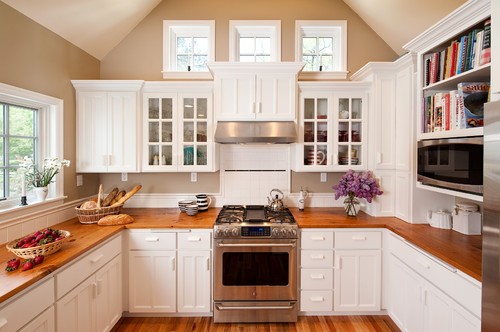 This beautiful, traditional cape cod kitchen reflects SW Universal Khaki on the walls
You can incorporate this paint color in the kitchens whether on the backdrop wall or the cabinets.
Along with this, I would recommend using round wooden pull handles to further add a detail to your kitchen space.
Make sure to use white granite countertop along with chrome fixtures to make your kitchen look spotless.
Universal Khaki in Bedrooms
Bedrooms deserve a calm and soothing backdrop. Well, universal khaki is a great way to incorporate piousness in the bedrooms.
On top of that, you can incorporate stark whites through bed frames and nightstands and decorative accents.
Using on Exteriors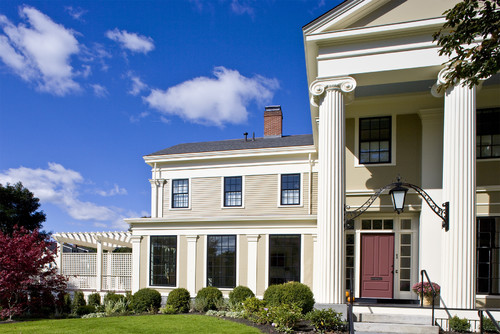 "UK" makes home exteriors look refined and timeless as you can see in the above photo.
Using this color on exterior walls will further make the paint color look light and bright. Whether you are using the shiplaps or the mud or concrete – this paint color is absolutely delightful on the exteriors.
For a more tropical appearance – many southern states tend to incorporate this paint color on the exteriors of their homes.
Great Paint Sample Tip!
Here's my favorite tip when it comes to testing out a color like Universal Khaki – go and order a peel-and-stick sample from Samplize.
These guys figured out a great way to sample colors much more easily. Simply stick it up instead of having to get a small can of actual wet paint.
For a few bucks you get a nice sized square to throw up temporarily anywhere you want to "try" on a paint color and any possible coordinating hues you like. Too cool!
So, do you feel confident about using Universal Khaki in your home? Well, do let me know your experiences in the comments below!