White has always been a trendy wall color.
Even with the thousands of other colored options out there, white can never completely go out of style. It's the go-to option of many, including me!
It's no secret that white walls make a space look larger, brighter, and cleaner.
But contrary to popular belief, white comes in hundreds of shades.
Depending on lighting and furniture, you can brighten up your space with a cool, neutral white or create a cozy, welcoming vibe with a traditional off-white.
I've tried countless white paints in my career, but the color that I favor the most is Dunn-Edwards Cool December.
It's a crisp, cool white with faint gray undertones that works with almost every theme imaginable.
If you're planning to paint your walls in Cool December, read this article first!
I'll share some vital tips and tricks when using this stunning shade, from its effects on lighting to its best coordinating colors.
Dunn-Edwards Cool December DEW383 Technical Characteristics
Dunn-Edwards Cool December is a cool, bright white paint that belongs to the Dunn-Edwards Whites collection.
It adds a crisp, clean aesthetic to almost every theme, making it my go-to bright white for backdrops, trims, and moldings.
With an LRV (Light Reflectance Value) of 88, Cool December obviously falls on the lighter end of the scale.
It's snuggly tucked between true white and off-white, a perfect balance that always seems to do the trick with very little effort.
As a quick refresher, a color's LRV measures the percentage of light a paint color reflects or absorbs into a painted surface. The higher the percentage, the lighter the color and vice versa.
The RGB, CMYK, and HEX Values are as follows:
HEX Value: #FDFBF8
RGB: 253, 251, 248
CMYK: 0.00, 0.79, 1.98, 0.78
How Will Dunn-Edwards Cool December DEW383 Make Your Home Feel?
Dunn-Edwards Cool December adds tempered brightness and coolness to a space without making it feel too clinical, stale, or mind-bogglingly plain.
When used as a backdrop, Cool December can make your space feel crisp, cool, and refreshing.
It can also make your room appear much bigger than it actually is, especially if the space is bathed in natural light.
So if you're dealing with small square footage issues, this color won't disappoint you.
The same is said for homeowners residing in warmer regions.
Cool December reflects heat, making indoor temperatures cooler in the summertime.
With this color, you won't have to use the air conditioning system as frequently.
The Effects of Lighting on Dunn-Edwards Cool December DEW383
Colors with an LRV of 65 and below require lots of light to make a room look bright.
Since Cool December has an LRV of 88, you won't have to worry about adding additional light sources to make the color shine.
When it's hit by natural light, the color will look even lighter, almost as if it's glowing.
In north-facing rooms, it'll appear cooler and slightly grayish, creating a daring atmosphere.
The gray undertone is extremely faint and almost unnoticeable, but it's there if you pay close attention.
South or west-facing rooms add just a hint of warmth to the color without veering into the yellow territory. Think of it as fresh milk in the early-morning light—creamy, but not overly so.
Other Similar Colors to Consider
Comparing whites isn't as easy as comparing non-whites. Unless you get samples and put them up on the wall, the undertones and reflectivity can be tricky to pinpoint.
Let's take a look at some of the closest alternatives to Cool December:
Dunn-Edwards Cool December vs. Whisper
Whisper is the softer, creamier version of Cool December. With faint pink undertones, it's a refreshing take on the classic bright white.
It has an LRV of 87, making it slightly less reflective than Cool December, but not by a large margin.
It'll still add brightness to a room with little effort, except this time it'll add a bit of warmth too.
When used as a backdrop, it wouldn't be mistaken for "true bright white" because of the warmth and softness it exudes. (Otherwise, you'd would go with a similar but slightly cooler Behr Polar Bear).
Dunn-Edwards Cool December vs. Dutch Boy Super White
With a name like "High Reflective White," you'd think that it's objectively "whiter" than Cool December, but alas, it's not so.
This comparable paint has an LRV of 93, putting right on par with C.D.
It has prominent gray undertones which appear more obvious in north-facing rooms.
It's also just a tad cooler than our star color.
It's a great choice for homeowners looking for an off-white paint color rather than leaning towards gray in certain light conditions.
What Colors to Coordinate with Dunn-Edwards Cool December DEW383
Cool December goes with almost every color combination there is, from monochrome to complementary. Here are some suggestions:
Nature-esque Coordinating Colors
If you want to go all-out with pastel creamy colors, this color scheme is for you:
Dunn-Edwards Finest Silk
Dunn-Edwards Terracotta Sand
Dunn-Edwards Meadowood
This scheme creates a visually pleasing and calming vibe to a room.
With Cool December as your backdrop and main color, Finest Silk and Terracotta Sand create a connection with nature, further adding to the scheme's harmonious feel.
Meadowood is your pop of color, so use it sparingly (no more than 10% of the room.)
For the trim, use Dunn-Edwards Warm White to balance out the cold backdrop.
If you want to create a contrasted look and bring focus to your door frames and windows, choose a darker trim color, like Cream Wave.
Triad Coordinating Colors
Feeling a bit bold? Check out this beautiful triadic palette:
Dunn-Edwards Pale Berries
Dunn-Edwards Anchor Gray
Dunn-Edwards Silver Setting
This scheme is a great choice if you want more than one hue to play with, but don't want to make the room look too busy and colorful.
The colors seamlessly work together to add a splash of color to the room without straining the eye.
When using this scheme, follow the 60-30-10 rule. There should be one predominant color (in this case, Cool December), a subordinate color, which can either be Pale Berries or Anchor Gray, and up to two accent colors Anchor Gray and/or Silver Setting).
For your trims, I recommend High Reflective White by Sherwin Williams.
Complementary Coordinating Colors
If you're looking for a high-contrast color palette, consider this gorgeous complementary scheme:
Dunn-Edwards Ancient Earth
Dunn-Edwards Almond Latte
Dunn-Edwards Bourbon Truffle
While much darker than the rest of the palettes on this list, the neutralizing color of Cool December will balance everything out—as long as it's used as the primary backdrop!
Otherwise, the room will be too dull and dreary.
For your trims, use High Reflective White by Sherwin Williams.
Best Places to Use Dunn-Edwards Cool December DEW383 in Your Home
Cool December is an extremely flexible color, so it's no surprise that it goes anywhere in your home.
It works great as a backdrop and as a secondary color for ceilings, trims, moldings, doors, window frames, and other special architectural aspects of the room.
It's a one-fits-all color that works well in almost every interior style, including Modern, Contemporary, Transitional, and even French.
Here's how to incorporate this color into your home:
Using in Living Rooms
Cool December looks stunning in a mostly-white living room with simple accents.
It creates a crisp and sleek-looking common space, especially when paired with grays and blues.
If you have large windows, paint the trim around the window frames dark gray or black.
This will make the room look super trendy and chic!
For the flooring, make sure it isn't too light or too dark.
It should be around five or so degrees darker than the Cool December walls, like a soft oak greige.
Don't use dark flooring as it'll clash poorly with the walls.
Bedrooms
Cool December is a classy choice for bedroom walls. It'll make your bedroom look clean, spacious, quiet, and comforting—perfect to come home to after a long day of work.
Grays and beiges work well with Cool December (I like Dunn-Edwards Shady). Bold metallic colors and rustic wood furniture look amazing with cool white walls, so if you have those colors already, you're all set!
Use a nice dark accent for your rug, throw pillows, and wall decor to balance out the brightness of your white walls.
For your bedding, your limit is your imagination!
You can use colored or textured beddings with florals or geometric patterns, or plain white sheets with alternating gray pillows.
Just make sure the colors don't clash with the accents in your room!
Kitchens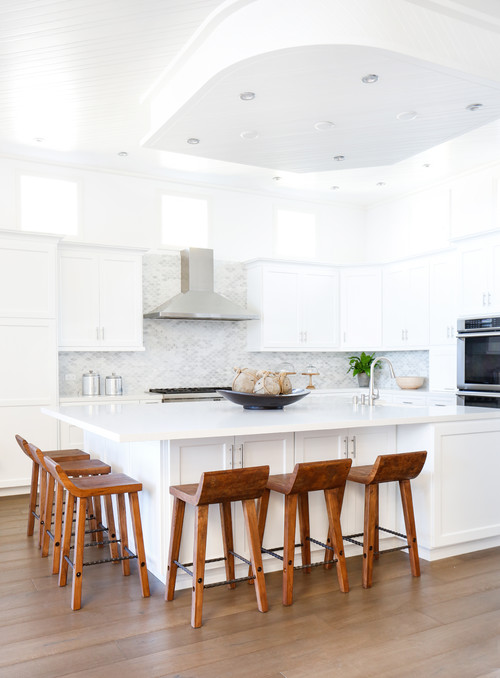 Cool December is the perfect backdrop for all-white cabinets.
It makes a statement without overwhelming the kitchen space with too much color—because truthfully, kitchens don't need much color to shine!
Cool white makes a kitchen look and feel fresh and clean. It makes the space appear energetic and lively.
But remember: too much white can make a space look boring and one-note!
Spice things up by adding colored lighting fixtures, mosaic tile backsplashes, countertops, pull handles, rugs, and chairs.
For the floor, choose something light like oak hardwood flooring.
Conclusion
Dunn-Edwards Cool December is a shade of cool white that adds brightness and coolness to a space without making it look overly plain and stale.
It has faint gray undertones that are almost unnoticeable under artificial light but becomes more evident when natural light shines on it.