Off-whites and pastels are some of the most used paints in homes.
They play great bases and neutrals – hence, play a necessity in each and every aspect!
And like we discussed the subcategories of these paints as cool and warm – let me introduce you to a notable example here.
Sherwin Williams Greek Villa is a warm-toned off-white paint that has deep beige undertones!
It is a great option to be used in homes that crave a cozy and welcoming appeal!
Also, being a popular one, this paint color has also been amongst the top 50 colors!
There have been a number of times I recommend this paint to my clients who want to achieve a creamier look in their homes.
So, if you too are looking to use this paint in your home – I suggest you read this article very carefully.
I am going to spill some beans here – and you are absolutely going to feel amazed!
So, sit back and relax!
Maybe reach out for your favorite cup of coffee as I begin further with the details.
I promise – in no time – you will be a 'Greek Villa' expert!
Sherwin Williams Greek Villa SW 7551 Details and Specifications
Before you pick any paint color, it is crucial that you read through the underlying theories and specifications.
There is a reason why SW Greek Villa stands out from SW Pure White or SW Extra White or SW Snowbound!
And the list goes on and on.
To make it easier for you, here are a few terminologies that you must remember to consider.
First and foremost, look at the back of your paint swatches to determine the Light Reflectance Values or the LRV's of the paint color.
This value helps in determining how light or dark the paint is.
Remember, the greater the value – the lighter the paint and vice versa!
So, the LRV of Sherwin Williams Greek Villa is 84.
And that means it is an extremely light-toned paint color.
(And that is obvious – after all, it comes from the SW White and Off-White Collection)
Now, if you want to try out Greek Villa on your walls ahead of time, you can easily with a peel-and-stick square from Samplize. Give them a try now!
Secondly, other important associated terminologies are the RGB and HEX Values that further tell us what the color is comprised of.
Red = 240
Green = 236
Blue = 226
HEX Value = #f0ece2
Now that we have discussed the technical and scientific information, let's get started with the practical aspects of this creamy white Sherwin Williams paint.
How Does this Color Feel in a Space?
Sherwin Williams Greek Villa feels absolutely cozy, warm, comfortable, and inviting when used in a space.
I wouldn't call it a true white since it majorly has warm beige undertones.
However, you can use it to make your space feel larger, airier, brighter, and quite enhanced – with a touch of warmth.
When talking about climates, you can use this paint in colder and northern states to feel warm and cozy – and at the same time creating an illusion of a larger space!
By using this paint on the ceilings and trims, you are magically pushing them upward making your space feel taller and higher.
Its creamy texture is bound to do wonders – so why not give it a try?
How Does Light Affect the Color?
Knowingly or unknowingly, natural, and artificial light has a major role to play here!
In the case of excessive natural light – your room is bound to look brighter and larger!
Whereas don't worry if your room doesn't have ample light – as the room may still look airy due to this paint's high reflectivity.
You can use this paint in smaller as well as larger spaces too!
So, really no restrictions!
Even though this color is recommended for ceilings and trims – but you can also use them on the walls of your tiny bathrooms and laundry rooms to give them a spacious feel.
Nonetheless, you also have the opportunity to introduce artificial lighting pendants and chandeliers to add an extra charm!
(Try avoiding warm yellow lighting in the east and west-facing rooms though)
Want to see what Greek Villa looks like in your own living space? Pick up a wall sample now from Samplize!
What are the Best Coordinating Colors?
SW Greek Villa is comparatively an easy color to work with.
You can pair most of the shades and tints with this color – whether dark or light – or warm or cool!
Yes, that's the beauty of this paint color.
As we discussed, just how important it is to analyze the paint is it to choose the best complementary colors.
Hence, I will recommend a few options that you could consider pairing up with this creamy white paint.
First and foremost, you could either choose from a contrasting or a monochromatic color palette – depending upon your interior design style.
In the case of contrasts, you are free to literally pick any hue – mustards, greens, darker and lighter blues, beiges, tans, taupes, and pinks!
In terms of a monochromatic palette – I must say, it is one of my favorites.
(Great for all the Scandinavian and Nordic Design lovers too)
So, check out these few colors I would recommend for a monochromatic palette!
SW 7050 Useful Gray
SW 7052 Gray Area
SW 9172 Studio Clay
On the other hand, here are a few of the colors I would recommend for a contrasting color palette!
SW 7546 Prairie Grass
SW 7730 Forest wood
SW 6365 Cachet Cream
You can use SW Extra White or SW High Reflectance White on the trims, moldings, and door and window frames to further let the color stand out!
SW Greek Villa Vs Similar Colors
There are tons of other warm white paint colors on the swatch!
Sherwin Williams has crafted many white and off-white paint collections!
However, the truth is that they may either differ in saturation or reflectivity.
But never mind, I am going to enlist the two very closely related paints – SW 7566 West highland White and SW 7103 Whitetail.
Greek Villa Vs West Highland White
Even more creamier and yellow, SW West highland White can be a perfect substitute for a pastel yellow.
It has extremely high reflectivity – and note that it also has creamy undertones!
Hence, great for use if you want to attract a warmer and cozier vibe in your home.
Furthermore, it has an LRV of 86 – thus, a great off-white paint color.
Order a stick-on sample of Greek Villa and Westhighland White to see what works best in your home.
Greek Villa Vs Whitetail
Slightly pinkish undertones, this color too falls on the warmer end of the scale.
This off-white paint has an LRV of 86 – thus, helps in making your space look larger and airier!
Also, note that it has comparatively less creamy undertones!
Since digital screens can be deceiving, I highly suggest you get some actual samples of these two colors from Samplize. Buy here!
Where to Use Greek Villa?
SW Greek Villa is a great paint to be used in Scandinavian homes on the walls and apparently every other interior design style as neutrals and bases.
More than a choice – it plays a perfect backdrop on the walls as a subtle neutral.
Let's see where and how to incorporate this beautiful white paint color into your home.
Greek Villa in Living and Dining Rooms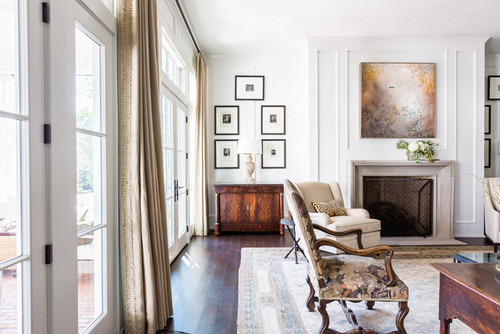 Absolutely yes!
Apart from ceilings and trims – you can use it on the walls (especially if you have a paneling and molding system)!
You can beautifully pair it with wooden textures, floors, and other warmer or cooler linen as required!
And as discussed, you can even pair any paint color with this – you name it and can have it!
Furthermore, you can also play with tinges of black and chrome as an accent on the walls and furnishings.
When comes to metal, don't hold back from using starks.
Using in Bedroom and Bathrooms
For smaller bathrooms – it is totally bliss!
If you paint all the walls and ceiling in one color – it will tend to look lighter, brighter, and enhanced!
You can also pair it with some bolder hues like emerald greens and cobalt blues to have a contrast!
In short – this paint is quite easy to deal with!
Greek Villa in Kitchens
viaHou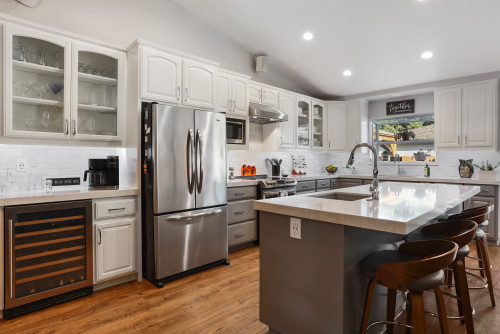 Warmer kitchens definitely exhibit a welcoming touch.
Moreover, they are also quite a trend!
You can paint them all white – both the cabinets and the backdrop walls for a seamless experience.
Furthermore, add brass or nickel touches through fixtures and pull handles!
Trust me – you won't be disappointed.
Well – another way to play with this white paint is by painting the lower cabinets in darker and bolder paint color like SW Waterloo or SW Cityscape is a great option.
Using on Exteriors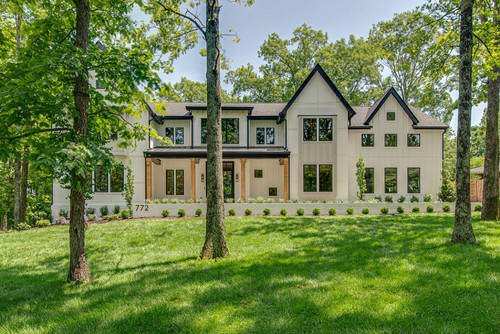 Especially for Modern, Cape Cod, Caribbean, Mid-Century Modern, Traditional, Coastal, and Craftsman styles, this color is a great option for your exterior shiplap and stucco walls.
You can either pair it with rust, blue, black, or grey accents through trims, moldings, and door and window frames.
You can also use natural travertine stone wainscotting for the patio columns and surroundings!
How to Best Sample This Color?

Here's my favorite tip when it comes to testing out a color like Greek Villa – go and order a peel-and-stick sample from Samplize.
This little company has nailed down the best way to sample colors much more easily. Simply stick on a 12″ x 12″ square instead of having to get a small can of actual wet paint on your walls.

For a few bucks you get a big enough sized sample to evaluate anywhere you want to "try" on a paint color and any possible coordinating hues you like.

It's temporary, so move it around and test location and lighting options.
So, how do you want to use this color in your homes? Interiors or Exteriors?
Now that you have all the secrets – are you excited about painting your home in Greek Villa?
Should there be any questions or thoughts, let me know in the comments below!