Choosing the best backsplash for cream cabinets can be overwhelming, and it doesn't help that it's one of the elements that you have to choose first.
You have to find the perfect color, material, and style to complement the exact tint of cream on your kitchen cabinets.
The possibilities may seem limited and endless at the same time.
Trust me, though:
You don't have to throw up your hands. There's a wide range of backsplash options that are stunning, suit everyone's taste, and never go out of style.
In this post, I'll give you a brief explanation of how cream is becoming the most popular kitchen cabinet color.
Then, I'll share my top picks for some of the best backsplashes for cream cabinets.
Let's dive in!
Cabinets in Cream Are the New White
When it comes to creating an immaculate, spacious, and bright kitchen, light colors are always a good choice, which is why many people recommend the ever-classic option of white cabinets.
In fact, according to the 2022 U.S. Houzz Kitchen Trends Study, 41% of the respondents chose or would choose white for their kitchen cabinets.
That said, white cabinets stain easily, may turn yellow over time, and can limit your color options for other elements in the kitchen.
As a result, cream-colored kitchen cabinets are becoming increasingly popular. Let me explain why.
Creams are endlessly inviting, timeless, and versatile. They add a little extra warmth and comfort to any space.
They're also neutral, giving your space the same effects of white without the downsides.
You can pair most cream well with just about any backsplash color and material, whether the cabinet is a super-subtle eggshell, a cool gray-beige, or an almost-yellow custard.
You can also pair it with a variety of backsplash styles to give your kitchen a modern chic, farmhouse, or contemporary look, among others.
Now:
It can be stressful to consider all of the backsplash options that can go with cream kitchen cabinets.
This stress is, in turn, detrimental to the environment that the color cream is intended to create.
For that reason, here are 15 of the best backsplash ideas for cream kitchen cabinets to give you a little bit of inspiration:
1. Marble Arabesque Mosaic Backsplash
The first backsplash idea to kickstart the list is a marble mosaic backsplash from Wayfair with an arabesque design.
The gray-tinged hue of Sherwin-Williams' Accessible Beige cabinets will complement this marble down-to-earth gray backsplash and give the gray a yellowish hue, making your kitchen both warm and soothing.
This minimalist combination of neutral subdued colors is anything but boring, though!
The arabesque design's delicately curved pattern exudes motion and rhythm, creating a simple yet lively backsplash.
What's more, because the marble mosaic is made from natural stone, each tile will uniquely vary in pattern and color.
2. Light Beige Travertine Tile Backsplash
Second on this list is the light beige travertine tile backsplash – see here at The Home Depot.
The tile has an unpolished and unglazed appearance with a neutral appeal, allowing it to add a sophisticated, rustic feel with a natural warmth to your kitchen.
Travertine, like marble mosaic, is made from natural stone, so it can have random shade and tone variations.
However, because of its light beige color and subtle pink hue, some people may find it hard to color match.
Luckily for you and me, the light beige travertine tiles match well with Benjamin Moore's Colonial Cream and give your kitchen a monochrome color palette.
This leaves you room to either follow the monochromatic color scheme or add a few subtle details that contrast with the backsplash and the cabinets.
Keep in mind, though, that travertine is highly porous, so it needs to be sealed every three to five years to prevent mold and mildew.
3. Ceramic White Subway Tile Backsplash
White is the original color for subway tiles because it can go with any color, shade, tint, or hue. It can give a kitchen an immaculate, clean vibe.
To tone down the brightness of the white backsplash, you can complement it with a vibrant shade of cream, such as Sherwin-Williams' Pineapple Cream.
The pineapple cream cabinets will give the ceramic white subway tile backsplash (see more here) a creamy, yellowish hue, while the white tiles will accentuate the cabinets.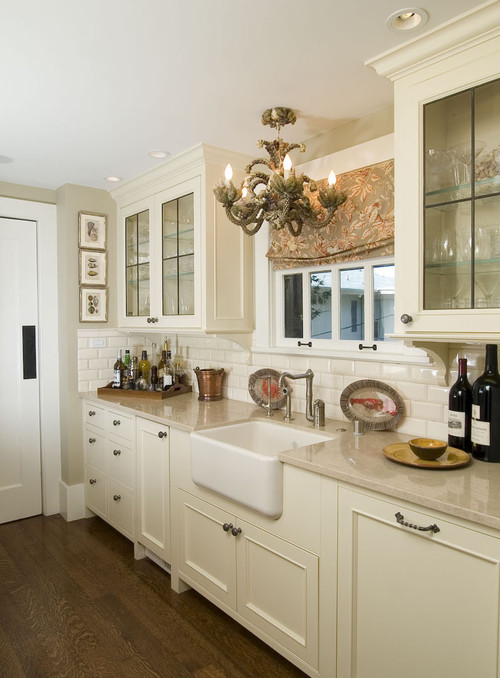 4. Glass Black Subway Tile Backsplash
A glass black subway tile backsplash in your kitchen is the modern touch you didn't realize you needed until now – Pick up at Wayfair.
Instead of using minimalistic black touches here and there, you can provide your kitchen with contrast by giving it a black backdrop.
In a neutral-colored kitchen, this chic, modern backsplash creates a beautiful contrast and depth that give your kitchen a focal point. It acts exactly as a statement piece.
With cream cabinets, you've got a stylish kitchen that's classic and timeless as well as warm and cozy.
Now, who said you can't have a modern vibe in a cream-colored kitchen?
5. Green Glazed Ceramic Subway Tile Backsplash
While green sounds unusual in the kitchen, green and cream are a classic kitchen combination.
I know:
This is the third subway tile entrance on the list, but there's a reason this type of backsplash is so popular.
This green glazed ceramic subway tile from The Home Depot contrasts beautifully with a cream color that has a subtle green hue, such as Benjamin Moore's Cream Silk.
This combination will give your kitchen a bold, earthy look that's reminiscent of nature.
When the natural daylight slips in the kitchen, you'll find yourself basking in the warmth of the cream and green colors.
6. Red Brick Backsplash
A red brick backsplash is another fantastic kitchen element that can be paired with cream cabinets.
Best of all:
Red brick matches with almost all shades of cream, so you can't go wrong with this one.
Combining cream cabinets and a red brick backsplash creates a traditional and warm feel in the kitchen.
This backsplash style can also add a rustic touch to the kitchen.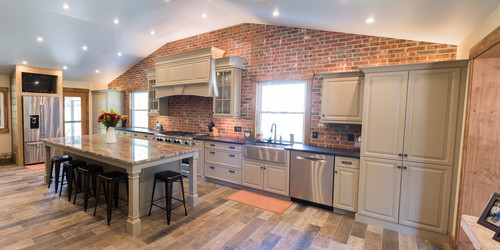 7. Beige Brick Backsplash
The beige brick backsplash, like the red brick, is a great match to cream cabinets.
On the other hand, it gives the kitchen a super-stylish yet farmhouse look.
In addition, the beige brick complements cream cabinets, so it creates a harmonious warmth to the kitchen.
Just remember that installing brick backsplashes can be difficult and costly if not done from the beginning.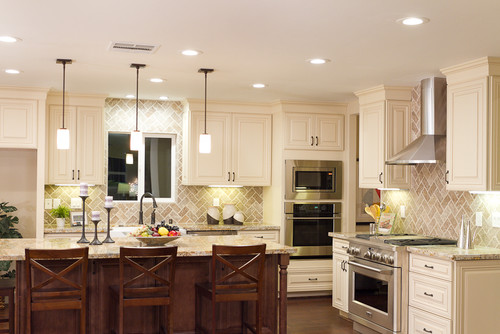 8. White Quartz Backsplash
If you want a minimalist, contemporary-looking kitchen, you should go for a white quartz backsplash as well as a white quartz countertop.
When combined with Benjamin Moore's Rich Cream, the kitchen's neutral colors blend harmoniously. You can even add subtle black or brass details to complete the kitchen's design.
9. Stainless Steel Tile Backsplash
A stainless steel backsplash is often placed right above the stove but never the entire wall, or you risk turning your kitchen into a kitchen station at a restaurant.
Best of all:
Off-white is neutral and clean-looking, which matches well with the metallic color of the stainless steel tile backsplash.
The cabinets' color can even make the backsplash look more hygienic.
10. Multicolored Diamond Tile with White Subway Tile Backsplash
Instead of adding one backsplash design, you can get creative and come up with your own design, such as adding a multicolored diamond above the stove.
The multicolored diamond against the white subway tiles backdrop creates a mesmerizing busy backsplash that adds some life to the otherwise simple, neutral kitchen.
It'll also give your kitchen a focal point and add visual interest that captures everyone's attention.
11. Spanish Tile Backsplash
In general, Spanish tile refers to square tiles with vibrant colors and designs – See at Wayfair now.
These tiles can have flowers, diamonds, or any kind of geometric design.
When used as a backsplash, Spanish tiles can give the kitchen an eye-catchy exotic style.
Because Spanish tiles are brightly colored and rich in design, they often go well with darker cream shades, such as Sherwin-Williams' Eaglet Beige.
12. Black Honeycomb Marble Mosaic Backsplash
The black honeycomb marble mosaic backsplash is one way to give your kitchen a classic and timeless look, transforming the neutral off-white kitchen into an immaculate and contemporary work of art.
You can add a little bit of gold detail to give the kitchen a more luxurious appeal.
A kitchen that's divided between neutral creams and black is guaranteed to attract attention.
13. Mirror Backsplash
Adding a mirror backsplash in your kitchen may sound straight out of a movie's set design.
However, mirror backsplashes are often recommended for small kitchens that don't receive much light.
Mirror backsplashes are technically mirrored glass with a smoky silvery or bronze tint.
These backsplashes will reflect light, improving lighting in your kitchen and creating the illusion of more space.
Because they're colorless, they'll merely reflect the cream color of the kitchen cabinets.
So, it's safe to say that they'll match each other well while adding a bit of style to the kitchen.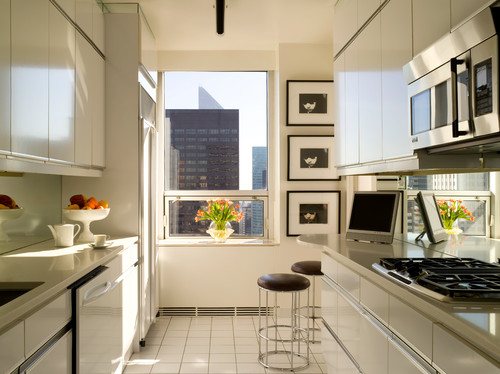 14. White Ceramic Brick Tile Backsplash
The white ceramic brick tile backsplash has a more immaculate look and texture than the previously-mentioned red and beige brick backsplashes.
While it still has a somewhat rustic texture, the white ceramic complements the lighter shades of cream to give the kitchen an elegant appeal.
15. Multicolored Gel Peel and Stick Mosaic Tile Backsplash
The multicolored gel peel and stick mosaic tile backsplash is an adhesive mosaic wall tile that's often used when renovating isn't an option.
There are also different style options if you don't want rectangular tiles, such as mosaic hexagon, honeycomb, and even penny-round tiles.
In Summary
There's no doubt that choosing the best backsplash for cream cabinets is a difficult process.
From classic white subway tiles to the more eccentric mirror backsplashes, there's just a seemingly endless ocean of possibilities.
Luckily, cream is a color that matches well with many other colors, so it's all a matter of your preference and style.
Still, I've tried to narrow the scope a bit for you with the above list and give you some ideas for your kitchen. Happy renovating!