Benjamin Moore Wind's Breath is a calming and pretty off-white paint color that will readily take your breath away (see what I did there?).
And just like with other intriguing 0ff-whites, this color can be equally confusing to work and play around with.
Yes, generally, whites like this can have a pink, purple, gray, beige, yellow, blue, or even a green undertone.
This paint color is a true off-white paint which means it has a dominant hidden undertone.
Yes, you're bound to notice quite a few!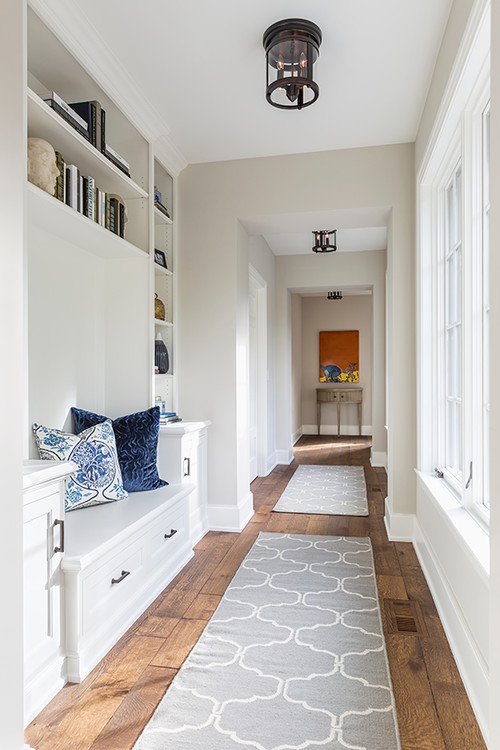 With this paint color on board, you can expect a warm gray or pink sneaky undertone.
And, with various lighting situations, you can expect a variant style and color theme.
That's why I always recommend to my E-Design and Color Consulting clients that they examine a paint sample in various angles, lighting and spaces.
With that, are you ready to learn more about what this paint color has to offer?
In this color review, I'll elaborate on the various do's and don'ts, how, where, and when of this paint color.
Plus, there are a few lovely example photos for you to take inspiration from!
So, it's time that you sip your favorite coffee and enjoy getting to know this BM white.
Benjamin Moore Wind's Breath OC-24 Details and Specifications
Color theory and specifications are quite distinctive from color to color and category to the category!
After all, there is something that differs this particular off-white from all of the other notable ones, right?
So, when choosing a paint color – you must understand the underlying theories and facts that are related to each one of them.
And that will truly help you understand what that specific color is composed of.
So, let's check out the idea of Light Reflectance Values or the LRVs that determine how light or dark the paint color is.
Here, in this case, the LRV of Benjamin Moore Wind's Breath is 69.59.
And that means it falls on the lighter end of the scale – hence, can be used as bases and even neutrals!
(Remember, the greater the value, the lighter the paint – on a scale of 0-100)
Secondly, other important associated terms are the RGB and the HEX Values.
Red = 221
Green = 217
Blue = 205
Most often, it's best to sample a paint color in your home to confirm it's going to work how you expect. You can do this easily using Samplize. Grab one now for Wind's Breath!
HEX Value = #DED9CD
Since we have discussed the technical and scientific information, let's get started with the practical aspects of this off-white Benjamin Moore paint.
How Does This Color Feel in a Space?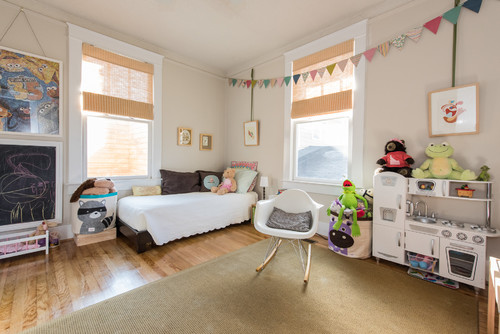 Benjamin Moore Wind's Breath is a calming off-white paint that will make your space feel warm, relaxing, and rejuvenating.
This soft and cozy color appears like a true neutral that you would want in any corner of your home.
Moreover, if you're struggling with small square footage issues, this color will notably make your space feel larger and enhanced.
Yes, painting this color on all the walls is the ultimate key.
Especially for colder regions and Scandinavian interior design styles – I highly recommend incorporating this warm color to feel comfortable and homely.
How Does Light Affect the Color?
View this post on Instagram
Light will always have a major role to play here!
First and foremost, ample penetrating natural light can wash away the undertones of this paint color.
For instance, a room with too much light can feel quite bright with washed undertones – hence, kinda like a true white paint.
Moreover, another aspect that you must consider is the compass directions.
You can try a little exercise here! Examine a white paint color swatch in various compass directions and you'd observe how different it appears to be.
For instance, in the north-facing rooms, this color will feel quite cool and crisp with majorly gray undertones dominating.
On the other hand, in the west and south-facing rooms, this paint color will appear slightly pink or warm gray.
Other than that, you always have the opportunity to play with artificial lighting!
You can mix and match the warm white and cool white lighting based on the task activities and ambiance.
Again, I really recommend you try out some wall samples because colors will look different in every location.
What are the Best Coordinating Colors?
It's important that you pair Benjamin Moore Wind's Breath cohesively to truly feel the beauty of this color.
And that is why you have to be careful when choosing complementary color schemes!
After all, who doesn't like the feel of a well-complementary palette, right?
So, analyze this color scheme and the whole idea of pairing colors!
You can best pair this off-white hue with true whites (in the case of trims etc), blues, mauves, black, grays, taupes, and greiges for a monochromatic touch!
You can also incorporate any of the metallic tints as accents here – like nickel, gold, or chrome!
Furthermore, you can either choose from a monochromatic or a contrasting color palette – depending upon the interior design style and your preference.
So, here are a few of the colors I would recommend for a monochromatic palette!
CC-490 Stone Hearth
CC-500 Ranchwood
CC-510 Buckhorn
On the other hand, here are a few of the colors I would recommend for a contrasting color palette!
CC-690 Piedmont Gray
AF-185 Venetian Portico
OC-65 Chantilly Lace – see my review here!
For your ceilings, trims, and moldings – you can use BM Chantilly Lace itself as it is a true white paint and will further protrude the original adjacent hue.
BM Wind's Breath Vs Similar Colors
Looking for similar colors can be equally challenging!
However, there might be a slight alteration in the undertones or the reflectivity in the similar colors.
So, what is it that makes you want to replace BM Wind's Breath?
Is it the undertones or the reflectivity?
Well, in either of the cases, let me tell you – it's difficult to find something exactly the same.
So, here are the two colors closely related to Wind's Breath: OC-24 Fog Mist and SW 7570 Egret White.
Let's see how they differ.
Wind's Breath Vs Fog Mist
These two off-white paints share a ton of similarities.
Benjamin Moore Fog Mist is a soft and cozy off-white paint that will make your space feel extra welcoming and delightful.
With an LRV of 70.16 – this paint will feel equally light and airy.
Moreover, this greige paint will always make a great statement in your space.
Find out what works best in your home's environment and lighting by putting up some temporary samples and observe – Get some wall samples from Samplize.
Wind's Breath Vs Egret White
Sherwin Williams Egret White is another off-white that you can have an eye on.
With an LRV of 70 – this color feels equally light and airy!
Especially for interior design styles like Japandi, contemporary, and modern farmhouse – this color is something to consider.
Order a wall-stick sample of Wind's Breath here to help you compare these colors in your own space.
Where to Use Wind's Breath?
View this post on Instagram
Benjamin Moore Wind's Breath is a beautiful off-white paint that will make a great backdrop and a soothing statement in every corner.
Especially on the kitchen cabinets, exterior walls and trims, interior walls, furniture frames, and built-in cabinetry – this color is bound to play flawless.
Let's see where and how to incorporate it into your home.
Wind's Breath in Living and Dining Rooms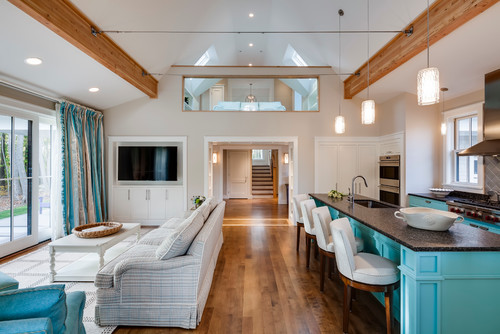 In the living and dining room, this off-white color can be used on all the walls.
You can further pair it with crisp white on the ceilings, trims, and moldings. Moreover, if you're craving a striking contrast – consider adding shades of blue, green, and mauve to the artwork and throw pillows.
And do you know the best part? Well, this color plays seamlessly with wooden textures and wooden frames on the furniture.
Lastly, in the case of a fireplace, don't hold back from using natural stone cladding to exhibit a transitional appeal.
Using in Bedrooms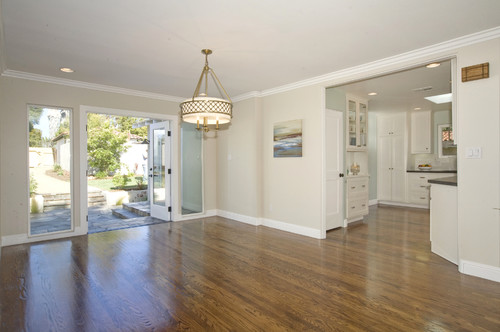 In the bedrooms, I would definitely recommend this paint color.
You can either paint all the walls or simply use it as a base with blue, taupe, or green accent.
Choose a furniture frame with either satin brass or natural wood!
Moreover, don't shy from splashing ample faux fur on the rugs, throw pillows, and blankets.
Wind's Breath in Kitchens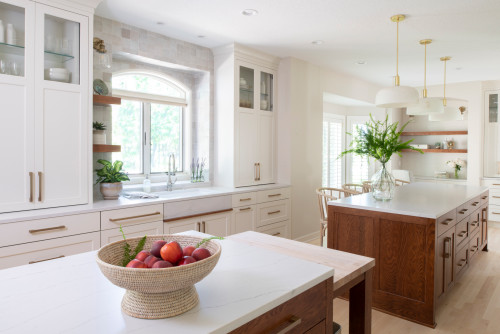 This color on the cabinets will never disappoint you.
Undoubtedly, it will offer a great experience and make your kitchen look light, welcoming, and bright.
You can choose wooden textured floating shelves, hexagonal glossy white or bold teal or green backsplash tiles, and golden or bronze pull handles for drawers.
You can also infuse color by splashing some hues like greens and blues on the lower cabinets (blue or sage green is a great option)!
This paint color will make a great transitional-styled kitchen!
Using on Exteriors
Whether you have a Craftsman, Ranch-style, Mid-Century Modern, Contemporary, or Modern style, this off-white paint will never disappoint you!
You can either add blacks and darker grays or even a tinge of wooden-themed textures as an accent or go vice versa for the trims, moldings, and door and window frames.
For the entryway door – choose bold blue or cherry red!
In the case of columns on the patio and porch – you can use natural stone wainscotting to add an authentic detailed character to this facade!
My Favorite Way to Sample Colors
I can't say enough about how easy it is to use a peel-and-stick paint sample to give a color like Wind's Breath a try. The absolute best way is to order a sample from Samplize.
You can check it out right on your wall and move it around. Also, try it along with a another couple of colors to test pairing possibilities.
This is WAY easier than having to open up little cans of paint and rolling/brushing on. Forget the mess and use these helpful temporary sample squares to test location, lighting options, etc.
So, how do you want to use this color in your homes? Interiors or Exteriors?
Now that you've got all this info – are you excited about painting your home in Wind's Breath?
Should there be any questions or thoughts, let us know in the comments below!