I can say that Benjamin Moore Paper White perfectly shares synonyms with versatility, elegance, and sophistication.
It is not a true white – but rather a notable paint color from BM's off-white collection that tends to go a balanced path.
It can be classified as a very light gray tone.
What's more is this color is neither too cool nor too warm – thus, giving its users immense flexibility!
If you're confused about following a certain path (warm or cool), you can simply choose this color as it will always feel balanced and stable.
Also, you would be surprised to know that this color is totally a chameleon!
It might feel a tinge of green and gray at certain times of the day whereas yellow and beige at some points!
Of course, natural lighting has a lot to do here (don't worry, I will discuss that later)!
For the moment, this crisp and sharp gray-base, off-white paint color is bound to do wonders in your home, undoubtedly!
Furthermore, you can also link this color with terms such as tranquility and serenity!
So, are you looking forward to trying a fresh coat of this gray paint color in your home?
Trust me, with the accurate background information and tips and tricks – you would not regret incorporating this color.
So, let's get started!
Benjamin Moore Paper White OC-55 Details and Specifications
Since I already mentioned that this color might flaunt off various faces, you must read the underlying details and specifications to make informed decisions.
Yes, this section is totally dedicated to that!
And you also must experiment with this color against a true white so you know exactly what the undertones are!
So, first and foremost, let me introduce you to the concept of Light Reflectance Values or the LRV's that determine how light or dark the paint color is.
You can easily find that value at the end of your Benjamin Moore paint swatch or even the website!
Here, in this case, the LRV of Benjamin Moore Paper White is 75.89.
And that means it falls on the lighter end of the scale – hence, clearly a recommendation for bases and neutrals!
(Remember, Greater the value, lighter the paint – on a scale of 1-100)
If you're not quite sure how this color will work in your home, you should definitely try it on for size by ordering a peel-and-stick sample from Samplize.
Secondly, other important associated terms are the RGB and the HEX Values.
Red = 224
Green = 226
Blue = 220
HEX Value = #e0e2dc
Now that is enough with the technical and scientific information, let's get started with the practical aspects of this grayish Benjamin Moore paint.
How Does This Color Feel in Space?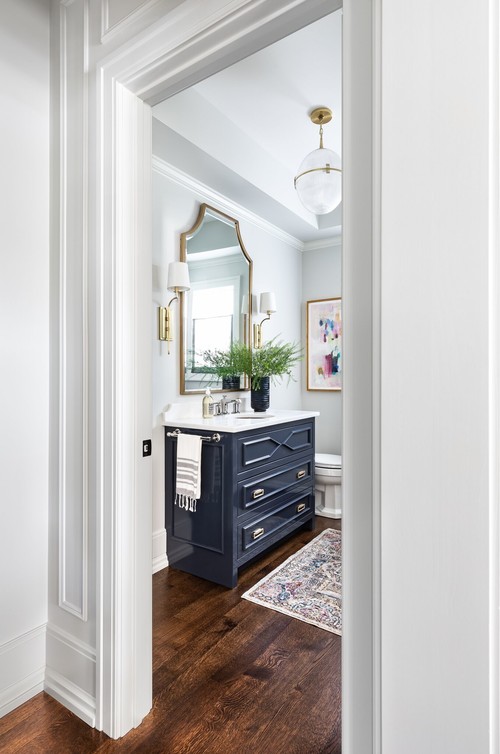 Benjamin Moore Paper White is quite likely to feel calm, crisp, balanced, and even slightly cool.
With a slightly gray base, this color can be very tricky sometimes.
For example, if you plan to use it in a room with ample natural light – the color is bound to feel washed off from the walls!
Yes, making your wall look white.
Furthermore, due to high reflectivity, this color can be used in smaller spaces to create an illusion of an airy and large room.
You can also paint all your walls in this particular color and pair it opposite true white to analyze the true hue!
How Does Light Affect the Color?
Light always has a major role to play here!
So, in the case of ample natural light – this color is bound to feel extra light and refreshing!
And at the same time, your walls are bound to look washed off – reflecting a white-like background!
On the other hand, in the case of no natural light – this color will still feel crisp, calm and laid back.
So, regardless of the situation – this paint color is good to go if you are looking to opt for a balanced look.
Furthermore, you can always add artificial lighting in the form of wall sconces, chandeliers, and pendant lights to streamline the appearance.
I recommend choosing warmer white saturated light with this paint color.
One way to help find out how this color looks in your home is to buy some temporary wall samples and put them up wherever you want to paint. You can get these easily from Samplize.
What are the Best Coordinating Colors?
Benjamin Moore Paper White will further look pretty and bright if you pair and coordinate it with perfect opposites.
You have to be careful when choosing complementary color schemes!
Of course, you don't want to mess up with your space, right?
So, analyze this color scheme and the whole idea of pairing colors!
Remember to note the saturation and reflectivity values of all the complementary colors.
So, you can best pair this hue with true whites (in the case of trims etc), blues, mauves, mustards, black, grays, taupes, and even browns and greiges!
Well, literally – you can pair any color with this off-white paint!
You can either choose from a monochromatic or a contrasting color palette – depending upon the interior design style and your preference.
So, here are a few of the colors I would recommend for a monochromatic palette!
2121-50 Iced Cube Silver
2121-30 Pewter
2121-10 Gray
On the other hand, here are a few of the colors I would recommend for a contrasting color palette!
For your ceilings, trims, and moldings – you can use BM Chantilly Lace as it is a true white paint and will further protrude the original adjacent hue.
BM Paper White Vs Similar Colors
BM Paper White is an extremely beautiful color!
Even though there isn't a need to look for alternatives – however, I would still recommend paint colors that are closely related.
Although, you need to ensure that they may either differ in reflectivity or the undertones.
So, the two colors closely related are OC-53 Horizon and 863 Pearl Gray.
Let's see how they differ.
Paper White Vs Horizon
Not as bright and crisp as BM Paper White, BM Horizon is comparatively a slightly darker shade.
With an LRV of 73.96, this color can too be categorized under the off-whites.
Falling on the creamier end of the scale, the undertones are what mainly differ between the two paint colors.
To see how these look in your home, get some large peel-and-stick samples and try on your walls with different lighting sources.
Paper White Vs Pearl Gray
With slightly green undertones, BM Pearl Gray is all about greenish-grays that make your home feel refreshed and new!
It has an LRV of 74.85 – a perfect tone for bases and even neutrals!
You can best pair it with true whites and blues to create a refined overall palette.
To truly experience and compare these colors in real-time be sure to buy some stick-on samples and test them in your home.
One other, more cooler toned white from BM to check out is BM Super White. It's a touch lighter, and feels even more like a true white.
Where to Use Paper White?
Benjamin Moore Paper White can be used anywhere and everywhere in your home.
Whether it is the hallways, entryway doors, living and dining rooms, bedrooms, and kitchens!
And also, it can be used on doors and windows, trims, and moldings if you are opting for darker colors on the walls.
Especially for the interior design styles such as Modern, Contemporary, Modern Farmhouse, Mid-Century Modern, Industrial, Coastal, and the Caribbean, this color would be good to go!
Let's see where and how to incorporate it in your home.
Paper White in Living and Dining Rooms
Benjamin Moore Paper White can be added as a base or a neutral in your living and dining spaces.
When using opposite bolder shades, this color will further add depth and texture.
You can paint all the walls in this specific color and pair it with true whites on trims, wooden and metal furniture, and linen and cotton upholstery.
This color further offers you a wide array of complementary colors to pair with!
Using in Bedrooms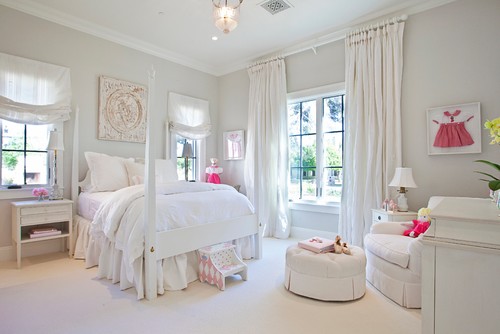 Bedrooms are a great place to use Benjamin Moore Paper White!
You can either paint all the walls in this color and let certain accent tones play dominant!
In terms of mixing and matching metals, you can choose nickel, brass, or even chrome-finished lighting fixtures.
Also, you can choose darker upholstery and bed linens with this paint color!
Paper White in Kitchens
Definitely, a recommendation if you like lighter-toned kitchens.
You can definitely pair it with a darker tone on the lower cabinets!
So, definitely give it a try – and pair it with nickel and brass pull handles, white veined marble countertop, and white or gray backsplash tiles to create a seamless and beautiful backdrop.
In the case of pendant lights, use nickel instead!
Using on Exteriors
Whether you have a Ranch-style, Mid-Century Modern, Coastal, Cape-Cod, or Modern, this paint on the exteriors is bound to add a stunning touch.
You can either add blacks and darker grays or even a tinge of contrasting black as an accent or go vice versa for the trims, moldings, and door and window frames.
In the case of columns on the patio and porch – you can use natural stone wainscotting to add a detailed character to this facade!
Best Way to Try Out This Color?

I have to share one of my favorite tips when testing out colors like Paper White – go and order a peel-and-stick sample from Samplize.

This company has an amazing way to sample colors super conveniently with real paint.

Simply stick up a temporary square sample of it and avoid the whole paint and roller mess (at least until you're ready!).

For a small amount of money you get a giant "sticker" you can place up in the space you're painting. You can also try out coordinating colors as well. It's great!
So, how do you want to use this color in your homes? Interiors or Exteriors?
Now that you're armed with some great knowledge – are you excited about using BM Paper White in your home? You can also learn about other BM white paints in my guide!
Should there be any questions or thoughts, let us know in the comments below!