When you're renovating your home, the kitchen area can be particularly hard to deal with.
I think it's because the kitchen is where the slightest changes can have a major impact.
You're left wondering what color to paint your walls, whether to do two-toned cabinets or if you even need to replace your drawer handles.
I've been there, and let me tell you that there's a simple way to go at this.
For me, I like to center all my choices around the countertop color.
Everything else should fall into place once you have this base. Most people find that brown granite is a classic go-to.
So, what color paint goes with brown granite?
You can pick from white, tan, blue, taupe, green, yellow, red, pink, and even gray. Let's see how!
What Color Paint Goes with Brown Granite?
Brown granite is one of the most common countertops all over the world. After all, it's a durable, elegant, and easy-to-clean option.
Lighter shades, like tan browns, are very resistant to heat, scratches, and stains, making them stable in kitchen interior design.
These also work for a wider variety of kitchen colors and can make a small countertop look larger.
Yet, some people might prefer going for darker earth tones.
I get it, though.
The specks, swirls, and streak patterns of those darker granites look very aesthetically appealing.
I mean, who wouldn't want a rich coffee brown or an enchanting caramel swirl for a kitchen countertop?
Regardless of your preferred shade of brown granite, you can always make the most out of it by picking the right cabinetry.
Let's take a look at some colors that can make your brown granite pop:
1. White Dove
Call me old-fashioned, but I like the timeless touch of white paint with a blended tan and brown granite countertop.
And you know what?
It works. You can get a classy look by painting your cabinetry with a warm white like Benjamin Moore White Dove OC-17.
View this post on Instagram
Blue and gold accents can tie up the white cabinets with brown granite nicely to create a cozy cottage vibe.
2. Fire Weed Red
If you want something bold and daring, you might be interested in Sherwin-Williams SW 6328 Fire Weed paint.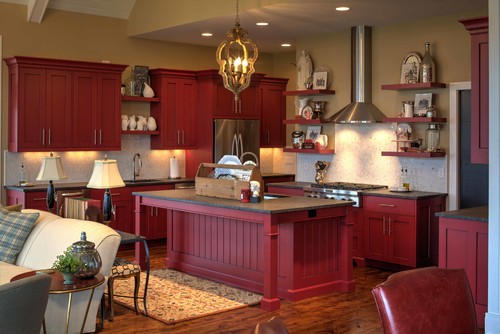 It works particularly well in a large, open kitchen with dark brown granite countertops.
With soft lighting and golden decals, you can pull this shade together without it being over-the-top.
Here's a pro-tip:
Use a glaze finish to keep the red cabinets from looking muddy and grimy.
3. Frittata Yellow
Yellow cabinetry works particularly well if you have light brown granite countertops and you don't want to dim them out with dark paint.
View this post on Instagram
Here's a little trick:
If you want to keep things calm and neutral, go for a warm shade of white wall paint. However, for a quirky look, try using patterned wallpaper.
Both the Frittata and Corn Stalk yellow paints by Bher are great options to replicate this kind of look.
4. Naval Blue
Since it's neutral, the Sherwin-Williams SW 6244 Naval can look brighter or dimmer depending on the atmosphere. (Learn more on this color here!)
If you have a west-facing kitchen, the warm light will make this Naval shade very bright and royal-like.
To make things even more classy, I'd go for gold touches in the drawer handles and sink accessories.
5. Setting Plaster Pink
Looking for pink cabinetry that doesn't look immature? The Setting Plaster No.231 by Farrow and Ball is just what you need!
View this post on Instagram
It's a pale salmon-like shade of pink. This way, it blends nicely in a kitchen, bathroom, or even laundry room without looking too bold or distracting.
Not a fan of pink cabinets?
You can color your accent walls with this pale pink and keep both the granite and the cabinets dark.
6. Willow Tree Yellow-Green
Nothing says ready to cook than earthy green. It's a refreshing, cozy, and unique way to spice up your kitchen.
To get this neat green finish, I'd recommend using Willow Tree SW 7741 by Sherwin-Williams.
There's a small catch, though.
This earthy shade of green would work best with a light brown countertop, almost tan.
A dark brown slab of granite might make the whole kitchen look a bit muddy.
In fact if you like this type of green but want it a touch lighter, then check out Contented, also by SW.
7. Shelburne Buff
Whenever someone asks me for tips on creating the perfect vintage kitchen, I recommend a light warm color like Shelburne Buff HC-28 by Benjamin Moore.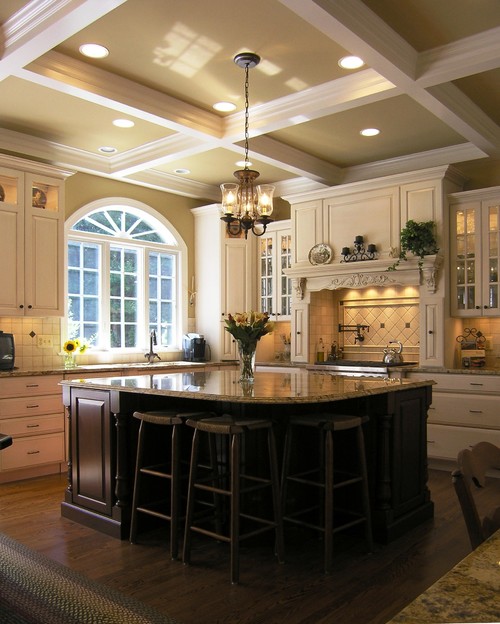 When used for cabinets, it pairs well with most brown kitchen countertops, whether hardwood or granite. As a plus, you can use it for the walls.
If you want a bit of variation between trims, cabinets, and walls, I'd recommend Blonde SW 6128 and Mountain Peak White OC-121.
8. Cyberspace Gray
One of my favorite contemporary kitchen colors to go with brown granite is Sherwin-Williams SW 7076 Cyberspace.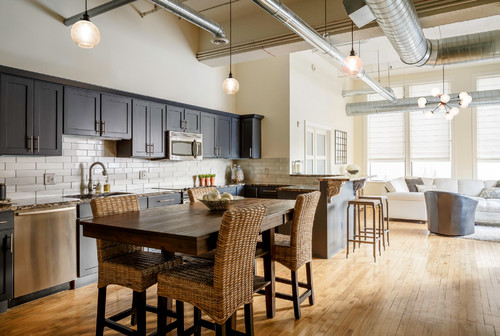 I love pairing these dark grays with a warm shade of white, like shell white, for the walls to make your farmhouse kitchen cabinets pop.
This looks well if you have a mosaic-looking brown granite. It blends the warmness of the walls with the depth in the cabinets.
9. Cityscape Gray
If the Cyberspace Gray is overwhelmingly dark for your taste, you can swap it for a Cityscape SW 7067 by Sherwin-Williams.
It has a similar consistency and matte finish but gives the kitchen a lighter reflection.
That's not all.
When it comes to depth, the Cityscape offers plenty of definition to the cabinets without dimming the room out.
This way, you can enjoy the best of both worlds!
10. Tan Cardboard
For walls, I always find that Cardboard SW 6124 by Sherwin-Williams is a perfect fit for brown granite with a lot of movement.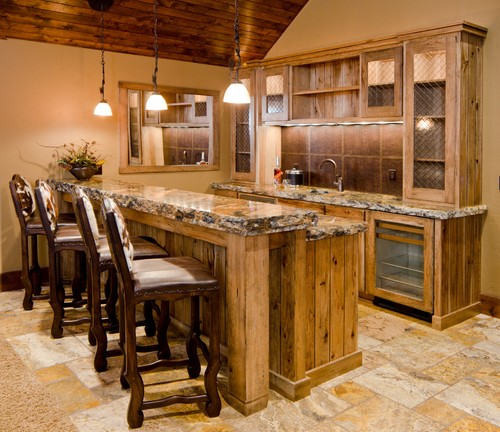 The striped back appearance will help the busy granite get the attention it deserves.
After all, you probably paid big bucks for this marvelous countertop. It only makes sense to let it shine!
I'd pair this wall paint with light tans all over with a splash of teal blue here and there to break the monochromatic look.
11. Hague Blue
For people seeking a sense of grandeur in every nook and cranny, Hague Blue by Farrow and Ball is a great choice.
You might be under the impression that dark blue and brown granite would clash and make the room feel dim. (I was too!)
Get this:
Hague Blue has a warm green undertone that works perfectly in east-facing kitchens with soft natural sunlight.
12. Incense Stick Brown
You can't say white cabinets with brown granite without imagining a nice brown centerpiece.
In this case, I always picture it in Benjamin Moore's Incense Stick!
You might find it more taupe than true brown, depending on the original wood stain, but that's okay since it doesn't clash with dark brown granite countertops.
That's not all.
I'd also use this paint for an isle with a mixed gray and brown countertop to subdue the movement a bit.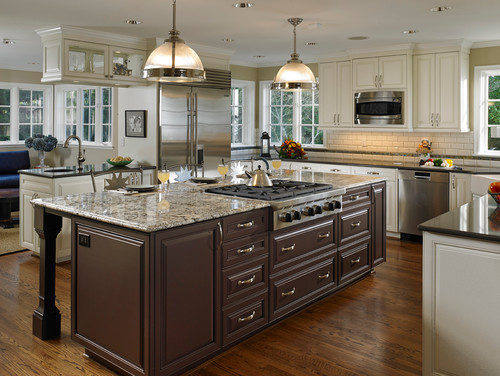 13. Wolf Gray
A modern twist on gray cabinetry is Benjamin Moore 2127-40 Wolf Gray, especially with a pale brown granite countertop.
The intense blue undertones make this shade very soothing, and it brings rustic, farmhouse athletics that I love seeing in kitchens!
But hold up a minute.
To keep things from looking too muted, I'd recommend going for a few bold accents in Yosemite Yellow or Brick Red.
14. Moroccan Blue
From cozy art deco styles to oriental vibes, the Moroccan Blue paint by Valspar has got your back!
It's a mix of sea greens in a rich blue coat that's almost denim-like.
Don't you love how edgy it looks with all those different textures?
You can mix in hardwood, dark granite, brick wall, stainless steel, and even tiles without the slightest clashing.
15. Beacon Hill Damask
If I've ever seen a mature shade of yellow it's the Beacon Hill Damask HC-2 by Benjamin Moore.
The boldness of the yellow pigment is held back by a subtle trace of green undertones. It truly feels like a day on the beach!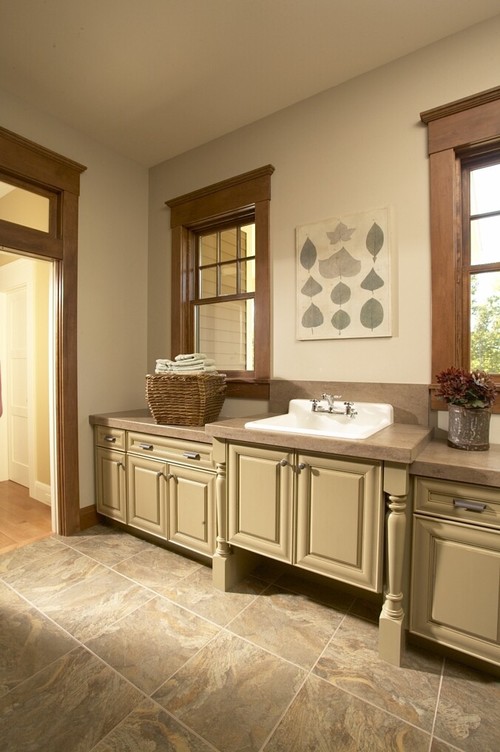 Here's the best part:
The Beacon Hill Damask paint works nicely for both dark and medium browns. It can also work for bathrooms, not just kitchen cabinetry.
Final Thoughts
To wrap up, brown granite is one of the most versatile colors you can use in a kitchen.
What color paint goes with brown granite is all about how warm or cool you want your kitchen to look.
All in all, I always recommend taking your time with the accents to make the most out of your paint job!