Named after the pale color of the interior flesh of a peach fruit, this color category throws light upon delicate, feminine, and soft vibes.
So, whether it's that dreamy nail paint color or the pencil pants – it's quite likely for gals (vs guys!) to be attracted to this color depending on where it's used.
And here's why…
Well, this color absolutely plays soothing, subtle, and extremely pretty when applied to soft materials, easy touches and light touches around the house.
Also pretty much a trend – this shade can be categorized under the 'pastels' to reflect a pure serene and tranquil environment!
So, why is everyone crushing over this 'peachy' tone and what does it truly has to offer?
Belonging to the family of yellows and oranges, peach extracts a soft and warm feeling that is bound to make the viewer feel cozy and comfortable.
Additionally, this color has a great potential to work splendidly in the home decor industry.
If you try to locate this color on the color wheel – you will find it somewhere between the yellows and oranges!
And in case you're wondering about the composition of this vivid color from the feminine palette – well, it's simply an amalgamation of red and orange – or red and yellow for a certain proportion.
Yes! However, you have to be quite careful and thoughtful once into the design process.
Don't worry!
I am here to spill all the peachy beans – or should I say, secrets to how, when, and where you should use this paint color in your home!
Without a delay, let's get started!
Peach Color – The Pastel Like None Other
Before we move ahead with what this color has to offer, let's first discuss the basic specifications and details of the peach color category!
Remember, every category is associated with certain underlying theories and facts that make it equally unique and distinctive!
After all, there is something that differs the peach from coral, pinks, and yellows, right?
Whether it's the undertones or the certain RGB values that describe what the color is composed of, here are certain terminologies to look upon!
Also note, light reflectance values can differ for each typology and face!
Pantone Code= 7499 C
Cyan= 0%
Magenta= 10%
Yellow= 29%
Black= 0%
Red= 100%
Green= 89.8%
Blue= 70.6%
HEX Code= #ffe5b4
Apart from proving to be such a pretty color, this category also comes with its own baggage of benefits and repercussions – so, beware and think along!
Don't get confused – these percentages and values are just to ensure the correct details and help you in the classification of the color and how it is truly made!
The Two Faces of Peach – Joyous and Delightful
Every color is associated with a various list of colors that are similar to it or could be considered the actual color – depending upon the variance in the undertones, proportion of mixes, and reflectivity.
Further elaborating, these faces can be categorized as the tints, tones, and shades of that particular color.
Like I already mentioned about the variety, you must know that the peach category is associated with two major faces or color varieties.
Further diving into the details let's discuss some very common color terms here!
'Tones' are basically the results formed by adding gray to a peach paint color!
The result is a more muted and pastel-like shade!
'Tints' on the other hand are the amalgamation of white with a peach paint color.
The result is something like lighter oranges or off-whites with orange/yellow undertones.
Whereas 'Shades' are the results formed by adding some black to peach paint color. The result is quite a few shades of peach.
The result is quite dark – something like dark orange or rust!
Further discussing these details and faces – the color peach is best known for two major tones as follows.
Peach Puff
A perfect tone of pale orange yellow, this shade is something to have an eye on!
It perfectly adds a soothing and tranquilizing vibe – and at the same time, a perfect accent on your decorative accessories.
Lastly, you must ensure to use this color in a very little amount – since too much of it can truly get overwhelming!
Peach Crayola
Comparatively deeper and darker, peach crayola is a bolder tone that makes a great statement in your home.
With quite a notable orange and pink undertones, this color category is not just a trend but also a great hue to be incorporated in the home.
Also, it is best to pair this color with blues and purples.
Similar Colors
Now that we have discussed the two notable faces of this beautiful color category (peach) – let's get talking about the similar colors that are closely related to it.
So, the first of them is Apricot!
Quite light, warm, cozy, and almost a pastel – this particular tone of peach feels like a pastel that is a must use in the decorative accessories.
So, you can absolutely blend this color with darker blues and even mauves and purples.
On the other hand, Gold while not necessarily a peach shade is a similar color to peach.
It is dark, bold, chic, and quite sleek.
In this case, you might want to use this tone as an accent – maybe on the furniture legs and furniture frames.
Next in the line is the color Banana Mania that is light and pretty at the same time.
I recommend incorporating this color on your walls as a base or accent!
You can best pair it with whites and darker blues to further add contrast and movement in your room.
Lastly, goldenrod is a saturated tone of peach that aligns more towards the yellows and mustards.
This color should be carefully used in the home decor industry – of course, due to the fact that it exhibits uncomforting vibes when used immensely!
Coordinating Colors
Choosing color combinations for this specific category is quite interesting!
Well, here I am going to help you with a perfectly balanced color palette!
So, regardless of the different peachy color options, what will definitely complement are blues, greens, browns, grays, and whites (whether true, creamy, or crisp)!
Furthermore, you can always play with exposed wooden textures and exposed brick work on the wall.
In terms of metal accents – choose golden-tints, matte-black, and even bronze or brass finish!
A Soft Touch of Joy
With its unique combination of orange, yellow, and white peach brings us an association with longevity and the desire for a happy and healthy life.
The white's neutrality softens the otherwise warm and vivid yellow and orange.
Peach is a rather reassuring color due to its natural origins.
Peach promotes joy in all aspects of life, as well as the fulfillment that comes from being at peace with our health, work, love, and relationships.
It, too, evokes a sensation of excitement, but not as exuberantly as the color orange.
Peach is a well-known hue for communication; it also has a strong impact on good manners and serenity.
It is a color that protects you by not allowing you to descend into grief or disappointment.
This color exudes a strong sense of optimism, constantly reviving us even in the darkest of times.
The wonderful and energizing properties of the color peach should be used on a daily basis, even if it is a tiny thing such as a cup or a pen that we use in our daily duties.
What Came First? The Fruit or the Color?
Peaches are indigenous to northwest China, where they originated.
Archaeologists think that peaches were initially cultivated in China around the Yangzi River, where they discovered fossilized peach stones dating back to 6000 BC.
Peaches have been mentioned in Chinese texts as back to the 10th century, according to historians.
The peach blossom was especially important in Chinese culture because it was considered to ward off bad spirits and offer vigor.
The hue peach signifies longevity in Chinese culture because The Peach Tree of Immortality, long assumed to reside on a hillside somewhere in western China's Tian Shan, and which blooms only once every 3,000 years, is a fundamental idea in the Taoist religion's mythology.
Hence, the color's association with longevity and happiness.
In 1558, the color peach was first used as a color name.
The rich tone of peach known as peach in Crayola crayons was formerly known as flesh, but the name was changed to peach in 1962, presumably to honor the Civil Rights Movement and to eliminate the obvious exclusion of many races.
Peach – A Delicacy
The peach hue has bombarded the interior design industry with its charm'
Incorporating peach in your home will certainly lead to a fresh and positive outlook on life as it induces warmth.
2019 away Addidas kit of the football club Manchester United is also in peach color which is inspired by the color of the soccer news section of the Manchester Evening News newspaper.
The cosmetic brand Avène's logo is the shade of a slightly darker peach hue.
Peach background for the logo of Financial Times; an international daily newspaper. It is also one of the oldest financial publications.
QVC; a leading shopping channel's rebranded logo incorporates the color peach in it. The color teal is used for television while peach is used for the web version.
The soft hues were mainly used to attract the female audience.
The French luxury fashion house Chloé too, adorns a sweet peach logo along with a peach hue on their website.
Using Peach In Home Décor
Peach is quite a beautiful paint to be used in the home decor industry!
For obvious reasons, this pastel is absolutely mindblowing – but on the other hand, you have to be very careful around incorporating it in your home.
Especially for Interior design styles like Scandinavian, Modern, and Eclectic – this color is good to go!
Due to its utmost bright and charismatic character, this color plays a great role everywhere in the home – living and dining room, kid's room, nursery, bedrooms, and bathrooms.
So, firstly, I would highly recommend this paint on the accent walls (and especially when wall paneling is a focal), your accent furniture pieces, and could even be on your focal accessories such as throw pillows and vases or urns!
However, on a better side, you must use this color very carefully! Because too much of this paint may feel quite uninviting.
If you are looking for real-time examples from the famous paint manufacturers – I am going to enlist two examples from Sherwin Williams and Benjamin Moore!
Flattering Peach by Sherwin Williams and Intense Peach by Benjamin Moore are notable examples.
However, know that there may be some notable differences here as well.
For instance, Sherwin Williams Flattering Peach is comparatively muted, subtle, and quite a lighter-toned pastel that feels yellow in the undertones.
On the other hand, Benjamin Moore Intense Peach is a tone of peach that falls along the line of orange tones.
Although, they both are quite different from each other!
Peach on Walls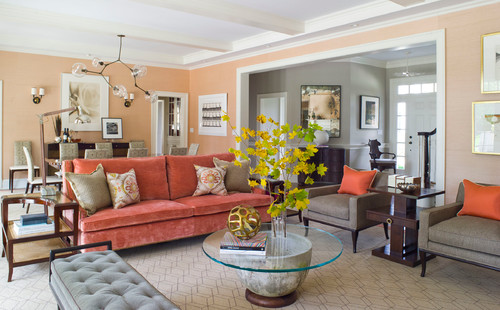 Quite a pretty sight, right?
Whether it is the kids room, nursery, or the living room – peach on walls is quite delightful, exciting, and eye-catchy!
You can best pair it with pure whites on the trims and moldings along with door and window frames to truly experience this color.
With the lighter shade of peach, you can consider painting all the walls.
Else, pair it with off-whites and blues as accents and neutrals.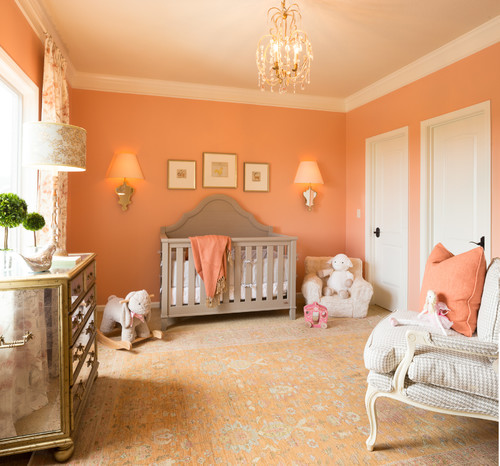 Have a look at this pretty children's room! Isn't it totally bliss?
On the other hand, you can even consider this color on the wallpaper.
Even monochromes play flawless here!
Peach on Furniture – Eclectic and Vivid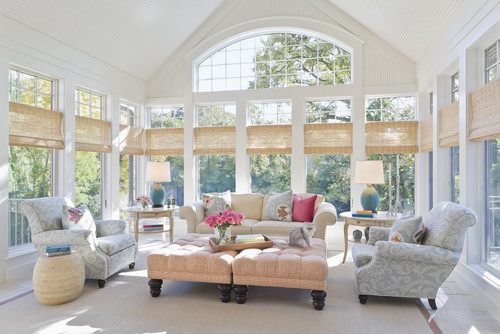 It is quite a possibility that you don't prefer peach on the walls – and that is when you need to introduce the color on the furniture.
Pair it with off-white linen upholstery and a couple of peach-toned linens for your focal furniture.
For instance, this beautiful ottoman plays a striking focal point here!
This enlightening color will definitely spark a sense of joy in your room.
Peach on Accessories – Details That Matter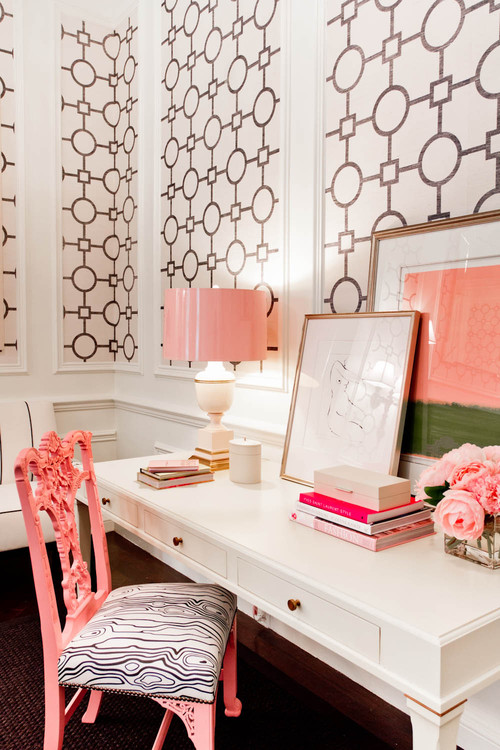 This particular tone of peach plays tremendously well on your accessories – but not quite a lot on the walls.
So, it's time to have an eye for detail in your home.
It's quite a possibility that you don't end up using this color on your walls and furniture.
And that is when you can best make use of this color through accessories – curtains, rugs, lamps, and throw pillows.
So, let's check out some of these pieces that would make a lovely peach accent in your home.
Throw pillows have the potential to splash colors in your space in the most subtle way. Check out this comfy, smooth peach pillow on Wayfair.
And do you know what the best part about incorporating these throw pillows is?
Well, you get to refresh your homes every now and then – in the most budgeted ways.
This vintage rug has a certain charm, isn't it? See more photos on Wayfair.
I like this kind of rug because sometimes, too much of peach can be quite overwhelming – and that's why you need to use something distressed and contrasting to add a sense of interest.
Lastly, your walls define the character of your room.
So, why not add that horizontal and vertical dimension in your space with this eye-catchy piece of artwork? (Check it out here!)
Furthermore, you can always update these pieces and feel refreshed at all times.
Summing it Up
Peach is quite a lovely and soothing color!
Well, it also plays quite soothing and tranquilizing – hence, a must use in your home (but only in limits).
However, the extreme embedded warmth is what you must take care of!
But at the same time, you can pair it with cooler tones like blues and mauves to actually make your space feel refined and stunning.
So, are you excited to incorporate a touch of peach into your home?
I would love to know how best you incorporate this color in your home! Do let me know your experiences in the comments below!