You've probably heard of this color countless times when choosing the stain for wooden floors and cabinets.
But when asked what color is mahogany, that is only a piece of it's true definition.
So, today I'm going to share everything and anything about this color that will help you understand it completely and how you can use it in your world; for decorating, art, fashion and more.
Mahogany is a beautiful reddish-brown color that resembles the stain of the mahogany wood.
It very closely relates to brown, red, and tones of yellow!
And moreover, this color is pretty much in demand in the fashion – hair color industry!
So, for all you women reading about this color – I am sure you understand what I am exactly talking about!
This hue with its warm undertones is gradually making a comeback in the home decor industry!
And especially if you take inspiration from typical English interiors – you might as well have your hands on the color Mahogany.
Mimicking utmost luxury and splendor, this color is something that combines red and brown shades to offer an absolutely fabulous shade!
And this color can be very closely related to strong, masculine, and warm vibes!
Other than that, if you try to locate this color on the color wheel – you will find it somewhere between the darker pinks and dark mustards!
And in case you're wondering about the composition of this pretty color – well, it's simply a slight addition of burnt umber with various shades of brown.
So, are you excited to know what the color mahogany has for you?
Let's get started!
The Inspiration From Natural Woods – Mahogany
Before we move ahead with what this color has to offer, let's first discuss the basic specifications and details of the mahogany color category!
Remember, every category is associated with certain underlying theories and facts that make it equally unique and out of the blue!
After all, there is something that distinguishes mahogany from reds and burnt oranges, right?
Yes, they're all cousins!
Whether it is the undertones or the certain RGB values that describe what the color is composed of, here are certain terminologies to look upon!
Also note, light reflectance values can differ for each typology and face!
Pantone Code= 19-1521 TCX
Cyan= 0%
Magenta= 50%
Yellow= 75%
Black= 25%
Red= 75%
Green= 25%
Blue= 0%
HEX Color Code= #C04000
Mahogany shares tremendous similarities with red, dark orange, and crayola! And these above-mentioned percentages will help you in the classification of the color and how it is truly made!
And after all, these proportions are what helps in differing from shade to shade and tone to tone!
The Six Faces of Mahogany – The Luxurious Reds
Every color is associated with various faces – depending upon the variance in the undertones, proportion of mixes, and reflectivity.
Or you can even call them cousins and colors from the same family!
Further elaborating, these faces can be categorized as the tints, tones, and shades of that particular color.
Like I already mentioned about the variety, you must know that mahogany has a wide array of appearances – some are dark, some loud, some light, and some pastels!
(That's a beauty of each and every tone of mahogany though)
Further diving into the details let's discuss some very common color terms here!
'Tones' are basically the results formed by adding gray to a mahogany/red paint color!
The result is a more muted and soothing mahogany shade!
'Tints' on the other hand are the amalgamation of white with a mahogany paint color.
The result is something like lighter reds and lighter oranges.
Whereas 'Shades' are the results formed by adding some black to mahogany paint color.
The result can produce a darker shade – something like deep brown!
Further discussing these details and faces – the color mahogany is best known for six major tones as follows.
Mahogany (Crayola)
This particular tone of mahogany feels quite fresh and warm!
However, if you have too much of this tone around – it can be quite overwhelming and exciting!
And due to the lack of browns in the tone, this feels slightly off-mahogany!
Mahogany VY-LT
A tone of peach and orange, this lighter shade is clearly a tint of mahogany!
Although it doesn't really exhibit a luxe mahogany touch – it still clearly makes a great pastel!
You see, there are various faces that define a color's identity!
Mahogany LT
A perfect tone of orange and coral – this particular tone of mahogany is lighter color is absolutely timeless!
And it also makes a great statement in the home decor industry as it truly exhibits an eye-catchy yet warm appearance.
Mahogany MD
Comparatively darker and deeper, this tone of mahogany shares immense similarities with burnt orange!
It's also a perfect amalgamation of reds and oranges!
Further, you can pair it with blues, grays, and whites for a cohesive experience!
Mahogany DK
Almost equivalent to blood red and deep and rich brown, this particular stain is very common to find on wooden textures!
And believe me, it looks very sophisticated and lavish!
Lastly, you can best pair it with whites, grays, and blues. Although use this color in very little amounts!
Mahogany VY DK
The darkest of them all, this particular shade perfectly amalgamates with brown and reds to create a perfect bold tone!
It makes a great English tone and can be heavily used in wooden textures and cabinetry!
Lastly, you must be very careful as too much of this tone isn't quite pleasant!
Similar Colors
Now that we have discussed the six notable faces of this mahogany – let's get talking with the similar colors that are closely related to it.
And can play pantone cousins of mahogany!
So, the first of them is Burnt Orange!
This is a warm tone that I have recommended a number of times! It feels cozy, comfortable, and is a great hue to incorporate in the upcoming fall season.
On the other hand, burnt sienna is a similar color to burnt orange (a much more intense color).
It feels quite much like tangerine and has a similar tone!
Next in the line is the color Brown that is rich and elegant!
It feels balanced and you can best pair it with grays, blues, and whites!
Lastly, sepia is a pure red-brown tone that totally mimics a wooden texture.
And since it's quite bold and heavy, be careful that this brown tone is only used as accents.
Coordinating Colors
Choosing coordinating colors for this specific category is challenging and at the same time, interesting!
Since it's quite a warm tone, it has to pair well with blues, whites, and grays!
So, here I am going to spill some Mahogany beans – are you excited to know what they are?
Well, regardless of the different faces of mahogany – colors that will definitely complement are blues, creamy and crisp whites, grays, blacks, and lighter beiges!
Furthermore, you can always add neutrals like off-whites, whites, and whites with yellow undertones to further complete your palette!
In terms of accent, this color in itself plays a great role!
Meanings, History and Cultural Use of the Mahogany Color
The Resilient Color
Mahogany is a dark, reddish-brown wood obtained from the mahogany tree symbolizing strength and endurance.
Although some may see it as overused when it comes to furniture or interior cabinets or flooring, mahogany signifies sturdiness, clarity, and vigor in such a timeless way.
Mahogany also speaks kindness, dependability, and reliability.
When it comes to Christian girl names, mahogany means rich and strong. Isn't that beautiful?
Given the numerous applications of timber, it is simple to conclude that the color mahogany is strongly associated with resilience and adaptability.
When applied correctly, it may also exude elegance.
Stretching from the Earth, mahogany also expresses the concept of growth and nature – all organic.
It is said to aid in the creation of a healthy sensation, a connection with the earth, and a sense of orderliness and tradition.
The Roots of Mahogany
The first instance mahogany was used as a color name in English was in 1737.
Since the color mahogany is derived from a tree, you simply can't discount the historical roots of the color and the mahogany tree.
Among botanists and naturalists, the tree was regarded as a kind of cedar, and Carl Linnaeus (1707–1778) categorized it as Cedrela mahagoni in 1759.
Nicholas Joseph Jacquin called it Swietenia mahagoni the next year after assigning it to a new genus.
Until the nineteenth century, all mahogany was considered a single species, although varied in quality and character depending on soil and environment.
These Asian plantations offer a tiny portion of the world's supply of real mahogany, primarily from Bangladesh, India, Indonesia, and Fiji in Oceania.
A Luxury in Modern Times
Of course, the most common use of mahogany is furniture joinery, flooring veneers, and musical instruments.
Due to its superior workability, it becomes an exceptional wood for making cabinets and furnishings.
Mahogany is extremely resistant to wood decay, making it a popular choice for outdoor decking and boat building.
Martin Guitars, such as the D-18, Taylor Guitars, Gibson Guitars, such as Les Paul, SG, and J45, and Hagström guitars all use mahogany in their construction.
Mahogany Town is a town in the Pokémon game.
The color mahogany has and still been a very hot hair dye color loved by all genders and age groups showing off brown hair colors.
Several car enthusiasts have opted for a mahogany metallic hue for their luxury rides such as the 2019 Porche Cayenne.
For all the sports lovers out there, New Cumberland, USA, has a classic bar Mahogany Sports Bar.
Using Mahogany in Home Décor
The color mahogany is known for evoking a feeling of romance, warmth, passion, adventure, and energy!
And like I said, you can best incorporate this tone in your homes by choosing mahogany stains and leatherite for your furniture!
When talking about implementation, you can best make use of this color in the hallways, living rooms, bedrooms, mudrooms, and gym rooms!
You'll see it from European designs, American Western themes or even in Chinoiserie styled bedrooms.
So, whether it is the accent wall or the furniture, focal accessories such as throw pillows and vases or urns or the flooring – this color makes a great statement!
Try avoiding painting a lot of your walls in the shade of mahogany as it can feel too warm. Hence, the true beauty is when you use this paint very little!
I highly recommend the eclectic maximalism and interior design styles like Japandi, Hollywood Glam, Victorian, and Grandmillenial to incorporate this warm saturated color.
If you are looking for real-time examples from the famous paint manufacturers – I am going to enlist two examples from Sherwin Williams and Benjamin Moore!
Brick Paver by Sherwin Williams and Spanish Red by Benjamin Moore are notable examples.
However, know that there may be some notable differences here as well.
For instance, Sherwin Williams Brick Paver has a deep red and orange undertone. Remember, not to paint all the walls in this color.
On the other hand, Benjamin Moore Spanish Red is a red tone that feels rich and sophisticated – and also quite English!
(This color comes with a baggage of repercussions – so be careful when choosing on furniture and walls)
Mahogany on Walls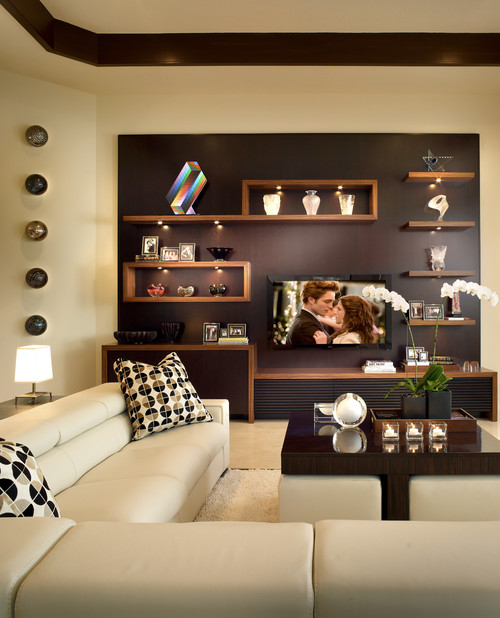 Apart from furniture, you can use mahogany on the walls as well!
Just like this accent wall that makes a bold statement, it is proof that brown and mahogany can play a great role!
You can pair it with creamy whites for a warmer experience and crisper whites for a cooler experience!
Secondly, you can add some off-white linens and ample glass to balance the appearance.
Mahogany on Cabinets – Traditional and Classic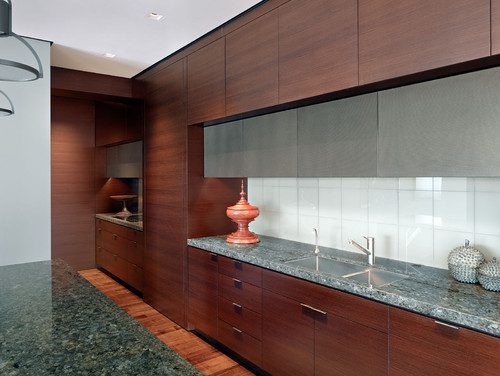 Have a look at this modern style kitchen – isn't it totally bliss?
Well, the deep red and brown undertones help foster a clean and refined look.
Other than this, if you have cabinets in the living room and home office – this particular finish plays a great role!
However, it is not such a great option in the rustic and industrial styles.
Mahogany on Floors and Balustrades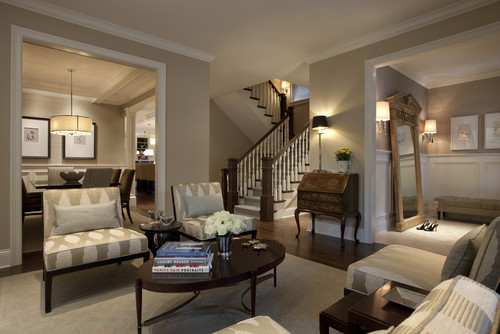 This color is known to make a great influence on the floors and balustrades!
Especially in traditional-style homes, this stain and finish is a great option!
However, when decorating after renovation – ensure to take into aspect the deep red undertones.
Mahogany on Furniture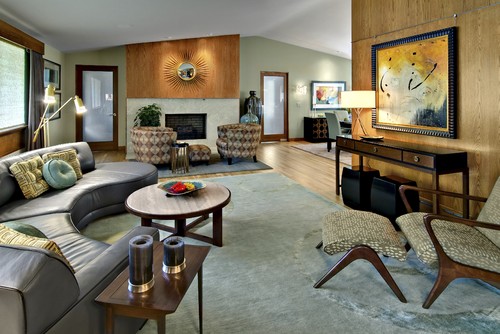 Quite common to have, don't give a second thought to mahogany on your furniture!
So, when the palette allows, use mahogany stain on your coffee tables, side tables, and furniture frames!
Mahogany on Accessories – Details That Matter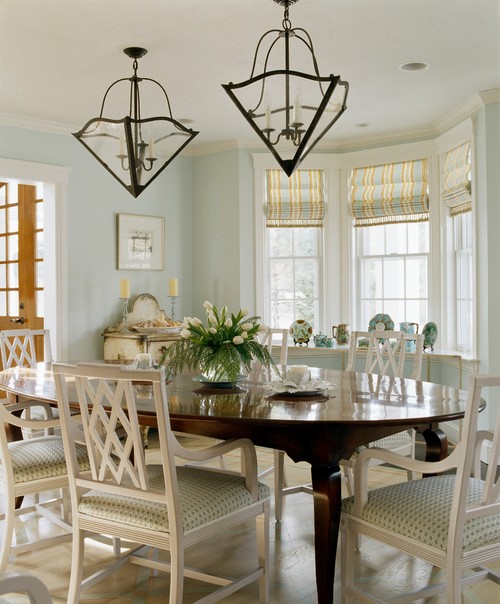 Not so common and yet quite attractive, you can choose mahogany tones on the vases and urns!
If you have lighter backgrounds, you can choose mahogany on the curtains and even rugs!
Well, that will make a bold statement!
So, let's check out some of these pieces that would make a lovely mahogany accent in your home.
This faux cowhide area rug is quite good to go! See at Wayfair.
It purely gives an Eclectic and Bohemian touch – so, a great way to introduce a tinge of mahogany!
And trust me, this will grab attention while not overwhelming the space!
With a slight tinge of mahogany and blue – this artwork is a great way to add visual interest to the walls.
And since it deflects from the mahogany, it adds a sense of contrast.
Adding throw pillows like this one is another great way to introduce a mahogany vibe!
And you can even change it seasonally and keep refreshing your homes!
Summing it Up
Mahogany is closely related to wooden textures!
So, if you want to build lavish cabinetry and/or are drawn towards England touch – this color makes a great touch!
If you really have the taste for this color – you must use it (but keep in mind those design beans).
So, are you excited to incorporate a touch of mahogany into your home?
I would love to know how best you incorporate this color in your home!
Do let me know your experiences in the comments below!