Indigo is often associated as the purplish-blue colors of the rainbow.
Highlighting majorly upon the shades of blues and purples, this one stands high amongst the seven colors of a rainbow.
So, taking inspiration from nature's own forms and hues – Indigo has been beautifully reflecting its existence in the interior design as well as fashion design industry!
Have you ever been attracted to this specific shade?
Want to know what color indigo is in its many personalities and what it truly beholds?
We're going to cover all that and much more.
A notable example of tertiary colors, indigo is formed by blending portions of red and blue base colors.
Now this is important:
The amount each contributes to the indigo blend will dictate the exact color formed. Thus, there are actually several different types of indigo that we'll discuss below!
For example, if red and blue primary colors are used in equal amounts – violet will be formed!
On the other hand, to form the hue indigo, the proportions of blue have to be the dominant color over the reds.
Oftentimes, this color gets confused with not only violet, but the many versions of itself – the reason being obvious undertones determined by the mixture.
However, this particular tone can usually be identified through its high saturation and ultra-stark appearances.
Especially when observed on digital screens. On monitors and handheld devices, indigo can be deceiving as it definitely inclines towards bright purples.
So, what really is indigo?
It's time to dig in and elaborate on all the aspects related to the 'indigo'!
What Is the True Color of Indigo? A Voice from the Rainbow
Let's first discuss the basic specifications of this color category.
Remember, every category is associated with certain underlying theories and facts that make it equally unique and distinctive on the color wheel.
Whether it is the undertones or the certain RGB values (for screens and monitors), that describe what the actual color is composed of, here are certain terminologies to look upon!
Pantone Code= 19-3215 TCX Indigo
Cyan= 42.3%
Magenta= 100%
Yellow= 0%
Black= 49%
Red= 29.4%
Green= 0%
Blue= 51%
HEX Code= #4b0082
Let me tell you, Indigo is one of the most confusing colors out there!
There are some versions that incline more towards the purples, some to the blues, and some to the deeper magenta-reds. Whew!
These above-mentioned percentages are what helps in the classification of one such version and what it's made of as a tertiary color, that's made by combining other spectral colors.
Additionally, it's a cool-toned color mainly, but can also fall on the warmer side in some cases, making things even more confusing.
Let's dig further…
Four Faces of Indigo – How Are They All Called the Same Color?
Every color that exists on this planet is unique!
However, they may exist in certain faces (or variations) that can be differed through tints, tones, and shades!
What are these exactly?
Like I mentioned about the variety, you must know that indigos have a wide array of appearances – depending upon the undertones and reflectivity.
'Tones' are basically the results formed by adding gray to an indigo paint color!
'Tints' on the other hand are the amalgamation of white with an indigo paint color.
Whereas 'Shades' are the results formed by adding some black to an indigo paint color.
All of the above affects any hue and where it falls on the color wheel.
Diving deeper into these details – the color indigo is known for its four major tones as follows:
Electric Indigo…
One of the most saturated ones, this one is the brightest color indigo, and is located somewhere between the primary blue color and violet from the RGB scale.
It may seem quite uncomfortable directly into the eyes – so, should be used with caution in real-time scenarios!
Blue Violet…
Not as bright as electric indigo, this particular tone feels like deeper indigo!
Aligning towards the purples, this shade is also quite a trendy one in the industry!
Web Color Indigo…
Deeper, fierce, and darker – Web color indigo is almost equivalent to indigo with a major proportion of purples!
This tone perfectly amalgamates with the yellows!
Indigo Dye…
Feeling like navy blue, this shade is quite a different one from the others!
Comparatively darker and deeper – this tone is realistically derived from the dye as a blue pigment!
What Color is Closest to Indigo?
Now that we have discussed some of the indigo faces, we are assured of the fact that this color has a ton of stories to share!
Whether in the form of similar colors or complementary – let's look through some notable color examples that share the most similarities here.
Purple Heart is a beautiful web color indigo that aligns more towards the purples.
Another similarity, Vivid Violet is a tone that complements richness and luxury – with a major incline towards the purples.
Royal Purple is a tone that could be considered too! With a major proportion of blues than purples – this is a slightly deeper tone.
Last but not the least, Midnight Blue is something to have an eye on!
This tone of indigo very profoundly follows the blues more than the more purple indigos.
Color Combinations
Coordinating colors, depending upon the reflectivity and undertones, is one of my favorites!
Now here is a given fact:
Regardless of the indigo faces, one color that plays well with all is yellow!
With a tone like a web color indigo, blue-violet, and electric indigo – it is best to complement the shades of yellow and green!
On the other hand, indigo dye and midnight blue can easily complement creamier whites, lighter and subtle blue colors, lighter grays, yellows, and even tones of pink!
Using a few basic palettes, this is what the color wheels tells us works naturally with a more purple indigo tone:
Let's look at the question 'what color is indigo' from not what we see, but from it's meanings and representations in our world.
What's Really Behind Indigo?
This hue is known to open up the third eye. This equates to the color of the sixth chakra which is located between the eyebrows and connects us to our cosmic insight.
In this meaning, the color represents the new age, empowering one to get in touch with the higher knowledge to see beyond the ordinary.
The blue and red of Indigo, contribute their own properties as well.
With the calmness of the blue color and the energy of red, indigo emits both grace and vigor and becomes a color that inspires contemplation and self-awareness .
This blend helps the observer tap into their intuition, evoking a sense of introspection.
When the sixth chakra is in balance, indigo allows us to be increasingly mindful of our surroundings and the environment we reside in, inspiring the pathway to reflection and meditation.
As such, some say this hue inspires us to relish the glory of life.
You could say that indigo represents structure and order, making it a reliable color in restructuring aspects of one's life through yoga and meditation where the emphasis is laid upon the third eye.
Biblically, indigo signifies heavenly grace. Mother Mary has often been represented in garments of blue or indigo.
Indigo's "Rich" History
The roots of indigo run deep in India. The name indigo comes from a Greek term meaning 'from India'.
The color is derived from a plant indigenous to Africa and Asia, known as Indigofera.
Along with silk and spices, indigo was traded to Europe during the 1500s. Soon after, indigo dye became exotic, and one of the best-found versions of blue, ranking superior and stronger than any other.
On the other hand, the enslaved Africans carried the knowledge of the cultivation of indigo to the United States, making it remarkably worthy.
The significance of indigo was so high at the time of the American Revolution that indigo cakes were used as currency instead of dollar bills, and was often referred to as blue gold due to its high trading commodity.
The original American flag too was made from indigo textiles.
Indigo Plays Many Roles in Our Culture
'Indigo: The Color That Changed the World', a book by Catherine Legrand talks about the fascinating color that transformed the course of history. Its history is as rich as the color itself.
Initially, indigo was the only source of blue dye but could also be mixed with a variety of natural dyes to create a vast range of other shades.
In the U.S. it became the second most valuable crop in South Carolina after rice.
The world-famous blue jeans we all wear today were also made from the indigo pigments as it was the best-known natural dye until the end of the nineteenth century. Still, indigo dye is used to make denim cloth and blue jeans.
IndiGo Airlines, a popular airline in India sports an appropriately indigo-colored logo.
The 120 crayon box of Crayola crayons also includes the color indigo, and you can also find the color in the Faber Castell: Polychromos artist watercolor pens and pencils.
At the time of the French Revolution, The French Army adopted dark blue indigo as a replacement for their white uniforms.
In nature, we find tropical birds, a species of mushrooms (called Lactarius-Indigo), and snakes with dark shades of indigo.
Some of the popular indigo flowers are lavender, blue iris, hydrangea, agapanthus, and much more.
It is also found in many crystals such as agate, amethyst, and lapis lazuli.
Using Indigos In Home Décor
Indigo is a one to be carefully experimented with!
I wouldn't say you can use it everywhere in your home – rather, incorporate it only in little amounts!
So, this is the time to best make use of accent walls, accessories, and accent furniture items.
Try avoiding painting a lot of your walls in this rich color – to keep from adding too much discomfort and saturation in your space.
If you're looking for real-time examples from the famous paint manufacturers – I'll share two notable examples from Sherwin-Williams and Benjamin Moore.
Indigo by Sherwin-Williams is from the manufacturer's 2018 Unity Collection.
It's a calming blue color from the SW Blue category.
Another SW paint in this category is Indigo Batik.
Heavy on the blue side, this one feels like a super happy version of navy blue.
Paired with the right allies (i.e. yellows and oranges for a right and cherry effect), you can get away with using this formula as more than just an accent.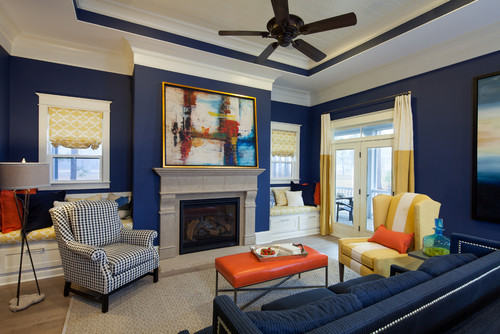 Down Pour Blue by Benjamin Moore is very similar, but does come across as a little richer.
This can be good thing though!
Here's a great example of using this one – note there's not a ton of light in this bathroom, so this feels like a darker color.
It does look amazing with the white counter and trim, and the pop of "gold" in the water fixtures.
Indigo as an Accent Wall
Indigo plays a great accent wall!
Paired with white in a bright space is pure magic, don't you think?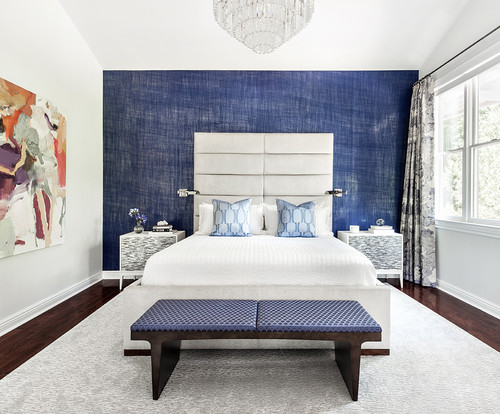 You can pair it with golden or brass tints, luxurious royal pinks, and certain colored glass vases and decorative items to go!
Furthermore, you can complement these indigos with crisp and cool whites on the adjacent walls and decorative moldings.
Especially in the common spaces such as the living and dining rooms, bedrooms, and hallways – this makes a dashing statement!
Indigo on Furniture
It is not necessary that you play accents only on the walls – rather, why not on the furniture?
For subtle backdrops with white or off-white walls, it is best to choose indigo toned accent couch, accent chairs, or even the rugs and curtains.
This is ideal for interior design styles such as Grandmillenial, Eclectic, and even Contemporary!
Indigo on Accessories
Your indigo doesn't have to reflect everywhere!
Maybe a few tinges of indigo tones on the artwork, throw pillows, and duvet covers are good to go!
Furthermore, the best complementary colors are whites to further add a touch of airiness and brightness to the room.
See more photos of this vase here
Even the tiniest details matter!
The little vase on that console table in the entrance hallway has the magic to add depth to your space!
Learn more about and buy this artwork here.
Similarly, artwork with an abstract form of indigo hues has the potential to take a longer path!
It is not necessary that you have to add a tinge of indigo in every corner – rather, a few pieces here and there will make your room feel seamless.
See more about this amazing rug here
A rug has the potential to make or break your space!
It unifies the appearances while exhibiting a sense of coziness and welcomeness!
This indigo-hued rug binds the entire space into one in its most magical ways!
Summing it Up
Our indigo color speaks more than what meets the eye! It's no doubt a highlight on our visible spectrum and our working color wheel.
Being a beautiful element of nature – this hue has very profoundly expressed its terms.
So, are you excited to incorporate a touch of this in your home?
Trust me, you wouldn't regret it!
Whether it is the accent wall or that particular dining console – don't shy away from using this marvelous color!
I would love to know your thoughts on this article, comment below!