Some paint colors are truly underrated!
And I often cover neutrals in whites or grays that play a superb backdrop but never come into the limelight.
So today, we'll be discussing one such pretty gray that has the potential to come out looking spectacular and yet is not as "famous".
Sherwin Williams Zircon is a beautiful gray paint color that neither falls on the cooler side nor warmer! Yes, it's the only perfect true gray you'll ever need.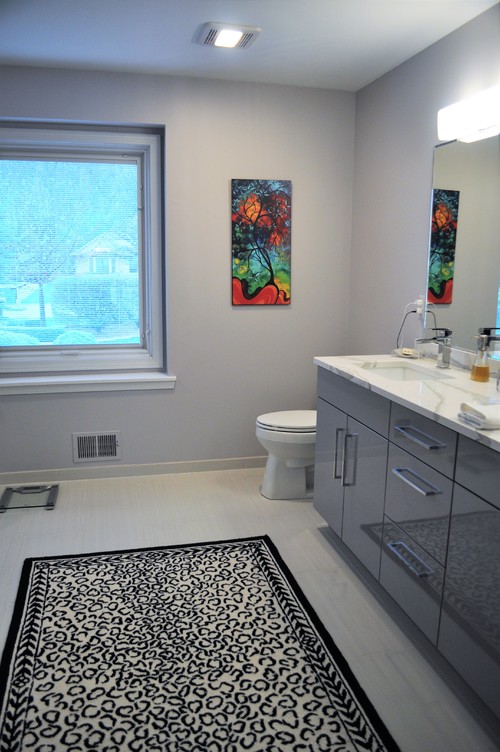 And since it's neither too dark nor too light – the character this color beholds make a perfect statement in any home.
Along with these advantages and a couple of dos' and don'ts, we'll be discussing various design ideas, how to creatively play with this color, and what best materials to pair with.
And believe me, you'll love this paint more and more.
Don't worry! We've got you all covered.
So, sit back, relax, and enjoy that favorite cup of coffee.
Let's get onboard the journey towards Sherwin Williams Zircon!
Sherwin Williams Zircon SW 7667 Details and Specifications
There are various grays on the swatch. Some are warm, some are cool, and some are neutral!
And do you know how to differentiate them all?
Well, it's the details and specifications.
If you are new here, let me tell you – there are quite some facts and scientific terms that you would want to acquaint yourself with. (Before choosing a paint color for your home)
It's important to analyze these values and then determine where, when, and how to use these paints!
So, first and foremost, one of the most important terms that I usually observe getting ignored is Light Reflectance Values (LRV)!
Every color has an associated Light Reflectance Value!
For SW Zircon, the LRV is 59!
Which falls on the medium end of the scale – and somehow aligns on the lighter end!
Remember, the higher the value, the lighter the paint color is!
And vice versa!
Because paint colors can change in different environments, I recommend you also just try Zircon out at home with a peel-and-stick sample from Samplize. Order some samples now!
Moving ahead, let's discuss the RGB and HEX Values of the color.
Red = 202
Green = 201
Blue = 198
HEX Value = #cac9c6
Now that I am concluding, I promise not to bore you with these scientific details anymore.
Let's talk about the practical aspects of this pretty and calm gray paint color.
How Does This Color Feel in a Space?
Sherwin Williams Zircon is bound to make your space feel fresh, reviving, calm, and yet clean.
This gray is medium-toned to somewhere lighter, and that's why it can be used to create an illusion of an airier and lighter space.
Yes! Trust me – this color has the magic to do so.
So, if you're stuck in a smaller-sized apartment, using this color on the accent wall is a trick to play.
Furthermore, this gray paint color also makes a great backdrop in exhibiting a clean, crisp, minimalist, and elegant vibe.
Interior design styles like modern, minimalist, Scandinavian, modern farmhouse, traditional, and transitional must have an eye on this color.
How Does Light Affect the Color?
I love the way this color looks in the morning!
With a mix of cool incoming rays and a tinge of sun's warmth, this color freshens up and makes you want to swoon over it again and again.
So, here's another trick that you must know!
The more light you give to a paint color – the brighter and enhanced it will come out to be.
So, always remember to use this color in a room that receives sufficient natural light so you can feel the true beauty of the paint.
With little or no light (like in the basements), it can slightly appear dingy!
Other than that, this color looks cooler in the north-facing rooms whereas slightly neutral in the west and south-facing rooms.
You see – a color is associated with many faces!
So, you must always examine the swatch under various lighting conditions to make a decision!
As I mentioned before, you can try out this color with real paint, (but without the mess) using stick-on samples from Samplize.
What are the Best Coordinating Colors?
Creating color palettes can be quite a fun task to do. (I absolutely love it)
So, it's crucial for you to choose the best complementary colors in order to define a palette that looks eye-catchy and cohesive.
Grays, in general, can best complement whites (cooler bases), darker grays, darker sage greens, blue-greens, blues, and warmer and deep beiges.
And other than that, you have a wide plethora of color opportunities and options to pair with! (You can be as creative as you want)
However, you have to be careful as to what vibe you need in your space for a perfect color combination.
So, I am going to enlist the two most popular color schemes here – monochromatic and contrasting.
Monochromes are generally great for modern and contemporary setbacks.
On the other hand, Eclectic, Mid-Century Modern, and Farmhouse play well with contrasts.
So, here are a few of the colors I would recommend for a monochromatic palette!
SW 7668 March Wind
SW 7669 Summit Gray
SW 7670 Gray Shingle
On the other hand, here are a few of the colors I would recommend for a contrasting color palette!
SW 6666 Fleur de Sel
SW 9142 Moscow Midnight – see my full guide here!
SW 7692 Cupola Yellow
For your ceilings, trims, and moldings – SW Extra White or SW Pure White will help protrude a true hue of SW Zircon.
SW Zircon Vs Similar Colors
Although you must know that even though these following colors look similar, they might still differ in the undertones or reflectivity!
So, one of the closely related colors are SW 7064 Passive and BM 2112-60 Cement Gray!
Let's see how all of them differ.
Zircon Vs Passive
SW Passive is another calming gray that falls on the cooler end of the scale.
However, there isn't much difference if you see through a bigger lens. At the same time, passive is one of the most confusing grays you'll ever deal with!
It has a blue undertone but can also appear or incline towards green and purple.
With an LRV of 60, this color is lighter than the former. For another very similar color with an LRV of 66, check out SW Crushed Ice!
Order stick-on samples of these colors here to help you compare these colors in your own living spaces.
Zircon Vs Cement Gray
BM Cement Gray is a cool gray paint color with a very slight touch of warmth to it (only under certain lighting conditions).
With an LRV of 59.96 – this color feels equally lighter as compared to the former paint color.
When comparing the two, this paint comes out to be slightly on the warmer end.
Try out the looks of these colors in your own home with a some temporary wall samples. You can find them here!
Where to Use Zircon?
SW Zircon has the potential to enhance and brighten any corner of your home.
And since this neutral plays a great subtle base, you can use any bright contrasting hue to define your palette.
So, whether it's the kitchen cabinets, living room cabinetry, exterior walls, or home office walls – this color is bound to play magic everywhere.
Let's have a look at where and how to incorporate this gray paint color in your home.
Zircon in Living and Dining Rooms
In the living and dining room, you can consider using this paint color on all the walls!
And further pairing it with clean whites on the trims and moldings and black on the window frames and hardware.
You can even choose this color just on the accent wall and let the whites play a major role in the room.
Secondly, allow ample light gray, black, or white furniture to steal focus and attention.
If you have a touch of warm woods in your home (on shelves, cabinetry, etc.) – this color may not be so suitable.
Most homeowners wonder how to deal with fireplaces in their homes! (During renovation)
And do you know what to opt for? Well, you could either choose clean white plaster or luxe marble surround to treat this special architectural feature.
Using in Bedrooms
Zircon can make a beautiful statement in the bedrooms.
You can consider painting all the walls in this color and further letting white play on the door and window accents, ceiling, and trims.
To add a striking visual interest – choose a shade of blue or green on the throw pillows.
Furthermore, ensure to choose a matte black tone of the furniture frame and other accessories in the room.
Zircon in Kitchens
I would personally like this color on the cabinets.
You can choose a light gray or white for the backdrop wall and an interesting white tile for the backsplash.
You can also infuse interest by playing with vintage tiles here.
For the hardware, choose either brushed brass or matte black in this dreamy gray kitchen.
Using on Exteriors
Especially for the Craftsman, Ranch-style, Mid-Century Modern, and transitional homes, this paint on the exteriors adds a timeless vibe.
You can add black or dark gray-colored tiles – along with crisp white for the moldings and trims. (Or any other structural or architectural feature)
Furthermore, if you have porches and columns – pick from bold blues or dark sage greens to add character to your home.
These accents can be used on shutters, window frames, and doors.
I Recommend Sampling Zircon!
If you're on the fence and need a bit of convincing, try this color on for size by ordering a peel-and-stick sample from Samplize.
These are my favorite way to test colors in a space and to see how they work with other coordinating colors.
It doesn't cost all that much, and you can temporarily place these handy 12″" x 12″" squares that are true to color around your house. I love them!
So, how do you want to use this color in your homes? Interiors or Exteriors?
Now you see, SW Zircon has much more to offer! And you will never even regret it.
Should there be any questions or thoughts, let us know in the comments below!