It may be lesser known but beautiful in its own right – Sherwin Williams Waterloo is purely a mimic of the deep oceans.
Quite enchanting and mesmerizing, this blue is somehow a more subtle and muted tone – but definitely considered a darker shade.
Forget the lighter-toned blues like SW Reflection and SW Rainwashed and focus more on deeper tones with greater depths.
I personally love the feel and appearances of this majestic paint color – and have found myself constantly admiring these home decor inspirational images.
Well, let me tell you – this can be classified as a true blue (that neither inclined towards the greens nor grays)
Well, simply a natural and darker-toned blue!
(You can't even compare this with navy blues since those are more saturated – refer to SW Salty Dog in case you are looking for a navy blue)
On the other hand, these blues are more subtle and soothing with a cool background and comparatively, a very lesser saturation.
So, if you are looking to add this particular tone of blue to your home – you must go ahead!
And I promise that you will never regret it!
But just so you want to know the how bouts and whereabouts of this paint color – check out this color review!
Sherwin Williams Waterloo SW 9141 Details and Specifications
Before choosing a paint color, it is important to read through and analyze the backlogs related to a paint color.
Because my friend, this is the information that will help you know if you really want to use the paint color in your home or not!
So, read this section very carefully!
I have observed many homeowners ignoring this aspect about the paint color to 'just' admire the aesthetic looks – however, I may tell you that it could be deceiving sometimes!
Even your screens are deceiving!
So, read on to know more about the technical information.
First and foremost, it is important to understand the Light Reflectance Value or the LRV's!
(You can find this value behind the paint swatch or on the Sherwin Williams website)
So, the LRV of Waterloo is 13 – making this paint color quite dark in tone!
(Remember, the lesser the value – the darker the paint color)
Want to try this color out without having to paint your wall? Use some nifty peel-and-stick samples: Pick one up now from Samplize!
Other associated terms that you must acquaint yourself with are the RGB and HEX Values!
Red = 83
Green = 104
Blue = 114
HEX Value = #536872
Now that we have read through the specifications, let's jump on to some of the practical aspects and specifications of the paint color.
How Does This Color Feel in Space?
SW Waterloo is quite bold and aquatic – and that is why it is used to add a sense of character and depth to the walls.
Hence, majorly used as an accent – you are quite likely to observe an illusion this color creates.
It tends to make your space seem smaller by contradicting it, bringing the walls closer!
However, if you paint all the walls in this specific paint, it will appear much smaller and concise.
Hence, a great color to be used in larger-sized rooms (mansions and larger bungalows)!
Talking about compass directions, I recommend you make the most use of this color in any of the directions – east, west, north, and south!
However, know that it may appear slightly different in all the rooms.
How Does Light Affect the Color?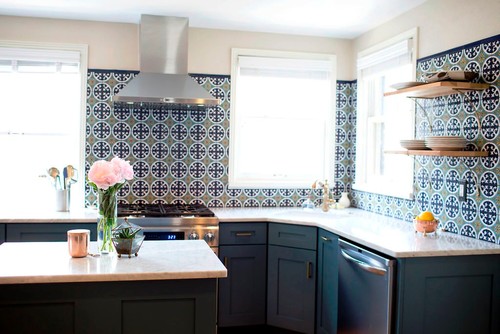 Light, whether artificial or natural – has a major role to play in this paint color.
When light falls on a paint color – it tends to make it look lighter than it actually is while exhibiting the true hue!
Hence, in the absence of light – Waterloo appears darker, well, more like deeper blue to almost black in some conditions.
Whereas in excessive light – this paint color may appear much lighter – and well something like SW Stardew!
In the east, south, or west-facing rooms – this color will tend to slightly fade away!
In the north-facing rooms, it will restore its true hue by all means.
I wouldn't recommend this paint color in very small rooms!
As I already mentioned, do yourself a favor and get some wall samples to test out this color and any others.
The stick-on kind are a no-brainer from Samplize, and will give you some answers ahead of time. Get yours now!
What are the Best Coordinating Colors?
This is the best topic to talk about!
Now that you are feeling a bit confident about this great Sherwin-Williams blue color – let me tell you how best you can utilize it – in your color schemes and color palettes!
Well, let me introduce you to the concept of color palettes and color schemes.
Unless you pay attention to these – it is quite likely that you might end up messing up the appearance of your home.
And who would want that, right?
Well, you could either choose from a monochromatic scheme or a contrasting scheme!
Here I am going to enlist the paint colors that you should refer to:
(For a monochromatic color palette)
SW 9139 Debonair
SW 9140 Blustery Sky
(For a contrasting color palette)
SWV 7656 Rhinestone – read my full guide here!
SW 6057 Malted Milk
SW 6338 Warming Peach
In the case of ceilings, trims, and moldings – I would recommend using SW Pure White or SW Extra White to further help the color protrude.
SW Waterloo Vs Similar Colors
So, are you looking for similar alternatives for this paint color?
Well, no two colors are alike, but you may still find shades that seem to look similar but really differ in undertones and reflectivity!
So, regardless of that, the two most similar-looking paint colors are SW 0032 Needlepoint Navy and SW 7604 Smoky Blue!
Waterloo Vs Needlepoint Navy
With an LRV of 13, SW Needlepoint Navy feels quite bold with deeper shades of blue!
Comparatively darker, this is probably one of the best alternatives to choose from!
You can consider the exact similar color palettes that are mentioned above!
I have personally never specified this paint color ever – because it is unpopular, but who knows it comes out to be better, right?
Buy some wall samples of each of these colors to easily compare them right in your home.
Waterloo Vs Smoky Blue
With an LRV of 15, SW Smoky Blue is not as saturated as the former – but it equally feels calm and exciting.
You can pair some nice creamy whites and yellows with this color!
Trust me – you will love this too! (But know your preferences and priorities, though)
See how these colors compare real time with stick-on wall samples from Samplize.
Where to Use Waterloo?
Yes, yes, and absolutely yes!
Don't hold back from using this paint color in your home – especially if the sizes of your rooms are pretty decent!
(I meant large or if you reside in those large suburban homes and beach-side mansions)
Whether you have a mid-century modern, modern, contemporary, bohemian, or coastal style – this paint color will definitely prove to be one of the best!
So, let's see where and how to incorporate this paint color in your home!
Waterloo in Living and Dining Rooms
Absolutely yes!
But I would recommend using this color as an accent on either the focal fireplace wall or any adjacent accent wall.
You can even add this paint color all the way through the fireplace – but only as an accent!
(Of course, due to low reflectivity and bold character)
It is best recommended to pair this color with greys, cool whites, off-whites, and some warm greys, greiges, taupes, mustards, pinks, and mauves!
Alongside, I guarantee a rattan, cane, or wicker lampshade is definitely going to look great with this color backdrop!
Whether you have wall-to-wall carpeting or hardwood floors – you can use this paint color.
Using in Bedrooms
If you are aiming to achieve a bold, yet creative experience – I would recommend this paint color.
You can use this paint as an accent behind your bed's headboard!
Secondly, try to incorporate it with natural materials and textures, some whites, off-whites, grays, through throw pillows, curtains, and other decorative accents!
Regarding a lighting fixture – you could either use nickel, bronze, chrome, or even golden tints.
Waterloo in Kitchens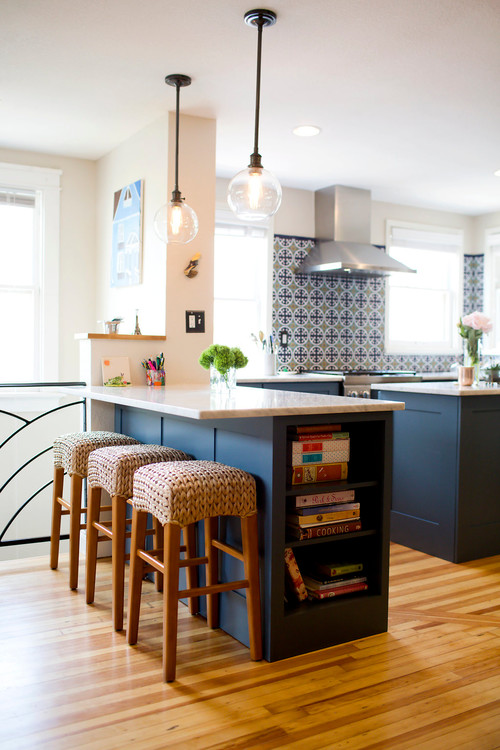 Yes, you can absolutely go for it.
I would highly recommend SW Waterloo on either lower or both the cabinets.
To complement, make sure to pair it with white backsplash tiles, marble white-veined countertop, and some nickel or golden-tinted pull drawers and handles.
This paint makes a great statement in transitional and modern-styled kitchens.
Using on Exteriors
This paint color will definitely wash off when used on the exterior walls.
So, if you are planning to use it – I would recommend pairing it with lighter greys and whites on the door and window frames and trims!
Or opt for the opposite – white walls and Waterloo as the accent.
Secondly, you can either choose travertine stone wainscotting or any stone with a dark grey texture!
You Should Order Samples of Waterloo
Let's face it, good paint isn't cheap. While painting is a relatively inexpensive, good bang-for-your-buck project, picking colors can be hard. You don't want to buy a whole can of something until you know for sure.
So together with the info here, you can literally "see" what this color will look like in your home before you commit.
Getting a peel-and-stick sample from Samplize is the best thing since paint rollers!
If you don't know yet, you can order a 12″ x 12″ square sample with the real paint color on it. Stick it on your wall multiple times and in multiple places to find out exactly if the color is for you.
So, how do you want to use this color in your homes? Interiors or Exteriors?
Now that you possess all this knowledge – are you gearing up to paint with Waterloo?
Should there be any questions or thoughts, let me know in the comments below!