Do you know how to bring the utmost joy, freshness, and rejuvenation to your space?
Well, it's time to start thinking MINTY!
Not always the easiest color category to work with, the minty blues, greens, and blue-greens do help promote feelings of tranquility, balance, creativity, freshness, and lightness.
Yes! Let me tell you – it's comparatively tricky to work with since too much can be overwhelming, for one.
But simultaneously, it offers a ton of advantages. And when used carefully within a larger color palette, it can end up doing wonders.
So, what is all the fuss about and why are homeowners simply loving the feel of this color?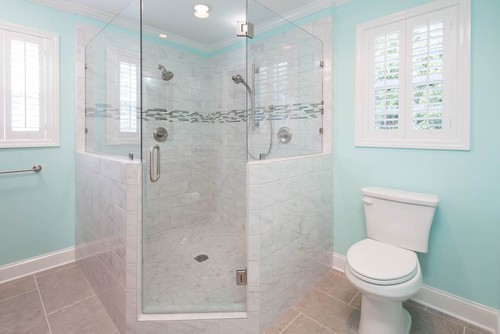 Well, Sherwin Williams Tame Teal is a beautiful blue-green minty color that's light, airy, and feels quite refreshing.
This calming hue will soothe you down – and at the same time, make the space a little more vibrant, vivid, and energetic.
So, are you wondering how creatively you can play with this paint color?
Well, I have got your back!
This color review will exactly guide you on how to deal with this paint, whether or not you need it, and the best possible color palette options.
So, let's get started!
Sherwin Williams Really Teal SW 6489 Details and Specifications
As I say, before you plan to choose this paint color in your home – it is important to know the underlying facts and theories linked with this paint color.
And especially regarding such tricky and unique paint colors, you have to sneak a peek at all of the details.
Yes, you might have to go through various decisions, comparisons, and discussions to make informed decisions.
So, first and foremost, remember to consider the light reflectance values or LRVs of the paint color.
It's important to analyze these values and then determine where, when, and how to use these paints!
This value helps in determining how light or dark the paint color is which later will help you where to use the paint color.
So, the LRV of Tame Teal is 73.
That means this paint color is pretty light-toned! And it's almost as close to a neutral or a base!
Oh, if you want to just try Tame Teal so you'll know just how it'll look, you can easily with a peel-and-stick sample from Samplize. Order some samples now!
Moving ahead, let's discuss the RGB and HEX Values of the color.
Red = 193
Blue = 230
Green = 223
HEX Value = #c1e6df
Now that I am concluding, I promise not to bore you with these scientific details anymore.
Let's talk about the practical aspects of this gray-blue neutral paint color.
How Does This Color Feel in a Space?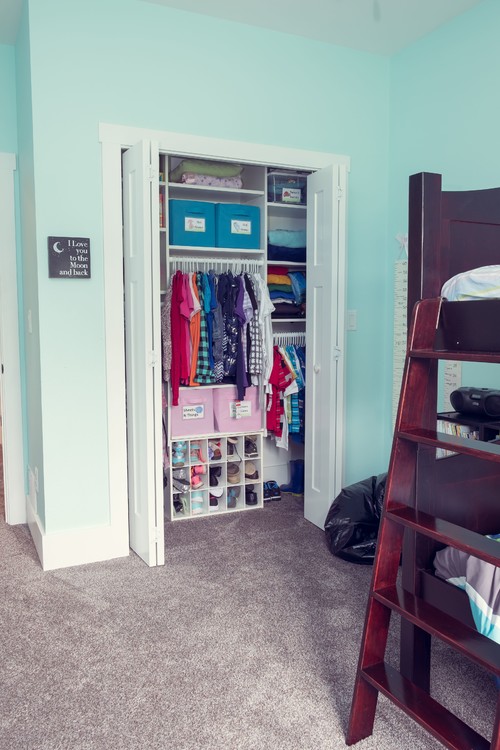 Sherwin Williams Tame Teal feels exactly like when you chew a piece of gum! It's refreshing, calm, cool, crisp, and chilly!
Not all SW Teal Colors offer this kind of appearance though.
And that's why this color is mostly associated with kids' bedrooms and other bedrooms since it feels composed and poise.
Another aspect that you must consider is the compass directions of the room.
So, you need to set your priorities right! Mainly, the north-facing rooms in this color are bound to feel extra delightful and frosty.
On the other hand, in the south or west-facing rooms, this paint color will feel slightly creamy, soft, and warm.
Furthermore, you must remember to use this paint in warmer regions like the Caribbean and other beachy areas where you crave a cool vibe.
How Does Light Affect the Color?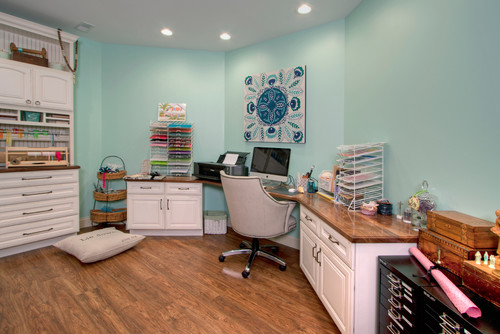 Light will play a significant role in this paint color.
Long story short – if you give this paint some light, it is bound to bloom and feel brightened.
Since this paint has a high reflectivity value, the incoming natural light will further make your room feel airy, spacious, lively, cheerful, and dynamic.
So, even if your room doesn't receive a ton of light – you can still consider using this paint on all the walls.
Furthermore, you can always play with artificial lighting in the form of pendant lights, wall sconces, and recessed or cove lights.
About saturation, prefer choosing warm whites!
To truly see what your home's environment and lighting will do here, try out a real paint sample. It takes out the guess work!
What are the Best Coordinating Colors?
Creating color palettes is something I absolutely love!
After all, this is what my E-Design and Color Consultation business is all about!
So, it's crucial for you to choose the best complementary colors in order to define a palette that looks appealing and well-balanced.
SW Tame Teal can be best paired with crisp whites, lemon yellow, lighter teals, and lighter beiges.
Regarding metallic accents, I like the feel of brushed brass, chrome, or golden!
However, you have to be careful as to what vibe you need in your space for a perfect color combination.
So, I am going to enlist the two most popular color schemes here – monochromatic and contrasting.
So, here are a few of the colors I would recommend for a monochromatic palette!
SW 6758 Aqueduct
SW 6759 Cooled Blue
SW 6760 Rivulet
On the other hand, here are a few of the colors I would recommend for a contrasting color palette!
SW 6679 Full Moon
SW 7757 High Reflective White
SW 9165 Gossamer Veil – see my guide here!
For your ceilings, trims, and moldings – SW High Reflective White will help protrude a true hue of SW Tame Teal.
SW Tame Teal Vs Similar Colors
Although you must know that even though these following colors look similar, they might still differ in the undertones or reflectivity!
So, one of the closely related colors is SW 6484 Meander Blue and BM 646 Hannity Green!
Let's see how all of them differ.
Tame Teal Vs Meander Blue
SW Meander Blue is a calmer version that feels less stark and striking and more composed and pastel-ish.
Unlike the former paint color, this paint has dominant blue undertones – and equally a hue for your kid's bedroom retreat.
However, with an LRV of 66, this paint color feels slightly darker and deeper!
Order a wall-stick sample of Meander Blue here to help you compare colors in your own space.
Tame Teal Vs Hannity Green
Benjamin Moore Hannity Green is a calming alternative hue with deep green undertones.
It's equally stark and striking – and at the same time, feels more warm and cozy, comparatively.
With an LRV of 70.81 – this paint color can be used as a neutral or a base!
Do yourself a favor and grab some stick-on samples of these two colors and see what looks best in your home.
Where to Use Tame Teal?
Sherwin Williams Tame Teal is a beautiful minty blue-green paint that can make a wonderfully refreshing statement in any corner of your home.
Whether it's the French Country kitchen, beach-style bathroom, coastal bedroom, traditional home office, or Caribbean living room – this paint color is bound to throw a spark of joy and character.
So, let's have a look at how, when, and where to use the paint!
Tame Teal in Living and Dining Rooms
For the common spaces, you have to be extra careful when splashing SW Tame Teal! (Yes, you can easily feel bored of this paint in the long run).
However, if you truly like the feel, it's highly recommended to use this paint on accessories such as throw pillows, artwork, curtains, or rugs.
And all this while, choose a white or light beige backdrop for the walls and furniture fabric.
Lastly, you can further complement the look with lemon yellow or coral pink accents.
Using in Kids Bedrooms and Bathrooms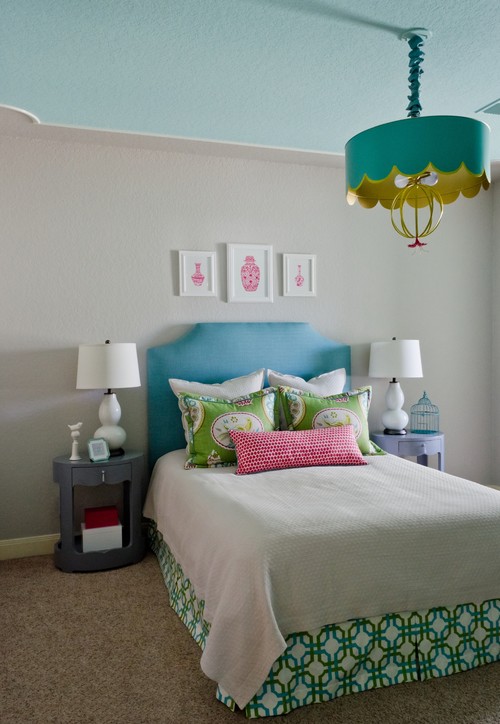 For the kids' bedrooms, this paint color is like cherry-on-the-top.
It feels calm and relaxing – and can easily make you feel rejuvenated early in the morning when you wake up.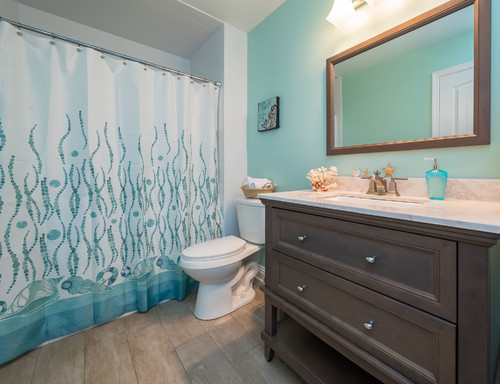 Similar for the bathrooms, they're bound to offer extra calmness and poise with this paint color on board.
(Yes, a great recommendation for serene bathrooms)
With this paint, you must add crisp white paint on the moldings, ceiling, trims, and furniture.
Don't ignore the blissful look of this beautiful SW Tame Teal on the ceiling.
Tame Teal in Kitchens
This color is the number one trend for calming and serene kitchens.
Trust me, you would absolutely love the feel of it!
So, it's generally best to incorporate this paint color on the kitchen cabinets, along with crisp white on the backdrop wall, backsplash, and marble or granite countertop.
Especially for Coastal, French Country, Farmhouse, and Industrial-style kitchens – this paint color is quite good to go.
Using on Exteriors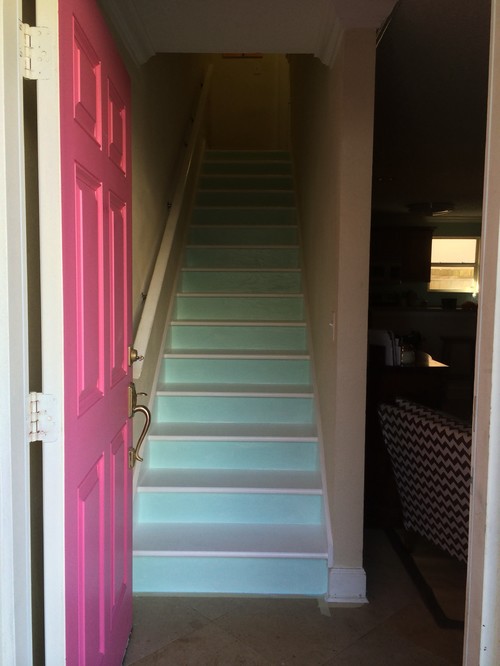 Especially if you have Coastal, Craftsman, and Caribbean-style homes – Sherwin Williams Tame Teal makes a wonderful and eye-catchy statement.
Well, there are three dominant ways to throw this color on the exteriors of your home.
You can paint the shiplap walls in this color and choose to paint the trims and moldings in pure white.
Else, you can do vice versa and paint the trims, moldings, and special architectural features in this paint and choose crisp white for the major walls.
Lastly, for a perfectly unique look, choose this paint only on the shutters and entryway door! (To create an eye-catchy appeal)
Do you want to make your home look even more interesting? Well, add lemon yellows or coral pinks on the front door to make it stand out.
And in case you own a deck, choose the Stonington Gray finish on it!
Great Paint Sample Tip!
Here's my favorite tip when it comes to testing out a color like Tame Teal – go and order a peel-and-stick sample from Samplize.
These guys figured out a great way to sample colors much more easily. Simply stick it up instead of having to get a small can of actual wet paint.
For a few bucks you get a nice sized square to throw up temporarily anywhere you want to "try" on a paint color and any possible coordinating hues you like. Too cool!
So, how do you want to use this color in your homes? Interiors or Exteriors?
Now you see, SW Tame Teal has much more to offer! And you will never even regret it.
Should there be any questions or thoughts, let us know in the comments below!