Not all blues are lazy!
Some are bold, magical, and extremely attractive.
And one such eye-catchy and beautiful dark blue paint color is Sherwin Williams Smoky Blue.
This is an authentic hue of blue that has the potential to do wonders.
Neither a blue-green teal nor a navy blue – this neutral blue falls on the true scale of the color.
It serves various purposes in a space – from splashing a sense of visual interest to elevating your room and making it feel characteristic and calm.
And trust me, you will never regret using this color in your home.
This color plays timeless – and can be used with various kinds of color palette schemes.
Whether light or dark, contrasting or monochromatic, bohemian or transitional – this color is definitely something to have an eye on!
I personally love how this color comes out in space.
And let me tell you, this bold blue also plays phenomenal on the accent walls and cabinets.
Yes, all the Eclectic style lovers – right here is a notable paint suggestion for you!
So, without any delay, let's get started with the journey to Smoky Blue!
It's intriguing, blissful, and quite noteworthy!
Sherwin Williams Smoky Blue SW 7604 Details and Specifications
There's a reason why SW Naval differs from SW Smoky Blue and SW Reflection!
And do you know what that is?
Well, it is totally the undertones, reflectivity, and what the color is truly composed of.
So, first and foremost, one of the most important terms that I usually observe getting ignored is Light Reflectance Values or (LRV).
Every color has an associated Light Reflectance Value.
For Smoky Blue, the LRV is 15!
Only 15.
And that means it falls on the darker end of the scale – majorly, like a bold and deep blue.
Remember, the lesser the value, the darker the paint color is! (On a scale of 1 to 100)
And vice versa!
Now, if you want to try out Smoky Blue on your walls ahead of time, you can easily with a peel-and-stick square from Samplize. Give them a try now!
Moving ahead, let's discuss the RGB and HEX Values of the color.
Red = 89
Green = 110
Blue = 121
HEX Value = #596e79
Now that I am concluding, I promise not to bore you with these scientific details anymore.
Let's talk about the practical aspects of this blue paint color.
How Does This Color Feel in a Space?
Undoubtedly, Sherwin Williams Smoky Blue makes your space feel calm, composed, relaxed, and quite laid-back.
Don't expect a lot of cool vibes exhibited since the color is quite bold and dark.
It will somehow tend to make your space feel smaller and cozier for instance.
And that is what makes this particular tone of blue so unique and popular amongst homeowners.
So, in case you have an overly large-sized room that you want to make proportionate, this color makes a great option.
Apart from this, you will never be disappointed if you plan to use this color in any corner of your home.
How Does Light Affect the Color?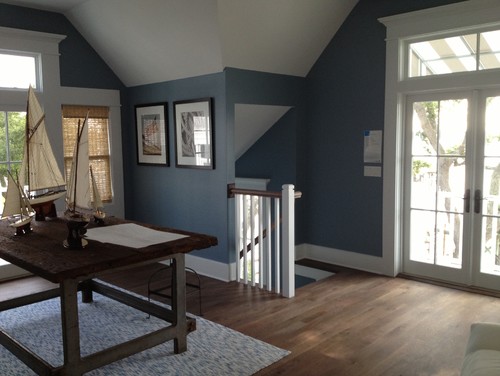 Light has a tremendous role to play with this paint color on the walls.
With ample incoming light, it is bound to feel lively and homely. But at the same time, you need to take into consideration the compass directions of the room.
For north and east-facing rooms, the incoming cool light will merge with the blue to form a crisp appeal.
On the other hand, using this hue in the south and west-facing rooms will make the color appear slightly warmer.
Other than that, there are various other aspects such as the existing flooring, views of the windows, and existing fireplace that might alter the appearance of the paint.
Else, you always have the opportunity to style with artificial lighting.
Want to see what Smoky Blue looks like in your own living space? Pick up a wall sample now from Samplize!
What are the Best Coordinating Colors?
Creating color palettes can be quite a fun task to do.
At least, this is what I love to do for my E-design and Color Consultation business.
So, it's crucial for you to choose the best complementary colors in order to define a palette that looks subtle and eye-catchy!
And with this notable blue – you must ensure to pick complementary hues that play flawlessly.
In general, this color can look flabbergasting with cool whites, mustards, sakura pinks, bronze, and lighter blues.
And other than that, you have a wide plethora of color opportunities and options to pair with!
However, you have to be careful as to what vibe you need in your space for a perfect color combination.
So, I am going to enlist the two most popular color schemes here – monochromatic and contrasting.
Monochromes are generally great for modern, minimalist, coastal, and contemporary setbacks.
So, here are a few of the colors I would recommend for a monochromatic palette!
On the other hand, here are a few of the colors I would recommend for a contrasting color palette!
For your ceilings, trims, and moldings – SW Extra White or SW Pure White will help protrude a true hue of SW Smoky Blue.
SW Smoky Blue Vs Similar Colors
Although you must know that even though these following colors look similar, they might still differ in the undertones or reflectivity!
So, one of the closely related colors is SW 0032 Needlepoint Navy and BM Thousand Oceans!
Let's see how all of them differ.
Smoky Blue Vs Needlepoint Navy
The major difference is the undertones here!
The former inclined more towards the blues whereas the latter is more like navy blue paint that is deep and bold.
With an LRV of 13, this color is comparatively darker.
Lastly, you must know that both these colors are equally beautiful and majestic.
Order a stick-on sample of Smoky Blue and Needlepoint Navy to see what works best in your home.
Smoky Blue Vs Thousand Oceans
Sharing considerable similarities, this is another similar noteworthy paint color to choose.
With an LRV of 16.14 – this is quite a dark paint color.
Also, you are quite likely to observe slightly green in this color. Well, falling on the warmer end of the scale.
Since digital screens can be deceiving, I highly suggest you get some actual samples of these two colors from Samplize. Buy here!
Where to Use Smoky Blue?
Can I simply say, everywhere?
Well, that's how much I adore this blue paint color.
So, you can absolutely use this paint color in the living and dining room, exterior walls, bathrooms, cabinets (kitchen, laundry room, and bathroom), and even bedrooms.
When talking about the interior design styles, you can incorporate this color in the Caribbean, Coastal, and contemporary.
Let's see where and how to incorporate this color into your home.
Smoky Blue in Living and Dining Rooms
A wonderful option, indeed!
You can use this color on the accent wall and merge it with creamy or crisp whites – depending upon the vibe you're aiming to create.
Further, you can always add natural materials like rattan, wicker, and cane along with bamboo for an organic vibe.
Certain tinges of wooden textures are equally good to go!
Lastly, add off-white shag rugs and sheer curtains for a lively and airier feel.
Using in Bedrooms
Throw a splash of SW Smoky Blue on the accent wall behind the headboard.
And if you have a smaller bedroom, be very careful when picking the adjacent wall colors, and the upholstery materials.
Choose white sheer curtains, off-white linen upholstery, and ample whites on the rug, curtains, and other textiles.
Secondly, in terms of metal accents, choose matte black or brushed chrome and brass for a focal statement.
You can even add tinges of pink and coral on your accents like vases, table lamps, and throw pillows for a wholesome vibe.
Smoky Blue in Kitchens
SW Smoky Blue makes a lovely statement in the transitional-style kitchens.
Yes, and it is even better if you choose this particular tone on the lower cabinets and crisp white on the upper.
Furthermore, let the pull handles and drawers be gold or brass and backsplash tiles in white gloss for the flabbergasting experience.
For larger-sized kitchens, you can use this color on both the cabinets as well!
Using on Exteriors
Especially for the Coastal, Mid-Century Modern, Traditional, and Contemporary homes, this paint on the exteriors is bound to add a quirky yet sophisticated vibe.
You can play with either blue roof tiles and bold white or gray for the walls, trims and moldings, door and window frames.
Or, for contrast, you can even add Smoky blues-only on the doors and the whites and gray for the other exterior elements.
How to Best Sample This Color?
Here's my favorite tip when it comes to testing out a color like Smoky Blue – go and order a peel-and-stick sample from Samplize.
This little company has nailed down the best way to sample colors much more easily. Simply stick on a 12″ x 12″ square instead of having to get a small can of actual wet paint on your walls.
For a few bucks you get a big enough sized sample to evaluate anywhere you want to "try" on a paint color and any possible coordinating hues you like.
It's temporary, so move it around and test location and lighting options.
So, how do you want to use this amazing SW Blue paint color in your home? Interiors or Exteriors? Doors, windows, or walls? Kitchen cabinets or a bathroom vanity?
The options are truly endless with Sherwin-Williams Smoky Blue at the end of your brush!
Should there be any questions or thoughts, let me know in the comments below!