Sherwin Williams Sleepy Blue is exactly how the waters of the Pacific Ocean would feel!
Calm, serene, and tranquil!
So, here is another beautiful blue I want to introduce today.
This particular blue is quite different from the others – in each and every possible way!
It is exactly like the name sounds – slow, quiet, and sleepy.
With humble feels and a look so peaceful – this color is all set to embark a sense of joy in your living environments.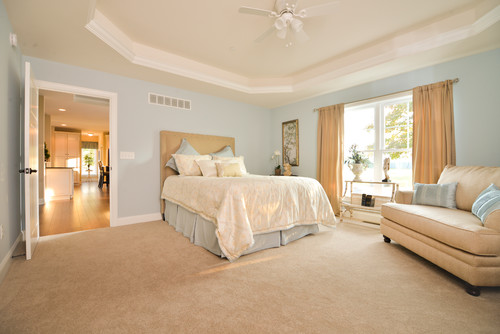 There have been a number of times I have recommended this paint to my E-Design clients.
Some of them were either big admirers of nature or on the other hand, craving for a tinge of relaxation somewhere amongst the busy streets of San Francisco!
So, if you have similar intentions of using this specific paint color, I suggest you go ahead with it!
Here, in this color review, I will share some secret tips on how to make the most of this paint color, what it truly has to offer, and most importantly, how to use it seamlessly in your space.
So if you are planning to add one – keep reading ahead to know exactly how and where!
Let's get started!
Sherwin Williams Sleepy Blue SW 6225 Details and Specifications
Do you know what makes this particular blue different from the rest?
Well, it is definitely the underlying details and specifications.
These are the terminologies that help differ each hue from one another.
Most of the homeowners generally look at how the color looks and feels like, but the fact is that you should always understand what the color is truly made of.
Hence, ignoring the basics will lead to some mess in your home – and who wants that right?
So, first and foremost, analyze the importance of Light Reflectance Values or the LRV's that help in determining how light or dark the paint is.
In this case, the LRV of Sleepy Blue is 58.
And that means it falls on the middle to the lighter end of the scale.
(You can easily find this value at the back of the paint swatch or you can visit the Sherwin Williams Website)!
Want to try this color out without having to paint your wall? Use some nifty peel-and-stick samples: Pick one up now from Samplize!
Secondly, other important associated terminologies are the RGB and HEX Values that further tell us what the color is comprised of.
Red = 188
Green = 203
Blue = 206
HEX Value = #bccbce
Now that we have discussed enough about the technical and scientific information, let's get started with the practical aspects of this quiet blue Sherwin Williams paint.
How Does this Color Feel in a Space?
As discussed, Sherwin Williams Sleepy Blue is set to add a subtle backdrop on the walls of your home.
Almost like a robin's egg blue paint, it feels quiet, airy, calm, relaxed, and laid-back! At all times of the day!
You can absolutely use this paint in smaller areas to make them look larger, airier, and more organic and natural.
I recommend the warmer and tropical climates to use this color!
Since this paint color has the magic to exhibit cooler vibes in your space – hence, great for areas with higher temperatures.
This color exhibits a neutral vibe – hence, after a long day at work, this will feel absolutely welcoming and relaxing.
For very small spaces, I recommend using this color as an accent and pairing it with stark whites that have a reflective value over 82.
How Does Light Affect the Color?
Light – whether natural or artificial has some role to play here!
So, here is a little exercise I want you to perform in case you want to use this paint!
Do you have ample natural light? What are the compass directions of your room?
In the case of ample natural light, this color will tend to further look lighter and airier!
Moreover, I recommend that you use this paint in the west or the east-facing rooms since it will neutralize the incoming yellow rays with the cooler-toned paint.
(Try avoiding in the north-facing rooms for extra chilly vibes)
Else, you can always play with artificial lighting to create the desired aura.
You can use warm white lighting in the form of pendant lights, chandeliers, ceiling lights, and wall sconces!
As I already mentioned, do yourself a favor and get some wall samples to test out this color and any others.
The stick-on kind are a no-brainer from Samplize, and will give you some answers ahead of time. Get yours now!
What are the Best Coordinating Colors?
Choosing an eye-catchy and seamless complementary scheme is important.
Hence, you can either choose a contrasting or a monochromatic color palette – depending on your interior design style and preference.
So, with such a soothing and subtle blue aligns either darker or lighter greys, creamy or crisp whites, black, greiges, Sakura pinks, burnt oranges, and lighter and brighter yellows.
Well, here are a few of the colors I would recommend for a monochromatic palette!
SW 6226 Languid Blue
SW 6227 Meditative
SW 6228 Refuge
On the other hand, here are a few of the colors I would recommend for a contrasting color palette!
SW 7005 Pure White
SW 6619 Sockeye
SW 7064 Passive
For your ceilings, trims, and moldings – I would recommend using SW Pure White to further achieve a creamier look or else if you want a crisp look, choose SW Extra White or SW High Reflectance White.
SW Sleepy Blue Vs Similar Colors
I can assure some similar-looking options – however, all of them would either differ in reflectivity or the undertones.
If this specific blue is not what you are looking for, you can choose from the following options!
(Although, remember all of these are cousins and may look beautiful in certain circumstances)
To name a few, there are SW 6218 Tradewind and SW 6239 Upward!
Let's see how all of these differ!
Sleepy Blue Vs Tradewind
Sherwin Williams Tradewind differs with the former in the terms of undertones, mainly!
SW Sleepy Blue is completely a true blue with little deflections towards the other colors, whereas SW Tradewind purely has warmer blue appearances with deep green undertones.
With an LRV of 61, this color feels quite light and airy – more than SW Sleepy Blue!
For more, check out my full guide on SW Tradewind here.
Buy some wall samples of each of these colors to easily compare them right in your home.
Sleepy Blue Vs Upward
Both these colors have quite some considerable differences.
SW Upward feels even more cooler and crisper when used in your home. Furthermore, it also appears slightly bold and authentic.
With an LRV of 57, this color shares reflectivity similarities with the former!
For more, check out my complete guide on SW Upward here.
I also like to use SW Atmospheric when considering these colors if I want just a tad brighter and livelier feel.
See how these colors compare real time with stick-on wall samples from Samplize.
Where to Use Sleepy Blue?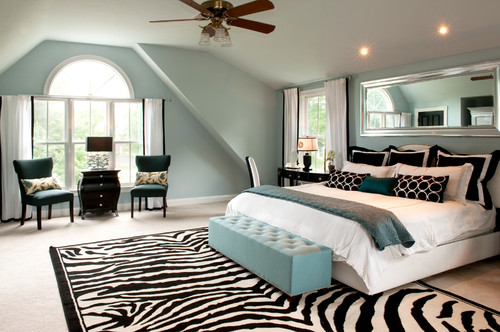 SW Sleepy Blue is a must in every corner of your home.
Well, you name it, and you can have it!
Whether it is the kids' rooms (boys especially), the kitchens, common areas like living and dining rooms, exteriors, hallways, and bedrooms – you can have it!
Especially for interior design styles like Coastal, Caribbean, and Floridian – this color is great to go!
Let's see where and how to incorporate this beautiful blue color in your home.
Sleepy Blue in Living and Dining Room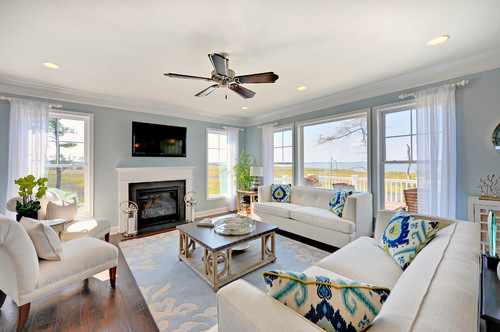 You can pair this color with creamier whites in the form of wall paneling and ceilings!
Furthermore, try adding a sense of interest by adding hues like burnt oranges, pinks, and even mustard yellows in some cases!
(Don't shy away from bolder shades)
Rather try to pick cotton or linen upholstery and tons of sheer curtains to further feel airy and bright.
And just in case if you have wooden parquet flooring, it is definitely a plus point!
Using in Bedroom and Bathroom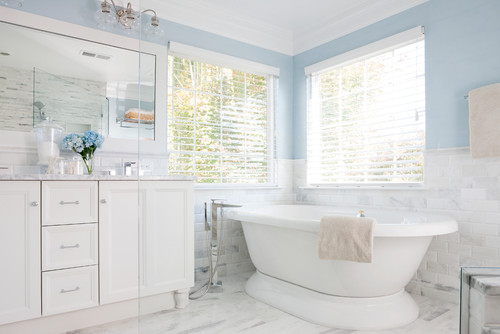 Bedrooms are great places to have a tinge of SW Sleepy Blue!
You can either paint all the walls in this specific color or use it on the accent wall.
You can further pair it with mustard yellows and some burnt oranges on the throw pillows and blankets.
To create a contrast – you can also add some brass-tinted fixtures on the chandelier or the fan!
I recommend keeping your base neutral with creamy whites to let the paint stand out from the rest of the décor.
Sleepy Blue in Kitchen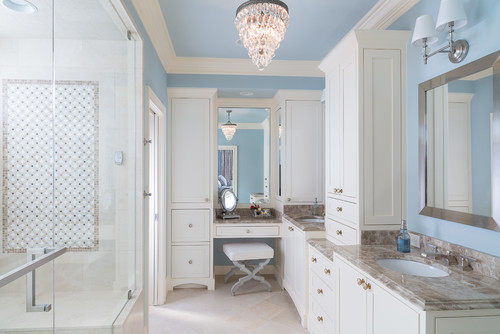 Coastal kitchens love the feel of SW Sleepy Blue!
And if you like that particular style – you too can have it!
So, you can either paint the cabinets in this specific color or use it on the backdrop wall.
Furthermore, try pairing with golden or brass tints – else, matte black metal!
Keep your backsplash tiles and marble countertop lighter in tone.
Using on Exteriors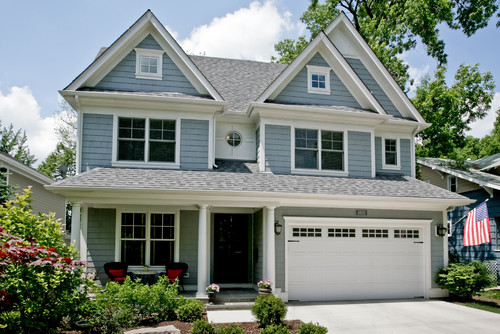 Exteriors are a great way to flaunt off this beauty!
SW Sleepy Blue on exteriors is bound to look lighter than it already is.
I recommend using this paint on Cape Cod, Craftsman, and Coastal-styled homes!
Pair it with creamy or crisp white, gray, or off-white shaded trims and moldings!
Yes – that way you make a great contrast on your home exteriors!
Also, you can do the other way round, by using pure whites on the decorative moldings!
So, how do you want to use this SW Blue in your living spaces? Interiors or Exteriors?
You Should Order Samples of Sleepy Blue

Let's face it, good paint isn't cheap. While painting is a relatively inexpensive, good bang-for-your-buck project, picking colors can be hard. You don't want to buy a whole can of something until you know for sure.

So together with the info here, you can literally "see" what this color will look like in your home before you commit.

Getting a peel-and-stick sample from Samplize is the best thing since paint rollers!

If you don't know yet, you can order a 9″ x 14.75″ sample with the real paint color on it. Stick it on your wall multiple times and in multiple places to find out exactly if the color is for you.
Now that you have all the secrets – are you excited about painting your home in Sleepy Blue?
Should there be any questions or thoughts, let us know in the comments below!