Mimicking the skin color of a seal, Sherwin Williams Sealskin is an earthy dark brown paint color that brings you much closer to nature.
This curious neutral is warm, welcoming, sleek, and refined. If you have a transitional, modern farmhouse, traditional, or modern interior design style this color is one to seriously consider.
Although sharing the color of mud, this hue is anything but dirty and messy with its potential to bring an utmost joyful, exuberant, and delightful vibe.
However, when using this color in your home, it's of utmost importance to have an eye for it.
Even though this color is quite tricky to deal with and pair with, it's equally fun and entertaining.
And don't forget – browns have a certain charm that simply can't be ignored. Yes, they're dark and bold – but at the same time, it gives an utmost sophisticated appeal.
So, are you looking forward to using this color in your home?
This color review will exactly help you figure out the whereabouts and how bouts and whether or not you should use this paint in your home.
And just in case you're wondering what the best color palette with SW Sealskin would be – then have a look!
Sherwin Williams Sealskin SW 7675 Details and Specifications
There is a difference between earthy browns, light browns, and darker beiges – and details and specifications are the way to go!
After all, this is what reveals the true characteristics of that particular paint color.
So, if you are new here, let me tell you – there are quite some facts and scientific terms that you would want to acquaint yourself with. (Before choosing a paint color for your home)
It's important to analyze these values and then determine where, when, and how to use these paints!
So, first and foremost, one of the most important terms that I usually observe getting ignored is Light Reflectance Values (LRV)!
Every color has an associated Light Reflectance Value!
For Sherwin Williams Sealskin, the LRV is 6!
Which falls on the darker end of the scale and is almost very dark.
Remember, the lesser the value, the darker the paint color is!
And vice versa!
One GREAT way to test a paint color to see what it'll do in your own home, is to order a sample from Samplize. You can pick one up for Sealskin!
Moving ahead, let's discuss the RGB and HEX Values of the color.
Red = 72
Green = 66
Blue = 60
HEX Value = #48423c
Now that I am concluding, I promise not to bore you with these scientific details anymore.
Let's talk about the practical aspects of this brown paint color.
How Does This Color Feel in a Space?
Sherwin Williams Sealskin is a beautiful brown paint color that is dark, bold, and equally dramatic and suspenseful.
Yes, it can easily make the walls come closer to create a sense of a smaller space – hence, a great way to deal with humongous spaces and create an illusion.
Well, you're bound to feel laid back, relaxed, and calm when this paint is on board.
Secondly, you can always choose to use this paint in any climatic condition since it doesn't strictly confine to a particular saturation.
Although it's better for cooler climates (northern regions).
A pro note: Don't use this paint in the rooms that are smaller in size. It can truly feel dingy and dull!
How Does Light Affect the Color?
Light – whether natural or artificial will always affect the appearance of the paint color.
Generally, in the south or west-facing rooms, this paint is bound to appear warmer and cozier.
On the other hand, in the north-facing rooms, this same paint will appear slightly cooler due to the incoming gray rays.
Due to the utmost low reflectivity of the paint color, it's important that you use it in a room that has ample windows and natural light.
That way, your room will never feel daring, boring, and unwelcoming like in the well-lit room pictured in the photo above.
Lastly, you can always use artificial warm white or yellow lighting in the form of wall sconces and pendant lights to create a warm and welcoming appeal.
If you want to really see how this color will play in your space and with other colors, get some wall samples from Samplize.
What are the Best Coordinating Colors?
SW Sealskin is comparatively tricky to deal with.
This brown shade majorly aligns with the warmer end of the scale – and that's why you're restricted to only pair it with a couple of warmer tones.
SW Sealskin can be best paired with beiges, whites (creamy and crisp), steely blues, and sage greens.
Regarding metallic accents, I like the feel of brushed brass, glossy gold, or chrome.
So, I am going to enlist the two most popular color schemes here – monochromatic and contrasting.
So, here are a few of the colors I would recommend for a monochromatic palette!
SW 7019 Gauntlet Gray
SW 7018 Dovetail
SW 9170 Acier
On the other hand, here are a few of the colors I would recommend for a contrasting color palette!
For your ceilings, trims, and moldings – SW Alabaster or SW Pure White will help protrude a true hue of SW Sealskin.
SW Sealskin Vs Similar Colors
Although you must know that even though these following colors look similar, they might still differ in the undertones or reflectivity!
So, one of the closely related colors is SW 9580 Cracked Pepper and BM 2134-20 Midsummer Night.
Let's see how all of them differ.
Sealskin Vs Cracked Pepper
SW Sealskin is a mainstream brown whereas SW Cracked Pepper is a notable brown with deep red undertone.
With an LRV of 5, this color is quite dark, bold, and deep – thus, always be careful when using it in smaller spaces.
Lastly, you must only use it on the accent wall in amalgamation with SW Alabaster or SW Snowbound on the adjacent wall.
This is a stark and saturated tone, and that's why you must avoid using it in the west or south-facing rooms.
Order a wall-stick sample of Sealskin here to try this color on for size.
Sealskin Vs Midsummer Night
Another beautiful earthy brown shade, BM Midsummer Night has a deep gray undertone – thus, making it a perfect pastel tone.
With an LRV of 5.81 – this color is equally dark and bold. (Yes, be careful, as always)
Lastly, you can best use this paint on the door frames, trims, and even moldings.
Grab peel and stick samples of these colors here to see how the color will look in your living spaces.
Where to Use Sealskin?
SW Sealskin is a beautiful shade of brown that can be used in any corner of your home.
Whether it's the door and window frames, accent wall, kitchen cabinets, exterior molding, or furniture frames – this color will truly work for all.
So, let's have a look at how to best incorporate the paint in your home.
Sealskin in Living and Dining Rooms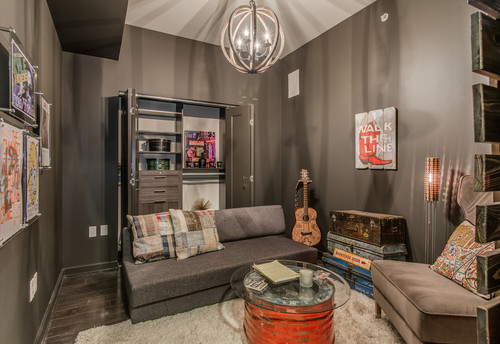 This is a great color recommendation for transitional, modern, French Country, and modern farmhouse interior design style.
In the living and dining rooms, you can best throw this color on the accent wall in amalgamation with SW Alabaster on the adjacent wall.
Furthermore, you must add shades of beige and warmer grays on the furniture fabrics and accessories like rugs and curtains.
Lastly, don't hold back from splashing a blue hue on the throw pillows and artwork.
And all this while, remember to add glass on the coffee table countertop and ample faux and fur on the rug and pillows.
Using in Bedrooms and Bathrooms
A bedroom should truly speak your style and personality. And if you have an eye for this shade of brown, it's a must for sure!
Try adding warmer beiges and creamy off-whites on the adjacent wall in amalgamation with metal on the bed frame and quirky macrame wall hangings.
If you're looking for a pop of hue – add sage green or steely blue on the bedding and other accessories.
Lastly, I highly recommend painting only the accent wall of your bedroom in this particular paint color.
Sealskin in Kitchens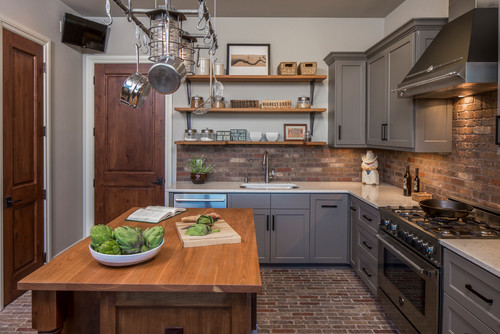 One of the best places to use SW Sealskin is on the kitchen cabinets.
Let the backdrop wall shine bright in subtle creamy off-whites and the door and window frames in clean and crisp whites.
Furthermore, add a gold-tinted pull handle or knob to add a statement of luxe and sophistication.
Lastly, for the backsplash, choose white glossy tiles along with gray or white granite countertop.
Using on Exteriors
Whether you have a traditional style or Craftsman, Mid-Century Modern, Ranch, or transitional – Sherwin Williams Sealskin makes an astounding and timeless statement.
You can paint the shiplap walls in this color and choose to paint the trims and moldings in SW Alabaster White or vice versa.
And this color works wonderfully with exposed red brick or natural stone.
Do you want to make your home exteriors look even more interesting? Well, add cherry reds or teal blue on the front door to make it stand out.
How to Best Sample This Color?

When it comes to colors like Sealskin, which can show in many different ways, you should definitely order a peel-and-stick sample from Samplize.

These folks came up with a genius way to sample real pain without having to go to the store, pick up a can, then paint it on.

For not much money you get a good sized square to put up anywhere in your house where you want to "try" on a paint color along with any possible coordinating hues you like. Love this!
So, how do you want to use this color in your homes? Interiors or Exteriors?
Now you see, SW Sealskin has much more to offer! And you will never even regret it.
Should there be any questions or thoughts, let us know in the comments below!