When looking for a perfect blue to create a graceful statement in your home, don't hold back from Sherwin Williams Sea Serpent!
It's a blue that you'll never regret!
In fact, it's just the opposite. This blue paint is something to look forward to.
It's timeless, versatile, and has the magic to transform your space to give a sense of drama and character.
This dark blue has a tinge of gray that makes it a worthy statement. (And this is absolutely why I love it)!
So, if you have the personality to experiment with color to make a bold and daring status – this deep and stark blue has the answer.
You can absolutely pair it with other brighter hues to create a contrast or simply choose a clean base for a sense of subtleness.
And when confused as to which blue would work the best, you can blindly pick SW Sea Serpent.
So, are you excited about what this paint color has for you and your home?
Well, I am going to reveal it all.
Relax, sit back, and enjoy the color review.
Sherwin Williams Sea Serpent SW 7615 Details and Specifications
It's not as easy to pick a paint color as you may think.
Yes, you might have to go through various decisions, comparisons, and discussions to make informed decisions.
After all, not every blue is alike. And there are considerable differences in each color that you observe on a swatch.
If you are new here, let me tell you – there are quite some facts and scientific terms that you would want to acquaint yourself with. (Before choosing a paint color for your home)
It's important to analyze these values and then determine where, when, and how to use these paints!
So, first and foremost, one of the most important terms that I usually observe getting ignored is Light Reflectance Values (LRV)!
Every color has an associated Light Reflectance Value!
For Sherwin Williams Sea Serpent, the LRV is 7!
Which falls on the darker end of the scale – and somehow very dark (but lighter as compared to SW Naval that has an LRV of only 4).
Remember, the lesser the value, the darker the paint color is!
And vice versa!
What I like to do is sample Sea Serpent under different lights where I'm going to use it. I use Samplize stick-on samples. Get some samples now!
Moving ahead, let's discuss the RGB and HEX Values of the color.
Red = 62
Green = 75
Blue = 84
HEX Value = #3e4b54
Now that I am concluding, I promise not to bore you with these scientific details anymore.
Let's talk about the practical aspects of this popular blue paint color.
How Does This Color Feel in Space?
Sherwin Williams Sea Serpent very closely shares synonyms with majestic, splendor, and luxe.
Oftentimes, this color is used as a major hue for branding to define utmost elegance and richness.
Similar is the situation for your homes, this dark blue paint color is bound to add a sense of character, boldness, and drama to the room.
Due to low reflectivity, this color will undeniably bring the walls closer to create an illusion of a smaller space.
However, you can always play creatively and maintain balance and hierarchy in the space.
Furthermore, you can always choose to use this paint in any climatic condition since it doesn't strictly confine to a particular saturation.
To foster a warm environment – add beiges and creamy off-whites, else don't hold back from crisp white and grays for a chilly and cool environment.
How Does Light Affect the Color?
Natural light and paint color go hand in hand.
The more natural light in your room, the brighter the room will be! And vice versa.
So, strictly, you must allow ample natural light to flourish indoors. That way, you can feel refreshed and enhanced and the light will exhibit the true hue of the paint.
In a room with excessive heights and ample windows, this color plays phenomenally well. However, don't be discouraged if you have a smaller space.
In that case, you might want to play an accent wall!
Furthermore, artificial lighting plays a great role too. Add warm whites to create a cozy backdrop with blue!
As I mentioned before, you can try out this color with real paint, (but without the mess) using stick-on samples from Samplize.
What are the Best Coordinating Colors?
Creating color palettes can be quite a fun task to do. (I absolutely love it)
This is mostly what I am consulted for!
So, it's crucial for you to choose the best complementary colors in order to define a palette that looks appealing and well-balanced.
Dark blues, in general, can best complement whites (cooler bases), lighter grays, burnt umber, mustard, and powder light blues.
And other than that, you have a wide plethora of color opportunities and options to pair with! (You can be as creative as you want)
However, you have to be careful as to what vibe you need in your space for a perfect color combination.
So, I am going to enlist the two most popular color schemes here – monochromatic and contrasting.
Monochromes are generally great for modern and contemporary setbacks.
On the other hand, Eclectic, Mid-Century Modern, and Farmhouse play well with contrasts.
So, here are a few of the colors I would recommend for a monochromatic palette!
On the other hand, here are a few of the colors I would recommend for a contrasting color palette!
For your ceilings, trims, and moldings – SW Extra White or SW Pure White will help protrude a true hue of SW Sea Serpent.
SW Sea Serpent Vs Similar Colors
Although you must know that even though these following colors look similar, they might still differ in the undertones or reflectivity!
So, one of the closely related colors is SW 7625 Mount Etna and BM HC-154 Hale Navy!
Let's see how all of them differ.
Sea Serpent Vs Mount Etna
Not restricted to a navy blue, SW Mount Etna is a blue that must be considered for the home.
It's subtle, balanced, and quite relaxing. Moreover, it has an LRV of 6 – which makes it an equally dark paint color.
You can best pair it with whites, beiges, mustards, and also corals and quirky pinks.
If you want to test the subtle differences in your house, get some wall samples of each here.
Sea Serpent Vs Hale Navy
Ah, I have to include BM Hale Navy here. I'll admit I love this one equally!
Even though these two tones share immense similarities, the major difference is the undertones.
The latter has notable navy blue undertones to make it strictly more inclined towards the other category of blues.
With an LRV of 6.83 – these two are closely related to reflecting away natural light.
You can best pair each with true whites and golden tints.
Test these colors side-by-side to see the differences in "real life" INSIDE your home, with some wall-stick samples. Order here!
Where to Use Sea Serpent?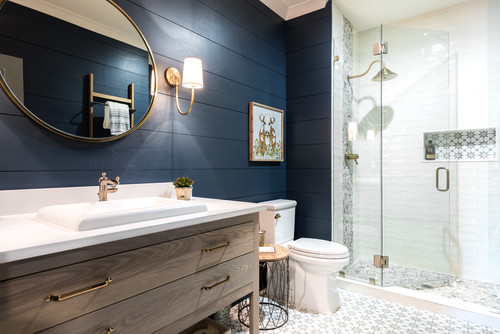 Sherwin Williams Sea Serpent can be creatively used in any corner of your home.
Whether it's the kitchen cabinets, living room feature wall, or exterior shiplap – you can create wonders with this paint color onboard.
So, let's have a look at where and how to incorporate this paint color in your home.
Sea Serpent in Living and Dining Rooms
Especially if you have a transitional, modern, and contemporary style living room – this color is a number one recommendation.
You can choose to paint the accent wall in this color and let the remaining adjacent walls be crisp whites. (Also applicable for the wall with fireplace)
Furthermore, you must choose a lighter tone for the furniture upholstery (beiges and grays would work).
In the case of a fireplace, you must choose darker gray, lavish and glossy black, or exposed white brick.
Lastly, don't forget to add a couple of quirky-hued and patterned throw pillows.
Using in Bedrooms
If you have the personality and style, Sherwin Williams Sea Serpent would play flawlessly in your bedroom.
You can choose to paint the focal and headboard wall with this paint in amalgamation with whites for the adjacent wall.
I wouldn't recommend painting all the walls in this color unless the room is large enough.
Moreover, you can always add patterns like polka dots and checks to make the room feel more interesting.
Lastly, don't hold back from natural woven materials like rattan and wicker for a refreshing vibe.
Sea Serpent in Kitchens
What an amazing combination, isn't it?
For a bold paint color like Sherwin Williams Sea Serpent, you must ensure to add a fresh coat on the cabinets (especially lower ones for a sense of contrast).
You can either choose to pair with whites or lighter grays for the upper cabinets and backdrop wall.
Lastly, ensure to choose a brass-finish or gold-tinted finish for the pull handles and drawers.
Using on Exteriors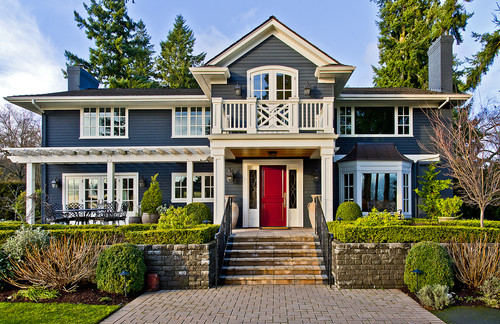 Whether you have a traditional style or Craftsman, Ranch, or transitional – Sherwin Williams Sea Serpent makes a wonderful statement.
You can paint the shiplap walls in this color and choose to paint the trims and moldings in pure white.
Do you want to make your home look even more interesting? Well, add cherry reds or burnt umber on the front door to make it stand out.
How to Best Sample This Color?
I need to share my favorite tip for testing out a color like Sea Serpent – go over and order a peel-and-stick sample from Samplize.
These folks are nifty because they figured out a convenient way for us to sample colors way more easily. Just stick up a temporary square sample and forget the small jar of actual wet paint.
For only a few dollars you'll receive a perfect sized square you can stick up temporarily anywhere you want to "try" on a paint color and any possible coordinating hues you like. It's the best!
So, how do you want to use this color in your homes? Interiors or Exteriors?
Now you see, SW Sea Serpent has much more to offer! And you will never even regret it.
Should there be any questions or thoughts, let us know in the comments below!