When choosing the best gray paint color for your home, there are a number of aspects to consider.
Warm or cool, blue undertones or beige, traditional interior design style or transitional – well, the list goes on and on.
So, if you're bored with the look and feel of beiges and now want to explore the contradictory gray color category – let me introduce you to one such calm and true gray paint.
Sherwin Williams Passive is a cool-toned gray paint color that has a touch of drama and a stormy moody vibe.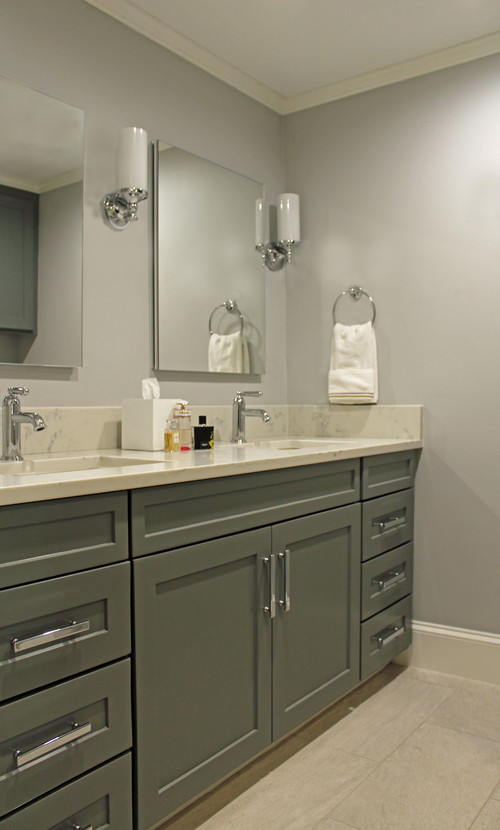 It's not an icy and crisp cool gray paint – rather, has a slight depth to make the color feel more characteristic and heavy.
However, with this paint color, be careful around the lighting conditions – since it can play sneaky sometimes.
So, are you excited to incorporate a touch of SW Passive into your home?
And wondering where and how?
Well, I am excited to acquaint you with a couple of design inspirations and how to best use this paint color in your home.
Let's get started!
Sherwin Williams Passive SW 7064 Details and Specifications
What separates the true gray against gray with blue undertones or gray with green undertones or purple undertones?
Well, it's the details and specifications.
If you are new here, let me tell you – there are quite some facts and scientific terms that you would want to acquaint yourself with. (Before choosing a paint color for your home)
It's important to analyze these values and then determine where, when, and how to use these paints!
So, first and foremost, one of the most important terms that I usually observe getting ignored is Light Reflectance Values (LRV) or LRV!
Every color has an associated Light Reflectance Value!
For Sherwin Williams Passive, the LRV is 60!
Which falls on the medium end of the scale – and somehow aligns on the lighter end!
Remember, the higher the value, the lighter the paint color is!
And vice versa!
If you're not quite sure how this color will work in your home, you should definitely try it on for size by ordering a peel-and-stick sample from Samplize.
Moving ahead, let's discuss the RGB and HEX Values of the color.
Red = 203
Green = 204
Blue = 201
HEX Value = #cbccc9
Now that I am concluding, I promise not to bore you with these scientific details anymore.
Let's talk about the practical aspects of this cool gray paint color.
How Does This Color Feel in a Space?
View this post on Instagram
Sherwin Williams Passive is bound to make your space feel calm and rejoiced, relaxing and tranquilizing, and lastly laid-back and cool. (But not too cool)
This color doesn't create a major illusion in fostering a larger or smaller space – hence, can be used in medium or larger-sized spaces to add depth and character to the walls.
This gray paint color is sophisticated and elegant – and trust me, you will never get bored of it.
The only smart way to incorporate this color is in the warmer regions! That way, you will love the beauty of this paint and at the same time, play with your mind.
Lastly, note that this color will also create peace of mind – hence, great for kids' bedrooms, nursery, and playrooms.
How Does Light Affect the Color?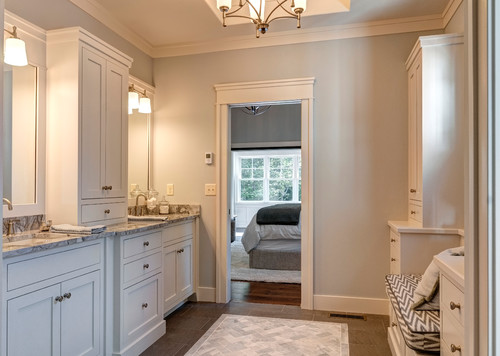 SW Passive has the tendency to play chameleon sometimes!
For instance, this color is highly dependent upon the saturation of the artificial lighting. If you have warm white or yellow lighting – it's quite likely to feel warm gray.
On the other hand, as a result of neutral or cool white light, this paint will readily feel neutral!
It wouldn't feel any cooler, so you relax and enjoy its true undertones.
Furthermore, this color can play differently in a room with windows facing the front lawn or the nearby access road.
A slightly green undertone will peek in through a window facing the front lawn.
Lastly, be careful around the specific compass directions and the activities taking place in those zones.
You may want to try a swatch in different compass directions to know what it will truly feel like.
Again, I really recommend you try out some wall samples because colors will look different in every location.
What are the Best Coordinating Colors?
Creating color palettes can be quite a fun task to do. (I absolutely love it)
So, it's crucial for you to choose the best complementary colors in order to define a palette that looks eye-catchy and cohesive.
Grays, in general, can best complement whites (cooler bases), darker grays, darker sage greens, midnight blues, and warmer and deep beiges.
However, you have to be careful as to what vibe you need in your space for a perfect color combination.
So, I am going to enlist the two most popular color schemes here – monochromatic and contrasting.
Monochromes are generally great for modern and contemporary setbacks.
On the other hand, Eclectic, Mid-Century Modern, and Farmhouse play well with contrasts.
So, here are a few of the colors I would recommend for a monochromatic palette!
On the other hand, here are a few of the colors I would recommend for a contrasting color palette!
SW 9135 Whirlpool
SW 6100 Practical Beige
For your ceilings, trims, and moldings – SW Extra White or SW Pure White will help protrude a true hue of SW Passive.
SW Passive Vs Similar Colors
Although you must know that even though these following colors look similar, they might still differ in the undertones or reflectivity!
So, one of the closely related colors are SW 7667 Zircon and BM 1591 Sterling!
Let's see how all of them differ.
Passive Vs Zircon
Sherwin Williams Zircon is a darker gray with deep warm undertones. Yes, you're quite likely to detect a tinge of plum in this paint color – see my full review of SW Zircon here!
With an LRV of 59 – this color is comparatively darker and deeper.
When used on the walls, this gray paint color may feel more weighted and heavy.
Order a wall-stick sample of Passive here to help you better compare these colors in your own house.
Passive Vs Sterling
BM Sterling is a silverish-gray paint color with a hidden tinge of green. Yes, it's cool and looks wonderful in the south and west-facing rooms.
It has an LRV of 62.33 – thus, lighter than all the above-mentioned gray paint colors.
Lastly, you can best add rich golds to this color for a luxe and rich effect.
Also, don't forget about buying real-time samples to determine the tonality of the paint in your home's lighting. Pick samples up from here.
Where to Use Passive?
Sherwin Williams Passive can make a great soothing and subtle statement in the home.
It is not necessarily an accent – rather plays a great neutral or base (and can be used on all the walls of your rooms).
Especially with coastal, Caribbean, modern, transitional, and Victorian interior design styles – this gray paint absolutely plays flawlessly.
Let's have a look at where and how to incorporate this paint color in your home.
Passive in Living and Dining Rooms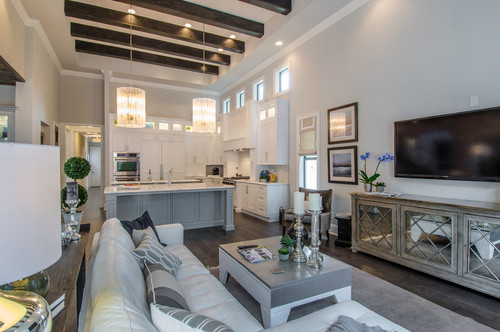 SW Passive can be used for all the walls of your living and dining space. (Considering there's ample size and square footage)
Pair this gray paint with clean white paint color and add visual accents such as blues, greens, and terracottas.
For a touch of depth and dimension, consider wall moldings in crisp white paint color.
In the case of a fireplace, choose white plaster or natural stone for the surroundings.
For the furniture, choose black leather or light gray linen upholstery with matte black furniture frames and artwork frames.
Lastly, you must know that this paint perfectly complements the dark hardwood floors.
Using in Bedrooms
If you want your bedroom to make you feel calm, cool, and composed – this is a perfect gray paint to have.
Although, you must not forget the deep blue embedded undertones in various lighting conditions.
Furthermore, choose crisp whites on the trims and molding, and ample macrame, faux, and fur to create harmony as well as contrast.
For duvets and throw pillows, you can consider choosing a tone of blue and off-white.
Passive in Kitchens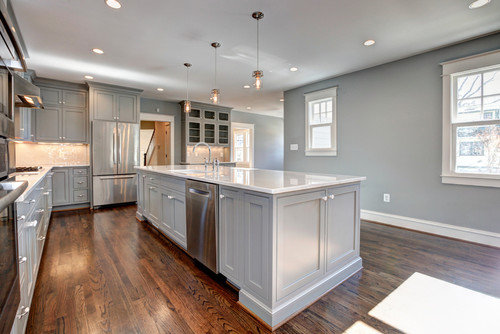 SW Passive kitchens are so much in trend. Trust me, gray will never go out of trend.
Firstly, even years later – it will never feel boring and outdated. And secondly, it can easily complement any interior design style of your home.
Hence, when in confusion – try picking a gray like SW Passive.
You can also create an eye-catchy effect with the help of bold blue paint color on the lower cabinets.
You can best add satin brass knobs and pull handles.
Yes! It will pay you back in every possible way.
Using on Exteriors
Especially for the Craftsman, Ranch-style, Mid-Century Modern, and transitional homes, this paint on the exteriors adds a timeless vibe.
You can add black or dark gray-colored tiles – along with crisp white for the moldings and trims. (Or any other structural or architectural feature)
Furthermore, if you have porches and columns – pick from bold blues or dark sage greens to add character to your home.
These accents can be used on shutters, window frames, and doors.
How to Best Sample This Color?
Here's my favorite tip when it comes to testing out a color like Passive – go and order a peel-and-stick sample from Samplize.
This little company has nailed down the best way to sample colors much more easily. Simply stick on a 12″" x 12″" square instead of having to get a small can of actual wet paint on your walls.
For a few bucks you get a big enough sized sample to evaluate anywhere you want to ""try"" on a paint color and any possible coordinating hues you like.
It's temporary, so move it around and test location and lighting options.
So, do you have any ideas for how to use this color now? Interiors or Exteriors?
Now you see, SW Passive has much more to offer! And you definitely won't regret it.
Let me know if you have any questions on this one!