Warm and magical, the beautiful Sherwin Williams On the Rocks paint color is what should be next on your list.
So, if you are looking for a paint that is a pastel, has a touch of gray, and is comparatively warmer – then, you are at the right spot!
Remember – not every SW gray paint is cool toned – and here is one extravagant example of a paint that clearly has a warmer touch.
Sherwin Williams On the Rocks is a lighter-toned gray pastel paint color with deep warm red undertones.
However, it is not really visible unless you use the color in certain lighting conditions.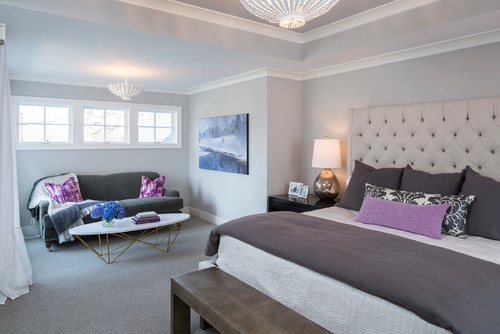 Well, let me tell you – this color is also a true chameleon!
It tends to change its appearances every now and then – depending upon the local conditions.
And that is why it is not an easy color to work with.
In case you have a lawn or a garden by the room – it may even tend to appear slightly 'greenish'!
So, to make all of this easier for you – I am going to go over how the color feels like, its complementary shades, color palette and schemes, and most importantly, if you should use this paint in your home or not.
So, let's get started.
Sherwin Williams On the Rocks SW 7671 Details and Specifications
Remember this for all time – before choosing a paint color for your home, it is crucial to understand the underlying theories and specifications linked with it.
You must know that every color is different – no matter how similar they look! They all have different stories to tell.
So, if you are wondering what all details you must acquaint yourself with – well here is a broad description of the specifications.
First and foremost, it is important to know the intensity of the paint – mainly, how light, or dark the paint color is.
In this case, Sherwin Williams On the Rocks has an LRV of 62. And that means it falls on the lighter end of the scale.
Because paint colors can change in different environments, I recommend you also just try On the Rocks out at home with a peel-and-stick sample from Samplize. Order some samples now!
(Look at the back of the paint swatch to know the LRV of a Sherwin Williams Paint)
Other associated terms that you must acquaint yourself with are the RGB and HEX Values!
(They differ for each paint color)
Red = 208
Green = 206
Blue = 200
HEX Value = #d0cec8
Now that we have read through the color specifications, let's read on to some of the practical aspects and applications of this neutral paint color.
How Does this Color Feel in a Space?
After analyzing the above-mentioned specifications, it is now time to discuss how the color truly feels like.
Does it feel all cramped up or is it simply a cherry on the top?
Well, Sherwin Williams On the Rocks feels absolutely airy, light-headed, cheerful, and tranquilizing when used on the walls of your home.
It also tends to make your space feel larger by simply pushing away the walls! Yes – and that is because of its high reflectivity properties.
This color also holds an advantage to be used in almost any and every weather! Whether there is frequent snowfall or regular tropical heatwaves – this paint will make you feel comfortable at all times.
Unknowingly, this color tends to play with our brains by capturing the stress hormones to practically release a calming effect.
How Does Light Affect the Color?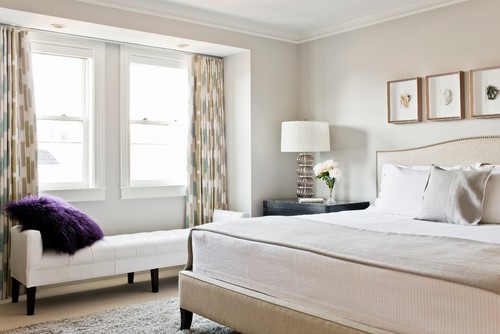 Natural as well as artificial lighting plays a major role in depicting the true hue of the paint color.
You may observe it in your home – the paint color on the wall may appear different at different times of the day.
Mainly, in the absence of light – this paint color tends to look slightly darker (not much) whereas on the other hand, in excessive lighting conditions – it may appear much lighter!
However, as I mentioned, this color is deeply dependent upon the surrounding hues.
Let's say, you plan to use it in the living room that is attached to a large backyard, the color in excessive lighting conditions will appear slightly 'greenish'!
Moreover, you can always create the desired mood by adding artificial lighting in the form of pendant lights and chandeliers.
As I mentioned before, you can try out this color with real paint, (but without the mess) using stick-on samples from Samplize.
What are the Best Coordinating Colors for "On the Rocks"?
Now comes one of my favorites – choosing color palettes and color schemes.
It is important that you must understand the reflectivity and undertones in order to align the best of colors.
In this case, I recommend pairing this paint with clean whites, charcoal or navy blues, greens, dusty pinks, blacks, as well as darker grays.
You could either choose a monochromatic or a contrasting color palette – depending upon your interior design style.
So, for the monochromatic palette, I would recommend the following paint colors:
SW 7654 Lattice
SW 7650 Ellie Gray
SW 7673 Pewter Cast
For a contrasting color palette, I recommend using the following paint colors:
SW 7620 Seaworthy
SW 7603 Pool house
SW 7623 Cascades
In the case of ceilings, trims, and moldings – I would recommend using SW High Reflectance White for a crisp look and SW Pure White for a warmer touch to further exhibit a refined look.
SW On the Rocks Vs Similar Colors
If you are looking for similar colors – I have a couple of recommendations for you.
However, they may not vary a lot except the brightness and undertones that majorly reign the background of the paint color.
So, the two most similar colors that you could consider are SW 7648 Big Chill and SW 7651 Front Porch.
Let's discuss the tiny existing differences!
On the Rocks Vs Big Chill
SW Big Chill is another beautiful gray paint color that you can definitely consider for your homes.
However, it clearly has 'cool' undertones – so just in case if that is your preference.
With an LRV of 62 – these paints somehow share the same reflectivity values; however, the undertones majorly differ from lighting conditions to specific rooms.
Also, don't forget about buying real-time samples to determine the tonality of the paint in your home's lighting. Pick samples up from here.
On the Rocks Vs Front Porch
SW Front Porch is a timeless gray paint color with deep green undertones, and you can definitely use it if you are aiming for a cooler appearance.
Lightest of them all, SW Front Porch has an LRV of 60 inclining the color more towards the greens than blues or reds.
If you want to test the subtle differences in your house, get some wall samples of each here.
Finally, for one more be sure to check out SW Zircon (the true gray).
Where to Use On the Rocks in Your Home?
You can definitely use this paint color in your home – as bases and neutrals!
Especially for interior design styles like Scandinavian, Modern, Farmhouse, Rustic, Industrial, Mid-Century Modern, and even Glam style spaces.
Let's discuss how to incorporate this paint color in your home!
On the Rocks in Living and Family Room
If you want a clean and crisp-looking common space with a tinge of warmth – this color is probably great to go!
You can pair it with white paneling, trims, and moldings along with sleek modern furniture.
Furthermore, to add depth, you can add accents such as brown and blues in the form of throw pillows, and blankets, artwork, and majestic rugs.
You can even place darker-hued blackout curtains against the white sheer curtains to add further volume.
Last but not the least, in case of renovation, ceramic tiles and hardwood floors would both compliment the paint.
Using in Kitchens
Gray kitchens are quite a trend – isn't it? It is also quite likely for you to spot a gray kitchen in one of the Architectural Digest magazines!
So, just in case if you are planning to achieve one of those looks, try to pair it with either dark gray or blue lower cabinets and white backdrop walls.
In the case of pull handles, use gold-tinted or brushed nickel to add a perfect balance.
On the Rocks in Bedrooms and Bathrooms
If you want a serene experience in the bedrooms – this is probably one of the best colors to go!
It has a tinge of warmth so you can even feel comfortable all year round. Remember to pair this color with darker gray throw pillows, duvets, and bedspreads.
Use white sheer curtains or dark gray block curtains with shag rugs to create balance in your rooms.
In the case of bed frames – you can also use rich velvet or black exposed metal frames to create a contrast.
In the end, don't forget to add some plants for a fresh vibe.
Using on Exteriors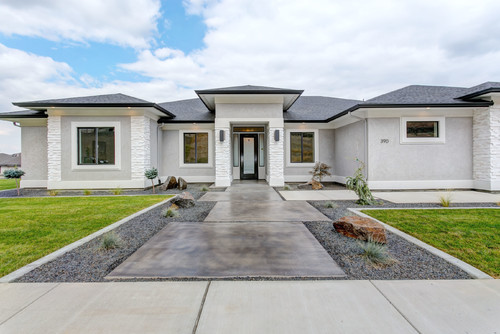 Don't hold back from using this paint color on the exteriors. However, you can pair it with black and beige travertine natural stone and paint on the moldings.
You can even go vice versa and let this paint be the accent to dark-toned paint on the walls.
My Favorite Way to Sample Colors

I can't say enough about how easy it is to use a peel-and-stick paint sample to give a color like On the Rocks a try. The absolute best way is to order a sample from Samplize.
You can check it out right on your wall and move it around. Also, try it along with a another couple of colors to test pairing possibilities.

This is WAY easier than having to open up little cans of paint and rolling/brushing on. Forget the mess and use these helpful temporary sample squares to test location, lighting options, etc.
So, are you confident enough to use this color in your home? Maybe interiors or exteriors?
However, do abide by the rules and I am sure On the Rocks will prove to be a perfect pastel and neutral in your home.
Do let me know in the comments below about your experiences as I would love to hear from you!