My guess is you're already aware of how beautiful and peaceful blue-gray paint colors are!
One such extravagant example on the list is Sherwin Williams Misty – you simply have to make this a must-try blue-gray paint in your home.
This is a grayish-blue paint that feels so soothing and tranquilizing to your eyes!
You can see it as a soft blue paint color that comes across as very light in most situations; offering a win-win solution over many other of its blue-gray cousins.
Plus, it goes without saying that this is one heckuva popular color that is trending highly these days.
With the pandemic having kicked us all indoors – there has been rising interest for home and interior wellness.
And that is when this color comes into the picture!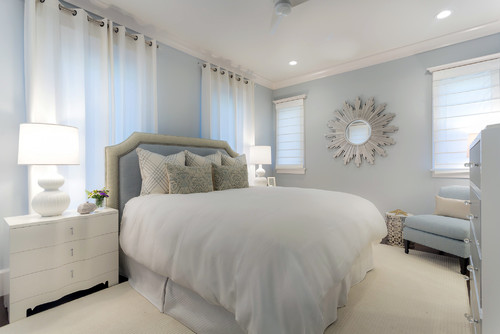 Due to its utmost pleasant and relaxing appeal, it's hard not to love what this color can do to your living spaces.
More than ever!
So, if you too are looking to add a trendy but subtle vibe into your home – I must say, this color is worthy of a serious glance.
It is pretty and doesn't involve a lot of restrictions – so, it's easier to use. That said, it does have the potential to reveal mixed signals!
And that is why this color review will help in identifying the how abouts and whereabouts of this scenic paint color.
So, let's get started!
Sherwin Williams Misty SW 6232 Details and Specifications
Before picking a paint color, it is a must that you understand the underlying theories and facts.
Every color is unique and has a story to share – a story that makes it so unique and distinctive!
And that is why you need to first understand how this specific color is made, its physical properties, and what it truly has to offer.
To make it easier for you, here are a few important terminologies that you must remember to consider.
Firstly, look at the back of your paint swatches to determine the Light Reflectance Values or the LRV's of the paint color.
This value helps in determining how light or dark the paint color is.
So, the LRV of Sherwin Williams Tidewater is 64. And that means it falls on the lighter end of the scale!
Remember, the greater the value – the lighter the paint and vice versa!
What I like to do is sample Misty under different lights where I'm going to use it. I use Samplize stick-on samples. Get some samples now!
Secondly, other important associated terminologies are the RGB and HEX Values that further tell us how the color is made.
Red = 205
Green = 210
Blue = 210
HEX Value = #cdd2d2
Since now that we have discussed the technical and scientific information, let's get started with the practical aspects of this pretty blue Sherwin Williams paint.
How Does this Color Feel in a Space?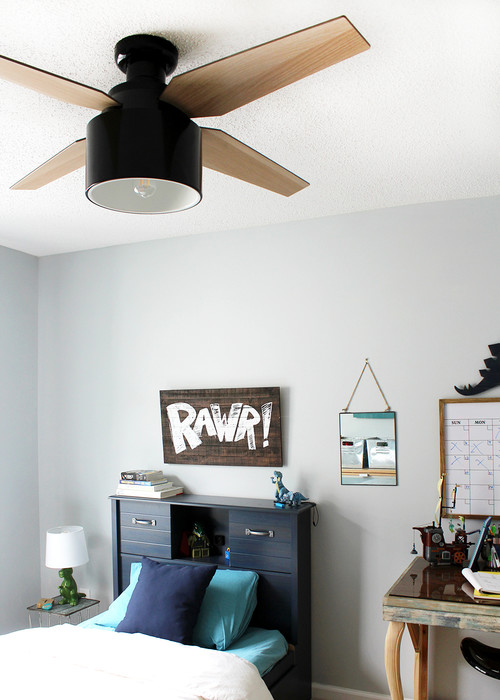 Sherwin Williams Misty feels light, airy, spacious, floaty, calm, cool, and soothing!
I must say – it resonates with all the synonyms of calm and pretty!
In your space – Misty is bound to play magic.
Magic or illusion of making your space look larger than it already is. (Of course, because of the high reflectivity)
So – a great solution for smaller-sized apartments and condominiums!
Furthermore, when talking about climates, especially for the warm and tropical states – this color is absolutely a bliss!
It will help create a cool and laid-back aura that will make you feel calmer and cooler after a long hard-working day!
How Does Light Affect the Color?
Natural as well as artificial light has some role to play here!
And I must say – do not pick a paint before you actually experiment with it in different lighting conditions!
So, firstly, look around and observe – figure out the compass direction of your room and how much time do you intend to spend there?
This color should ideally be used in the west or south-facing rooms, but it also majorly depends on the overall functionality of your space.
In case you use the room in North or South and you mostly spend the evening or morning there – you are quite likely to feel cooler and calmer!
On the other hand – In case you use the room in West or East and you mostly spend the evening or morning there – you are quite likely to feel warmer and lighter!
So now you know how this paint is bound to make you feel!
That's a little game the same paint plays in the same room – all round the day!
In case of little to no lighting, make use of artificial lighting to play a character in your space.
Else, this paint will anyway feel lighter due to high reflectivity.
As I mentioned before, you can try out this color with real paint, (but without the mess) using stick-on samples from Samplize.
What are the Best Coordinating Colors?
Misty has some great friends on the color palettes!
It is not a very difficult color to work with.
However, you need to be cautious regarding your space looking too cold or unevenly comfortable with this paint.
So, remember to pair it with paints like warm and creamy whites, cobalt blues, blacks, mustard yellows, and darker grays for a perfect balanced look.
First and foremost, you could either choose from a contrasting or a monochromatic color palette – depending upon your interior design style!
So, check out these few colors I would recommend for a monochromatic palette!
SW 6233 Samovar Silver
SW 6234 Uncertain Gray
SW 9143 Cadet
On the other hand, here are a few of the colors I would recommend for a contrasting color palette!
SW 7018 Dovetail
SW 6991 Black Magic (check out my full review of this one here)
SW 7006 Extra White
You can use SW Extra White on the ceilings and trims as well!
SW Misty Vs Similar Colors
Sherwin Williams has curated quite a few gray blues for the homeowners to have ample choices from.
Some may be bluish-grays and some grayish-blues!
However, they have a certain spark that makes them stand out among the rest.
To name a few, the two most similar-looking color options are SW 6246 North Star and SW 6253 Olympus White.
Misty Vs North Star
Another grayish-blue paint from the collection, Sherwin Williams North Star is a lighter paint with an LRV of 62.
It feels so light and pure – that you would absolutely feel relaxed after a long, hard-working day!
You can pair it with beiges and creamier whites to create a balanced look.
Definitely see my article on SW North Star here.
Order a stick-on sample of North Star here to help you compare these colors in your own living spaces.
Misty Vs Olympus White
This neutral bluish-gray paint color feels absolutely calming when used in your home.
With an LRV of 68, this color plays a great neutral in your home – while making your space look larger and brighter!
Find out everything there is to know about Olympus White here.
If you're looking for more colors in this family, be sure to check out my full rundown of SW Blue Gray paint colors here!
Try out the looks of these colors in your own home with a some temporary wall samples. You can find them here!
Where to Use Misty?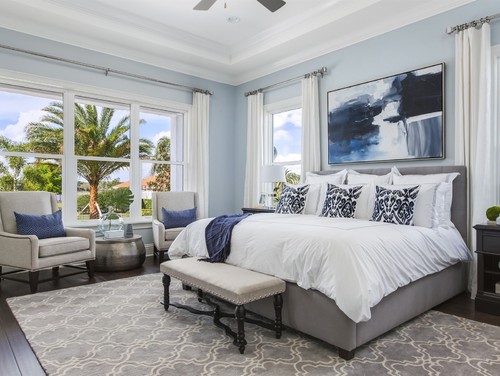 SW Misty makes a great soothing backdrop anywhere in your home!
Whether it is the hallways, bedrooms, living and dining room, formal rooms, kitchen, or the exteriors – this color will prove a great statement!
You can either paint all the walls in this color or simply use a bold contrast in the form of accent walls!
Let's see where and how to incorporate this calm blue-gray paint color in your home.
Misty in Living and Dining Rooms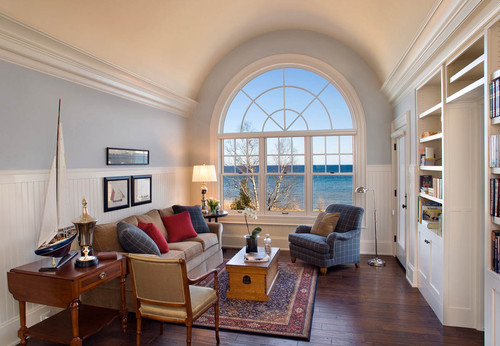 You can absolutely use SW Misty in the living and dining spaces – whether painting all the walls or simply using it as a neutral!
Pair it with creamy whites and deeper blues and grays to create a stark contrast in the room.
You can also use lighter beiges in the form of furniture upholstery and rugs or curtains!
Don't forget to place a majestic piece of the matte black chandelier to create a focal point!
Using in Bedroom and Bathrooms
These personal spaces deserve a soothing color like SW misty!
If you prefer to choose a bold accent wall – make sure to pair this color with creamy whites and lighter beiges on the other decorative items!
Don't feel shy from walnut wooden textures as they too make look good for traditional backdrops!
Else for a minimalist backdrop – use metals and glass for a refreshing vibe.
Misty in Kitchens
Who doesn't love cool-toned kitchens, right?
Even though they are not quite trendy – you can absolutely use them in smaller kitchens to feel lighter and brighter!
Try pairing with chrome-finish fixtures and pull handles to create a seamless look!
Also, another great way to enlighten this kitchen – use a darker blue-gray paint on the lower cabinets (something like SW Storm Cloud)!
Using on Exteriors
Especially for Cape Cod, Caribbean, and Coastal styles, this color is a great option for your exterior walls.
You can either pair it with white or dark gray accents through trims, moldings, and door and window frames.
You can also use gray or beige natural stone wainscotting for the patio columns and surroundings!
What's the Best Way to Sample This Color?

So now my favorite tip when it comes to testing out a versatile color like Misty – go and order a peel-and-stick sample from Samplize.

They've created an awesome way to sample colors with real paint, but no mess. Simply stick on your paint sample instead of having to get a test can of actual wet paint.

For only a few dollars you get a good sized square to throw up temporarily anywhere you want to "try" on your color, other similar colors, and any possible coordinating hues you like. It's great!
So, how do you want to use this color in your home? Interiors or Exteriors?
Now that you have all the secrets – are you excited about painting your home in Misty? Should there be any questions or thoughts, let me know in the comments below!