Sherwin Williams Marshmallow is an inviting white paint with slightly red undertones giving the color overall a warm and creamy texture.
This paint color is one of the favorites on my list and I usually find myself using this paint color over and over again.
Just out of a fairy tale – this dreamy white has a perfect feminine touch to it!
Why, you ask?
For one thing, this color can appear to be a slightly pinkish-white in abundant natural light.
So, if you are designing for little girls – kids bedrooms and play areas – Marshmallow should definitely make it up to the top of your list as a neutral or a base paint!
Pure and sophisticated, this is a versatile pastel for your home.
Marshmallow is not a generic white that you could simply use anywhere – depending on its undertones, it has its own limitations and repercussions.
It is so pure and peaceful that you would want to paint as many surfaces as you can in Marshmallow.
This color is mostly used as a neutral and not as bases and accents unless you're planning to go for an all-monochromatic scheme.
I ABSOLUTELY love it and would definitely recommend it in your home makeovers.
Keep reading below and I am sure you'll be informed and in love just as much as I am!
Sherwin Williams Marshmallow SW 7001 – Details and Specifications
If you're a newcomer here, let me tell you – there are tons of scientific theories related to this paint color.
Color specification is very important. Remember, each color is different, and no two colors are alike even if they appear similar.
So, it is important to analyze each and every aspect and then determine the how, where, and when about it!
And that's what I am here for!
So, don't worry and sit back.
First and foremost, one of the most important terms that you must acquaint yourself with is Light Reflectance Value (LRVs)!
It is basically a value that determines how light or dark the paint color is! Which later will help you figure out where to use the paint and on which specific wall directions.
Well, LRV of Marshmallow is 82! (Remember, on a scale of 0-100, 100 is the lightest and 0 is the darkest).
So, that means Marshmallow is absolutely very light! You could simply USE it anywhere and everywhere!
If you're not quite sure how this color will work in your home, you should definitely try it on for size by ordering a peel-and-stick sample from Samplize.
Other associated terms are RGB and HEX Values:
Red = 238
Green = 233
Blue = 224
HEX Value = #eee9e0
Okay, enough with the scientific and technical information, now let's discuss the practical aspects of the paint color.
How Does Marshmallow Feel in a Space?
This is one SW white that promises an elegant yet playful role in whatever you bring along with it.
It makes your space feel much lighter and brighter due to its high reflectivity.
I would highly recommend using this paint color for smaller spaces such as apartments and builder homes.
Its 'pearl' like appearance is a great fit for your Boho Chic, Shabby Chic, Contemporary as well as Modern styled homes.
This color definitely has a motivating and dynamic touch to it – so if the space function allows, don't hold back!
With an LRV of 82 – it is a great fit to make the rooms airier and quieter!
How Does Light Affect the Color?
Natural light makes SW Marshmallow look light and bright
Light has a major role to play when it comes to painting the walls.
Do you have a north-facing or south-facing room? Well! Yes – all of this needs to be well determined.
Due to Marshmallow's high reflectivity, this color tends to reflect away most of the light while absorbing only a little that can be seen tinting.
If you plan to use it in north-facing rooms, it is going to appear crisp and clean whereas in the south-facing walls, Marshmallow appears to be slightly yellower and creamier!
This color can also be seen taking inspiration from the surrounding landscape as well as the flooring.
Thus, light DOES affect the paint color without a doubt!
One way to help find out how this color looks in your home is to buy some temporary wall samples and put them up wherever you want to paint. You can get these easily from Samplize.
What are the Coordinating Colors for Sherwin Williams Marshmallow?
Marshmallow is a perfect synonym for timelessness and sophistication.
You can absolutely use this paint color in your homes either in a monochromatic or a contrasting scheme.
If you're a believer in minimalism and Scandinavian interior design styles, go for a monochromatic palette else a contrasting theme is going to add a touch of pop to brighten up your space.
So, here are a few recommendations I have for either of the cases beginning with monochromes–
White Flour SW 7102 – see my full review of this one here!
Downy SW 7002
Modest White SW 6084
Mix and match all of them to create a perfect magical look.
Meanwhile, if you like contrasts, consider the following:
Mega Greige SW 7031 – see my full review of this one here!
Abalone Shell SW 6050
Tavern Taupe SW 7508
You can best merge off-whites, taupes, and blushes with this color!
Also, in the case of ceilings and trims – I would recommend SW High Reflective White due to its much higher reflectivity.
Marshmallow Vs. Similar Colors
I understand everyone needs second and third options!
Well, I doubt you should look for an alternative here but still if you are looking for similar colors – I believe you keep an eye on SW Downy and SW Ibis White.
All of these options make a great alternative – depending on their undertones and light reflectivity – you could absolutely pick the best possible option.
Marshmallow Vs. Downy
With an LRV of 81, SW Downy is comparatively a darker alternative to Marshmallow.
With slightly warm undertones, in excessive natural light – the paint color tends to appear warmer and even brighter.
However, I would recommend buying real-time swatches and samples to determine the color difference. Screens could be deceiving!
To see how these look in your home, get some large wall samples and try on your walls with different lighting sources.
Marshmallow Vs. Ibis White
Ibis White makes a great neutral alternative to Marshmallow with slightly red and pink undertones.
With an LRV of 84, this paint color is lighter and much brighter than Marshmallow.
However, for accurate results, you could also place the paint samples side-by-side in different areas of your room – natural light, sunlight, and also no light!
To truly experience and compare these colors in real-time be sure to buy some stick-on samples and test them in your home.
Where to Use Marshmallow in Homes?
Light and bright, marshmallow is bound to excite you and your homes
As I said, Marshmallow is a great fit for neutrals and bases!
And you can absolutely use it anywhere and everywhere as far as the surrounding theme allows!
Now here comes the best part – decorating your homes in Marshmallow!
Whether it is Scandinavian, Modern, Contemporary, Minimalistic, Shabby Chic, or Japanese, marshmallow can best compliment all these design styles.
Let's see how and where you can use this color.
Marshmallow in Living Room
Definitely a YES-YES!
You could either paint all the walls in Marshmallow or use it as a base and let a darker accent wall play the main role.
Use rust or brown blocking curtains along with white sheer to create a contrast. I would say definitely use the color if you have hardwood floors or even wall-to-wall carpeting.
This color will also compliment the wooden, silver, as well as golden tinted furniture.
If you have a fireplace, embellish it in black marble or even exposed brick.
Marshmallow in Bedroom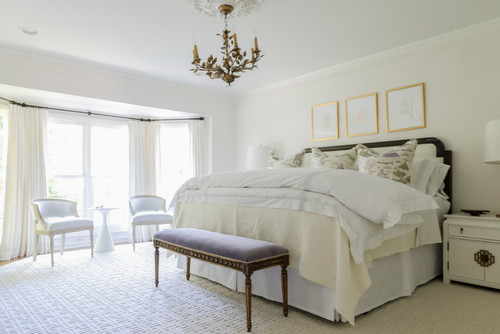 Bedrooms are the most personal spaces.
So, if you have a smaller bedroom or if you like pastel walls, do use marshmallow on the walls.
Use white distressed furniture and symbolic upholstery to refine the looks of your bedroom.
Don't hold back from rose gold tinted chandelier or soft and warm lampshade.
Marshmallow in Kitchens
Definitely a YES!
And especially consider them in the case of open space kitchens as they are expected to look much lighter and brighter that way.
Use marshmallow on the kitchen cabinets and rose gold or gold tint on the pull drawers and handles.
You could do the opposite by painting the wall in marshmallow and the cabinets in stark white or even any darker grey!
Marshmallow in Exteriors
A paint color in the exteriors will look even lighter. So for the matter of fact, Marshmallow will look slightly light pink or white when used in the exteriors.
Just pair them up with darker shades of slate and stone on the roofs and stone wainscotting on the porch and columns. Your trims and moldings too could be darker in shade to create a contrasting charm.
For darker painted shiplaps, the trims, door frames, and roofs could be lighter or Marshmallow.
Best Way to Try Out This Color?
I have to share one of my favorite tips when testing out colors like Marshmallow – go and order a peel-and-stick sample from Samplize.
This company has an amazing way to sample colors super conveniently with real paint.
Simply stick up a temporary square sample of it and avoid the whole paint and roller mess (at least until you're ready!).
For a small amount of money you get a giant "sticker" you can place up in the space you're painting. You can also try out coordinating colors as well. It's great!
So, are you excited to use marshmallow in your homes? I am sure it will brighten up the appearance and make it looks charming and timeless.
Do let me know your experiences in the comments below as I would love to hear from you all!