How often do you find yourself in the middle of a space where warmer colors are much appreciated and praised?
These days more and more of the population has an eye for such warmer tones – tans, greiges, beiges, and browns.
Not only do they exhibit a warm and welcoming appeal but also make your space feel more secure, safe, and inviting!
And today – we're going to discuss one such notable example – Sherwin Williams Macadamia.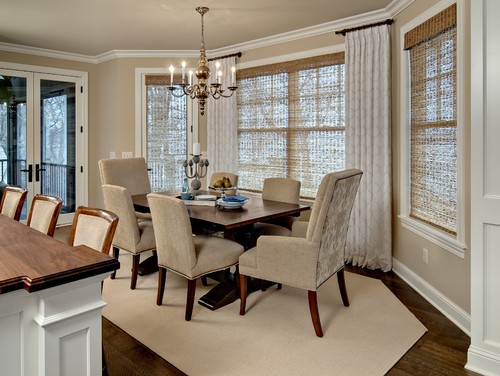 This popular neutral tan paint color is quite warm and classy, with a major character to it.
Yes, it has a bold and dramatic look – which can apparently make your room hint towards the traditional style design.
Like I said – this paint color is quite ideal on the walls of traditional interior design!
But apart from that, you can also consider incorporating this paint in the rustic, industrial, and modern farmhouse interior design styles.
It pairs wonderfully with wood – which is a plus point!
So, if you have ample hardwood floors and wooden furniture frames – this paint color is something that shouldn't give you a second thought.
So, do you want to observe how SW Macadamia transforms your space into absolute bliss?
Well, let's have a look below!
Sherwin Williams Macadamia SW 6142 Details and Specifications
Each color comes with its own theories, specifications, and schemes!
If you are new here, let me tell you – there are quite some facts and scientific terms that you would want to acquaint yourself with. (Before choosing a paint color for your home)
It's important to analyze these values and then determine where, when, and how to use these paints!
So, first and foremost, one of the most important terms that I usually observe getting ignored is Light Reflectance Values (LRV)!
Every color has an associated Light Reflectance Value!
For Sherwin Williams Macadamia, the LRV is 49!
Which falls on the medium end of the scale – and somehow aligns with the darker end.
Remember, the higher the value, the lighter the paint color is!
And vice versa!
If you're not quite sure how this color will work in your home, you should definitely try it on for size by ordering a peel-and-stick sample from Samplize.
Additionally, this color has deep warm beige/brown undertones.
Moving ahead, let's discuss the RGB and HEX Values of the color.
Red = 204
Green = 183
Blue = 155
HEX Value = #ccb79b
Now that I am concluding, I promise not to bore you with these scientific details anymore.
Let's talk about the practical aspects of this popular tan paint color.
How Does This Color Feel in a Space?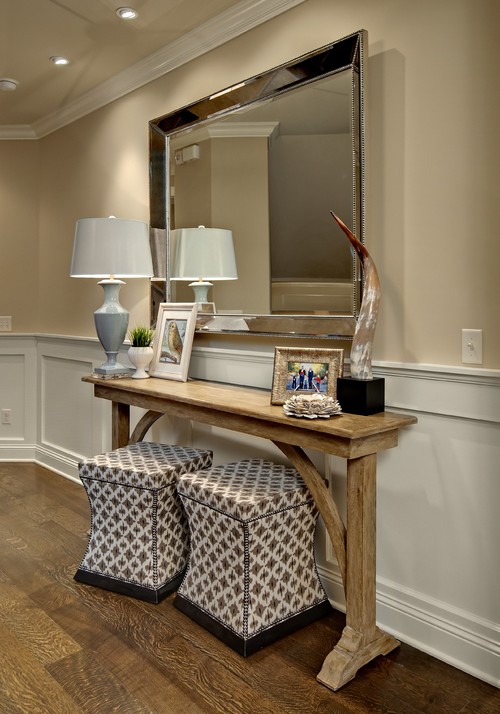 Sherwin Williams Macadamia is bound to make your space feel extra warm, cozy, mellow, comfortable, and mild.
It's neither too bold to make a characteristic transformation nor too subtle to play a neutral or base.
It's just the perfect balance you see!
Furthermore, you must use this color in larger spaces that feel awkward and phenomenally huge.
This color will make it look smaller and cohesive.
On the other hand, try avoiding this paint color in smaller rooms since they can tend to appear dull and dingy.
I highly recommend this paint color in the colder regions where you constantly crave a touch of warmth indoors.
How Does Light Affect the Color?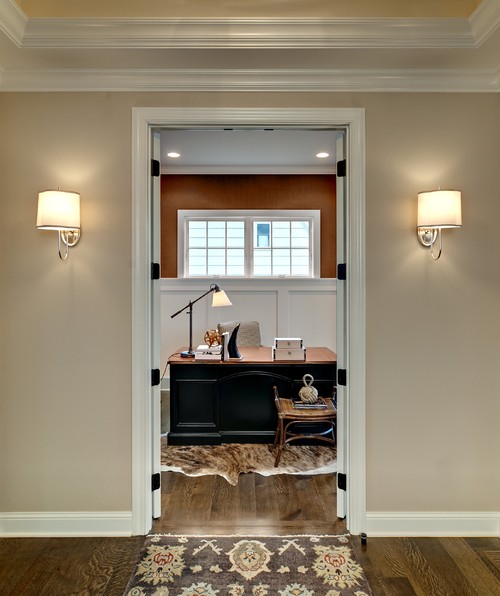 In a room with dominant SW Macadamia on the walls, you must ensure to allow ample natural light to penetrate.
Of course, due to obvious reasons – this color is warm and can create an illusion of a smaller space.
So, I highly recommend using this paint color in a room that has ample windows to allow ample natural light.
Plus, know that this color might appear slightly different in different lighting conditions.
For instance, in the north-facing rooms, this color will appear as its true hue whereas in the south or west-facing rooms, it might be too warm or overwhelming.
So, it's always beneficial to try out the color swatch in different rooms to determine how it will feel.
Otherwise, you can always play with artificial light in the form of pendant lights and wall sconces!
Here, you can also use warm whites to perfectly neutralize the saturation!
One way to help find out how this color looks in your home is to buy some temporary wall samples and put them up wherever you want to paint. You can get these easily from Samplize.
What are the Best Coordinating Colors?
Creating color palettes can be quite a fun task to do. (And that is one reason I love to color consult and E-Design)
So, it's crucial for you to choose the best complementary colors in order to define a palette that looks eye-catchy and cohesive.
Tans, in general, can be best paired with rust reds, creamy whites, crisp whites, black accents, and sometimes charcoal blues.
And other than that, you have a wide plethora of color opportunities and options to pair with!
However, you have to be careful as to what vibe you need in your space for a perfect color combination.
So, I am going to enlist the two most popular color schemes here – monochromatic and contrasting.
Monochromes are generally great for modern and contemporary setbacks.
On the other hand, Eclectic, Mid-Century Modern, and Farmhouse play well with contrasts.
So, here are a few of the colors I would recommend for a monochromatic palette!
SW 6143 Basket Beige
SW 9116 Serengeti Grass
SW 6144 Dapper tan
On the other hand, here are a few of the colors I would recommend for a contrasting color palette!
For your ceilings, trims, and moldings – SW Extra White or SW Pure White will help protrude a true hue of SW Macadamia.
SW Macadamia Vs Similar Colors
Although you must know that even though these following colors look similar, they might still differ in the undertones or reflectivity!
So, one of the closely related colors are SW7689 Row House Tan and BM HC-26 Monroe Bisque!
Let's see how all of them differ.
Macadamia Vs Row House Tan
SW Row House Tan is a notable alternative that feels just like the former – but with a slight difference in the undertones.
At some points of the day, you can detect the dominant yellow undertones – especially if you use this paint in the south or east-facing rooms.
With an LRV of 52 – this color falls on the medium end of the scale, and is pretty lighter than the former paint color.
Find out what works best in your home's environment and lighting by putting up some temporary samples and observe – Get sample sheets from Samplize.
Macadamia Vs Monroe Bisque
BM Monroe Bisque is a beige paint color that mainly differs with the former in undertones.
Yes, it lacks the orange-tan touch and simply plays a calm beige paint color.
With an LRV of 58.35 – this is the lightest color of them all!
Order a wall-stick sample of Macadamia here to help you compare these colors in your own space.
Where to Use Macadamia?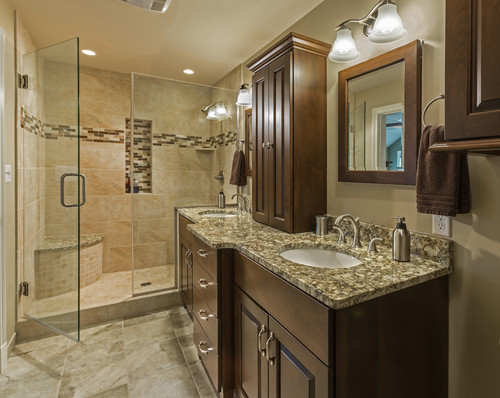 This beautiful tan color has a notable warm orange in it that can make your homes extremely delightful and cozy.
Yes, if you use it creatively – you would never regret it!
So, whether it is the walls or kitchen cabinets – this color is quite good to go for your home!
Let's have a look at where and how to incorporate this paint color in your home.
Macadamia in Living and Dining Rooms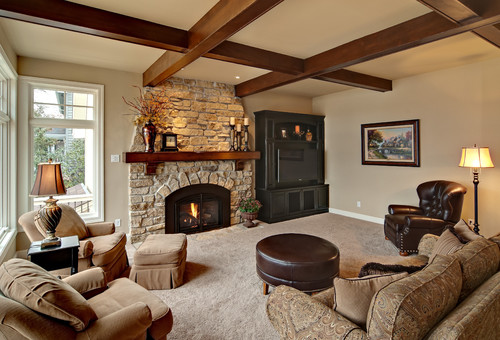 Macadamia makes a great choice for your living and dining rooms.
Especially if you crave a traditional style design, this color is bound to collectively play with woods to create a blissful haven indoors.
You can consider painting all the walls in SW Macadamia and further pair it with creamy whites on the adjacent walls, trims, ceiling, and moldings.
For the furniture, it's ideal to choose wooden frames and off-white or beige linen upholstery.
Lastly, if you have a fireplace to decorate, try using natural stone cladding that can pick up the tones of SW Macadamia.
Using in Bedrooms
In the bedrooms, SW Macadamia would make a great choice!
If the size and perspective allows, you can paint all the walls in this color and further add shades of blue and white on the accessories to infuse visual interest.
For the bed and nightstands, it's ideal to choose a rustic wooden frame!
I highly recommend picking white sheer curtains that further make your bedroom appear fresh and airy.
Macadamia in Kitchens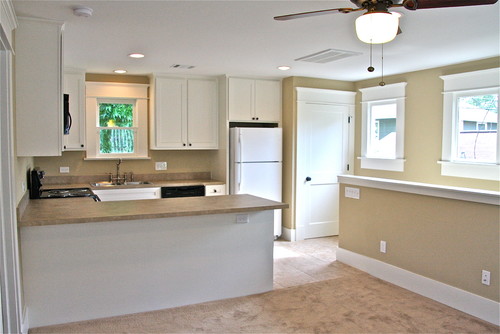 Painting the kitchen cabinets and walls in SW Macadamia will result in an overall seamless and spacious experience.
Especially for traditional kitchens – this color can truly play a flawless role on the backdrop wall.
Else, you can paint the cabinets in this color and let the backdrop wall be creamy (warm) white.
Furthermore, you can use brass or chrome-finished pull handles with white-veined marble countertop and glossy backsplash tiles.
Using on Exteriors
Especially for the Craftsman, Ranch-style, traditional, Mid-Century Modern, and Mediterranean homes, this paint on the exteriors is bound to add a perfect vibe.
You can play with Spanish interlocking tiles on the roof and creamy white paint for the trims and moldings, door and window frames.
Furthermore, if you have porches and columns – either choose greige, gray, or beige paint or natural stone wainscotting.
To infuse a sense of interest in the facade – you can choose a bold blue or dark sage green.
Do you also have a deck to style? Well, choose a dark walnut brown stain.
Best Way to Try Out This Color?
I have to share one of my favorite tips when testing out colors like Macadamia – go and order a peel-and-stick sample from Samplize.
This company has an amazing way to sample colors super conveniently with real paint.
Simply stick up a temporary square sample of it and avoid the whole paint and roller mess (at least until you're ready!).
For a small amount of money you get a giant ""sticker"" you can place up in the space you're painting. You can also try out coordinating colors as well. It's great!
So, how do you want to use this color in your homes? Interiors or Exteriors?
Now that you know a bit more – are you excited about painting your home in SW Macadamia?
For more info, be sure to check out my complete guide on using beige colors by Sherwin-Williams!
Should there be any questions or thoughts, let us know in the comments below!