Ever wanted a mix of two colors in one? Maybe you like the mystical blue and the steely gray – but are wondering how you could blend both together at a time?
Well, look no further!
Sherwin Williams Lazy Gray is a perfect mid to lighter-toned paint that has a delightful mixture of blue and gray both – it's a great all-in-one solution.
It has deep cool undertones to make your room look enlarged and light – and also soothing and cool at the same time.
So, if you are looking for a paint that has a tinge of blue and gray, and also doesn't look too weighted down or bold – then this is probably one of the best options!
Another great example would be SW Monorail Silver or SW Morning Fog just in case you desire a bolder look!
However, in this case, you can absolutely use this paint in your homes – as a base or a neutral – depending upon the sizes and shapes!
Don't worry!
There is tons of information about this color – and I am here to unveil it all!
Trust me, in no time – you will be a 'Lazy Gray' expert!
So, let's get it started!
Sherwin Williams Lazy Gray SW 6254 Details and Specifications
I promised you some authentic and fruitful information – and here it is!
Before picking up a paint color for your home or office, it's important to understand what the color truly offers!
Mainly, acknowledging the underlying theories and technical terms that are interlinked with the paint.
Remember, every color is different – and that can be easily identified through the following terms and values.
So, first and foremost, you must know the Light Reflectance Value or the LRV of the paint color.
This value helps in determining how light or dark the paint is. And you can find the value at the back of the paint swatch or the Sherwin Williams website.
In this case, the LRV of Sherwin Williams Lazy Gray is 53.
And that means it is neither too dark and nor too light! However, this color has the tendency to look much lighter than it is!
What I like to do is sample Lazy Gray under different lights where I'm going to use it. I use Samplize stick-on samples. Get some samples now!
Secondly, other important associated terminologies are the RGB and HEX Values that further tell us what the color is made of.
Red = 190
Green = 193
Blue = 195
HEX Value = #bec1c3
Now that we have talked about the technical and scientific terminologies, let's get started with the practical aspects of this mystical gray Sherwin Williams paint.
How Does this Color Feel in a Space?
Sherwin Williams Lazy Gray feels lively, cool, determined, and absolutely airy when used in your home.
Hence, I recommend using this paint color in climatic regions that face tropical heatwaves and continuous temperatures above 80 degrees.
As it is bound to add a cool vibe, here is when you can make the most of this color.
Furthermore, the color also creates an illusion of pushing apart your walls – mainly, making your room seem larger than it is!
But remember not to use it in spaces that are small to extremely small!
Long story short, you are bound to feel relaxed, calm, and at peace, if the rooms are painted in this color.
How Does Light Affect the Color?
Light has a major role to play here!
So, firstly, look around and observe! Do you see immense flourishing natural light indoors? Or is it too little?
Well, depending upon the incoming light should you plan to use this color.
So, if your space receives ample natural daylighting, you can definitely use this paint color. It will tend to look lighter in such circumstances.
Or else, in case of little natural lighting, I recommend choosing a shade lighter to create a balance – well, something like SW Reflection (learn more here) and SW Olympus White would be good!
Furthermore, you can also make use of artificial lighting to create the desired aura.
Choose warmer whites and warmer yellows over cooler whites and cooler yellows!
I'll have to say again, the absolutely coolest way to check a color like this out in your home is with a wall sample from Samplize. Buy yours here.
What are the Best Coordinating Colors?
Now that we have analyzed the true theory behind the color, its light reflectance values, how it truly feels, and the effects of light, let's first look at what best suits the gray paint color.
Wisely and creatively choosing complementary colors is primary.
Hence, you could either choose from a contrasting or a monochromatic color palette (depending on the climate or the interior design style).
Well, here are a few of the colors I would recommend for a monochromatic palette!
SW 6253 Olympus White (see my full review here!)
SW 6255 Morning Fog (see my full review here!)
SW 9161 Dustblu
On the other hand, here are a few of the colors I would recommend for a contrasting color palette!
SW 7009 Pearly White
SW 9177 Salty Dog (see my full review here!)
SW 7727 Koi Pond
For your ceilings, trims, and moldings – I would recommend using SW Pure White to further achieve a creamier look or else if you want a crisp look, choose SW High Reflectance White.
SW Lazy Gray Vs Similar Colors
Just in case if you are not completely satisfied with this gray-blue color and looking for more options, I am going to recommend a few that will replace this paint.
However, remember that no two colors are exactly the same even if they tend to look similar!
Hence, the two most closely related colors are SW 6233 Samovar Silver and SW 7663 Monorail Silver.
Lazy Gray Vs Samovar Silver
The major difference here is the undertones!
With an LRV of 51, Samovar Silver aligns more towards the subtle blues than grays – with a slight tinge of silver!
Well, this one is a true-blue paint color with deep grayish undertones.
Test these colors side-by-side to see the differences in "real life" INSIDE your home, with some wall-stick samples. Order here!
Lazy Gray Vs Monorail Silver
Another alternative for blue and gray paint, SW Monorail Silver is a slightly darker paint with an LRV of 50.
It looks quite bold – and that is why you must use this paint if your room is comparatively spacious and receives ample natural light.
Order stick-on samples for these two colors here to help you compare these colors in your own living spaces.
Where to Use Lazy Gray?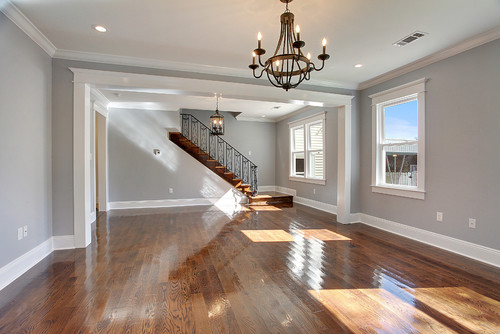 A much-awaited topic to talk about!
Yes! You can absolutely use this paint in your home – whether bedrooms or living rooms, family rooms, kitchen, hallways, bathrooms, and even exteriors!
Especially for interior design styles like Scandinavian, Industrial, Rustic, Transitional, Modern Farmhouse, and Modern – this paint is absolutely good to go!
Let's see where and how to incorporate this beautiful gray paint color in your home.
Lazy Gray in Living and Dining Rooms
If you want a crisp and sleek-looking common space, using SW Lazy Gray would be one of the best options!
So, if you have existing furniture that holds tinges of blue and gray – you can use this paint color to create a cohesive experience.
If you have a larger-sized living and family room, you can paint all the walls in this color – or even use it as an accent!
You can pair it with cooler-toned whites on the door and window frames along with trims and moldings.
You can also use bold white blackout curtains and tons of glass to feel lighter in the room.
In the case of paneling systems, you can blend both – white and gray for a dramatic look.
Using in Bedrooms and Bathrooms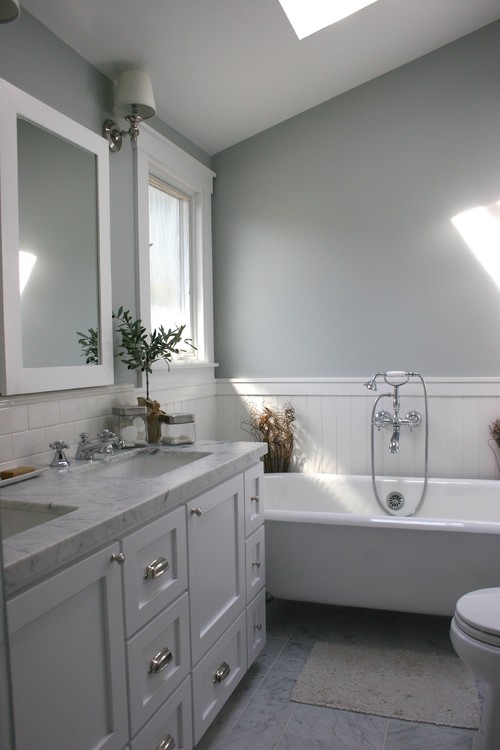 If you like the concept of accent walls – try painting the headboard wall in this color and the remaining in off-white.
Furthermore, try creating a palette by using either gray, black, white, and blue bed sheets, runners, and duvets!
In terms of bed frames, you can also prefer the materials like suede and exposed metal!
Try to pair it with neutral upholstery, white sheer curtains, sheepskin rugs, and cozy throw pillows to add a refined look to your bedrooms.
Lazy Gray in Kitchens
Gray kitchens are always in trend!
They feel smooth, soft, soothing, and cool – hence, you can definitely use them on either the cabinets or the backdrop wall.
Furthermore, you can pair it with matte black or brushed nickel and brass pull handles and fixtures!
You can even use a white veined marble countertop and hardwood floors to create a refined palette.
Using on Exteriors
Whether it is the Modern style, Mid-century style, or the Victorian, and Colonial, this cool color will absolutely add an authentic touch to the exterior plastered or shiplap walls.
You can pair it with white trims, moldings, and door and window frames or choose darker gray to add a base.
Black doors can too play a great accent with this paint.
I Recommend Sampling Lazy Gray!
If you're on the fence and need a bit of convincing, try this color on for size by ordering a peel-and-stick sample from Samplize.
These are my favorite way to test colors in a space and to see how they work with other coordinating colors.
It doesn't cost all that much, and you can temporarily place these handy 12″ x 12″ squares that are true to color around your house. I love them!
So, how do you want to use this color in your home? Interiors or Exteriors?
Now that you have all the secrets – are you excited about painting your home in Lazy Gray? Should there be any questions or thoughts, let us know in the comments below!