Do you have an admiration for a dark gray paint color that is a little more fun and dramatic?
Well, something that feels cool, crisp, and Charcoal-ish?
If yes, let me introduce you to a paint color that has just the right amount of gray in it!
It's Sherwin Williams Grizzle Gray.
This perfect tone of Charcoal Gray is dark, deep, and bold with a tinge of cool gray in it.
And when diving further into the details of this green, it's a perfect shade of olive.
You can say that it's a classic combination of gray and green – altogether.
Isn't that interesting?
So, whether you have a modern interior design style or contemporary, Scandinavian, Modern Farmhouse, traditional, and transitional – this dark gray paint color proves versatile for all.
So, are you looking to add a tinge of this paint to your home?
In this color review, I will elaborate on the various do's and don'ts, along with where, how, and when to use the paint.
And trust me, you would definitely want to have more and more of this paint color.
So, sit back, relax, and enjoy the beauty of this paint!
Sherwin Williams Grizzle Gray SW 7068 Details and Specifications
This section is as important as any other section in this color review!
And do you know why?
Well, that's because it's important to analyze how and what the color is composed of – to truly make informed decisions.
After all, there is some difference between the light grays as opposed to dark grays, charcoal grays, and dark grays with either blue, red, or green undertones. Learn more about this!
Don't worry – this section will reveal it all!
If you are new here, let me tell you – there are quite some facts and scientific terms that you would want to acquaint yourself with. (Before choosing a paint color for your home)
It's important to analyze these values and then determine where, when, and how to use these paints!
So, first and foremost, one of the most important terms that I usually observe getting ignored is Light Reflectance Values (LRV)!
Every color has an associated Light Reflectance Value!
For Sherwin Williams Grizzle Gray, the LRV is 13!
Which falls on the darker end of the scale – almost very dark.
Remember, the lesser the value, the darker the paint color is!
And vice versa!
Want to try this color out without having to paint your wall? Use some nifty peel-and-stick samples: Pick one up now from Samplize!
Moving ahead, let's discuss the RGB and HEX Values of the color.
Red = 99
Green = 101
Blue = 98
HEX Value = #636562
Now that I am concluding, I promise not to bore you with these scientific details anymore.
Let's talk about the practical aspects of this dark gray neutral paint color.
How Does This Color Feel in a Space?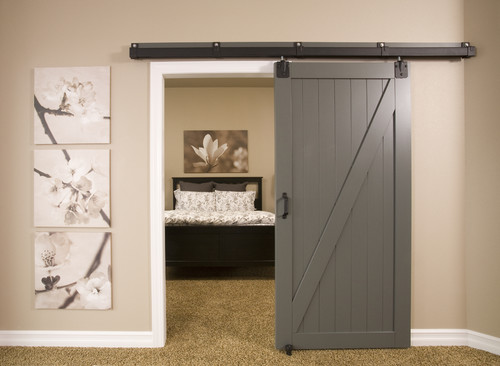 Sherwin Williams Grizzle Gray is a strict gray paint color that feels utmost modern, refined, sophisticated, timeless, and elegant.
Even though it comes with a baggage of don'ts and repercussions – you can still feel the beauty of it (when used appropriately and precisely).
So, first and foremost, this color can truly add a bold statement to your space – and that's why you must limit the use of it (only as an accent).
And if you have a humongous-sized space, this dark gray paint color can bring the walls closer to create an illusion of a smaller space.
Other than that, this paint color doesn't necessarily restrict to a particular climate!
So, in warmer regions, you can add a touch of cool white with this paint in opposition with the colder regions where you can pair this paint color with creamy whites.
You see – the versatility of this paint is priceless!
How Does Light Affect the Color?
Natural light is a paint color's best friend!
Yes, they go hand in hand.
And especially since it has a very low reflectivity value – it's a must that you have ample natural light penetrating in!
To throw some light and make it appear brighter and enhanced.
Hence, for smaller-sized rooms, you must only use this color as an accent. (Keeping in mind that there are ample windows to penetrate the natural light, all day long)
Furthermore, you can use this paint color in any direction – without having to worry about the paint changing its undertones.
Lastly, in the case of artificial lighting, I highly recommend warm white or yellow!
As I already mentioned, do yourself a favor and get some wall samples to test out this color and any others. The stick-on kind are a no-brainer from Samplize, and will give you some answers ahead of time. Get yours now!
What are the Best Coordinating Colors?
Creating color palettes can be quite a fun task to do. (I absolutely love it)
And this is mostly what I am consulted for!
So, it's crucial for you to choose the best complementary colors in order to define a palette that looks appealing and well-balanced.
SW Grizzle Gray can be best paired with cherry reds, taupe, beige, clean white, mustard, and lighter blues.
Regarding metallic accents, I like the feel of brushed brass, chrome, or matte black!
However, you have to be careful as to what vibe you need in your space for a perfect color combination.
So, I am going to enlist the two most popular color schemes here – monochromatic and contrasting.
So, here are a few of the colors I would recommend for a monochromatic palette!
On the other hand, here are a few of the colors I would recommend for a contrasting color palette!
SW 9136 Lullaby
SW 7004 Snowbound
SW 7592 Crabby Apple
For your ceilings, trims, and moldings – SW Extra White or SW Pure White will help protrude a true hue of SW Grizzle Gray.
SW Grizzle Gray Vs Similar Colors
Although you must know that even though these following colors look similar, they might still differ in the undertones or reflectivity!
So, one of the closely related colors is SW 2848 Roycroft Pewter and BM HC-166 Kendall Charcoal!
Let's see how all of them differ.
Grizzle Gray Vs Roycroft Pewter
Sherwin Williams Roycroft Pewter is a dark gray paint color with deep blue undertones.
Yes! Undertones are what differ the most between the two dominant paint colors.
With an LRV of 13 – this color is equally dark and deep.
And since the latter paint color doesn't have a dominant green undertone, it feels more neutral!
Buy some wall samples of each of these colors to easily compare them right in your home.
Grizzle Gray Vs Kendall Charcoal
This is another steely gray paint color that feels absolutely timeless and versatile with a deep hidden brown undertone.
With an LRV of 12.96 – this paint color feels equally dark and deep!
Yes, it's a dominant earthy paint color that will bring you an inch closer to nature. Find out more here on this color!
See how these colors compare real time with stick-on wall samples from Samplize.
Where to Use Grizzle Gray?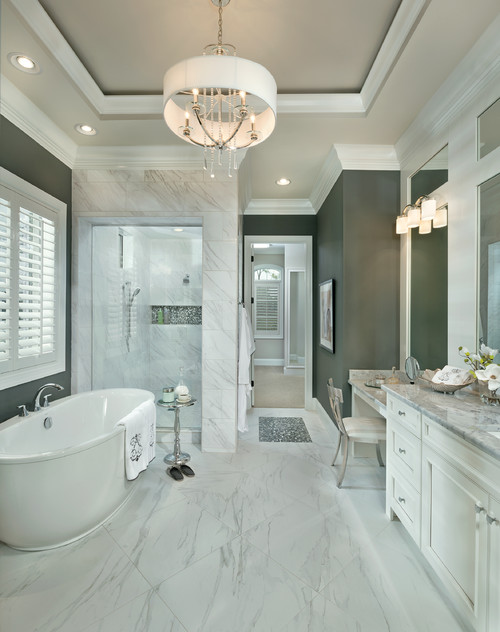 SW Grizzle Gray is a beautiful cool gray paint that can be used in any corner of your home.
Whether it's the kitchen cabinets, a feature wall of your living room, bathroom, exterior wall, home office, or built-in cabinetry – this color is bound to play flawless.
So, let's have a look and how to best incorporate this paint.
Grizzle Gray in Living and Dining Rooms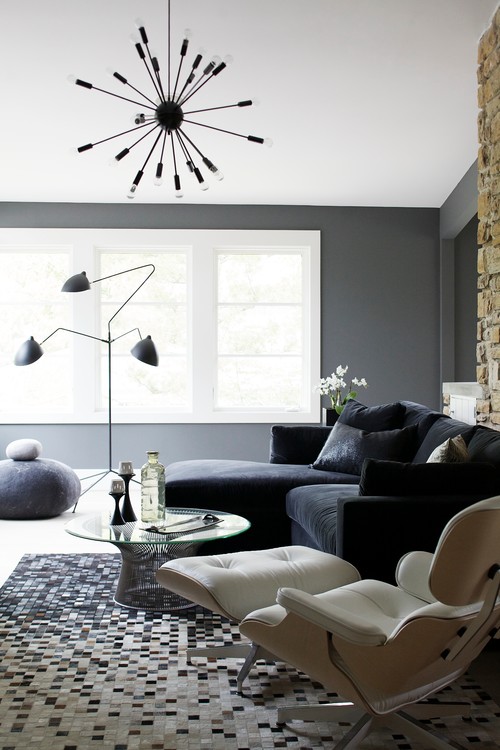 Why not?
This paint color will absolutely look outstanding when used in a modern or contemporary-style living room.
And you must note to use it only as an accent. (To avoid the living room looking dull and dingy)
Furthermore, add creamy whites on the adjacent walls with ample black, white, and beige on the furniture as well as accessories.
In the case of a fireplace, I highly recommend cladding with natural stone (travertine) for an exquisite look.
On the throw pillows, you could either add a pop of hue like blue, red, and mustard or pick a material texture like faux, fur, or macrame.
Using in Bedrooms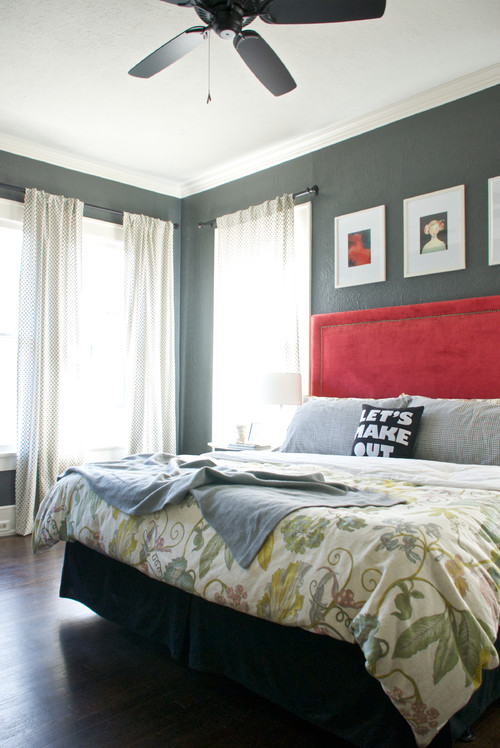 If you have the size and scale, you can absolutely consider painting all the walls in SW Grizzle Gray in your bedroom.
Further pairing it with white curtains and white bedding is something that you must look forward to!
Also, remember to spark a sense of visual interest with the help of throw pillows (in the hues of red, blue, or mustard).
An all-white bedding might be too monotonous – and that's why you can consider the intricate patterns of florals, geometrics, and solid imprints.
Lastly, don't hold back from a pop of macrame – either on the wall hangings, pillows, or lighting fixtures!
Grizzle Gray in Kitchens
If you like the feel of a dark gray kitchen, you can absolutely throw a splash on the upper as well as lower cabinets.
On the backdrop wall, you can choose a white paint like SW Pure White and further add a white-veined marble countertop and backsplash tiles.
I highly recommend controlling the light saturation under warm whites or yellows!
Lastly, remember to choose brushed brass or gold knobs and pull handles to give a perfect glam and transitional look.
Using on Exteriors
Whether you have a traditional style or Craftsman, Ranch, Mid-Century Modern, Colonial, or transitional – Sherwin Williams Grizzle Gray makes a timeless and outstanding statement.
You can paint the shiplap walls in this color and choose to paint the trims and moldings in pure white. Furthermore, you can choose light gray or taupe for the shutters, door and window frames.
Do you want to make your home look even more interesting? Well, add cherry reds, pink, or mustard on the front door to make it stand out.
You Should Order Samples of Grizzle Gray
Let's face it, good paint isn't cheap. While painting is a relatively inexpensive, good bang-for-your-buck project, picking colors can be hard. You don't want to buy a whole can of something until you know for sure.
So together with the info here, you can literally "see" what this color will look like in your home before you commit.
Getting a peel-and-stick sample from Samplize is the best thing since paint rollers!
If you don't know yet, you can order a 12″ x 12″ square sample with the real paint color on it. Stick it on your wall multiple times and in multiple places to find out exactly if the color is for you.
So, how do you want to use this color in your homes? Interiors or Exteriors? Cabinets or Furniture Frames?
Now you see, SW Grizzle Gray has much more to offer! And you will never regret it.
Should there be any questions or thoughts, let us know in the comments below!