Right when you search online for some inspirational images for 'Sherwin Williams Grays Harbor', you're quite likely to find many people using this color on their exteriors.
And there's good reason…
This is truly one of the best blue-gray paint colors to use for your house.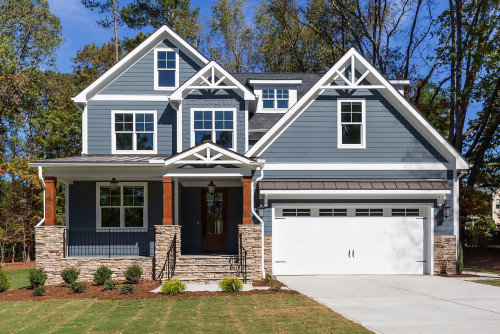 And do you know why? Well, I'm going to reveal that all later! But before that, let's have a look at what this color is all about.
SW Grays Harbor is a beautiful and bold dark blue-gray paint color that feels like a true midnight beauty.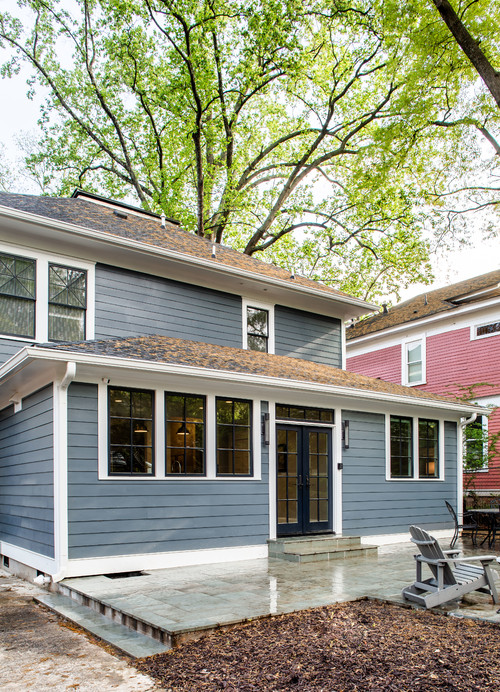 This Sherwin Williams paint color has cool undertones and can feel absolutely magical when used on the walls.
Yes, you try it and you'll know it!
A fresh coat of SW Grays Harbor will ultimately transform the vibe of your room and make it feel more timeless and dramatic.
Moreover, if you're fond of accent walls, this is the color to consider for a cooler vibe in the room.
So, are you excited to introduce a tinge of this blue-gray paint color in your home?
Well, in this color review, you'll find all the solutions to all your questions.
Time to get started!
Sherwin Williams Grays Harbor SW 6236 Details and Specifications
Do you know how to differentiate the characteristics of SW Grays Harbor with regard to SW Naval, SW Storm Cloud, and SW Atmospheric?
Well, it's the details and specifications.
Yes, you might have to go through various decisions, comparisons, and discussions to make informed decisions.
After all, not every blue is alike. And there are considerable differences in each color that you observe on a swatch.
If you are new here, let me tell you – there are quite some facts and scientific terms that you would want to acquaint yourself with. (Before choosing a paint color for your home)
It's important to analyze these values and then determine where, when, and how to use these paints!
So, first and foremost, one of the most important terms that I usually observe getting ignored is Light Reflectance Values (LRV)!
Every color has an associated Light Reflectance Value!
For Sherwin Williams Grays Harbor, the LRV is 12!
Which falls on the darker end of the scale – but not too dark like SW Naval!
Remember, the lesser the value, the darker the paint color is! (On a scale of 0-100)
And vice versa!
Because paint colors can change in different environments, I recommend you also just try Grays Harbor out at home with a peel-and-stick sample from Samplize. Order some samples now!
Moving ahead, let's discuss the RGB and HEX Values of the color.
Red = 89
Green = 99
Blue = 104
HEX Value = #596368
Now that I am concluding, I promise not to bore you with these scientific details anymore.
Let's talk about the practical aspects of this gray-blue neutral paint color.
How Does This Color Feel in a Space?
Sherwin Williams Grays Harbor is a bold and dark blue-gray paint color that can make your space feel dramatic, cool, refined, and crisp.
Moreover, this color can readily make your space feel much bolder and at the same time, balanced and smaller.
So, if you're dealing with an awkward-sized planning layout – you can use this paint color to bring the walls closer and create a cohesive and cozy experience.
Even if the room is elongated, use this wall to create an illusion.
Moreover, this color can truly add formal vibes to a space – so, in the case of formal living and dining space, this color can truly solve the issue.
Furthermore, you can always choose to use this paint in any climatic condition since it doesn't strictly confine to a particular saturation. Highly recommended for warmer climates!
A pro tip: Try to avoid using this paint color on all the walls of your room! (For a smaller space)
How Does Light Affect the Color?
View this post on Instagram
Light has some role to play. So, let's talk about the details here.
For instance, in the north-facing rooms, this color is bound to incline to a gray undertone whereas in the south and west-facing rooms, this color may appear more blue than gray.
Yes, I highly recommend experimenting with the swatch in various lighting conditions to know the true hue.
Furthermore, it also depends upon the total light received in the room.
If you have ample natural light penetrating through ample windows, this color will look lighter.
On the other hand, in a smaller room with little light, expect the color to look darker as it normally is.
I wouldn't completely deny using this paint in the smaller rooms.
However, you can play creative and add it only to the accent wall!
As I mentioned before, you can try out this color with real paint, (but without the mess) using stick-on samples from Samplize.
What are the Best Coordinating Colors?
Creating color palettes can be quite a fun task to do and Color Consultation is one of my favorites!
And this is mostly what I am consulted for!
So, it's crucial for you to choose the best complementary colors in order to define a palette that looks appealing and well-balanced.
SW Grays Harbor can be best paired with burnt umber, mustard, clean white, beige, tan, and greiges.
Regarding metallic accents, I like the feel of brushed brass, chrome, or golden!
However, you have to be careful as to what vibe you need in your space for a perfect color combination.
So, I am going to enlist the two most popular color schemes here – monochromatic and contrasting.
So, here are a few of the colors I would recommend for a monochromatic palette!
SW 6234 Uncertain Gray
SW 9143 Cadet
SW 6235 Foggy Day
On the other hand, here are a few of the colors I would recommend for a contrasting color palette!
For your ceilings, trims, and moldings – SW Extra White or SW Pure White will help protrude a true hue of SW Grays Harbor.
SW Grays Harbor Vs Similar Colors
Although you must know that even though these following colors look similar, they might still differ in the undertones or reflectivity!
So, one of the closely related colors is SW 6251 Outerspace and BM 2126-30 Anchor Gray!
Let's see how all of them differ.
Grays Harbor Vs Outerspace
These two blue-gray paint colors share a tone of similarities as well as differences.
Well, one of the major differences is the undertones. Apparently, this latter paint color has a dominant blue-gray color with a tinge of navy – learn more on this color here!
With an LRV of 12, the light reflectivity value is alike for the two.
Order stick-on samples of these two colors here to help you compare these colors in your own living spaces.
Grays Harbor Vs Anchor Gray
BM Anchor Gray is a deep blue-gray paint with a major tint of navy to it.
Comparatively, this blue-gray paint feels more heavy and characteristic – hence, can be used to add depth to any space.
With an LRV of 13.57 – this dark gray is comparatively lighter and but equally heavier.
Try out the looks of these colors in your own home with a some temporary wall samples. You can find them here!
Where to Use Grays Harbor?
This beautiful color can be used in most of the spaces of your home.
Whether it's the kitchen cabinets, exterior walls, furniture frame, bedroom accent walls or home office built-in cabinetry – this color is bound to look flawless.
So, let's have a look at how you can incorporate this color into your home.
Grays Harbor in Living and Dining Rooms
SW Grays Harbor looks lovely on the living and dining room accent wall.
You can best pair it with SW Extra White or SW Pure White on the adjacent wall and ample clean whites on the door and window frame.
To add a striking visual interest, add burnt umber or mustard on the throw pillows, artwork, and throw blankets.
For the furniture, try using an off-white linen upholstery or something in dark gray as well.
Lastly, don't hold back from using matte black tints on the furniture frames.
Using in Bedrooms
In the bedrooms, you can consider using this paint color on the accent wall with crisp whites on the adjacent wall.
I like the feel of matte black on the furniture frames but you could also choose satin brass for a touch of luxe and richness.
Choose light gray or burnt umber for the accent through duvet covers or throw pillows.
And lastly, don't forget to style a clean white shag rug!
Grays Harbor in Kitchens
You would love the feel and look of this paint color on the kitchen cabinets – both upper and lower or just the lower!
Try pairing this color with clean whites on the backdrop wall, white backsplash tiles, and light gray granite countertop.
You can even choose brushed brass or glossy gold finish for the knobs and pull handles.
Well, this color is also a great combo for modern farmhouse, transitional, and glam design styles.
Using on Exteriors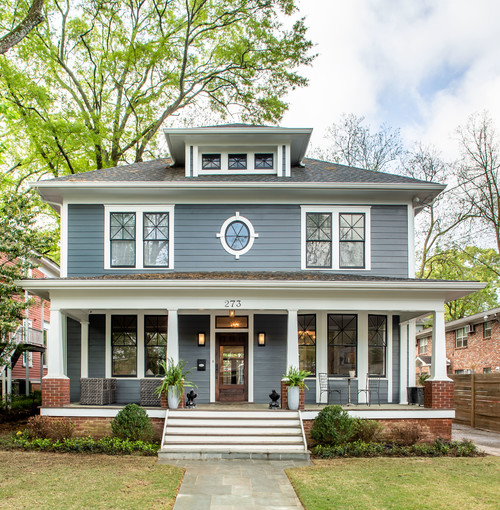 Whether you have a traditional style or Craftsman, Ranch, or transitional – Sherwin Williams Grays Harbor makes a wonderful and bold statement.
You can paint the shiplap walls in this color and choose to paint the trims and moldings in pure white. Furthermore, you can choose white for the shutters, door and window frames.
Do you want to make your home look even more interesting? Well, add cherry reds, walnut browns, or burnt umber on the front door to make it stand out.
My Favorite Way to Sample Colors

I can't say enough about how easy it is to use a peel-and-stick paint sample to give a color like Grays Habor a try. The absolute best way is to order a sample from Samplize.

You can check it out right on your wall and move it around. Also, try it along with a another couple of colors to test pairing possibilities.

This is WAY easier than having to open up little cans of paint and rolling/brushing on. Forget the mess and use these helpful temporary sample squares to test location, lighting options, etc.
So, how do you want to use this color in your homes? Interiors or Exteriors?
Now you see, SW Grays Harbor has much more to offer! And you will never even regret it.
Should there be any questions or thoughts, let us know in the comments below!